Review - Cassnova Denim Laptop Case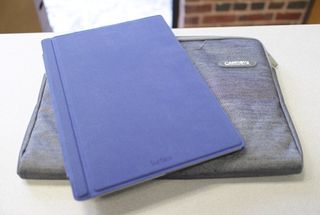 Laptop sleeves are a great solution for protecting your device and holding a few accessories without carrying around a bag or briefcase. However, they are also known for being fairly stripped down of compartments and options, which can be inconvenient at times.
Cassnova has bridged the gap between bag and sleeve with their 13-inch Denim Laptop Case. It offers up the thin design of a sleeve with enough storage and features to fill in as a laptop bag.
Design
The Cassnova sleeve is a very well-crafted case made of a durable blue-grey denim material with matching stitching. When you unzip the main compartment you will find a soft, white fleece lining inside that protects your device from lint and scuffs.
There is a zippered side compartment that contains pen loops and mini pockets for organizing whatever accessories you choose to bring along with you.
On either side of the main pouch are two denim handles for carrying your computer like a briefcase. If you prefer to rock the sleeve look, you can tuck the handles into two side pockets, which also double for extra storage.
Pros
The Cassnova feels like a high-quality laptop case. The sturdy construction gives me the impression that it will stand up to a lot of wear and tear over a long period of time. Think about how tough your favorite pair of jeans is and imagine making a laptop sleeve out of them.
The wealth of interior pockets and compartments makes the Cassnova Denim 13-inch Laptop Case feel like you are using a bigger bag than it actually is. And yet despite its durability and versatility, it is not too bulky, so you can slip it under your arm while walking, or even slide it into a larger bag when traveling.
Cons
For all its positive features, I find the lack of variety in available colors to be disappointing. The blue-grey denim is a novel aesthetic choice that will surely appeal to some. But I wish that there were other options for those of us who prefer the boring black cases of world. It would also open up the pool of potential buyers to more business-oriented folks who cannot walk into a meeting with a denim laptop sleeve.
That being said, it is a very well-designed case with a lot of positive features. For those of you who like the denim, this is a really great all-around sleeve for your Surface Pro 3 or laptop.
The Cassnova 13-inch Denim Laptop Case is a good buy at its regular $35.99 price tag, but it is a heck of a bargain for $19.99 on Amazon (opens in new tab).
Windows Central Newsletter
Get the best of Windows Central in in your inbox, every day!
Really? I'm sorry, but this case is so visually ugly it shouldn't have even been mentioned on this site..... Sorry, but I would never put my surface pro 3 in this!

In person, you may have a different opinion. I rather like the look, and it's a nice bag for the Surface. The materials are pretty top notch, especially the liner on the inside. The thing about aesthetic judgements is what is ugly to one person is fine or beautiful to another. Hard for us to be right or wrong on such matters. Seth and I both liked the look, so...

The pictures don't seem to do it justice if its as nice as you say, it looks like my favourite jeans...durtay! :D

Daniel, I didn't mean to offend anyone with my comment, but I guess the SP3 is just so beautiful, it's hard hide it. I guess we need a transparent case so its viewable at all times.

It can certainly be mentioned in a windows site as it is for a flagship Windows experience device, however you are within your rights to never purchase this cover.

Only denim I want is my women's jeans crumpled on the floor and my 1520 updated so I can call another women while my hands are busy with the first!

I agree, it is visually unappealing. I think maybe a combination of black denim with black leather could work well if their company is set on using denim but this just reminds me of stone wash jeans from the early 90s..

DENIM!!!????.....oh, the material, meh :P

Lol same thing I said at first. Denim does make cool looking accessories though. I've always saved old jeans to make stuff out of.

That's not a bad idea at all! I didn't even think of this when I threw away my holey Levis the other day :(

Yeah, Denim is out for SP3 too! :p

I would appreciate it if someone could convert this case into a Nokia Lumia firmware update. Thanks. Posted via the Windows Central App for Android

Denim? Laptop? OMG DESKTOP MODE FOR WP8.1 LUMIA DENIM CONFIRMED!

Even this case has got the Denim Update earlier than my Lumia 920 ;)

Picked one up for my Surface Pro 3. Thanks for the suggestion. I like the look personally. :) I wonder if my 1520 will actually fit in the side pocket though. ;-) /s

Looks to be an OK sleeve. I would have preferred the option for a shoulder strap. Also I would have preferred video review. The pics don't tell the whole story ;)

This company only sells one product and it's a 13-inch laptop sleeve. Strange

Is this available to ship outside of the U.S? as I cannot see it anywhere other than the American amazon site which does not do international shipping to the U.K.
Windows Central Newsletter
Thank you for signing up to Windows Central. You will receive a verification email shortly.
There was a problem. Please refresh the page and try again.