Review: Efficasoft GPS Utilities (Smartphone Edition)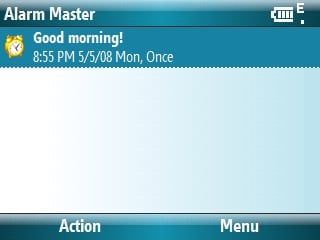 One feature I have always enjoyed with GPS units is the digital compass, speedometer, and trip functions (calculating travel time, average speed, etc.). GoogleMaps and LiveView are probably the two most popular mapping program for smartphones but while they can show you were you're at, where you need to go, there are very few utilities (if any?) on these programs. Efficasoft Software has come up with the solution for those of us who miss those utilities when using GPS with out Smartphone.
Read on for the full review of Efficasoft GPS Utilities for Smartphone v2.0 ($17.95)
Performance
Installation on the Samsung BlackJack II was easy but setting the program up was not without headaches. In establishing the connection with a GPS receiver the program locked up on a few occasions. I'm uncertain if the presence of the BlackJack II's internal GPS was causing the problem but once I established communications with a GPS receiver, the program lock ups disappeared.
I used the Freedom Keychain GPS 2000 receiver with the BlackJack II to test the software with. While the GPS Utilities worked like a charm with the external receiver, at the time of this review, the software is not compatible with the internal GPS of the BlackJack II. A BETA version of the GPS Utilities is being tested to allow the internal GPS to be recognized after the Modaco plug-in is installed. Once this version is available, the GPS Utilities will become a very convenient navigational tool
The GPS Utilities home screen is a snapshot of your GPS stats including latitude and longitude, elevation, speed, compass heading and direction, GPS fix information, etc. The home screen also has a world map that will show your current location.
Users are able to choose alternate views that will highlight the compass and speedometer. While these two views center on the compass and speedometer, they also include heading, speed, and altitude information. Hot keys are available so each view can be switch with a single press of keys 0 through 8 making navigation simpler
The speedometer has an alarm function that will alert users when a certain speed is surpassed and can display the speed in kilometers or miles per hour. Each screen has the ability to change to a "night view" color scheme for better viewing at night. All of the various screens were easy to read in either color schemes.
Maps can be loaded and viewed through GPS Utilities as long as they are in .bmp, .jpg, .gif, or .png formats. It would have been nice to have seen a preloaded map included with this software package. Even the most fundamental map would have been nice.
You can also add waypoints and points of interests. You can pinpoint your favorite fishing hole or keep track of landmarks during a hike. The Waypoint Manager fully supports Garmin .csv POI format.
Overall Impression
While stand alone GPS units will likely remain the popular choice for hikes, camping trips and other outdoor activities, Efficasoft's GPS Utilities adds a new dimension to a smartphone's mapping abilities. I can see taking the BlackJack II on a day hike wrapped in a Mobi Protective Skin, the Freedom GPS 2000 on my keychain and have all the functionality of my Garmin handheld GPS.
In the car, it expands your mapping abilities to allow you to keep track of speeds, travel distances and time, as well as being aware of your direction of travel. I can see using a BT GPS receiver (or the internal GPS if your phone is equipped) and a sturdy car cradle to expand your navigation abilities during road trips.
Efficasoft GPS Utilities for Smartphone v2.0 ($17.95) is a worthy compliment to any smartphone that utilizes GPS functionality.
Swipe to scroll horizontally
| | |
| --- | --- |
| Ratings (out of 5)Design/Features: 4/5 (preloaded maps would have been nice)Usability: 4.5/5Set up/Installation: 4/5Value: 5/5Overall: | ProsFeature-packedEasy to read screensConsNot necessarily compatible with internal GPS receiversNo Preloaded maps |
Pros:
Cons:
Overall: 4.5/5 (needs to be compatible with internal GPS receivers)
Get the Windows Central Newsletter
All the latest news, reviews, and guides for Windows and Xbox diehards.