Review: Handy Assistant for Windows Mobile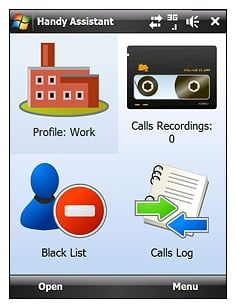 Paragon Software has developed an interesting application designed to help Windows Mobile users manage their phone more conveniently. Handy Assistant is described as your personal mobile secretary that manages your incoming calls and profiles. The application gives you the ability to establish groups of contacts and define how your phone will react to each, record calls, block calls, and manage profiles. Follow the break for more on this phone management application.
Installation is no different than most Windows Applications, launch the .cab file and you're off and running. Once installed, Handy Assistant launches a set-up wizard. The ten step process establishes your contact groups and how your phone will handle each group. During the set-up process you will also define your working hours which are used in the profile management.
The set-up process can be long winded especially if you have a large number of contacts. I didn't have the heart to go through all 250 of my contacts so I skipped the contact group phase. Opting instead to label the contacts as they came up during the course of a day/week/month/year.
There are three default contact groups; private, work and personal but you can create additional contact groups as needed. You also have a "black list" feature to block incoming calls from specific numbers or contacts. I like this feature and can see it come in handy should telemarketers or other unwanted callers stumble upon your cell number.
Handy Assistant has the option to use it's own dialing screen that allows you to access the key features of the management application (e.g. notes, create appointment, send SMS, change profile, etc). The keypad shows the last number dialed and in hiding the keypad, you reveal the last ten calls dialed and received. For those who are using the "Today" screen on your Windows Mobile phone there is a plug-in to show you what profile you are currently using and tapping it takes you to the application.
Handy Assistant has a good selection of options for how your phone responds to contacts including automatically recording a call. Your profile is managed with six default profiles plus you can create additional profiles or edit the default profiles to better suit your needs.
The recording option is an all or nothing type setting. Either you're recording every call or none. It would have been nice to have seen a "Record" option on the dialing screen options. While you can delete these records, it makes it a little cumbersome to have to sift through all the recordings, especially if you make a lot of calls.
One really nice feature on Handy Assistant is the Over-the-air updates. Updates can't be pushed to your phone but if you hear rumors that an update is available, all you have to do is pull up the menu and choose "check for updates".
Overall Impression
I've been using Handy Assistant for a few days now and I'm finding it to be a feature rich application to manage your contacts and phone settings. It is a little cumbersome to navigate around but with most feature rich applications, the more you use it the more familiar you become with it. The more I use it, the more I begin to like it.
The initial set-up wizard is a big help but can be time consuming if you have a lot of contacts. I like the record feature but wish you could self-initiate recording calls instead of recording all your phone calls. The recording function does come in handy when you least expect it. If your wife or significant other calls you with marching orders and you forget them, you can always replay the conversation.
A trial version of Handy Assistant is available just in case you have your doubts but if you're looking for something to help manage your phone's profiles and contacts, Handy Assistant might be just what your looking for.
Overall: 4/5
Swipe to scroll horizontally
ProsAutomatic Profile ManagementContact ManagementBlack List OptionOTA UpdatesConsRecording Calls is a "all or nothing" optionNavigation a little cumbersome
George is the Reviews Editor at Windows Central, concentrating on Windows 10 PC and Mobile apps. He's been a supporter of the platform since the days of Windows CE and uses his current Windows 10 Mobile phone daily to keep up with life and enjoy a game during down time.
I am wondering if the reviewer thoroughly tested Handy Assistant on his phone over any length of time. My (month-long) review shows that although the design of Handy Assistant is very impressive and the product has incredible potential, version 1.00 of the product has a number of critical bugs which render it unusable, even dangerous because it can lead to missed incoming calls. Paragon would do well to resolve these bugs as soon as possible. Potential users should test thoroughly before buying! Firstly, let me say that I think the design of Handy Assistant is extremely well done: its power comes from the definition of a profile and the configuration of when a given profile is active. A profile allows you to control: the behaviour of all sound alerts on your phone and, more importantly, the behaviour of the phone on receiving an incoming call from a contact in a specific category. It also allows you to control what happens if you receive calls from unlisted or unknown numbers. Every profile in Handy Assistant allows you to specify, for each contact category (including unlisted and unknown numbers), whether an incoming call is ignored, rejected, rejected with an SMS, accepted silently, accepted with vibrate only or accepted with ring+vibrate. Handy Assistant defines six profiles out of the box, but you may add as many as you need. Handy Assistant allows you to determine when each profile is active. A profile can be activated by time of day and day of week, or by location of the phone, or according to what meetings are currently going on in your calendar or manually (from the today screen). Profiles are prioritized so that if any of these aforementioned criteria clash, a single profile can still be selected.
This combination of profile definition and selection makes Handy Assistant very powerful. I can, for example, arrange to: reject all calls except those from Business and VIP contracts during work hours (Work profile), accept all calls during my spare time (Spare Time profile), accept VIP calls with soft ring and Personal calls silently during sleeping hours (Sleep profile) and accept all calls with vibrate only when I am in the library (location based Library profile).
In addition to all this, Handy Assistant allows you to interactively reject phone calls with an SMS, blacklist unwanted calls and record calls. If my admiration for the design of Handy Assistant is considerable, so is my regret that the implementation of the product falls short of the design. At the moment Handy Assistant has a number of serious bugs and I would urge those of you considering using the product to test it thoroughly before you buy it. Here are some of the bugs I observed on my HTC Touch Pro:
1. After the phone has received more than 15-20 incoming calls, the ring tone becomes silent (regardless of the profile) and can not be reactivated other than by rebooting the phone. In addition the display of an incoming call also seems to fail after 25-30 calls. This means that I need to reboot my phone every day to keep Handy Assistant working. 2. If the phone has an active data connection (e.g. internet) an incoming call from a contact does not get displayed on the phone (although it will ring and

About the .wav files recorded by Handy Assistant, which can be copied to the computer through ActiveSync connection, however they can't be played on the computer by any media player I can find. Who can tell me how to play the recorded conversation files on the computer? Thanks.
Windows Central Newsletter
Thank you for signing up to Windows Central. You will receive a verification email shortly.
There was a problem. Please refresh the page and try again.