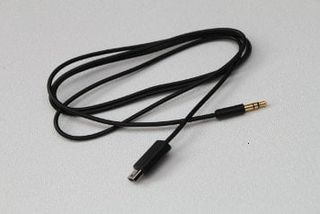 As much as HTC has been esteemed over the years for the innovation and consistent excellence in their products, there have been a few bumps in their road to becoming one of the top hardware manufacturers in the mobile space. The one standard in HTC's diverse designs over the years has traditionally been the presence of the ExtUSB port and the absence of a 3.5mm headphone jack.
Numerous methods of working around this limitation have been detailed over the years. Bluetooth Headphones are one option; though HTC themselves offer several options that are typically less expensive. HTC's Multifunction Audio Adapter offers an assortment of connectivity options while the HTC Stereo Headphones may be used for both music and phone calls. A third option from HTC is their Audio cable, which features a male 3.5mm audio plug, which is perfect for playing audio from your HTC phone through a home or car stereo.
The full review is after the jump.
Features
As stated above, HTC's Audio Cable converts your ExtUSB port directly to a male 3.5mm audio plug. This cable probably isn't the best choice for those simply wanting to plug in a pair of headphones (if that's what you're after, you want to look at the HTC Stereo Headphones); the primary function of this cable would be for use with a home or car stereo that has an auxiliary input jack. The cable itself is just less than 4 feet in length.
Quality
The primary reason that someone would want a wired audio adapter over a pair of Bluetooth Headphones or speakers is the fact that a wired connection will almost certainly offer better audio quality than a Bluetooth solution. When it comes to physical build quality, HTC has a well-earned reputation for their hardware; and their Audio Cable upholds that reputation.
Conclusion
The one thing that I like most about my AT&T Tilt 2 (HTC Touch Pro2) is that it performs exceptionally well at a number of different uses. Whether it's messaging or email with the well designed keyboard, browsing the internet using the large WVGA screen, or listening to music; I couldn't be happier with the functionality that my phone provides. Occasionally however there are things about my phones hardware that leave something to be desired, such as the lack of a dedicated audio port. Having a single cable that will allow your phone's audio to be routed to whatever stereo may be handy is rather important for those of us that use our phone as a media player.
If you use your HTC as your primary media player, chances are that the HTC Audio Cable would be a great addition to your gadget collection. The Audio Cable sells for $16.95 from the WMExperts store.
George is the Reviews Editor at Windows Central, concentrating on Windows 10 PC and Mobile apps. He's been a supporter of the platform since the days of Windows CE and uses his current Windows 10 Mobile phone daily to keep up with life and enjoy a game during down time.
It's the wrong gender for almost anything I'd want to do with it.

Hahaha. I forgot that GSM TP2s don't have headphone jacks. Wow, that's just sad. Also, that cord is way too long. That plus a headphone cord would be of comical length. All you want is a small adapater.

Did you even look at the picture or read the article? It has a MALE 3.5mm port on the other side. This is for things like car stereos that have an AUX 3.5mm port. It allows you to use one cable to go from the phone to the stereo instead of extUSB to 3.5mm female and another cable with two 3.5mm male jacks.

Does it work connected to the side slot on the Tilt2 dongle? If not, then you get to run your battery down while listening through your audio system. If it does work to allow power to the phone while this goes to your sound system, you still need an adaptor on the sound system end, too. Most use RCA plugs, etc. Not 3.5mm sockets.

You're reviewing a cable? Slow news day? Obviously this thing takes audio from your phone and outputs it into the 3.5mm jack for things that use that as an input.

forgot to list analog audio as one of the cons.

Forgot one thought, before. Most electronics parts stores have or can get a cable with a male 3.5 connector on both ends. Since most HTC phones have either an earphone socket or a dongle with that socket, one end of the cable can go into the earphone socket, the other end can go into the car stereo or an RCA plug adaptor for your home audio system. Total cost $6-8 (both adaptors), instead of $17.

Looks great and promised so much. I bought this for my Touch HD specifically so I could charge and plug my handsfree headphones in from one end only.
Windows Central Newsletter
Thank you for signing up to Windows Central. You will receive a verification email shortly.
There was a problem. Please refresh the page and try again.