Review: Motorola MOTOROKR S9 Stereo Bluetooth Headset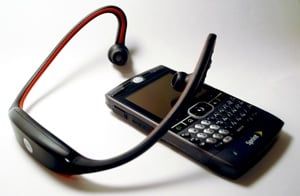 Last time I reviewed Motorola's S805 DJ-style Stereo BT headset and gave it high marks for quality, performance and battery life although the form-factor of the headset (large, over the ear) may be off-putting for some.
Along comes the Motorola MOTOROKR S9 headset ($79.95) with a much smaller profile perfectly suited for exercising or the daily commuter.
How does it measure up? Read on for my experience, which is a mixed bag of pros and cons.
Form Factor & Specs
The S9 has a noticeable slimmer build than the DJ-style, making it ideal for those who travel daily on a train, go for a morning jog or mild recreation activities. The build of the headset is quite nice with a somewhat rubbery feel (much like that rubber paint on many new phones) and weighing in at a very light 1.14 oz. Motorola reports them also as being "sweat and water resistant" and while I did work-out with them with no problems (yes, geeks do exercise) I'm not sure how water resistant they really are (note: "water resistant" is a lot less than "water proof").
Here's the nitty-gritty for those spec freaks out there:
Bluetooth® 2.0
1.14 oz
6 hours (music) or 7 hours (talk)
AVRCP (control music & calls from headphone)
Mini-USB for charging (included)
13mm speakers (not canal-phones)
Water & sweat resistant
180 mAh battery
Charge time: ~2 hours
Always nice to see BT 2.0 being used as that offer significantly better bandwidth and connection performance, even for those devices with BT 1.2 or less, plus at least you know some of those newer phones will work very well with the standard. The 6 hour music playback is a lot less than the 20 offered by the Moto S805 but seems ample enough for the average user. There is an LED which is located at the back of the device, but it faces downwards and as far as LEDs go, is fairly tame with a nice slow pulsing. The power button is located near the LED on the bottom and is fairly easy to turn on/off (hold down for 2-3 seconds) and the Mini-USB port still uses the rubber flap to hide the port when not in use—I understand why Moto uses this instead of say a plastic cap (less breakage) but I still find the rubber flap a huge pain to "seal" the jack closed.
Quality & Performance
I've said it before and I still maintain Moto can nail Bluetooth. In their Moto Q/Q9 phones, their single headsets and their stereo BT solutions I have had nothing but excellent quality & performance. Form what I understand, at least on their phones, they use a custom BT stack which probably aids in their superb performance. This is not to suggest that the S9's only work well with Moto phones, in my tests on the HTC Mogul, Treo 700wx and Moto Q they performed admirably with little static or problems to speak of. Pairing is also a painless and standard process: hold down the power button for about 7 seconds, paid up and enter '0000'. Re-pairing was quick on all devices tested.
The buttons on both sides of the headset control volume (up/down), track selection (forward/back), play/pause and answer/hang-up phone. The buttons are nearly touch-sensitive, meaning you don't need to push down as hard as with a standard button, just a light press is enough to make the selection. The learning curve with the buttons will require a few trials to memorize which side does what and to effortlessly move your hand to the button with out fumbling around, but I found the buttons, placement and usage quite efficient.
Though I'm not audiophile I found the sound volume and quality to be quite good: bass and treble are decent and the volume while not extremely loud, suited me fine on the train. In they city, noise leaked in heavily and I would not consider these suitable for walking around Manhattan. One thing to note is that the speakers do not go in the ear canal but basically lay on the outside—this means you can hear some outside noise as a seal is not made; likewise others sitting near you can, albeit at low volume, your music playing. It's not necessarily a bad thing as I don't believe audiologists are crazy about in-canal phones, but for some people this type of style is not preferable as you are essentially wasting some volume and music to compensate for the "gap" between your canal and speaker.
Comfort & Wearing
The S9s have an interesting limitation: no adjustments for sizes, both in the actual headset and the speakers— the headset is completely locked down without any moving parts. Once again, I understand the rationale (less moving parts, less breakage) but in turn if you have a large or small head, you may have problems. Since the battery, BT module and main buttons are in the back and the headset is "over the ear", you have this little power-pack at the back of your head, which as its own limitations.
Lying down can be tricky if outright uncomfortable (the angle of the back is relative to our comfort-level and head shape) although I was able to wear them and rest my head on the headrest on the train without much issue. Wearing a hood or high collar in the winter may also bump into the back, which then pushes the headset up making wearing them a bit tricky. Likewise if you non-wire wear glasses I'm not sure how the S9s can be worn with them as they both occupy the same "over the ear" space—in turn I can't wear my eye glasses or sunglasses with them, which is quite the bummer.
Finally, I did experience a mild "pinching" sensation near my temples after an hour of wearing them. It wasn't necessarily painful but something I was aware of at the same time and depending your on you head size you may/may not have problems (for the record, I have an average size head).
Conclusions & Final Thoughts
I like the Motorola S9s but they are not a home-run, at least for me. Straight out performance, quality and battery life are impressive and just going by that and their specs, they do very well. Where their success or failure will vary is on your head size, if you wear glasses and when you plan on using them (lying down in bed, going for a walk or if you where high collars or hoods).
So you can be relatively assured that the quality and performance of the S9's are as advertised and highly recommended but I'll have to suggest that you ideally either borrow a friends or purchase them on a trial basis, paying close attention to those limitations I pointed out. The S9's will be amazing for some and uncomfortable for others and that will be dependent on personal and physical differences of the individual.
Indeed, I'll continue to use the MotoROKR S9's when I need portability or want to go for a jog and use my Moto S805 for longer durations and more leisurely listening.
Photos: Rob "Chobacabra" Alvarado
Swipe to scroll horizontally
| | |
| --- | --- |
| Ratings (out of 5)Build Quality: 5Performance: 5Comfort: 3Overall: | ProsGreat for ExcercisingLight-weightGood sound qualityGreat battery lifeInnovative designConsCannot adjust size/comfortDoes not block external noiseCannot wear with eye/sunglassesMight be uncomfortable |
Get the Windows Central Newsletter
All the latest news, reviews, and guides for Windows and Xbox diehards.