Review: Navibe GB735 Bluetooth GPS Receiver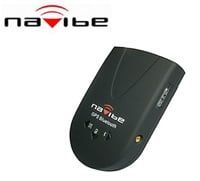 In my line of work I am on the road a lot. I will often times fly into cities I have never been before and have to find and visit several different retail locations in time before catching a plane back home that evening. So I use GPS a lot. Since I have a Garmin GPS unit in my car at home, I could just use that, but lugging one more thing around is not what I want to do. So I will use a bluetooth GPS unit with either iNav or TomTom GPS software on my WM phone. (Keep an eye out for the upcoming TomTom GPS software review.)
About 4 months ago my GPS unit that I had been using for the previous 2 years finally quit working, so I found myself thrust into the bluetooth GPS market again. Due to a balance of price, features, and performance I got the Navibe GB735 ($69.96) and I could not be happier, with only a few minor exceptions.
Read on for the full review!
TECHNICAL DESIGN
Technical design is what will make or break a Bluetooth GPS receiver. The chipset used, battery life, availability to attach an external antenna, etc. all have to come together. If you are really into GPS you will be very interested in the technical specs below, but I am not going to go into that amount of detail. Instead I am going to keep it simple and practical when talking about design and specs of Navibe GB735.
There are a couple stats that are used to help judge how good a GPS unit is. How many satellites it can lock onto at one time, how fast it takes to lock onto (acquire) them when the unit is first turned on, and after it has been on a while, how accurate it is in pinpointing the exact spot you are, and how sensitive it is tracking as you move.
The Navibe GB735 can lock onto up to 20 satellites. It is important to note that simply speaking, all you need is three satellites to find your location. The more it locks onto, the more accurate your exact location will be and the more accurate its sensitivity is when tracking your movement. I travel around a lot, so I have a unique opportunity to track how many satellites it locks onto from Hawaii, to California, to Seattle, Jackson, WY. On average I will probably lock onto around 10 satellites at any one time.
The Navibe GB735 even has a port to hook up an external antenna that can increase how many satellites it connects with. But this is also a practical feature that needs to be mentioned. There are some new windshields that will actually help prevent (block) satellite reception, making it impossible to lock onto any satellites. If you drive a motorcycle you don't even have a dashboard to set your GPS unit on, so are forced to put it in a pocket somewhere on the bike. In either case, the Navibe GB735 needs a clear open view to the sky to lock onto satellites. You can attach an external antenna and then put the Navibe GB735 anywhere you want to put it with no concern that it can see sky.
When you first turn on the Navibe GB725, the manufacturer says it will lock onto the satellites within 42 seconds. This is probably pretty close. I have experienced a shorter time, and once in a while double the official spec, but never more than 90 seconds.
As far as its accuracy of pinpointing my location and its sensitivity in tracking my movement, it does a pretty good job. I have had GPS units in the past actually make it look like I am floating off the road on another road running parallel to mine, and then finally get its wits about it and jump back to where I actually am. In two months of extensive use, I have never experienced this with the Navibe GB725. It also seems to be fairly good at tracking my movement without much delay or inaccuracy.
The battery life is not the best on the market, but is respectable at 10 hours of continual use. It is important to note that it is a removable battery. That way if the battery goes bad you do not have throw away the whole GPS unit. The advantage is that you can buy a second spare battery to have on hand if you want.
It was really easy and simple to pair it to my PPC 6800. I have never had a challenge with reconnecting it or with maintaining communication between my phone and the Navibe GB725. It has also worked great with both iNav and TomTom.
The only feature that I truly miss on this unit is that it does not offer a sleep mode. This feature can stretch the battery life of a unit out to a week in some cases... but at half the price of those that have this feature, you cannot complain too much.
For Technical Design I am going to give it 4 out out of 5 stars. This is not because of anything it does bad or wrong, but just because there are other units out there with all the high end bells and whistles that offer more in their technical specs. But most of these extras would be wasted on all but the most accurate needs for GPS like GeoCaching. If you are planning on using this unit just to get you to your hotel, the local amusement park, a business meeting, or to the house of your blind date, then this will certainly meet all of your needs.
Technical Design:
PHYSICAL BUILD
The physical shape will often times not vary a great deal from one Bluetooth GPS receiver to the next. They all pretty much are the size of a beeper and they all have three LED lights. Some of the differences that I was impressed with were with the details.
This unit is build solidly. The on and off switch is nice and firm. It also has a nice rubber coating to help protect it while using it and while having it packed when traveling. But it also helps prevent the unit from sliding all over the dashboard while driving. My last two GPS units were pretty banged up from being lugged around in my luggage. And after 2 months of use, the Navibe GB735's rubber coating has all but eliminated this worry.
Physical Build:
REAL WORLD USE
After using the Navibe GB725 for over 2 months, for what I use it for, I am very pleased with its performance, ease of use, and with maintaining constant communication with my phone. It certainly does everything it claims it will do.
I really need to point out all the extras that Navibe has put in the box that goes beyond what can be considered expected. They do include both a wall charger and a car charger. But since it has a mini USB port, I have also used my universal car charger with a mini USB plug in a pinch. It also comes with a wrist strap. For me I look for the little things that helps make a product better or a greater value to the customer.
It is not a need, but it would be nice to have longer battery life along with the sleep feature, because I cannot tell you how easy it is to forget to turn off the GPS unit when you arrive at your destination. Again, only for this reason, will I give it 4 out of 5 stars for real world use.
Real World Use:
Technical Specs
Product Features
20 –channel GPS receiver
Full navigation accuracy provided by Standard Positioning Service (SPS)
Less than 130mA power consumption; +4.5V ~ 5.5V DC power supply included
Bluetooth Version 1.1 compliant
Bluetooth Class 2 operation with up to 10m range
Support standard NMEA 0183 protocol (Version. 3.0 GGA, GSA, GSV, RMC, VTG)
Support backup power to sustain internal clock
Internal RTC (Real Time Clock)
SBAS (WAAS, EGNOS Euro Geostationary Navigation Overlay Service) support
Easy to link with PDA and Notebook with Bluetooth 1.1 compliant
Built-in rechargeable Lithium-ion battery without external power supply; replaceable by user
3-color LED to show the status of Bluetooth, GPS and battery
Support active antenna connector (MMCX) to getting better satellites
ROHS compliant


Hardware characteristics
Bluetooth Version 1.1 compliant
Bluetooth Class 2 operation (up to 10 meter range)
I/O Protocols: NMEA 0183
Baud Rate: 9600 bps
Antenna: Built in patch antenna
Ext. Antenna connector: MMCX type

Physical characteristics
Dimensions: 74.5(L) X 48.5 (W) X 19(H) mm
Performance
Receiver: 20 parallel channels
Frequency: L1, 1575.42 MHz C/A code.
Acquisition Time (Open Sky and Stationary)

Re-acquisition: Average 0.1 seconds
Hot Start: Average
Warm Start: Average
Cold Start: Average

Accuracy:

Using the latest SiRF StarIII firmware version 3.2 which has WAAS/EGNOS enabled out of the box for improve GPS position accuracy
Position: 10 meters RMS without SA
Velocity: 0.1 meters/second, without SA
Time: 1 microsecond synchronized to GPS time
Datum: WGS-84 (or by demand)

Sensitivity:

Tracking Sensitivity: -159dBm

Dynamics:

Altitude:
Velocity:
Acceleration:
In The Box:
1 BT GPS Receiver
1 Battery
1 USB Car Charger
1 USB AC Charger
1 USB Charging Cable
1 Strap
1 Utility CD

2 years warranty
Swipe to scroll horizontally
| | |
| --- | --- |
| Ratings (4 out of 5)Technical Design: 4Physical Build: 5Daily Real World Use: 4Overall: | ProsSolid buildDecent acquisition time, accuracy, and sensitivityRemovable batteryNice protective rubber coatingLots of extras in the box including both a wall & car charger and wrist strap.Port for connecting an external antennaConsDecent battery life, but not the best on the market.Does not include a sleep feature to conserve power when idle. |
Get the Windows Central Newsletter
All the latest news, reviews, and guides for Windows and Xbox diehards.