Flying the Parrot AR.Drone 2.0 Quadricopter with a Windows tablet (Hidden Gem)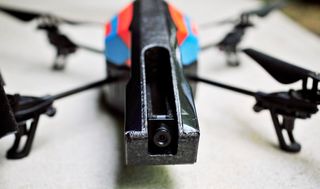 The word 'drone' has certainly entered the mainstream vocabulary of everyday citizens, in part due to the US government, and the other part due to consumer-grade vehicles that are readily available. It should be no surprise that military technology trickles down after all look at the history of the Internet itself.
Parrot is no newcomer to the drone scene and their AR.Drone series is possibly the iconic representation of the growing market. The AR.Drone 2.0 came out two years ago, and it has since gone on to be one of the most widely adopted quadricopters in the consumer segment. Back in May, Parrot finally released their AR.FreeFlight app for Windows 8.1 and the company told us that their Windows Phone app was on the way.
Do you want to see it all in action? Then watch our demonstration video and see what I think! Remember, by leaving a comment on our Hidden Gem, you are entered to win one (of two) Parrot AR.Drone Quadricopters!
What it is
The AR.Drone 2.0 is a personal Quadricopter, which is almost as fun to say, as it is to use one. Think of it is an RC car for the sky, except that you use your tablet (and eventually your phone) to control it. Toss in a decent camera with recording capabilities and you have what probably is the neatest toy you can pick these days. Take off, do flips, buzz around the neighborhood, and freak out your elderly neighbors, – it is all possible with the AR.Drone 2.0.
How much is it?
Yesterday I shared with you the $129 Sphero 2.0 connected orb, which is cheap compared to the $299 Parrot AR.Drone 2.0 Quadricopter (Amazon link (opens in new tab). Then again, the AR.Drone is slightly more awesome and let me reiterate that you are buying a freaking drone.
What is in the box?
For $299, you get the AR.Drone with two hulls (indoor and outdoor), one battery, one-charger instructions. However, I strongly suggest you opt for the $329 package, which comes with an extra battery. Trust me you need it.
The AR.Drone 2.0 is made from a highly durable foam that wraps the core mechanics. The blades are plastic, and the whole vehicle is surprisingly light.
The camera
The AR.Drone 2.0 comes with an HD 1280x720 front camera and a 480P bottom camera. Neither are fantastic, though the front camera is good enough to keep most people satisfied for a $300 toy. By connecting a USB thumb drive to the drone, you can record at any time with the free AR.FreeFlight software. There is no audio.
Battery life
The (lack of) battery life is probably the biggest shocker, or maybe not. The AR.Drone 2.0 gets maybe 15 minutes of flight time from a single battery. No joke. Not only do you need a second battery, picking up a third may not be a bad idea either.
Just like smartphones, RC toys do not have advanced in batteries either, and powering four rotating blades fast enough to lift a small drone sucks up some juice. Luckily, the batteries can be swapped in, and out in seconds, and the handy wall charger replenishes the battery within an hour.
AR.FreeFlight for Windows 8.1
The software for the AR.Drone gets the job done and fits well with Windows 8.1. To connect the drone up, you plug in the battery and let the drone do its brief engine diagnostics. Once completed, it fires up its own Wi-Fi network (Wi-Fi direct), and you connect the tablet by selecting the Drone's Wi-Fi channel. This is a better system than Bluetooth as the range, and bandwidth are better. After the two have connected, you can launch the AR.FreeFlight software and begin your flight.
The controls for the AR.Drone 2.0 require some practice, but they setup is understandable. Like other RC devices, you pilot the drone with two virtual D-pads: one for steering horizontally, the second for vertical control and rotating horizontally. Users can choose outdoor or indoor mode, with the latter restricting height and speed, making it more forgiving in confined spaces.
Outdoor more lets you set the flight ceiling (up to 165 feet, which is crazy), acceleration, speed and just about everything else. Outdoor mode also enables 'flipping,' where the drone does a flip in mid-air. You can control the flip direction, including front, back, to the right, to the left, and double tapping the D-pads executes the move.
If you are flying outdoors (which is much more enjoyable), then I advise you remove the blade-guard hull and use the minimalist one. The reason for that is two-fold: The blade-guard hull is likely to get caught in branches if you crash and the AR.Drone 2.0 is remarkably resilient to crashing, including the blades.
The software has two prominent buttons labeled 'Emergency' and 'Land/Takeoff.' The latter button is an autopilot feature that lets the drone rise for a takeoff or to land when the flight is complete. The drone uses two-ultrasound sensors on the bottom for altitude measurement, and guidance during 'Land/Takeoff. The emergency button is in case you are coming dangerously near someone (or something) and you need to kill the power. Doing so shuts down the drone, and it falls like a rock from the sky. In other words, unless you want to break the drone, best to avoid using it unless you have to do so.
Users can toggle the camera view (front or bottom) with a touch of a button and initiate recording for video.
Flying the drone
Piloting the AR.Drone is like riding a bicycle. It is not easy at first, but after a few sessions, you notice a marked improvement. Every time I took out the drone for a flight, I got fancier and more adept. Crashing is part of it, but the drone holds up well to the abuse. I do recommend flying over a grassy field and obviously avoiding large, solid objects.
The battery life is a real bummer on the AR.Drone 2.0 but this is hardly a trivial problem to solve with today's current lithium-polymer batteries. The fact that you can swap the battery in 30 seconds means there is very little downtime, and to be honest you probably won't fly it for too long as each session can be quite intense.
Video recording is a bonus, and although it does not holdup to many cameras in 2014, it still super fun to view after a flight. You can additionally add a GPS add-on to the AR.Drone 2.0, which lets you map a flight path and set a 'home' location to return too, though reviews for it are mixed.
Replacement parts and third-party accessories (like a headlight kit) are affordable and bring some expendability to the system. You can even buy larger batteries, knocking the 1000 mAh default battery up to 1800 mAh.
Conclusion
For a cool factor alone, the AR.Drone 2.0 is a ton of fun. Flying the copter around the parking lot and improving my flight skills is a great way to kill some time in the evening or on the weekend. Your neighbors may be scared, but don't let that stop you.
The Windows 8.1 software is fun to use and once connected I rarely had any issues. Like Sphero, there are third-party options available too if you prefer a different design for your app.
Personally, I cannot wait until the Windows Phone app becomes available. In conclusion, if you are looking for a new, slightly expensive hobby, then go pick up an AR.Drone 2.0. On the other hand, you can wait a few months for their highly anticipated Parrot Bebop Drone (opens in new tab) with its f/2.2 1080P stabilized camera. Drool. I know I will.
What do you think of connected toys like the Parrot AR.Drone 2.0 – passing fad or is it the future? Let us know in comments and don't forget to check our other Hidden Gems!
Thanks to Mark Guim for the work on the video review
Daniel Rubino is the Executive Editor of Windows Central, head reviewer, podcast co-host, and analyst. He has been covering Microsoft here since 2007, back when this site was called WMExperts (and later Windows Phone Central). His interests include Windows, Microsoft Surface, laptops, next-gen computing, and arguing with people on the internet.
Remember: Leave a helpful comment about the AR.Drone 2.0, you're entered into our contest to win one of TWO drones! Helpful comments include what you like, what you don't like and how it could be made better. Winners will be announced next week, so you can enter at any time. Multiple comments allowed, but only one will be picked. Contest is open worldwide. Need more info about our Hidden Gems series? Read our announcement post here.

This is pretty awesome and looks very fun. I wonder if it has warranty because knowing my luck I'll break it within the first week.

An AR. DRONE!
I've got myself an quadcopter quite some years ago, and I've spent much time flying it, but now it's kinda down... The AR concept really catches me, and that combined with an controllable copter, it would make me be at parks for days. AN AR.DRONE IS TOTALLY NO WASTE OF MONEY NOR TIME!!!
I WOULD RECOMMEND TOO!!!

Helpful? Like stay away from trees? Not sure i have any. Although i do wonder, i have seen AR drones that when they lose connection, they automatilcy fly back to the starting point. Does this one?

I will better get a cheap Drone and hang my Lumia 720 to it... It would still be much cheaper and better HD video recording along with the sounds...

Very cool. Can't wait to see what Go-Pro uses for their next product. I gotta imagine they are already working on expanding into this market of integrated cameras/drone devices. Right?
I Would love to have one of these either way, camera looked good enough to me. Good enough for a drone selfie! :) Posted via the WPC App for Android!

Gosh, if i own one
i'll never be at home again ! never ! :D
it looks fun

This would be awesome. Definately agree on the quesiton of warrenty. When my kids get anywhere near it...

Since Nokia published the videos that were recorded with an optocopter; I've been thinking on getting one. I have a Lumia 920 so I'm guessing that if I somehow load the phone in the droid and lift battery will last for 5 mins or less. The integrated camera would be awesome to inspect the roof without getting up there :)

I'm wondering if the author can specify the effective range of the drone. Is the drone going back if it detects it's going too far?

Who climbed the tree at the end to get the case? Lol!

Even though it is more expensive than the Sphero, I could see myself picking one of these up. The battery life is unfortunate, but not surprising. If I were to buy one, I would definitely wait out for the Bebop, but I certainly wouldn't say no to one if I won it.

It really looks like a parrot

had a go on this at the gadget show UK last year using android device and loved this. The camera was amazing for what it is. It was very well built and very durable as i tested it. This was inside Earls court and was impressed, the controls were very precise managed to get one to hover infront of my borthers face very close...and crashed it as well to test how durable it was and didnt break on a drop of about 20ft on to a concrete floor. as stated battery life was short, however they had racks of batteries there. the demonstraterors then got to to fly side by side and follow each other as such looked good.

Drones like Parrot AR.Drone 2.0 Quadricopter are definitely not a passing fad, I think they will reinvent the meaning of the word toy and how people use their toys (gizmos, gadgets). It's portable, it has its own local network (connects to your tablet via WiFi) you can control it over your device, I can already imagine hundreads of kids flyng these babies in parks all over the world. The only downside of this drone is its battery. It's a 1000mAh but alternatively you can buy 3rd party ones that are significantly larger (up to 1800 mAh). Drone itself looks very cool indeed, and if you are looking for a new way how to kill time and entertain the Parrot AR.Drone 2.0 Qaudricopter is definitely for you.

I would really like to get one of these. I had a cheaper drone that I purchased that I had a blast flying. One of its four engines stopped working though and made it unusable. Lots of fun while it lasted.

Hey Daniel, is this contest for the 3 hardware devices finished or do we have until the end of today 31/07/14 (CST)?

I have an original AR Drone. Version 2 lools a lot better. I haven't used mine in a while due to apps currently not supporting video. If someone cam make one I will be sure to get it.

The first was borderline junk. A slight breeze would blow it out of the air. Dead motor after one month, $50 each to replace. Even if given one, it would be a white elephant. Can't speak for 2.0, but burned once for $300...

I've alway wanted one of these but never got around to go buy one.

Same with me. That's amazing if it goes 165ft high. Like someone mentioned it looks lighter and if heavy wind blows it may be flipping around without the control. Anyways its fun to have it at your home. Since they an app for a tablet they could have made a bigger control like its done for Sphero. Could have been easy to control.

Cool toy, this will be nice with a Windows Phone

But the toy costs more than the phone :) I agreed with article, RC toys needs to get batteries. 15 min is actually a decent flying time from flying RC perspective, I have seen people get only 7-8 mins with their planes.

Really like this product! Seems alot better then most of the cheap drones you see around, looks kind of flimsy but I love the camera interface. Might consider buying this.

It only seems flimsy due to the weight (it's very light) but as I've found out, it's very durable. Pretty impressed with it.

Would make a cool addition to my r/c stable, but tragically, what kind of control distance can you expect? Does it use its own repeater our the house WiFi our the phones WiFi transmitter?

I am wondering the same thing, if I use the Dell DV8 pro, how much distance would it get? And would it simply crash to the ground, or does it go into an auto pilot mode? I would love to have one to try out. Maybe someday, after I get an Xbox One.

I'd like to see how it handles a maneuverability test of sorts. A obstacle coarse. This is how I would use it if I got it. Build an obstacle coarse somewhere and race other drones.

Multiple cameras would be cool when using it for obstacles. Side and rear views would be sweet. Split the windows tablet screen in quadrants. Also maybe a sensor of sorts to tell you when you are too close to another object

It would be cool if they put the camera on a gimbal for the next version

I will take the tip: care of trees xD

...not yet. As I wrote a few times, they are working on it.

There are a few unofficial apps on the store, this one called "Drone" looks decent. http://www.windowsphone.com/s?appid=70a061df-1780-46e4-9b55-809b9aa5c07a

Oh this thing is awesome, imagine all the stuff you could do with the camera, you could also do some nice Air Stunts with it ;D

Nearly picked this up when I was at Challenger in Singapore last year. This September I will just get one now that the Windows app is already available. The first mod I'm looking at is upgrading the camera as I plan to use this for beach volleyball.

Making the app universal is a good idea and having an option to view the live video streaming on windows 8.1 while controlling the drone from the windows phone app is even better and vise versa.

I agree, although a microphone should be added so you can get videos with sound. It would be cool to fly the drone over a soccer field and watch my sibling's games that way. EDIT: I just had a thought, duct tape my Lumia 521 to the bottom to record videos with sound.

Not really impressed with drones, they seem pretty basic to what I imagine technology would have come up by this time. An app is an app though.

Wow! This looks incredible! I hope a WP version comes soon.
P.s:-I'll still not sure how long it could last though, the last helicopter I bought(which could fly up to 50 feet) crash landed and broke after 1 week so yeah, durability is always an issue for me when buying hardware, this looks sturdy though :P

How amazing would this be filming miniature rocket launches while in the air. Noice!

This one is amazing. Reminded me of my childhood when I tried to add a camera to my RC helicopters to spy people. This is not a joke. I really did but never succeed. This helicopter looks beautiful and well designed. The app rather looks like playing some game from the screenshot. Love the idea. As said in the article, they need to work with high power lithium batteries so that we can use it for longer durations. Anyways seeing this I can say that we are moving to a world where we will have everything connected with our smartphones.

Cool I got one for Christmas but haven't taken it out of the box because of the lack of WP support, so I guess a helpful thing would be to app WP support

This is one of the best things I have ever seen.

I've used the drone with my Surface. Works well but app still not fully featured. More functionality using my kids iPod, esp when using GPS waypoints.

It's looks an awesome you toy to play with :) and supports Windows platform too :D

I've never owned one of these babies! How I would love to fly an AR drone through my friends window. I've heard the propellers break easily? What do you think

You can buy a new set for like $16, so no biggy in comparison to the drone itself.

Money doesn't grow on trees Dan. I'd rather spend $16 in subway then broken propellers.

Its nice at least we get the parts for easy replacement if its broken.

The drone aesthetically beautiful. How well were the flying conditions when you tested it outside? Even a slight breezes can really mess with smaller drones, does this drone have good stability?

It auto adjusts pretty darn well and compensates for wind. But, yeah, if a gust hits it, it will affect its flight. Just use it in an open area and you'll be fine ;)

These things are amazingly fun. My buddy has one, never ceases to amaze me how quickly I turn back into a 12 year old when we fly it.

"never ceases to amaze me how quickly I turn back into a 12 year old when we fly it."

Totally.

I'd still love to try one of these. The more I see them, the more I want one. Thanks, WPCentral!

Very cool. Next make it for windows phone and I'll buy 3!! :)

I'm just trying to think of some practical uses for this thing... If I spend $130-$300 on this thing I don't want it ending up sitting around after the initial excitement wears off.....

It's like fishing, no real point but every time you use it it's super fun.

But I hate fishing... Posted via Windows Phone Central App

@rodneyej once you fly this drone.... It will never sit around! :-)

There's not much to say, who wouldn't want a freaking drone O_O O_O @_@ @_@

Ever since I first saw this parrot drone I have wanted one. Simply the design and features are amazing. My friend has one, and he uses it with his iPad. The app looks great and he says its really responsive too. Fingers crossed, this would work awesome with my surface!

I would love to have one of those, because it looks so fun and is something that I've never used before.

It looks super cool! Me and my brother have always been fascinated with remote controlled cars, and RC planes. This looks to be pretty sweet. When I was a kid we would use up whole notebooks of paper making paper airplanes, trying to make ones that flew better, higher, or straighter. (my mom wasn't too happy..)
This looks like something I would enjoy quite a bit.

Neighbours must beware of such camera drones ;-)

Wow! I was just looking to one of this online and disapointed it did not run on windows (according to the store's website). I am soooo hapy right now!

To bad not a better camera. It would be awesome to use somehting like this to record events like, parties, wedding, concerts and anything else.

Check out their new Bebop drone coming out, waaay better camera. In fact, it's basically a flying lens.

Cool. But, is it possible to attach a Hero cam or will it be heavy for the drone?

Now you're talking the big leagues. Take a look at the Phantom 2. You need a spare $1k though for it, plus a GoPro.

"Note: Wi-Fi streaming from a camera is not possible because it may interfere with the Phantom's remote control." Bebop might be the better option. :)

@dj0502 I attached my ContourHD helmet cam to mine, it flew surprisingly well, it was cool having sound! You can check out a couple of pictures I have on Instagram @psutherland6

Yea, camera and battery life is the only complaints I have for this one, the Bebop is gonna be kickass!!

I heard from Parrot, Windows 8 support coming in Oct.

I would love one of these. I've been on a drone kick for the last couple weeks.

I would really like to have one of these! It's as close as I can get to becoming a pilot.

I was at a music festival last week looking at the chopper above hoping one day I'd have one. Maybe I was day dreaming but then a drone with a nice camera might be a realistic compromise.

Definitely got potential, wonder how loud or quiet it is.

Its pretty quiet. You hear it a little indoors (makes fan-like noise), but outdoors there are louder things around than the drone itself.

Now we're talking. Much more fun than a remote controlled ball. I just wish the camera was better. Can we strap our phones to it for better video?

If you want to strap your phone to a drone that will most likely run out of battery mid-flight and hit the floor then sure

Looks like a pretty solid app. Even so, the 15 minutes battery limitation is pretty, well...limiting. I wonder what kind of warning you get before the bugger dies and comes crashing down to earth or into the lake I might be flying it over.

Really want this! I need to test drones for work...need to monitor agricultural operations. Will this drone do it?

I. Must. Have. One. Yes, I feel that strongly about this...

Just need to justify it to my partner haha imagine the possibilities with Cortana also!

hmm what kind of commands would you want to be able to say?

The battery life is definitely something that would keep me from purchasing this awesome toy. Getting a couple of extra like Daniel suggested would be a good idea. Also PROTIP make sure you look at the no fly zones for drones by checking your local laws. Some defaults are : No use within 5 sq. Mi. Of an airport, army base, etc... Happy flying :)

This looks pretty impressive. A RC toy that can connect to a Windows Tablet? Very intuitive. Im really honestly liking the third parties embracing the WP platform, and creating more compelling apps and other features. This is just a start. Personally I wouldn't have much practical use with the thing other than messing around with it from time to time, but it still looks great.

Would be interesting when the app launches but right now not much

Oh man that is awesome. I have forever been enamored with the cheap $20 helicopters you can get everywhere but always wanted a grown-up version with touchscreen controls. I would definately get one of these if I had the disposible cash!

Well, that doesn't seem like a waste of money...

These are great, the version 2 looks alot better. Are they able to carry a Lumia 1020?

Doubtful, though I haven't tried. The Phantom 2 is the better one for adding cargo.

I will engineer this thing to carry my 1020!! I have a whole fully equipped technical workshop to my disposal but unfortunately no disposable income for something like this :( so If I win just give me a month or so and I will post a DIY vid on how to modify this drone to carry phones :)

I'm wondering I notice that it uses on screen controls. Does it also have keyboard controls if you use a laptop?

I really want this. I don't like the battery life too much

The AR.Drone is cool but, while it's more useful than Sphero, the short battery life doesn't allow us to fully use the quadricopter, and that's a shame because the signal's range is quite wide, the camera's quality is good and it's pretty easy to control. Actually, the main problem can't be solved directly by Parrot, because it's legislation about these drones: here in France, you can only fly them over the land you own; a few people have already been condemned for not respecting that. So unless you have a huge area to keep under surveillance, a drone isn't that useful.
P.S. Please don't pick my comment because it's totally useless for me, I prefer that someone who will enjoy it gets it.

Higher end drones like the DJI Phantom 2 get nearly 30 minutes of battery life, but you pay much more (3x the cost). You get what you pay for, and a least in this case, the AR.Drone 2.0 is a nice "starter" drone to get your feet wet ;)

Exactly! I'm a complete amateur when it comes to RC especially copters so this would be perfect to get into the game!

Ok, thanks for letting me know, but the real problem is that I can't fly it wherever I want.

Really wish I could justify one of these, it's been something I've wanted for a while but have no reason to use it.

The battery life isn't an issue for me. Everything I try to fly of these, they don't last longer than a few min before they crash.

Battery last only 15 min. Thats a big drawback. I would have prefered it if its at least stays for 45 min to 1 hour. Also adding an APP for windows phone will be helpful.

Even high end consumer drones eek out only 25 minutes. Can't do much about it.

Mmmm or can we... Mini Arc reactor! Woohaaa ha he he haaa (evil laugh)

Have been wanting to pick one of these up for my kid - well, me too. Good looking app!

The Parrot AR Drone looks to be a decent piece of equipment and then to be paired with a decent WP8.1 app should be pretty awesome however, they should really look more into the battery situation as 15 mins run time isn't really alot.

Cool. Looks like a RC helicopter;)

@Daniel_Rubino ... Really.... You guys are really going to do this to me!? First Sphero and now this!! I thought Sphero was a pretty great prize but it just get's better with each new hidden gems article! @Daniel_Rubino I have two questions, will the software work on a windows 7 laptop? (it probably does but if not and I win, all the more reason to get me a W8 tablet) and Daniel the first thing I would do is try and fabricate a holder & maybe a gimble setup to attach my Lumia 1020, will this thing be able to handle the added weight? Another awesome article that was a joy to read. I live in the perfect place to film some amazing video with a drone like this and it has always been a dream of mine to do so (well ever since I watched Parrot unveil there first drone on youtube at CES) the 15min battery life is a bummer, dont know why they would even put a tiny 1000 mAh battery into something like this and then only put one in the box!?! But as you said... Stop bitching and buy more batteries for the thing LoL. Parrot has some seriously awesome products and more will be coming soon. I myself have never even flown a RC helicopter... Well not proper ones, just kids toys, so I was a bit unconvinced at first that I would be able to fly something like this without breaking it on my very first try, but the design and materials they used seem to be ok for the casual crash into a tree or bush. Thanks for another great article and yet another awesome "toy" for me to be dreaming of winning. :) .......oh yea and I almost forgot........ PICK ME PICK ME PICK MEEEEEEEEEE!!!!!! LOL :) Cheers @Daniel_Rubino and thanks for replying to my last comment. You guys at WPC keep well and try not to break that drone please :)

Hah, thanks for the comment. RE: adding a camera, probably not. Haven't tried, but I doubt it could handle the weight. A company called DJI makes one called the Phantom 2, which can do such things (even hold a GoPro). But it's like 3x the cost, so... The app looks to be Win 8 only (Modern App), and I don't think there is one for Win 7. Basically, this is a starter drone. If you buy it, you don't break the bank, but it may lead you to the bigger, more expensive drones like a Phantom 2 (which I really want, lol).

It must hold a GoPro, look at the youtube videos and compare them to the ones you made :) Also, some has in description that it was taken with a GoPro.

You and me both! That phantom 2 is so awesome! The video footage they showed off that was captured with it blew my mind the first time I saw it! One day when I'm rich I WILL have one LOL! I just can't get over the shots you get from drones using high quality cameras. Even Hollywood is ditching the Helicopter and camera rigs for drones as it is WAAAAAAAYYYY cheaper and the shots are just as good and even sometimes better due to the agility and size of drones!

the battery life is a deal breaker for me, make it bigger & heavier with at least 30-40min flying time and i will pay 500-600usd for it

Won't happen, not for awhile (needs more market saturation, these are still niche). Check the Phantom 2 by DJI, which gets nearly 25 minutes but costs around $1k. It's consider the ideal next level up for consumer drones.

Always a fan of RC anything, but this is just too expensive and not special enough. You can get a good indoor helicopter on Amazon for $20 that has the same battery life. Granted, there are a few differences, in that it won't work well outside, doesn't have cameras, and no windows integration. On the last one, I think a remote from the manufacturer is actually much easier to use than a tablet, but whatever.

Quite an awesome drone, cheap if you compare with the real good ones, plus this one does a lot too. Like that camera, images look good... Battery will always be a problem when talking about portable remote controlled flying objects. True, 15 minutes sucks and changing battery interrupts video in case your filming something, but what are you gonna do?! Now that camera below it could be 720p also. That's the actually image we want! We want to be able to look down from above. They really should think about that... And maybe a Windows Phone app!

Always wanted to test out one of th Reese things, just to look like I'm in the future or something, my friends freak out when I'm simply playing music through a Bluetooth speaker, so this would blow their feeble mins :P

Awesome that sounds cool just think what the future will bring us next

If I should win, I shall sell it to the highest bidder, and f***ing donate that money to some charity.

Loved having a helicopter to play around with... Would love something a little more stable and with a cam!

So based on the battery life and the amount of time it takes to charge it, you should consider getting 4 extra batteries. That way you can fly it around the clock.. Assuming you had a couple of assistance to work the pit crew.

This looks great. Would love to use this for my real estate business by offering flybys of the house for promotional videos.

I think this would be awesome for selling stuff on eBay or kijiji.....set the product up, fly around it taking videos, and sell, sell, sell!

These are super cool. I want one.

An open Windows RT/Phone API would be great. I could use the camera on the drone to orientate and fly towards a QR tag or similar. Or use the difference between the controllers GPS coords and the Parrot ARs to make it follow you around.

I cant test the app right now! But this would surely be my little brother's birthday present!

i think i would be cool if we can buy some kind of case/contraption to house our lumias with its awsome ois on to these things, also may be find a way to use the battery from the phone to extend the usage by few minutes.

I really need one of these and I just got my Dell Venue Pro8 tab.

You mentioned accessories... are any of the components (beyond the battery) upgradeable? Thinking I'd want to tinker and replace the cameras. I'm also curious about what these devices do when they fly out of range. Does it do an occasional hand-shake test, and if that fails, fly itself to the last-known-good location?

This is awesome. The little kid inside of me wants to jump and shout by the idea of it. But, it's a bit too expensive a toy for me, at least now. Again, the young me would've gone for it, but today I can't imagine spending the money for something I can't exactly see myself use more than a few times in any given time frame.

I have this one, developed an app for it on WP8. It's good fun, really tricky to fly in absolute mode using the camera. Especially when there are branches near. So I use that relative mode (don't know what it's called, Progressive probably), which is nice in a phone, but sucks in a tablet where there is no compass. The video quality is like Daniel said. Expected a little bit more, don't be fooled by the youtube videos, they are GoPro shots. It's also kinda lame that there is no sound. The real shocker is the price of the replacement parts. Insanely expensive. If you are fine with the things I wrote, then buy it. Endless hours of fun, a GoPro is recommended, then you will be the king of the facebook. In the winter when you don't fly DO RECHARGE the batteries, one of mine is died because I forgot to do so. This is a problem with Li-Po batteries, not with the drone.

A WP app would be pretty cool. How much do the batteries cost?

By chance do these drones have optional cargo adapters? Would be cool to snap on cargo hold or phone adapter (if you want to use phone for additional footage).

I've always loved this kind of toys! I'm RC enthusiast! Must consider to buy one of this.. Or maybe wait for the Bebop?

This drone looks awesome.as a fan of playing with machines I love to own it ..it worth the price and it looks really coool..the machine is not just a play toy but more than what U expect..its working is really impressive and its tons b fun with it..

Simply put, there's nothing I don't like about these quadcopters. I have spend some time looking into them to see what they have to offer and the truth is the Parrot ones are the very best of them all, at least on paper. What I most like about them is the cameras because it allows the user to view the world from a whole new perspective that was unthinkable just a few years ago. I would play a whole lot with one of these.

I am SO excited that this finally got support! I love the AR Drone. It makes it so people like my dad can use it for his real estate stuff. I love how 2.0 improved on 1.0 by a great amount. When the WP version comes, I hope it is a universal app, as that is better than having two separate apps, imo.

Pretty good toy. Would love to have it when I was a kid. Nowadays, not so much, although AR Parrot Zik's are nice addition to my headphone collection.

I've always thought these would be cool. Is there any water resistance / flotation capabilities?

Haven't seen one this on my real life i mean flying drones but I think to have this toy is great. The only issue I found what if I don't have wifi connection at home. Am I still able to play this? Nice vid btw.

This looks awsome, love the idea of leaving your human field of vision for an aerial view. Not a fan of the battey life, it may restrict the fun but I can´t imagine a bigger battery and having that swift movement ability. So many fun stuff to do with this gadget would love to test it on some remote places. great review

nice toy. looks like it is priced fairly although i think an upgraded version with better cameras would be welcome but i think mostly larger batteries should be available (that might add weight though so i don't know how that balances with flight time as more energy is needed to lift it off the ground)

I must be getting old...they used to be called remote control (rc) planes(or helicopters, or whatever). Did that take too long to say?

I dont know if this exist but it would be cool to have a drone like this and fight with other drones. (not real fight) like you see the other drones in the camera and its like a game.

Well for battery I guess ENERGIZER RECHARGEABLES might help as they help me get my Xbox 360 remote play for a month with a single charge (and no its not a joke. I play usually ~4-5 hours everyday and seriously it lasts a month)

Hmmm, looks like an easier way to check the gutters. :) I have played with the cheap helicopters and would be interested if this easier or harder

Looks interesting, camera sure makes this better than the other entry level drone available. Battery life on the short side.

Cool! 15 min is reasonably sufficient for few short planned flights. It would be nice if it was possible to control it using the gyroscope sensor of the tablet, instead of touch controls in the screen. It also could be nice if it did use rechargeable AA batteries as those are cheaper and have higher power capacity (some are 3000mAh) but I don't know if it would have negative effects on weight.

Well i think this is future as now in future things can be done just using mobile(Windows phone)..
We can control home with insteon, a ball with sphero...
Now a drone..
Well it looks impressive and the ui looks good to though it needs some improvements to make it look more like interior of the drone..
Overall great app and drone

Looks fun. Toys connected to devices is not just a trend. You can do so much more than a dedicated remote ever could. Unless, of course, you spend an extra $300 or more.

I don't think its only for kids really impressive

I would love to attach my 1020 too that thing. Bet you could use it to take some very creative shots!

What does the emergency button do?

Needs better battery life and Windows Phone support

Have definitely bought one if they had phone app. Release the universal app soon and as well reduce the price as it seems costlier and increase its battery, it would definitely be a success :)

I think it would be better if they used a MicroSD for storage. That would save a.lot of weight. You can use an RC heli Lipo charger that would the battery in just 20 minutes and with the add on GPS system you can set a maximum altitude so you would not loose it.

I love this, I love that it had a camera so you can see what the drone sees. Would be cool if there was a way to record from that camera.

Amazing when will arrive in India??

Windows tablet will consine a lot of time using AR Drone. Although wr can carry tablet with it. I find if phone is used against the parrot tye its worth giving a try to such kind of things. I used to play such kind toys with controllers b4 made by Funskool.

Want to be a pilot so I would like more to buy this as soon as arrives looks like a very reliable and affordable one happy I got the WP app the most important to do with this great WP

I am surprised this took so long to make the GEM post. I remember when Daniel got hold of this, I thought he would take all kinds of time off to fly this thing. lol.

My concern is battery. Waiting an hour for battery to recharge after just 15mins of fun ain't good enough. I'd love a big capacity battery say 3000mAh will be great . Also thought of controlling an RC quadricopter is ridiculously awkward it's like taking a picture with an iPad 3 (or any of the other big iPads) at a wedding amongst many other ppl also taking pictures with their sleek smart phones. I can't stress how urgent a WP app is needed for this Drone

I bought one 2 years ago and I have been using it as a door stop for the past 20 months. I have really enjoyed using it all summer long. I wish they they made more upgrades for it. I understand that they have a new one coming out with a 1080p camera, but I really want an add on for my drone. I love it, I just want more shiny new stuff for it.

I think it is simply awesome that products like the AR Drone are finally making their way to the world of Windows and Windows Phone. For far too long isheep and android fans have been able to use ammo like this against us, but no more. Whether it is the future or not, the fact that I could now fly a drone from my windows phone is cool as hell. The amount of fun or mischief one could create with this is just awesome. I would love to have one.

Looks like it would be a lot of fun to have.

I neither have a tablet nor a drone... So

This would be a great new toy. I'm mostly interested in the camera. Being able to record things from a whole new perspectives would be alot of fun.

I would love to win one!! :D Endless possibilities for the things you can do with it.. :P

That looks really cool and I'm glad they decided to support Windows!!! Windows Phone would be nice but..... you know.

First, as others have said, it's great to see these types of companies supporting the Windows ecosystem. I think that these types of gadgets have a broad apeal because we get to control them with yet another gadget we love! This concept also allows the manufacturers do more than what a basic controller would do if they included them with the drone. The most exciting feature about these drones for me is the camera. I'm an avid waterskier and i've seen some of the most creative videos and photos taken with drones. Shots we could only dream over 5 years ago. As technology improves, it would be nice to see a higher resolution camera included.

These look like a blast to play with. If only I could get my hands on one...

i love this thing since i had the opportunity to test one

My neighbor would be extremely happy to have one. He likes to spy on my family :P

Looks like an amazing toy, can I say toy, get the app out there to complete the set up

Looks very cool. Thanks for The video. Feature I liked the most is its programmability. Although you said there are mixed comments on this, I'll give it a try whenever I get one.

The drone looks very cool and it,looks neat to,use and easy to learn. I would love to own a drone helicopter

I think more and more vendors should support Windows with stuff like this. Good job drone company.

for $300, thats one pricey toy. but for hobbiests, theres no price limit. thats unfortunate for the low battery life but anything with more capacity would be too heavy. drones...toys today, skynet tomorrow :P

The drones/quadricopters available now are really cool. I will probably buy one sooner or later. But I wonder if it is maybe better to get a bigger RC plane (one of the styrofoam/pseudo-glider types) and mount a front-facing camera on that. I've seen videos on YT and it seems pretty nice. More like a flying experience, and I guess the battery time is a lot better. It is also controlled with a real RC radio for much better range. Anyone got any experience with this?


I would love to take one of these to a music festival to fly around for a bit. I can think of a few places in nature that would be great to explore, too. What happens when you try to fly this guy out of wi-fi range? I feel like it should have a built in virtual boundary for this sort of thing??

Honestly its good to see apps like that coming to Windows store. Gives us hope.

By looking at ur review, it's clear tat battery and video clarity must be improved. But video stability must also b improved. Tats main. So including a gyroscopic sensor wu'd b a good idea.Regarding battery, they shut hav include thin solar carbon fiber body parts. Wat I like abt tis parrot drone is the aerial filming, our ordinary shooting will b awesome using tis

Nice! Short battery life will require many extra batteries, though.

Battery is the main issues here... I guess solar panels can be used...

helium balloon + drone = endless fun :D

Would love to get my hands on this. Battery life an issue, but what can you do with four blades to run. Love the camera view while controlling it.

I could see this being great fun during the kids' sporting events. A bit of a learning curve to do it safely, but great shots there would be!

oh god how I wish I not being an poor student so I can bought one, or have lucky enough to win one D: still it really look entertaining, really like the experience that it gives as I seen in the video... the only problem is that it required been on the same wifi network so mostly is a downside if you want to go an play on the street, but anyway it is a great toy

The drone makes it's own network. Basically you connect to it's individual WiFi network to fly. Daniel explained that in the article.

So far I've seen the drone, it is very fun to use and also the controls in the app are very easy to use. I wish i could see the drone with some little LED's just to warn people you are flying that thing (it would be very helpful if you use the drone to play in afternoon) or have a little speaker so it can make a soung in case it crashes or lands in a bush, maybe a feature similar to a treasure tag, just saying... and also adding a feature so you can use de drone as a speaker, you can make so funny pranks with that. Overall it looks like an amazing toy :D

Wow! another robot just like sphero...looks cool. I haven't heard about this drone and it looks bery promising that
it can do all kinds of stuff what a normal drone could do....
Good and trying this would be a mere childs play i think so...It will be awesome if it has windows phone app...

A coworker brought one into the office a couple of months ago. Super fun!

I have played with my friend's AR.Drone 2 a number of times now. It is indeed a lot of fun. The controls take awhile to get used to, but once you're used to them it becomes quite easy. The nice thing is that the drone is capable of steadying itself and "hover" in place, even in a decent wind. A couple other suggestions: 1) Get a bigger battery. The included one will only last you about 10 minutes of flight and takes awhile to charge. So you're going to want a 2nd battery anyway. You can pickup a 3rd party battery that will last ~50% longer fairly cheaply online, and it's a worthy investment. 2) Parrot now sells a GPS module you can plug into the unit which gives you MUCH more precise controls as you can plot map routes and the drone will follow along it, as well as telling it to return home and it'll pilot itself either back to where it took off from or to where you are now standing. It is about a $125 add on unfortunately, but the upcoming Parrot BeBop drone will have GPS built into it. All in all, it's a fun gadget and a worthwhile investment for those that are new to this kind of thing.

Looks Good! Now where is my drone?

This would be amazing. If I had one, I'd try flying around the city of Cincinnati to get some cool views of the city from up high - that is, until the police say to stop because people are scared haha. Would love to try one out sometime, especially when the windows phone app comes out!

Woot and Newegg sell this drone refurbished(at least they used to). I bought mine for $175, and also ordered the Parrot-made extended battery, which lasts close to a half hour. It's pretty fun, but is easy to destroy unless you take it some place open to fly it. I fly it in my front yard sometimes, but even a slight wind will make it crash into things. Posted via Windows Phone Central App

If it could hold a go pro I'd be sold!

I would LOVE one of these things to fly it over my inline hockey games or soccer games! Maybe it'll get me into coding, creating something to link the camera to always follow the puck or ball would be AWESOME!

So cool. Combine this and sphero and you have a team.

Nice design of the drone. Looks to be really durable. I'm just imagining the possibilities of the types of shoes you can get with this. Would be nice if it came with night vision

This looks so cool! What happens when it goes out of range though? It would be cool to have the capability to use the jets as propellers and be able to use it in the water as well. Still an awesome find... I could probably use it to pass something light to one of my friends across the street, the possibilities are endless! Arms that you could toggle and grasp things with would give it so much more appeal I think! But sooo cool. I want!

If you get disconnected from it, it'll try to find it's way back to where it took off from. It does so with reasonable success, but regardless it doesn't just go plummeting to the ground suddenly either.

I was really happy to see this software being launched for Windows. Earlier I used to see my colleagues using iPad and all, but now I am gonna get my personal Parrot soon :)

I didn't know that the app was universal, is a good idea. Having an option to view the live video streaming on windows 8.1 while controlling it from windows phone I'd even better

Don't like that the original AR drone required a camera on the bottom to maintain stability... Was very shaky to fly at night when trying to get pictures of Xmas lights. Wonder if this is any different with 2.0?

A coool toy, the battery life is quite a bummer, but sure looks like a lot of fun while it lasts.

I still remember my childhood days, always crying to get one of these remote controlled toys. But never was that wished fulfilled, as my father was an army officer and would strictly forbid any toys. But i still couldn't resist the desire to get one of these. I wish I had one right now in my hands. Would totally go crazy. And this parrot looks fantastic, and sturdy except for the battery.

Really want a one . Love playing with RC toys. They are so fun. Hope I win one.

And that is one of the coolest drones aka flying machines one can possess. Added to that is the compatibility with Windows 'tablets' - something that calls for an applause. In a world of technology primarily dominated by smartphones and computers, something like a drone is a rare sight and kudos to WPCentral for reviewing such a product. Hopefully this will provide some information to people who believe that technology is all about phones, tablets and computers without actually knowing how broad the term is in its truest sense. :) Posted via Windows Phone Central App

The drone is really cool. Wish there was a Windows phone that worked more like the Windows 8.1 app. I might get one one of these days.

so cool!
but i must say, battery to last long and light to capture good images at night time.

Now this is more like it. An aerial RC! Too bad I can't mess around with my Corgi with it. Maybe if I gave him a parachute... Hmmm... And I shall call him Fox McCorg. It's gonna be an epic battle! I can already picture his stubble of a tail on my crosshair.

I really love the idea of cameras on these. I tried flying some model planes and found it to be a bit hard to gauge distances and clearance since I wasn't used to them.

Holy Toledo another cool giveaway by WPC. Dunno if its a worldwide comp but damn I'm in for it anyway. Its cool stuff like this and informative reviews that makes me gald I found WPC. I mean who wouldn't want to use one of these things at a party or any gathering. With peoples permission of course. Heck what a cool setup for a dirt track motorcycle meeting. Just hover in the centre and you have a 360 view of all the action. The possiblilities are endless. With the Windows Phone app coming soon I'll be saving up to get me one of these for sure. Tossing up between a Tamiya Durga or this I'll probably get this one first.

This is a nice toy. I think with time these will get much better, 15 mins is too little. Needs some stabilization for the video which is a bit too shaky sometimes. I am sure they can hook up two of those batters in the unit, but I don't know how much that will effect its flight with the added weight. I suppose swapping out the battery isn't too bad. What is the range on this thing?

I believe drones will be part of our future and its nice how they are now somewhat accessible to consumers. It would be much more appealing of they has stunts or tricks like flips.

My neighbor has one of these and I have always right thought that I cannot afford these "toys"... It looks really nice and fun to use.

I keep almost pulling the trigger on Amazon but then think of the Bebop :) Oh well back to playing with 8.1 on my 1520!

Nice toy. A good present for Christmas xD.

I love this week's Hidden Gems! Here is another great item that I didn't know exsited. It is a little pricey though, and the battery is quite small, but both are to be expected.

How easy is it to make the AR Drone hover? Is it an automatic function of the drone? Also, 15 minutes per charge seems too fast a session. It would have been better for a higher capacity battery. But it looks way cool to own one.

Hey Daniel, do you know if the Parrot Bebop Drone will have a Windows (Phone) app or the app that it's right now in the store will be able to control the Drone?

This seems like a really cool "toy". Battery life may present itself as the problem though. As these are relatively new things, I guess baterries aren't there yet to power them. However, something in me wishes that this had been like mobile phones: when they came out, batteries lasted for days. But apart from that, this should be a cool thing to play around with. The fact that it comes with its own Wi-Fi network is also a plus as if it used a normal WiFi I'm affraid it would be as temperamental as ISP's WiFi's normaly are.

I am pretty excited that windows is starting to get big name projects. From the videos I have seen online, a parrot drone is pretty fun to operate.

Say what you will about Microsoft's mobile efforts (i.e. Windows 8.x and Windows Phone), but had it not been for making Windows powered phones and tablets possible, the ecosystem wouldn't have apps such as this. It's good to see Microsoft's platforms still relevant (albeit to a lesser degree than in previous years).

Ehmm ... What do you mean by "lesser degree than in previous years"? I didn't know Windows lost many people and WP won some.

Well back in the day everything used to come up on Windows. Today however it's a world dominated by iOS and Android, so to see Windows support is a good thing, it indicates that Microsoft is still a major platform player. And I'm not using the term "major" lightly, Windows Phone is attracting something like 25% of developers despite ocmmanding around 4-5% of the market! The fact that Microsoft got Windows and Windows Phone to punch above their weight is awesome, and we're seeing the results. I could not have imagined in 2011 or 2012 seeing Parrot and Sphero push controller apps for Windows and Windows Phone, so this is awesome. From a business point-of-view, the implications of this are just staggering: 1. Microsoft Stores will continue becoming more colourful and diverse in their product offerings. Consumers will have the opportunity to actually experience the Microsoft eco-system in real life. Drones, robotic balls, high graphical games hooked to Xbox One/360 controllers, etc, just looks awesome. 2. Gaining apps from Parrot, Sphero and others is a huge stamp of approval, it demonstrates to consumers that whatever their views of Windows/WP may be, Microsoft's platforms are here to stay. 3. I really hope we could see some custom Parrot drones and Sphero balls, e.g. custom designs, custom colours, etc, for Windows/Windows Phone exclusively. As for "droning" ... No, I don't think it's just a fad, I see it becoming a serious hobby in the long-term. Sure, the current crop of drones may be off-the-shelf, but as the technology mainstreams in terms of standards and costs, I wouldn't be surprised if we see customization and development options. I would love to work on a drone with a custom camera, wing-based hardpoints (for sensors), more powerful powerplant, etc. Imagine drone vs. drone dogfighting!

Ok I see what you mean the XD but such exclusivity as you mentioned ...
Btw dog fighting would be AWESOME

Well I haven't gone to jail yet for piloting a drone. The app is awesome and I see great sites!

History tells us that the very first helicopter was invented by Italians. They were trying to invent the pizza at the time.

Awesome! I've just gotten into quad copters recently, this thing would be so cool to try

Now if they'd only add an infra-red sensor they could be very useful as moving targets for infra-red guns. The gaming possibilities are endless.

This looks so cool. I would love to get one of these for my kids, but am waiting for the battery life to get a bit longer. I realize it is a weight to power ratio but a 30 minute flight time would be the magic trigger for me. Maybe and extra battery depending on the cost? Hopefully battery tech continues to improve. Oh and no trees like that in Dallas, at least not near my house!

Looks like a fun toy. Cannot wait to use it with a Windows Phone app.

Is goOd to see drones in Windows Phone too ;) Sadly materials look not very professional, there's noy audio in videos and battery is VERY short, even so... is only a toy, so, it's ok. I want one ;)

This is do awesome! Hopefully next generation will have better battery life. Keep improving it parrot! Posted via Windows Phone Central App

Wish I could afford a toy that much expensive......

So how does this thing connect to you phone/tablet? Via Bluetooth? And can you see the videos while flying? I didn't know Bluetooth is that good xD . But this is quite expensive, why would I buy one for my phone if I can get a similar one for 100$ less, with a good controller???(ok it's cool to use a phone but is it really worth it?)
Ok, though it looks cheap because of the material (I know they can't make it out of metal) I understand it has to be very lightweight... All the nice pricey beautiful toys you show us, I want em all :D

The AR. Drone 2.0 could be use for some useful tasks, like, checking you house roof to see if it need maintenance without having to grab a ladder and go up there yourself to check. Also for recording family outdoor reunions.... And for having fun playing with it! .... Really cool... I would love to have one! Greetings from Chile.

The dji phantom 2 quadcopter is one hell of a title but then this is one hell of a machine, note machine NOT toy. It is, however, a machine with built-in fun. My experience is somewhat limited but I belong to a small group and what I am learning from them is amazing. I have... Read More

These are so cool! I've wanted one for quite awhile but have never saved the money to get one. Hope the app they come up with works well.

This thing is so awesome, a little expensive but I think it's worth it.

Another cool little toy, similar to the Sphero. Like it, there isn't much purpose to it. It's just fun. I guess there are some practical uses such as taking video/photos from up high, but that can lead to very icky actions (as we've already seen in some parts of the world). Drones are cool and all, but there aren't many practical, everyday uses for it; yet.

Wish I would a rich guy for this toys. But as you said, we have to wait a Little bit (or more) when the technology will be more precisely (battery, camera, etc)

Would love to get one of these for my dad as he likes toying around with helicopters. Sadly none of them have the camera or the stability of Parrot, and with the built in camera he would have a ball where he lives. Shame about the price - I know its worth it, just steep for an impulse buy.

Got to play around with my friends, using my Dell Venue 8 Pro tablet and the A.R.Drone Windows 8.1 app. They are very cool! It all works amazing well and isn't all that difficult to fly. Being able to see what the drone is seeing on the tablet is very cool as well. It does suck down batteries pretty quickly and as mentioned a spare would be good to have. Haven't been able to pick one up for myself though. There's quite a few things you can do with it and I definitely wish I had one. It is one sweet device and if you have the dough, highly recommended!

We wants this!!!my precious!!!

Looks cool, but... I remember buying an rc car as a teenager - I think I spent a total of 1,5 hours driving it before it went on the shelf.

It looks like a good addition for an aspiring videographer but I worry about the wifi range - how far can you go outside without losing control? And if you do what happens?
Also, can anyone connect to the wifi and take control over the drone?

I fly an RC helicopter and air plane that are made of the same material, very durable and if it does crack just glue it back together. I broke the nose (5 inch diameter) completely off my F4U Corsair and glued it back together and it's like new. The 15 minute battery life is 'normal' for foam RC aircraft, definately buy extra. Flying by camera would be really cool but getting used to the pads instead of sticks may be troublesome but it would awesome trying.

A friend of mine broke out his using his Android tablet several years ago and I was so jealous. It was awesome and I said then that I would get one when Windows supported it. Took longer than I thought it would but better late than never. In the words of Mr. Bean; "I hope I win, I hope I win ;) (pick me :-)

Nice. I could spy on my neighbours :D

This is a cool toy! Would be nicer if there's a built in mechanism (clip or container) to carry some light things.

Been planning on building one instead of buying a premade system, but controllers are the main cost for me so far.. This looks interesting to start with.

I've always liked the idea of a flying drones but it could have been more better if the battery was not that bad.

What do most people use to control these? Tablet or phone?
...Do they come with a carrying case?

if drone doesnt have battery easily replaceble then make it replaceble easily,like cells in remote control, so that when battery gets discharged we can replace it immediately with new one and get back to work immediatly..it would help people to work with it for hours.

I have normal helicopter, if I had some extra money I would buy it. It seems cool to control this with a tablet.

I must have this. This seems like the coolest gadget to own. I could spend hours using this as a prime source of entertainment. I think the only thing I'd like to see improved are the cameras, but what it has isn't too bad. Hopefully I win. Could use it at the next family get together to entertain the kids...and adults.

As an rc hobbyist stepping up to the big boy copters, these drones always look cool to see them fly. The problem I've always had with software based controls though is the lack of tactile feedback that you get with a touch screen. I prefer to feel my controls. Does this have an actual transmitter or could it be paired with a Devo or Spektrum transmitter?
The software controls are a nice touch, but without a WiFi hotspot I'm not sure how the controls would work.
Still this has set the standard for drones. I would love to try one!

This is a great toy or tool to get a glimpse or record a video from an aerial perspective of gatherings or parties, the only downside is the 1000mah - 15 minute battery life per flight. I was also wondering if it can carry a go pro camera.

There are several Go Pro mounts on ebay you can purchase and mod onto the AR.Drone. Wouldn't mind getting one myself.

I have always been interested in helicopters of the remote control sort. Never been able to own one though. This drone; however, looks awesome personally. I absolutely love love love my handheld technology and always look for new features to add to the list that it can already do. Match that with my interest for a drone and bingo. I'd have a hobby that my wife can yell at me for because I'm not giving enough attention to her. The kids on the other hand would have a blast too. I also think that its built great especially for some of us DIY type that could easily fix or even modify it to launch rockets and such. Lol I kid I kid. Seriously though as a lot of you are skeptical on this type of thing dont over analyze it like some sort of car mulling over the pros and cons of everyday usefulness, because really its a toy. A fun looking one at that. I'd say build quality and app support plus the hours of endless entertainment (if you have an imagination) justify the price. That said I'm gonna download the app and cross my fingers to have an excuse to use it.

Best part about this is the cameras included, would be great for shooting arial shots and possibly using them for short films, if the quality is good enough. Interested to see how they implement the interface for windows phone.

Wow, this is just awesome. The app looks very nice, and has this futuristic feel to it. The drone itself feels a bit pricey as it is only foam. If it is 200-250 I'd buy it. Biggest let down is probably the battery, only 15 min that is way too short.

I wonder if i can put on it a better camera, like a FHD GoPro... :)

woo woo wooo before giving review for it.... @DANIEL RUBINO What r u doing man? You are AWESOME at reviews,at new news about WindowsPhone,Apps update....Really cool appreciable... Wont flatter but ya every morning when i Wake up i open two things in my phone (even before opening eys) INSTAGRAM and WPCENTRAL app.... I always knew that there will be somenthing cool everyday and you never let me down.... But now? Should i compaint that you are prepairing JAMES BONDS from ur blog? These tools...like sphero,Drone...OMG i couldnt even imagine that they exist out of REEL LIFE also... Thnaks fro introducing them... I loved Hidden games last part also....though i didnt win i appreciated that a ton... Abt hardwares i was lill low and less intrested but seeing ur SPHERo nd today this DRONe.....i GOT TEMPTED TOWARD IT :)
Keep it up Buddy!!!!! You are going well well well enough!!
Thanks & Regards Ritesh Meena

Really fantastic toy , yet also very expensive. Hate the fact that the battery life is so short, but really like the design and the fact that there is a cam well .... Its astonishing . Yet i loathe that there is no WP 8.1 app. Overall its pretty good. I think that if I had the money i would buy it.

Concidering a great app with wp, I would like to buy one.

really can't decide about these. they seem cool, but I saw someone playing with one in the park, they're actually kind of loud and obnoxious...15min battery life seems a little short too

As a kid, I used to dream about flying such things(unluckily, I never had the chance). But with this baby, I can fly :) especially Snuffles (my dog, and yeah I named him after Harry's Godfather :D). He always gets excited in chasing birds around. He will definetly have lot of fun time :) And with the camera I can record all his actions and reactions :) Yipee :D

That's awesome. I love they have finally brought it to windows phone. My brother had the original parrot and it was great until he crashed it into a moving car.

The rewards just keep getting better with each hardware review ;) Now I'm confused what to wish for – Sphero or Drone (Well, a Lumia 930 as prize – like in the last hidden gems series - would help to clear the confusion :P ) When I first read the article, 15 minute battery life seemed like a bummer. But reading about the battery capacities of higher end (read, much more expensive) drones, 15 minutes doesn't look too bad. Now, the only hitch is the camera quality. But then again, this is all that you get for the price, I guess. Getting a GoPro would help me make some quality videos, especially at parties. There's a widely celebrated festival in India, in which thousands of people light firecrackers at night(It's coming up in October this year). I can only imagine how awesome it would be to film the night from a height using this drone! Can someone comment on the camera performance in low light? (couldn't watch the video at work, so excuse me if they demo it there)

Without a windows phone app what is it good for

Same here... Would be rusted till developers get to WP... Better I shall buy a remote controlled drone with my Lumia attached to it...

English language nowadays is in crisis: They call RCs either robots or drones instead of what they really are. Hell they even call a piece of program feminine!

(Hidden Gem) should have windows phones and windows tablets as a winning prizes i don't see any use with the current prizes

Of course its the future...n..not passing fade...i think these connected toys have many possibilities nowdays n..in future,,,as these remind us how our future will be...AR. Drone 2.0 quadricopter are one of those gadgets which not only have do much fun from this... but also doing many services like delivering things..Remember..one day i read a article in newspaper where a PIZZA is delivered through these type of quadricopter or u can say a drone in MUMBAI....I also read an article about online megastore AMAZON...who want give their service through these type of drones,.as we can have fun with.,we can also use it transporting small things,...LET'S talk about specs..n..design...o have to say it design is good ...n well made,...n,,about specs..The AR DRONE 2.0 came with two hulls,one battery,one charger instructions...it have 3 blades which have keep a height and one thing i like dat its very light..dat makes it to fly like a parrot..it has 2.0 MP shooter which is enough for me..i don,t about others...and with this budget its .the one this article said its battery life...it only fly for for only 15 minutes..and we need a one more....it a big demerit for this drone as i said about service like delivering things it could be difficult..for delivering things at higher distance...but its gud for shorter distance to cover...n..it good they are giving an extra battery in package..although its small drone..n its specs are enough to keep it awesome.... just connect with the tablet or smart phone...then record.....fly.....work.....or u can just shock your neighbours with this..........as i earlier said it has many possibilities....n..we see a better from parrot...so go for it...

What are you babbling about??
This RC copter is unable to lift anything heavier than a box of matches.
Drones may be used for delivery but these are toys with a radio controller,

This is just a miniature drone like toy... Not a real toy to get you pizza... You'll only get the pepper or sauce and never the pizza...

I wouldn't use a copter without a GPS chip, but this would be fun for kids. Also, USB adds weight, why mot use microSD etc? It would need GPS so that you can program it (she for fanboys?), larger physical size and swappable adequate camera mounted on gyros and stabilizers. Then I would fight to have one.

Great review! This would be pretty awesome to spin around town.

A fun device with a lot of extra games. Daniel, do you know if there is plans to port the games to windows?

No audio recording... C'MON this is 21st century... You are kidding... Right???

Looking forward to winning one! Some whining in comments, but overall value seems promising. Besides, a little carbon fiber and epoxy can make for an improved and more robust platform. And the battery issue just might be solved with after-market with higher ma. ratings and better weight/power ratios. Don't look at this as an off-the-shelf answer to your dreams, but as something you can improve upon by using your imagination and cleverness! The upcoming windows phone app only adds to the excitement. This just might be better than days of my youth when ten cents would buy you a balsa wood glider from the corner market, and another nickle would get you a Snickers Bar! Yeah, value is in the eyes of the beholder, and I think there's real value to be had here!.

Until the price point comes down I just cant see these becoming a commonplace toy, but maybe that's for the best, the noise in the park would be insane! Still really want one though!

Question: can Surface RT connect to this drone's Wi-Fi network? You mentioned Wi-Fi Direct and I'm not sure whether Microsoft decided to provide the necessary drivers for the Tegra 3 chipset.

OH DAD I WANT THIS!! Just imagining what I can do with this thing gets me excited! Just lie comfortably in my bed, and fly around my neighborhood, view everything from a height via a HD camera! Better not use this for peeking some girls :/ The only downside I can see, as mentioned in the article: Battery life, obviously. Enjoying my flight, and... ding! Out of battery! Drone Free Fall! Well, guess I just have to buy another one :p Also I've got some suggestions for this cool toy here:
--> Flashlight: What if I wanna go somewhere at night?
--> Photo capturing: I'm not sure if this is possible for a toy, but... I wanna take some cool landscape picture!
--> Perhaps get a map integrated into the app a good idea?
--> Microphones: Sound recording/transferring?

This looks like even more fun than the Sphere, and great to hear the Windows 8 support is there as well. It could be nice to be able to use both a Win8 tablet and a WP together, like having just a map on WP or the telemetry or....

I Have the AR Drone 2.0 I downloaded the app on touch screen Dell note book it works but it lags on tue videos streaming. I would be happier if the the AR Freeflight could be released on Windows phones as well it will make life so much easier instead of moving around with the PC, also it would be great if the AR Drone free flight have a sixaxis support to control the drone with a ps3 controller.

I love Parrot and I love the AR.Drone. I only have the first version which wasn't too bad but i regret getting it staright away. The flight time to charge ratio is not that good, having to wait an hour and a half for it charge and then you only have a flight time of about 15 mins. The camera had no stabilization and the recorded videos were crap to play back. Apart from those two things, I loved the first AR.Drone and showing it off when my friends came over.The app was one of the best parts with the AR.Drone Academy and being able to see other peoples video and seeing the hotspots of where people flew the most. I would really love to have the 2.0, especially with the Windows app out and a WP one coming soon, would love to try it on my phone.

I seriously like the idea of having your own custom parts - I play/use a lot of Lego Technic so can see myself modding this with accessories. This thing looks soo cool!

I have one and it is loads of fun. I recommend the extra batteries since they go quick. I added the extra headlight and underneath light and at night it will scare some people. I would recommend getting some extras blades as well.

Fantastic gadget. Very much looking forward to the bebop. The uprated camera will mean it will be possible for me to use it effectively for filming me and my friend riding our dirt jump bikes. Can't wait!

I really like it & I have been following it for a while now, but the Shipping fees, Duty fees & extremely limited battery life are stopping me getting one .

The only problem is the correct application that will fully support the device but it looks great

When they make the WP app I would consider buying one of this drones. The most I like are those great videos they can do!


My friend has one of these and he said that the drone is very good especially when it come to the battery he would really recommend it to others.

I love my AR Drone 2.0 and was stoked when they released this app for windows so I could run it on my Dell Venue 8 Pro. It's not as complete as on ios but it's a good start. The latest upgrade for my drone though was a couple of the high density batteries for longer flight time and the GPS module for truly autonomous flights once mapped out in the app. Pretty cool I can now just tell it to come home and comes straight back to where I'm standing and lands. Lots of fun for a reasonable price. Just don't crash it as they are fragile and expensive to repair as I learnt with earlier release firmware which caused the drone to be unstable and cut out the engines mid flight smashing the composite cross beams holding the motors.

The battery life of AR.Drone 2.0 is a bit killjoy :O Nevertheless, a cool toy.

Battery life is seriously too low...

I had the black ops 2 drone(quadrocopter) but it's not that great. I hope to fly this soon though.

The battery situation is a big issue in my opinion. If it was a brick I would understand the consumption. But this is a foam copter!! Camera might also be a consumption culprit...

Radio Controlled stuff is just awesome. :p

One Word to explain DRONE,WINDOWS PHONES,WPCENTRAL....... __________________________________A W E S O M E___________________________________________ Will start with big thing i mean things which i really LIKED about it.... Well from where to start,ok will start it as a PHOTOGRAPHER view...I liked it like hell, I alwasy try to get some chair etc for a High view but if this weapon is with me i can simply rock with many od landscape snaps Now will go as a DETECTIVE, well no need to explain it's importance as a DETECTIVE....Its really superb and utility tool for them... Another thing Liked is it's GRAPHICS and ANIMATION .. just like it SPHERO TEAM here also ppl showed their reall skills in desgining the app..Its really smooth and Full of colours... HARDWARE DESIGN & COLOUR SELECTION is really appreciable....Orange colour is a cathcy eye to get attract. Another positive point I found is PLASTIC WINGS really helpful to get a DECENT HEIGHT :) Now Things which i DISLIKED aboout it... Although it has several plus point but one and obvious lack is it's battery. I really feel that 15 min is not enough for 1 time, at least not fro me. Another things is that it's on tablet only till now. It should be on phone soon. IMPROVEMENTS: *LED LIGHT *BATTERY IMPROVEMENT *WATERPROOF *MAKING IT UNIVERSAL APP HMMMM thats it Thanks and regards RITESH MEENA

NOT SPAMMING BUT I HAVE TROUBLE WITH TWO ACC SO.... One Word to explain DRONE,WINDOWS PHONES,WPCENTRAL....... _____________________________A W E S O M E_____________________________________ Will start with big thing i mean things which i really LIKED about it.... Well from where to start,ok will start it as a PHOTOGRAPHER view...I liked it like hell, I alwasy try to get some chair etc for a High view but if this weapon is with me i can simply rock with many od landscape snaps Now will go as a DETECTIVE, well no need to explain it's importance as a DETECTIVE....Its really superb and utility tool for them... Another thing Liked is it's GRAPHICS and ANIMATION .. just like it SPHERO TEAM here also ppl showed their reall skills in desgining the app..Its really smooth and Full of colours... HARDWARE DESIGN & COLOUR SELECTION is really appreciable....Orange colour is a cathcy eye to get attract. Another positive point I found is PLASTIC WINGS really helpful to get a DECENT HEIGHT :) Now Things which i DISLIKED aboout it... Although it has several plus point but one and obvious lack is it's battery. I really feel that 15 min is not enough for 1 time, at least not fro me. Another things is that it's on tablet only till now. It should be on phone soon. IMPROVEMENTS: *LED LIGHT *BATTERY IMPROVEMENT *WATERPROOF *MAKING IT UNIVERSAL APP HMMMM thats it Thanks and regards RITESH MEENA

This Is a toy. It's more to have fun than actually use to get footage. Does anyone know if this could be stripped down to stuff a hero 3 in there? Or would it still be too heavy?
The software looks nice, although I can imagine that it would be quite difficult to control with 2 joysticks on a tactile screen...

Looks like a really cool gadget! Battery life is a killer for me though - I'd be too nervous about it running out of juice and crashing somewhere inaccessible to really push its limits.

Awesome to have one of these I believe! :D

Looks pretty cool. If I had the money I would buy it. I love all remote controlled (or, better, smartphone controlled) "toys". They are always nice to fly/control and people are always impressed.

Looks sturdy. I hope it can carry around atleat light weight objects. Could use it in home when I'm too lazy! ;) Might have to take driving lessons before I could use it to take good pics :D Would have been better if it had a better battery life.

The ARDrone is a great RC toy, while it may not be as advanced as a custom built quad, it is still very appealing. And for those who are just starting out in the RC world its a great entry point

Looks awesome. But it should windows phone support.

I have an AR.Drone 2.0 myself and I can really recommend the Power edition.
1. you get two batteries with 1500mAh instead of just one with 1000mAh which increases the flight time to almost 20 minutes!
2. There are four instead of just one rotor kit in the box which is especially useful if you like to rotate (haha - rotate...) colors like me or, if you break some rotors by crashing the drone.
3. The power edition just looks better with its elegant and minimalistic black hulls.
You get all this for just $50 or 50€ more which is a great deal since one HD battery already costs 40 or so. Furthermore if you have a Windows phone as well, there isn't an official app yet but there are some really good alternatives to steer your drone (e.g. "AR Drone Remote").
Bit be advised that, for some reason, these 3rd party apps don't work well anymore if you're running the 8.1 dev preview.
But all in all, if you have a Windows tablet (especially a Surface with its great Wi-Fi capabilities) this is a really awesome (and useful!) toy that really doesn't get boring even after months!
So a full recommendation.

If I have one of this i'd send it out during a traffic jam and have a clearer look at the situation. Also, it's very cool to have a personal "helicopter camera" for when i'm visiting attractions such as national parks. imagine sending it off a ledge of a sharp cliff and takings videos/pictures of myself. :)

just bought a Surface Pro 3, would love another toy toplay with.

This looks like its quite stable, although small shakes might make recording with it hard. I love the ability to look down, however, since it makes landing in places you cant see easier.

Would love to get one but was holding of for windows phone software saw four of the doing a display at the gadget show tho year it was amazing love how the the software looks so easy to use

I used the first one and demoed it, but never could afford one. Battery life is the main issue so I would recommend getting a second charger too if the third battery is an option. Other issue is that the indoor hull cracks easily. Fortunately, a bit of duct tape can fix anything. I wish someone from Parrot tried to integrate some solar panels into the hull, just to extend the battery life.
It's easy to operate. If you feel you lost control, just let go, and it will hover in one place. It also tries to compensate for the wind if only hovering so you can sometimes see it struggle, and it does a good job staying at one place.
You can easily scare people around you because it looks and sounds like a big bad bug. It would be awesome if you could buy a blank hull and paint it yourself. I would make it look as a wasp :)



Whoa. They are awesome. Still watching for 8.1 though.

I'd love one of these babies.. Cool that WP supports them.

I always thought of drones as just another fashon, but seeing some DroneGram photos/videos made me rethink my point of view. Now I find it really appealing, but before going into photography it would be nice to play with a drone a bit. Is the camera on this drone really that unimpressive? How does it compare to, say, GoPro?

This is a Light weight thingy. Video recording is surely a plus point. Battery life is too low, but the point that it chargers back in an hour is cool. I can keep 2-4 batteries for my purpose. Sad thing is that, it is not available in India, else I would have bought it.

15 minutes of battery life is standard for RC air vehicles. Price is OK, I guess. I believe that this is actually a very nice quadracopter, even for more professional use.
What I noticed as bad thing is instability in air. Even when there is no wind at all it can't stay very still. More expensive quadracopters have some type of stabilization. But, for this price it is just a luxury. It would be nice to have this type of modern toy to spy neighbors.

Only 15min of fly time? That right there is a no go for me. While I understand the limits of our current battery technology, I can't see myself buying something like this only to get 15min of usable time without swapping batteries.

This is awesome. I had drone similar to this one.and it breakd few weeks after.hope it has warranty

I have been following these things for a while. As long as they keep improving them, they are here to stay.

I think this is awesome. I have always looked at posts about remote controlled drones and wanted one. I wonder what it does when it goes out of range and loses contact with the device controlling it. Hopefully its autopilot kicks in to bring it back in range. I would absolutely love to win one of these.

It's cool to play around with it,.. For a little while. You will probably be interested in it for a week or so, then it will probably in your attic. So to make it useful for daily purposes, maybe you could add a hook or an arm to it, to be able to get you something from the kitchen or some thing while you are relaxing on the sofa. That would be a 'handy' feature an would be helpful in the house as well :)

I really really want a Windows Phone app for this. And the thing itself.

Love the idea of Quadricopter as it like a precursor of things to come..... future technology at your fingertips! Though few things would have to wait till some breakthrough in technology to make the experience better, like the battery life, but few things could be added straightway.. -Carrying try/claw. Could be used to deliver keys/files/phone/meds etc at the parking sport if forgotten at home, or for delivering to higher floors of a building without climbing up! I know weight/power would be an issue but thats how it cna be improved. -Better quality camera with OIS ( the 1020 one for eg ;) so as to offsett the flight shake. -movable camera through the frame- this will enable moving camera in a direction other than the flight direction -Find me option, coming back to me from current postion ( not just to the starting point) , can be easily done with synching with phone gprs -In formation flight, will make community flying more fun. - range extender should be a standard feature - emergency beep locator in case it gets goes out of sight/ lost in the woods/ flys off the cliff etc scenario. - miniature rockets( more like match sticks)!! ok now im going overboard! :)

An easy to use personal drone for everyone

This is so cool!! Can't wait to get one!

The battery! Wished it had more juice

Wow! im impress. Just fell in love upon seeing it. I like the user interface. Quiet simple and nice. The dronw too too looks well made. I do find the 1000 mAh default battery small in capacity. I higher battery capacity could have been better. Overall is a nice toy to play it

I have a thing for rc helicopters and these look awesome and loads of fun. Pricey in the UK though!

The Parrot AR Drone 2.0 with the official app seems to be really interesting.
I have a Walkera Ladybird QR (a small quadricopter) and, the main lack is battery life (4-6 minutes). Parrot are really doing a great job and, I have already tested the app with the quadricopter and everything is perfect but, it could be interesting to be able to connect the Parrot 2.0 to a physical system to command it (with real joysticks, etc.) like with my little Ladybird :)

A drone with a camera like this is amazing, to get the different perspective. Sadly, I'd want to get full HD video to make it useful for recording film from that angle. The more I think the more I realise how useful it would be to get unique videos. And the app looks amazing, I might forget it wasn't a game and loose concentration and crash, haha. Overall, it needs a better camera, but they're aiming to hit a price point so I cant argue with it! So much windows and wp support I didn't realise before these hidden gems! :)

Watch it folks... Someone might be watching you through the drones while you reading comments up here...

I'm waiting for the successor"bebop" to arrive in fall. I hope till then the windows free flight app gets the same functionality as on other OSes

I love the idea and that it's light and not heavy. It's very maneuverable and easy to control. I wish the battery lasts longer, has multiple batteries with the package for free, has sensors in case of emergency (trees ahead, walls, cables...) to prevent it from getting damaged

I used to think these "toy" Quadcopter were the business. Especially when looking around seeing "proper" quadcopters costing silly money of $1k+ even for a small, basic one. Then I found a chap from England on youtube called Peter North with his shop, droneshop.biz, who offers "proper" individually built and tested quad or hex copters with full GPS, customisable waypoint navigation, return to home safety features, and the ability to attach gimbals for GoPro's and the like. Obviously the more you add the more you spend, but they start from $450. After finding that I can't see any value whatsoever in these toys anymore. They ARE fun, though.

I think this is a waste of money based on my previous experience. I got a flying disk two years ago and it crashed from about 6 foot height. Unfortunately it died on the spot. Don't know about this one though, as you said in your article that you crashed it sometimes. This one feels a little unreliable. But the windows support, the cameras and the 165 for height is what I like.

Cool gadget, but usualy theese remote toys are a hard compromise between different features. For me, durability would be the most important feature, together with how expensive replacement parts are. And a WP app, but that is in the works..

Is this waterproof or rainproof? I would like to be able to fly it without having to worry about rain messing the circuitry.
Also can it float if it falls in a lake ;) PS: Make it work with Cortana in the upcoming windows phone app. It would be really cool to be able to say "let's fly home" or "Cortana, land the drone".

Awesome, we're going to have tons of sneaky shaky videos :D.

What do I like? Well... It's a drone!! (my neighbour's dog won't be bothering me again). What don't I like? The lack of a Windows Phone app is a slight annoyance and 15 minutes of flying time isn't ages but that's to be expected for such a power-hungry device. To make it better? Fix the above! xD

It looks really fun and amazing to play with, but the price is the only offputting thing about it though

These things look like a lot of fun. Not sure I would want to be holding my surface pro to pilot it...a WP app would be much nicer. The tricks it can do are pretty sweet too.

I paid 300€ for my ar drone 2 and after one week it crashed for no reason ;-;

I really just don't see the point in having a personal drone especially when it lasts only about 15 minutes on a charge, but thats just me. It's definitely a cool toy that I would take if it were free.

(RC COPTERS ARE DEAD, SAY HELLO TO QUADRICOPTER) AR drone is awesome with the camera I just wanted a voice recorder so that it becomes a video camera

Now THIS is what i am talking about! There are some truly amazing videos on the internet that have been created with this type of thing. I have a deep seated desire to have go of any and all things RC, although im sure it does get easier to control with experience a lack of tactile feedback from the controls with this sort of device seems like it would provide a major challenge. I do prefer the look of it when the shell with the blade protectors is fitted (pictured on the box) gives it more of a true drone feel to me, if there is such a thing. I've had quite a few RC helicopters & though they have suffered rather a lot of punishment during the learning curve, none of them have actually broken. Those all being of plastic construction i would imagine this is even more resilient to damage. The automated take off/landing mechanic is a very nice addition, i wonder if it would be possible to add other automated feats such as hovering or hovering with a slow rotation. Although it would probably remove a lot of the fun, i think a greater level of automation could improve its usefulness in creating video, although perhaps the controls are such that this is not really required. Overall it look like a very cleverly executed piece of technology that i will have to 'have a blast' with someday. Feel a little sorry for Daniel having to do all of these reviews though ;)

As a developer it would be very cool to create som stuff with the APIs that are available for this drone. Working now with bluetooth connections, color LEDs and Cortana, and it would be fantastic to use my code to connect with this drone; controlling it with voice commands! And when it is posible, put some LEDs in the drone's case, to light it a little bit up :)

Wow! After the sphero, this beautiful AR.Drone! Amazing! The price I think is justified for this device that can go up to 165 feet!
- Unlike sphero, I liked that it uses wifi direct, enabling longer range.
- Yes the battery life is not so good. But powering 4 motors do need some real energy! They should have given a stronger battery or at least a backup one pre bundled at lower price!
- the app UI is really beautiful and giving battery status is really helpful. The outdoor - indoor system I see is really a thing that I would not had think of! Nice engineering and ideas guys!
- Really appreciate the auto landing/take-off feature! Would be even more good if landing is automatically enabled if the battery powers out ( don't want to wreck up my copter).
- The app looks just like a game with realistic graphics! Just just loved it! Using camera for it is really good idea!
- I would have really liked if they gave a red laser beam in front of that plane! It would really scare off my neighbors!
- I hope that their future WP app will work well with low end devices too.
- I would be happier if they add up Cortana integration! Just say land the plane, and whoa! You're done!
- Could not say anything more without the experience! But I would really like to hold and own this expensive toy and show it off!
(Sorry for my bad English :))

that is very nice thing to control somthing with your windows phone device

i will be happy if i get this drone

The AR.Drone 2.0 seems pretty cool. I always wanted one of those airhog copters as a kid and this appears to be a major step up from that. And the app is simple enough to passively use and understand.

Looking forward to better battery performance and more robust fuselage in the future. If you want to experience the ultimate in flight get your pilots license and fly yourself. Nothing beats it! Remember to obey all rules and regs concerning altitude! Thanks and happy "flying"!

I got a friend that has one of those normal looking helicopters, but he needs a freeking airfield to take it for a ride... This would be something to bring to the next party, since you can show it of inside !!! And now for Windows, I love it.

And one more thing, besides beeing able to bring this to a party for indoor use, I think this is less likely to kill someone or something since it doesn't have those big blades that the normal copters do. I do wonder one thing also... How far will a WiFi network actually reach ? I mean my WiFi at home hardly reaches to all my rooms, this is a thing that you would like to fly away with at least 300 feet...

The only thing I can think of to make it better would be IR/night vision camera and glow in the dark bodywork. Sighting of UFO's around my neighbourhood would increase 100% ;) I was thinking I'd love to use it to get some footage of me and my friend when we go kite-flying, but then I remembered it has to be quite breezy to fly a kite...

Is it legal to fly these drones over cities and crowded areas?

Nice toy to experiment with!

Although the built-in camera should be enough to do some fast landscape shooting, it wuould be perfect if it hat a Go Pro stand so you can put your own mini camera. That would be perfect since Go-Pros are so good for these type of things. Nice toy, but too bad for the battery. Where are the new gen batteries people??

That's a pretty cool technology.

It's gorgeous. What I like? It's a freaking drone that can be controlled via your phone, and it looks better than the older one. The downside that I see like everyone is shorter battery life. They should improve the battery life and perhaps give it a 3G radio to control it over a network so that it's range can be enhanced further. It's obviously awesome, just for the bragging rights that come bundled with the package. ;)

This drone looks pretty good. Have never used one before, but quite fancy it. Though once the WP app arrives, not sure my wee 520 will be fast enough!

Looks like a great gadget to have! Battery life could be better, but the foam housing and the bumper case make it a very durable device. Besides being a cool gadget, it can also be handy to watch on places where you usually can't (easily) access, like on a roof of your house for example.

What a great drone, Parrot has some really cool things in their product lines. This is a great entry level drone but I want a SenseFly. This will have to do now to get my feet wet. Bring on the phone app.

I've been wait...waiting.. Now dying for the windows phone version to come out! Now that I have a 1520 my screen is a ideal size

This is great! I always wanted to have one of these drones but I only own Windows devices (Windows 8 tablet and Windows Phone 8). By having an app for Windows, I can finally make a purchase for the drone. I think drones will become more popular once there is clear regulations about flying them.

Played a couple of times with it, my friend had one. It was impressive. I really liked the augmented reality games, it takes practice but eventually you get it. Now with the flight recorder and the extended battery it must be better. I remember we never had enough flight time. The AR Drone is a spectacular piece of technology. One thing I remember being bad is the sounds it makes, playing inside was almost impossible, it is so annoying for others. Would be nice to have one model to run on fuel.

So, where did the first part of the article go? In the preview in the article list, it starts with "Drone word something something". When I open it, this introduction doesn't appear anymore. Notices it on another article as well. Can't remember which one thou.

This is extremely awesome, I really enjoy your concept and I'll totally support the stuff you guys do, although I'm kinda disappointed about the battery life (~15min is a bit short...) I still would die for using this drone.
I'm just hoping that the drone is durable and that it won't break the moment it crashes for the first time.
I really like the fact that it can fly up to 165 feet, I'm just hoping that it's handling is good and that it won't spin uncontrollably etc
My biggest concern would be that it isn't to durable and that it will be destroyed very easily.
Anyway I couldn't afford it...

The concept and its implementation is pretty nice. In a world where everybody is trying to own some gadgets nobody is thinking about these products.I hope the situation changes and it gets cheaper so many can afford.

Why don't the Hidden Gems articles show up in the News feed page? It's annoying having to search them out by going to the Gems page and not seeing when they get posted.

Great! That's another cool thing. I hope it can be modified to add more features to the drone :D

I like it. Lots of potential for at work, much easier to fly a camera up to an upper storage level or something to get a look at what's up there, instead of having to wait for a scissor lift be be available. With the price tag, I should have no problem convincing the bosses. These things have practical uses, too. Thanks for the article!

I should be so bold and register wdcentral.com (for Windows Drone Central), I foresee a new niche community now that we're finally getting Parrots controlled by Windows and Windows Phone. I was just wondering whether there's going to be a gyro- or accelerometer-controlled version (on phone or tablet).

For aerospace students like me this must be one of most wonderful toys imaginable. Unfortunately there are some regulations against RC Flight on public ground in many countries. There are clubs you can join that have their own property for flying.
While flying on a field or in nature might not annoy anyone, you probably shouldn't use this in european cities. On the other hand, flying on the streets and between houses probably isn't very practical anyway, especially should the drone fall onto concrete. But think of what wonderful nature/landscape video recordings you can do! Honestly I wonder why these drones are so expensive. Definitly not because of the plastic, and electromotors aren't that pricey either.

Could you strap a different camera to it? Like may be a GoPro?

I was at a wedding one time and the photographers had a drone with a camera mounted onto it. These drones seem like a good and easy way to capture angles that we normally wouldn't get. Would be fun to fly one but I'd be so nervous of crashing it. Hope it's durable! That battery life though....

Flying the AR Drone 2.0 is a blast, especially since we finally have a little windows 8/RT support! I've been flying with my Surface RT with AR.FreeFlight since it came out. There's a third party app called AR Drone Remote that's pretty nice and works on our Windows Phone 8. You should give that app a try on your phone, it make's flying the drone pretty easy! The only downside is, it doesn't support streaming video to your phone but, it will record video to a flash drive! :-). As Daniel said, WP8 support coming soon! Can't wait! :-). I fly mine in pretty tight quarters, so I've repaired and replaced parts several times. I would recommend the ARDroneShow.com for your parts and how to videos!

This is cool. I wish if it could go height of several hundred meters, BTW I'm doing a quadcopter for my college project... and looking at this, I think I shouldn't just stop at a just a radio controlled quadcopter!

I would really like to see a "ruggedized" version of this with a bigger battery and longer flight time. I think even if it was under $1000, it would be a great addition for Fire Departments and other search and rescue organizations. I'm the local volunteer departments around me would like to have a quick overhead view for fighting brushfires, etc.

wow, I have had dreams of somthing like this to use on my farm as a high tech way to find any lost poultry. This would be awsome.

You never know you need something until it appears. I would love to get one of these, but I would need a W8 tablet as well. Looks good to play with though.

Would be awesome if it supported the GoPro. Still looks like a lot of fun without. Should be even more fun when the WP app is out.

Picture qulity on the Drone seems really bad. They should put a camera like the one in the 1020 on that sucker.

One of the most underused feats of technology of the 21st century! Sure, there's still limitations with the battery life etc. but the uses beyond being a toy are limitless. Being an aeronautics student, things like inspections (preflight walk around (see current ongoing easyjet project), searching runways for debries etc) among other uses are incredible.

The app looks pretty good and the done to seems like a lot of fun but 300$ is just too expensive for me for something I know I will only play with a little and that's it. So for now I'll go back to my 20$ mini helicopter if I want to do some RC flying (which I rarely do). Seeing your house from above and getting rid of those pigeons could be a nice use case too Nice review though, thanks

I don't understand this giveaway; how can I give good feedback if I don't have the drone yet, and never had the chance to try it? Anyway, it's very cool to see that they built a Windows app and are working on a Windows Phone app. I assumed they would ignore the Windows platform like most companies do, so it's really nice that we can use this gadget too. And of course, I'd really like to win one to try it out myself!

The drone looks cool and should be a lot of fun for people of all age groups, like the design of the drone, the app controller also looks well featured and easy to use and the camera views are spot on. The two things which they can easily improve to make this a much better product is 1. Increasing the battery capacity from the paltry 1000mah, they already sell a pwer pack version with 2x1500mah batteries, so they should just make the 1500mah battery as default 2. Put the same 720p camera at the bottom too, the bottom view deserves a better camera than present one and should not cost much to use the same cameras on both the sides.

Looks like a cool toy to have. It brings back memories of RC cars. Except this is way cooler. I have always wanted to learn how to fly a helicopter, this might be my first step.

Ahhhh.. My childhood dream which never came true :( ... I always liked copters..the design of this one is incredible but the battery is a lame.

Very cool, but a little pricey considering the batter life. Id also be curious to know if it is water proof at all. Now, for a real life situation, people I do business with use drones to investigate property insurance claims. They will use them when they are unsure of the structural integrity of a building and need to get a closer look at the damage. Its better to lose a drone than have a wall/ceiling/roof fall on one of their employees. So to answer your question, I think these drones are here to stay, unless laws are put in place against them.

Other than the battery life, this little guy looks awesome! I especially like the app presentation, it is very clean looking! Is the screen door effect in the pilot mode standard, or was the drone actually looking at a net?

For my business it's not Toy. When you work with heavy machinery which became faulty in center, and you have to go through the heart of such hot Demons, these Drones are able to do so to see whether the fault is on that place, is explosive, is leaking etc. I personally am ready to swap the currecnt close circuit low quality to such powerful. even if there is need to be upgraded, again I do so.

Guys at work are building their own and telling me to to do the same, but that seems like a lot of time and research that I don't have. I would rather buy a complete kit like this and I really like to support compaines that are building for the Windows platform.

Good to see some apps for drones coming to windows phone. Since my primary interest in getting one is to take some aerial photos/video so I'll have to find some pictures to get a better idea of what the camera images look like. How much does the cost go up on the next version with the better camera?

Okay! I must say that by far this is one of the best things ever reviewed on WPCentral.. A freaking Drone! A toy for which i am never old enough! Now lets get serious: Lack of Voice Recording is something which disappoints me! And Battery Life is very poor! Just 15 Mintues?? Atleast one charge should last for an hour! The thing which conncerns me is its Durability.. I wish it was a bit stronger! Otherwise, Its a great toy to have fun..

Pumped for this app. A buddy of mine bought the Call of Duty Black Ops bundle that came with the original Parrot and it was pretty cool. I started looking into other affordable drones, but really was intrigued by the nicer ones they have out there. Read plenty of reviews on this one and it is definitely a great substitute if you're not in the position to spend thousands of dollars on a more advanced drone. Great Hidden Gem WP crew.

Cool drone helicopter.Liked the camera in the helicopter which is very cool idea and also helps in security.
Not liked the battery life as mentioned in the article.
Otherwise cool idea and design...
Love to have it....

I've read about them but the price tag dampered my spirits and app availability to iOS and Android phones as well. I'm glad to hear that a Windows Phone app is in the works. This to me is successor to RC cars and a fun gadget to have and play with. I like the technology integration with physical objects. Like Sphero, it pulls the attention from a screen to the real world. Posted via Windows Phone Central App

Really like the fact that this Parrot Drone support Windows and Windows Phone as a viewer. For this reason alone, I've stayed away from DJI's Phantom Vision drone offerings since they have ZERO interest in producing a Windows8 or WindowsPhone8 app (the only way to use DJI's Phantom Vision+ is with an Android or iOS phone/tablet).

OK I want one. Although I confess that I'd probably have a hard time actually flying it. For whatever reason control via remote has always been a tough thing for me. Control via video camera might be even harder. I would like to see accelerometer controls added though, so I could steer right and left by turning my tablet. It sounds like "Indoor" mode is just "outdoor mode" with some celings preset, which is good. (Although in my house you could do precisely nothing indoors. I wonder though how cities are going to handle these things? If the guys at Volokh are right (and they're pretty good about this) techincally you own about 400 ft up around your house and yard, meaning that people flying drones into it would be tresspassing, but good luck getting that solved if you have a problem.

This looks pretty much cool but you should review apps and games for WP not the apps that are used to control tube lights,rolling ball or even a drone. These apps are useless for those who doesn't own such expensive stuffs. Better review a cool app or game as earlier.

Pick me and you win a cookie. ( A fair trade I think)

My neighbor plays with it very often and he likes it! But I thought that on the website it says 35min of flight time...

I have a small RC helicopter that I used to fly quite a bit, but it was a real challenge to control and it didn't have any cool cameras attached. Some how, the charger was misplaced and my flying days are temporarily over. I have been researching and reading about the Parrot AR Drone for some time and came close to buying one a couple of months ago. When I went to the local Verizon corporate store to pick up my Icon, I noticed they were also selling the drones which was quite a surprise. They wanted $250.00 for it but that just wasn't in the budget at the time. Hopefully I can soon find room in the budget to get one. I have been eyeballing these drones for a while and it would be fun to fly one around the yard and photograph and harass the squirrels and racoons that are terrorizing my bird feeders...

Very cool. wish I could afford one, or better yet win one!! the fact that there is an aftermarket option is good, especially the higher capacity battery. You don't say what the range is, just better that bluetooth. I guess it is at least 165ft based on the ceiling/hight limit.

Very awesome of Hidden Gems and Windows Phone Central with these giveaways, all prizes are exceptional. This is no exception, this drone looks like a great technology everyone should consider if they are photographers, geeks or, actually, any kind of consumer :D


I think the biggest obvious improvement would be to increase the flight time with a better battery. Some fun things to add would be a speaker with a receiver so you could talk to people remotely while looking at them from the drone.

I looked at buying one of these a while back, but didn't feel like having to buy an iOS or Android device to use it. Glad they finally added Windows compatibility, might look into one again soon.

I've wanted one of these for a couple years but they didn't have the app for the windows phone. My Asus VivoTab should work with it though.

There's a plug-and-play mod out there that lets you use any Spektrum BNF radio controller along with the app. This way you get the best of both worlds, actual sticks to fly as well as the screen for POV flying. I was very interested in these drones not only for fun, but also being able to do things like survey my house's roof without going up a huge dangerous ladder.

I'll have to agree with a comment posted earlier about Sphero. That was cool and would be fun around the office BUT this!! This is way cooler!!! I like how stable the drone looks to control. Don't like the battery life but whatcha gonna do, right?? It is what it is. It would be better if the cameras were stablized better, meaning that when you're flying it and stop the cameras stayed in position instead of moving with the drones motion. Man, it would be WICKED to have one of these!!!

OH man would I love one of these things. One of my neighbors has a quadcopter and it looks like a blast!

I have been wanting one of these for forever! Pick me, pick me! I have to admit that the Bebop looks amazing, too, though!

These are pretty nice for beginners or just somebody who wants to get in at a casual level before possibly graduating to something a bit more advanced.

These look pretty awesome, I used to chase my girlfriend around with a littler one until her old roommates cat got a hold of it... I hated that cat.

Of all the *copters, this is the one that piqued my interest since it isn't ridiculously out of my price sphere. But I'm with you, Daniel, that the next iteration with the better camera is something worth waiting for.

For $300, I would want to fly it for longer than 15 minutes; but other than those two problems, it seems to work pretty well and seems easy to steer. I could definitely see myself having a lot of fun with it. The aerial camera is definitely a nice touch.

I am planning to wait for the Parrot Bebop drone. It has many of the same features as the excellent DJI Phantom 2+ but in a lighter, more crash resistant package. I expect it to be much less expensive than the $1300 Phantom which is a big deal if you want to fly it via way points knowing that it may not come back. I have already picked up a $20 LasoTag iBeacon that I hope to attach to the drone that will make it easier to find in the heavy brush around my house if it gets lost. The iBeacon has a 50-80 foot range and a 30 day battery life and weighs half an ounce.

While it is expensive for a toy, it's rather affordable for the average consumer; that's what is leading to a lot of the privacy issues around drones lately... Just one of the recent examples: http://www.inman.com/wire/peeping-tom-drone-was-taking-pictures-for-deve..., and I've been seeing many similar stories lately as well.

It will be good if they upgrade its battery to atleast 500mAh so that it gives more fun instead of just 15 minutes that's a terrible thing for a toy to drain a battery in just 15minutes or so.......And its weight must be increased as it may get blown in fast winds. A.R. Drone 3.0 must have these changes and one more thing, I don't know it has other color variants or not if not then they must make these copters available in other colors also.

Cool, there are too many possibility like stalking/sneaking your friends with camera but. Kinda fun but "its not a cheap toy".. and everyone knows flying R/C toys are hard to control..

I'm so tempted to pick one up, but I want 1080p recording... :)

I've always wanted one of these, but I could never justify dropping $300 on a toy.

Am so going to irritate my neighbours with this device. Buzzing near their windows, hover over them. Lols, cant think of anything funny. And yes would surely like to test its limitations in a golf field, since that's a pretty good place for testing. And what about the batteries? Something big and jucier? Anymore customized parts as to make it fly faster, better control, lighter so as to sum up properly with a more heavier battery

I wish these could have some sort of container or grabbing arms ! I have seen a drone by a startup to shower flower on wedding day!

Wow, that looks like fun! It's amazing how fast this tech has matured. I do have a few question. What range can it be controlled? Can more that on fly at the same time?

Looks cool, but I wouldn't buy one just yet. I would with battery improvements, at the very least 30 min of battery life and more options for connection like bluetooth or even some sort of mobile data.

I have this app and use it to fly my drone. It is not as robust as the iOS app - of course no surprise there - but it does work well for what it is. It would be nice if the MS bias from developers would ease at some point.

This is the coolest gadget! Looks like a lot of fun, especially with the advanced controls from a tablet and soon WP. I hope run time will improve in the near future.

I would love to have one of these. I've been eyeing one up since they first hit the market but haven't been willing/able to commit the funds to it. I would love to use it for cycling photography/video, especialy during cross races. But this makes me want their upcoming Bebop drone even more with the stabilized HD camera.


Not sure why you would ever put two different quality cameras in a drone like this. I know I'd avoid using the worse one at all costs - either both the same or just one (perhaps a single 1080) seems like a better idea. Otherwise it looks like a great product.

Not sure if this would hold up to Chicago winds but it would be fun to try.

This is sick... I want it I want it i want it I want it I want it I want it.

Looks like it's real fun. Want happens when the control connection is lost? Will it just hold it's position? Will it land slowly?
Is there some alert on the drone itself to show, that battery level is low?

How much weight it can pick up

165ft altitude is definately a plus, love the idea of the flight recording (both included video and addon gps flight path). Would love to give one a go wih the Windows Phone app when it comes, probably quite hard to fit all needed controls/view onto the phone screen Vs a tablet?

I have played with my friend's older oringal Parrot Drone before. It's awesome for taking arial shots with. But I have noticed that it doesn't handle moderate wind that well. Tends to get blown around and can even crash.

When I was a kid, I could only dream of getting my hands on an RC Car of some sort and nowadays you have awesome drones like this. For what you get for the price, it might not be cheap but certainly still cheap considering...although this or a Sphero. This or Sphero hmmm...

Was curious about what happens when you lose radio contact, does it do something intelligent, like set it self down, or does it just go off into never-never land? Was thinking about building my own drone, but this thing looks pretty cool, plus the price cannot be beat (for a real drone, that is.)

This would be awesome to have. I think I would try strapping my GoPro to it after I had mastered the flying part.

This looks like a lot of fun. I'd love to hook up my 1020 to it once I get the hang of it.

Now this is better than Sphero :). Where can you buy this? It looks good, I want to play with it especially it is controlled by a tablet. I hope there would be an option to turn off the camera, it might make the flight longer. I just want to watch it fly :). How long is the charging time before you can use it again?

Great to see Windows finally getting some love from Parrot. I've coveted this for a long time, but I couldn't justify buying an iPad or android device for this purpose. Looking forward to the Winphone app as my Lumia 1020's ClearBlack display works great outdoors. Hopefully the wifi range is sufficient! This would make for a great bday present for me on Monday... (hint hint)

Grown-up toy, it is. I liked the inclusion of cameras out of the box and the fact that it uses wifi as a connection. And the sensors for land/takeoff are going to be a lot useful. I didn't like the emergency feature. If you end up touching that tab by mistake... Gone... Gone is your $300. And the battery life is also ridiculously less.

I understand that every gram of weight is a concern but 1000mah battery is ridiculous. My other main concern is of course durability, followed closely by Luddite neighbors/laws. Otherwise this looks like tons of fun!

So good to see this very cool hobby toy coming to Windows 8.1 finally. And looking forward to it coming to WPhone too. That will be so cool. This kind of technology for consumers is really amazing. And thanks for the longish article reviewing it. Much nicer than those short "sound bites" kind of reviews other sites produce!

had a go on this at the gadget show UK last year using android device and loved this. The camera was amazing for what it is. It was very well built and very durable as i tested it. This was inside Earls court and was impressed, the controls were very precise managed to get one to hover infront of my borthers face very close...and crashed it as well to test how durable it was and didnt break on a drop of about 20ft on to a concrete floor. as stated battery life was short, however they had racks of batteries there. the demonstraterors then got to to fly side by side and follow each other as such looked good.

which tablet is in the video?

Very cool, drones are great and love the videos from them flying through fireworks. Can't wait to try this out with windows hardware!

i guess this drone is a nice gateway to bigger at better drones, just to check out, how stuff works and if it's something you'd like to do more often. after that one should be a better drone, especially if you want to do some filming.

I have always been amazed by Quadrocoptors. Is there a way to completly manual control the drone? I mean like every rotor on it's own? Or maybe an open API for doing so? As this would allow to fly some cool manuevers that probably won't be possible if some sort of controller shipp regulates the rotors... Other than that I would love to test-fly on of those thingies!

Cool drone ,smooth flying !
But it should have a feature like giving itself jerks in case it is stuck on a tree or some shed .Also it needs a better a camera and 'Stable Mode' for clicking pics Rest (9/10) -1 since it's expensive :(

Love rc stuff, and this is no exception. But I especially like the integration with Windows, great way to promote windows devices.i know I already brag up windows phone and windows 8 to everyone, this just makes it better.

I love flying these helicopters. Neat to have the support!

Does anyone have a link to our info about Windows or Windows phone APIs for this quadricopter? http://ardrone2.parrot.com/developer-zone/ just mentions iPhone, but if their network protocol is understood, surely a Windows SDK could be built.
I'd like to write some apps for this...

this is cool stuff, Count me in. Hopefully they can make the remote app Universal App, so WP8.1 can use it too.

oooohh that's what I was waiting for, I have seen similar models around but how should I put this...meh! , this is extraordinarily stable, light and wow the camera. Sure want one now!!

Great little machine! What I like about it is that it can be flown indoors in those cases when the whether might not be the best for outside use, an what I don't like... The price could be lower...

I like to see the App for windows tablets. Bigger screen, more and better to see. But i think 15 minutes of flight-time just gives me a bit of fun, not much. Maybe i just think so and it's more fun :D I haven't had a drone yet. I hope they release the WP-app soon.

I don't think it's a passing fad. It may start like toys, but for some it could end like a fun hobby. The drone seems like a really cool device with lots of cool features. I feel they should have developed a battery pack with more capacity. It provides 15 minutes of fun, then you'll have to swap the battery. After wear and tear the play time is going to be lesser. So battery life must be improved if you want improving experience. It's good to know that it's fully repairable: all parts and instructions for repairing are available on Parrot website. But I'm a bit worried the drone is to be too fragile and it'll cost too much money at the end. To be honest, I have never own/use one of these... but I can really imagine that I'll have lots of fun once I start to play with it hence I have almost brought one myself.

I'd love to get my hands on one of these to add some aerial shots to videos, I hope someone, somewhere invents battery technology that can be pushed to market to make all of these fancy new toys last longer. :)

it would be cool to survey my land with one. i wish the battery was a wee bit larger though!

Anyone with Parrot Drone and MOGA (yes!) interested to help me testing application for Windows Phone? I've submitted BETA version of application, where only basic features are available - flying. More features are coming but I need some guys to help me improve quality and fun factor!

This would be great with a mount for a phone to use as a camera, could find a used 1020 quite cheap or would be an excellent use for phones with cracked screens to give them a purpose to live. Oh and type helicopter into Windows Phone (8.1), the next word suggestion is... heh... nothing for drone however.

Nice, those drones are really starting to become common and accessible. I'd really love to use one for the aerial footage, or just to play around with friends. Battery life is kind of a bummer, but that's more a fault of battery tech than of the drone itself. I would definetly want one!

I'm really excited to see how accessible technology in so many different forms is becoming available. Obviously for recreating purposes there's awesome potential here as battery life and range increase so do the possibilities; Interactive drone games in the sky, racing, mods and custom hobby kits, etc. But imagine practical applications too; going to work and getting to fly one of these around to quickly inspect for roofing damage, or surveying in the field for any number of reasons, construction, open space planning. What a slick way to do a presentation to the board about your proposed project idea. "Let me show you the bigger picture." Just a couple off the cuff imaginings, think about it!! :D

Looks cool, looking at the way tech is affecting our lives and the way we record items of interest is getting better and better and drones will play a big part in it. Being able to map flights in areas of interest would be cool. Could see me using the drone for capturing some breathtaking vistas at the top of one of the mountains in scotland with my son. Can dream!!

Good app. Definitely I install this app if I had a drone.

These type of drones remind me of the simple RC helicopters that have been around for ages. Always wanted them when I was a kid but my parents never gave me one. Now that I've evolved into an adult human being, the technology of RC vehicles have evolved into hovering drones with built in camera's. The child within me really wants me to get this toy and make up for missed childhood experiences :P. The fact that it supports Windows 8.1 makes it very appealing since I have multiple Windows machines and it would be great to control this monster with my Surface :).

I really would like to have this Drone, I think is great, maybe they will can add more functionalities like a game using the Drone.

Does not support the GPS dongle.

I have a GoPro but I'm missing this. I do want one now :) It's a cool gadget.

Would have been fun for my son son and me!

looks great. but i little bit expensive for me. for this price you can build a 4x bigger drone with better camera and cubieboard dev board

nuevamente el producto genial pero el precio no tanto

Awesome gadget! I like how they support windows phone.

Damn! Its expensive for a Quadricopter! :(

This looks so cool! I have a Nokia Lumia Icon, so there isn't Cortana for it in the U.S. as of now, but I can wait if ALL THIS is going to be on it! *.*

It must be fun to play with it. The battery life is incredibly short and your demonstration shows that the lack of image stabilization forces you to learn how to control it if you want to get decent videos. It is a nice toy anyway.

very cool toy. wish i had one :)

Likes: The device will be emitting its own Wi-Fi-Direct-Channel for connectivity/being maneuvered. Can be controlled via windows tablets.(good replacement of remotes of the RC toys) Portable. A Windows based tech. battery backup can be increased according to the requirements. Dislikes: Less battery backup. Disturbance during the flight(maneuverability) due to light weight framework Camera can only be moved in two directions....which can prove to be fatal for the device...Whether using indoors or outdoors. Also it will become difficult for the user to keep control of the drone. What if the Quadricopter runs out of range while flying.....will it return back to its initial location via GPS(if GPS installed) Doubts: up till how many mAh can the battery backup be increased? If while maneuvering Quadricopter, the windows tablet hanged and the Quadricopter didn't receive any commands/signals for a particular duration. What will be its reaction/respond? What if while using the drone, another windows tablet wanted to connect n control the Quadricopter.? What if 2 drones flying simultaneously much closer in range. Will they interfere with each other's signals/controlling.? Emitted Wi-Fi-Direct...if hacked into? What is the level of security of the Wi-Fi signals emitted? Suggestions: Make possible to rotate camera rotate in any directions. (At least to left and right)
or add 2 more cameras on its left and right sides (diagonally(facing front), having an angle of around 45 degrees with body of device) to have a broader view of nearby surrounding.

I am one of those that tend to react with a "pfff" in front of this kind of toys (Reaction increases together with the price). It's probably because I can't afford that kind of toys and, at the same time, ignore how fun it's to play with it. But, to be honest, I am one of those that react with a "wooow!" when playing with it and may spending more than I can to get one. Being said that, there is one thing why I haven't get one yet, its battery life. It's sill a big cons for me at the moment of decide to buy one. So, for me, this becomes the obvious feature to improve. I wonder if solar charging would be a good complement for this one. The application for Windows 8.1 looks very well made, Key controls seems to be clearly placed on-screen. Off course, we all wait for a Windows Phone version with similar features.

If you have an AR.Drone v1 or v2, you can use eDrone Project from Duefectu Corp -> http://ww2.duefectucorp.com/eDroneProject/Paginas/default.aspx Also with source code available!

Nice, but looks like just a toy. The video could be better. So I think it is too expensive related to the capabilities. As a gift it would be good to play with it. And the phone app is missing.

This thing looks AWESOME! For what you get, it sound slike a decent deal, though still seems kinda expensive considering some WP devices come at a fractio