AR.FreeFlight now available for Windows 8, control your Parrot AR.Drone 2.0 quadricopter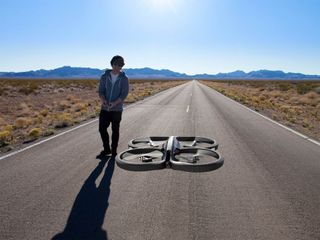 We love when official apps come to Windows Phone and Windows 8. Today we're getting a new app in the Windows Store that a lot of you drone fans will appreciate. Parrot has just released their official AR.FreeFlight for Windows users. This app will allow you to remotely control their quadricopter, the Parrot AR.Drone 2.0, using your Surface 2 or other Windows 8 device.
Steve Ballmer, former CEO of Microsoft, getting a demo of the AR.Drone 2.0 with an Xbox controller from Parrot CEO Henri Seydoux (Photo credit: Parrot SA)
The app is free, but you'll of course need the AR.Drone 2.0 to get any use out of it. The AR.Drone 2.0 (ardrone2.parrot.com) is a ready-to-fly quadricopter (drone) that can be controlled from a smartphone or tablet. You can tilt your Windows 8 tablet to control the direction of the AR.Drone. The drone has a camera and can record footage at 720p at 30fps. You can also capture photos using the onboard camera. You get 12 minutes of flight time with the AR.Drone and can have it go up to 165 feet away from you.
That's the drone, but here's what the app, AR.FreeFlight, can do for you on Windows 8:
Pilot the Parrot AR.Drone 2.0
Flip the Parrot AR.Drone 2.0
Record High Definition Video with the Parrot AR.Drone 2.0
Take Pictures with the Parrot AR.Drone 2.0
We don't have the AR.Drone 2.0 to test this out just yet. If you have one let us know how it works! Daniel has the Parrot AR.Drone 2.0 in his Amazon shopping cart (opens in new tab). I'm sure he'll pull the trigger if enough of you egg him on. Buy it Dan ;)
Anyone rocking an AR.Drone? Share your thoughts below!
Update: We have CONFIRMED that a Windows Phone 8 app is in the works for the AR.Drone 2.0, so don't worry! And for developers, you can get an early look at the upcoming SDK here at GitHub.
Download AR.FreeFlight from the Windows Store (opens in new tab)!
Come on Dan! We all know you can make an awesome video on the app, time to push the boat out...

Hah, I ordered one as soon as I got the news of the app :P

Can't wait! Keep us posted...

That looks fun. Dan, let me borrow one of your phones so I can take some ariel shots around Vegas. Sam, you might have a Lumia 1020 just laying around collecting dust by now.

Parrot just popped Windows Phone's cherry....

I want one... Can you buy for me one haha LOL

Look at how happy Ballmer is in that photo - awww!

Looks like a little special kid at Christmas.

Looks like Gru from Despicable me to be honest. :p No offence.

The article says Windows 8, but in the picture they're using a Windows Phone? Edit: It's actually an Xbox controller I think. Does the Windows 8 app have Xbox controller support?

Lead picture is probably an iPhone or Android handset. Came from their PR site. Second pic is an Xbox controller. No word on that. Maybe just a demo/ proof of concept to show off to Steve B. Either way. We'll have pics/video of the Windows 8 version soon. Daniel bought the quadricopter! Only a matter of time.

Not my thing but the wife may want this. If she gets one ill take it with me on one of my trips to Redlands.

Yes it does. you can hook a wired or wireless usb controller to the Surface and use it for gaming, and now apparently quadcopter stalking ;)

Looking for Walt and Jesse's RV in that first photo..

Windows phone app please....?

Man Ballmer is not photogenic lol biggest looking goofball in the room candidly anyways

What's about windows PHONE? :'(

The second photo was taken in the Explorer at Microsoft France http://www.microsoft.com/france/microsoft-en-france/microsoft-france/explorer-notre-appartement-numerique.aspx Henri Seydoux, CEO of Parrot, is using a wireless XBOX controler connected to Surface 2 running the open source sample application published on GitHub https://github.com/orgs/ARDrone2Windows/dashboard You can spot the Parrot Zik on the table. There an app for the headset in the Windows Phone Store.

Cool. Thanks for sharing Alex!

FFS and when gonna be release on WP??

I wished I could could strap a gopro to it I stead of there camera.. Can you? Also I would have thought they'd brought a phone app first...

Some guys did it.
https://www.youtube.com/watch?v=3-yGtMNyIO8

Microsoft Stores have started to sell this item this week as well... (likely corresponding with the app launch)

How much is it, the drone

I just looked as soon as i saw the article, appears to be $299 on amazon. It's cool and all, but i really don't see how much fun it will be to use with a windows computer or tablet. Maybe with the phone or the xbox controller as seen in the pictures, but i fail to see how enjoyable it will be with a computer. $299 is just too steep for a novelty toy, i have fully equipped collective pitch RC helicopters that came with all you need to use them for less than that. $100-$150 with the phone app, and i'd consider it. In all, i do appreciate them getting into the windows market.

I enjoy it using my Dell Venue Pro 8.

Wow, the picture of the city is my hometown :D The city is Ålesund, Norway

Yes!!! About time... I am one app away to ditch the iPAD.

Out of interest, which app is it? On the App side, this is great news. I love stuff like this, and this is on my wish lish for Xmas! :D

For those looking for a Windows Phone app for their AR.Drone, This one is one of the best around http://www.windowsphone.com/en-us/store/app/drone/70a061df-1780-46e4-9b55-809b9aa5c07a It's based on the AR.Drone SDK for Windows available on GitHub https://github.com/orgs/ARDrone2Windows

I have the ar.parrot2 and it works fine on my ultrabook. I haven't tried it with my wife's Surface 2 in order to take advantage of the tilt sensors and all. Sat at my desk and had the drone in the backyard and had no problem streaming video from the drone. Well until I got about 50 feet up. Concrete block house doesn't help the wi-fi signal. Enjoy - it works.

Works fine with the AR.Drone 1.0 as well. Just tried it. In fact, this looks like a straight up port of their Free Flight Android and iOS app. Everything works except the Absolute mode (which requires the 2.0 model).

I know what my Christmas presents going to be... Oh, scratch that, I'm ordering now. Here's a sneak peak of the WP8 version: https://github.com/ARDrone2Windows/SDK (3rd on the list).

Does not support Xbox controler like it is showed on the picture. Dissapoiting:(.

Can a joystick controller be used within this app for Windows? Sure would be great!! Please advise, and thanks
Windows Central Newsletter
Get the best of Windows Central in in your inbox, every day!
Thank you for signing up to Windows Central. You will receive a verification email shortly.
There was a problem. Please refresh the page and try again.