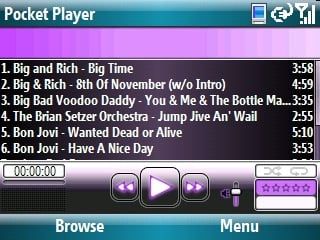 Next on the hit parade is Conduit Technologies Pocket Player ($19.95). Pocket Player offers Windows Mobile users a fairly straight forward music player with a few bells and whistles. Compatible with both WM Pro and Standard devices Conduit Technologies tries to offer a music application that will stand out above the rest.
Read on to see how Pocket Player measures up.
Ed. Note: This week and next, WMExperts will be reviewing several media players for Windows Mobile. We've already taken a look at Pocket Tunes Deluxe, FlipSide, and Vito Audio Player, and we'll have several more after this George's review today, including a surprise review that you won't see coming!
Pocket Player installed without a hitch on my Motorola Q9h and when I first started the application, it searched my device for media files. Pocket Player offers full music and video support for MP3, WMA, WMV, Ogg Vorbis, FLAC and WAV files. It also offers protected WMA support, u-Law, A-Law, AU and ADPCM WAV playback.
The main screen is fairly straight forward with your media library listed above a set of playback controls. Drilling down a bit, you have a 10 band equalizer with presets, the ability to create playlists, visualizations including downloadable album art support, sleep timer and a good bit more. Touch screen devices have the added bonus themed and skinned today plug-ins. For those with or without touch screens, the player itself has a selection of skins and color patterns.
Pocket Player supports audio books with user managed bookmarks, allowing you to return to where you last were in the audio file. It has an adjustable sleep timer and automatic screen shutoff function as well.
The video playback is good but not overwhelming. The video is too small with the controls showing but if you choose the visualization command, it expands the video to full screen.
You do have the ability to map buttons for the various commands which helps in the navigation. Still, to be honest, theres so much to this application it was a little overwhelming.
Playback for audio and video was smooth but navigation through the file library did creep along at times. It was almost as if system resources werent enough to allow you to scroll down the file list. I did not experience any device lock-ups or application failures while using Pocket Player.
Overall Impression
If you are looking for a basic music player or a more customizable, detailed music player Pocket Player ($19.95) should meet both needs. You can use the default settings and Pocket Player is a good, stable music/video application. If you want more, you can adjust the audio output with the equalizer, map your keypad buttons to improve navigation and create personalized playlists from your library. Conduit Technologies has put together a nice multi-media application that does rise above similar applications and is appealable to all levels of users.
Swipe to scroll horizontally
| | |
| --- | --- |
| Ratings (out of 5)Ease of Use: 4/5 (menus can be challenging to navigate through)Audio Quality: 5/5Features: 5/5Overall: 4.5/5 | ProsFeature riddledCustom button mappingConsMay be too feature riddledCan be a little slow in navigating through the library |
Get the Windows Central Newsletter
All the latest news, reviews, and guides for Windows and Xbox diehards.