Review: SBSH Pocket Weather - Week o' Weather Apps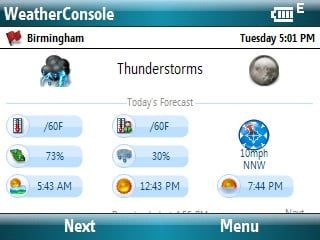 (Join us this week as George reviews 4 Weather Apps for Windows Mobile Standard and then gives them all a big smackdown on Friday. Today's entrant: SBSH PocketWeather)
SBSH, developers of the popular home screen plug-in Facade, offers a weather tracking solution that can stand alone or be fully integrated with Facade. PocketWeather ($12.95) provides detailed weather forecasts and current conditions; world wide earthquake tracking and METAR weather reports.
Read on for the full review!
For those who are curious, METAR is an aviation routine weather report used predominantly by pilots. METAR is derived from a very long French phrase, message d'observation météorologique régulière pour l'aviation, which has since been condensed to MÉTéorologique ("Weather") Aviation Régulière ("Routine"). The FAA simply refers to METAR reports as "aviation routine weather reports".
There are thousands of METAR sites (typically associated with airports) in the United States and thousands more globally. Why is any of this important? Pocketweather pulls its forecasts and conditions from the METAR sites local to the selected City. In many ways METAR is the cornerstone for this program.
Installation was not unlike any other smartphone software. Once installed though, the initial set up was a little challenging and my Samsung BlackJack II froze twice, requiring resets. However, once set up the program seemed to be more stable and I didn't experience any additional stability issues during the week I tested the software.
Pocketweather is most efficient when used with Facade, in that weather icons are placed on scheduled appointments indicating the weather of the day. While it gives you a snapshot of the forecast for that date, I would have preferred an information bar for the home screen or larger icons. As is, the icons tend to blend into the background making it difficult to see.
When you enter the program users have a tremendous amount of weather information at their fingertips. The Main Screen of Pocketweather will either give you a summary of the weather conditions/forecast or a more detailed reporting. The summary view gives you a thorough snapshot of current conditions including current and forecasted temperatures, sunrise/sunset times, humidity, winds, and chance of rain. The detailed view adds barometric pressure, visibility, dew point, moon phase, as well as the information provided in the summary view.
You can scroll through PocketWeather to view the METAR forecasts, a ten day forecast and a global map detailing recent earthquake activity. The METAR forecast screen will show you the METAR sites close to your chosen city. By highlighting and clicking on these sites, you pull up the forecast and conditions for that site.
PocketWeather comes preprogrammed for London, New York and Sydney but other cities (world wide) can be added through the Options Menu. You can switch between the programmed cities through PocketWeather's main menu.
PocketWeather can be customized for the frequency of updates, units of measurement, icons used, language used, as well as appearance options. In selecting your city, the keyboard will take you the first letter of the country, state, city but then you have to scroll down to your location of choice. I would have liked to have seen at least the first two digits recognized.
Future releases will have the ability to alert users of severe weather warnings. It is my understanding that not only will the user be alerted to the warning but be able to pull up detailed information concerning the warning. It would be also nice to see GPS integrated with this software so as you travel you can switch to local METAR sites as you travel.
Overall Impression
Personally, I like a simply straight forward weather plug-in; one that will show me if it's going to rain and what the temperatures should be. PocketWeather gives you a lot more than the basics and to be honest, was a little overwhelming. While I like the icon on my appointments, they were difficult to define. I learned a little about METAR data but not being a pilot, I doubt I'll use it. The software doesn't offer radar images or severe weather alerts both would be very useful and I'd trade the global earthquake screens for a more detailed weather information bar on the Today/Home Screen. I would highly recommend downloading the twelve day trial to see if PocketWeather ($12.95) is suited for your needs. In using it for the past few days, it seems more oriented towards pilots or the more hard core weather watchers. It might be too much for someone just wanting to know the basics of what the weather is doing and what it's going to do.
Swipe to scroll horizontally
| | |
| --- | --- |
| Ratings (out of 5)Installation: 5/5Setup: 4/5Functionality: 4.5/5Appearance: 5/5Overall: | ProsTons of informationLarge City/Nation listConsMay be too much informationA little instability experienced during initial setup |
Get the Windows Central Newsletter
All the latest news, reviews, and guides for Windows and Xbox diehards.