Review: SkyForce Reloaded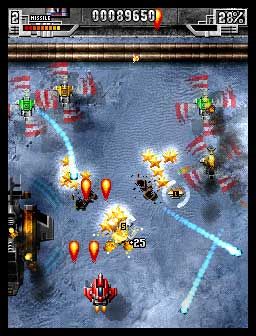 Computer gaming has been around almost as long as the computer industry itself. It can be argued that games have made computers into what they are today. The perpetual cycle of games pushing the envelope and hardware manufacturers rushing to build a better system has improved computer capabilities at a rate that puts other industries to shame.
SkyForce Reloaded by Infinite Dreams is one of the more eye-catching games currently available for Windows Mobile. A story based saga this is not, SkyForce Reloaded is a pure shooter and is all about blowing things up. Keep reading to find out how it stacks up from a gameplay standpoint.
Options
SkyForce Reloaded returns the same three ships from its predecessor, SkyForce. The ships offer different balances of speed and shield capacity. In the latest edition of the SkyForce series, you may also choose on which level to start playing. On the previous version you could only play the upper levels after playing through all of the previous levels.
Music and sound effect volume levels are configurable, as well options to determine how your ship is controlled and whether your guns are automatically fired or not.
Game Play
One of the problems that typically comes up with games on a mobile platform like Windows Mobile is similar to a problem that has plagued video game systems through the years; some games just work better with certain hardware interfaces. Windows Mobile, and in particular Pocket PC devices with a portrait screen, work extremely well for vertical scrolling shooters such as SkyForce Reloaded.
I did notice some lag during play when using the stylus to control my ship, particularly during moments of intense battle. While using the d-pad on my Tilt, there was no noticeable delay.
A diverse assortment of enemy units target your ship. Ground units (both mobile and stationary) harass you from all sides. Helicopters or planes fly around you, shooting at or colliding with you. Boss units with multiple types of weapons frequently await you at the end of a level, presenting a final test before allowing you to move on.
Graphics
As good and addicting as the game play was, the graphics were even better. Explosions, while sometimes slightly pixelated, were clear enough to be believable. A wide variety of weapons added color. Landscape adds dimension to the environment, sometimes appearing above enemy units, obscuring them from view and adding difficulty.
Conclusion
The power of this game is threefold. First, the controls are simple. With the auto-fire option enabled, you simply have to navigate your ship around the screen; avoiding enemy fire, while targeting the units of the opposition. Second are the graphics. The wide variety of colors, motion and dimension give SkyForce Reloaded an engrossing quality. Thirdly is the multiplicity of situations that you encounter during the game. The simple fact that you have multiple different goals at any one time is simply addicting.
With all of the factors mentioned above, coupled with the extraordinarily reasonable price of $9.98 from the WMExperts store, SkyForce Reloaded easily makes it to my list of must-have software.
Swipe to scroll horizontally
| | |
| --- | --- |
| Ratings (out of 5)Options: 5Game Play: 4.5Graphics: 4.5Overall: | ProsExellent GameplayInexpensiveConsNo story whatsoever.Once game is mastered, not many levels to choose from. |
Get the Windows Central Newsletter
All the latest news, reviews, and guides for Windows and Xbox diehards.