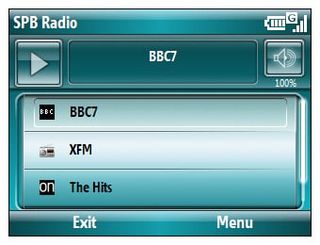 The other day, SPB announced the release of SPB Radio, a high-quality internet radio player for Windows phones. The radio application gives you subscription-free access to a wide variety of live streaming radio stations.
SPB Radio's key features include:
Finger friendly interface
Adaptive Skins
On-Screen volume controls
Built-in catalog of 1500 plus radio stations
Setup for custom radio stations
Current Bit rate indicator
SPB Radio is available for both Windows Mobile Professional and Standard versions. We had the opportunity to take SPB Radio out for a test drive. Follow the break to see if what type impression SPB's latest offering made.
SPB Radio loaded with ease on the AT&T Fuze as well as the Samsung Jack and performed on both equally well. The nice thing about SPB Radio is that it feeds off Internet radio so you don't have to use headphones as you do with the FM tuners. The down side is that your local radio stations may not have an internet feed.
When you first start SPB Radio you have three pre-set (or favorite) stations listed along with a shortcut to add more stations. The pre-loaded list of internet stations is impressive and I'll take SPB on their word that the catalog contains over 1,500 stations. If you don't see your favorites station you can either search by the stations URL or if you know the URL add it directly to the list.
To delete a preset or favorite station simply tap and hold on the station and a list of menu options appear where you do everything from re-naming the station to deleting it to change it's placement.
Reception is as good as your data connection. The stronger the signal, the better the quality and the less chance you have to reload the buffer. The only thing missing is a display of what's playing. It would be nice to know what song is playing or what talk show is airing.
I do like that you can search through the preset stations by regions. So if you're in Baltimore and want to find a classical music station, you can. SPB Radio is touch friendly to a degree. Obviously, the Windows Mobile Standard version navigation is controlled by the directional pad. On the WM Pro devices you can swipe over to view the catalog, touch scroll through listings but the rest is tap navigation. With either version, navigation is straight forward and simple. SPB Radio is skinnable but presently only through third party sources.
The more I used SPB Radio, the more I liked it. If you're looking for an Internet radio player SPB Radio is worth a listen. The app has a 15- day trial so you really don't have anything to loose by checking it out.
Overall: 4/5
Swipe to scroll horizontally
| | |
| --- | --- |
| ProsStraight Forward NavigationLarge Catalog of Stations | ConsNo Display of Programming |
Phil is the father of two beautiful girls and is the Dad behind Modern Dad. Before that he spent seven years at the helm of Android Central. Before that he spent a decade in a newsroom of a two-time Pulitzer Prize-finalist newspaper. Before that — well, we don't talk much about those days. Subscribe to the Modern Dad newsletter!
Not bad looking. Kinoma's got some amazing integrated streaming radio options as well.

I am looking 4 a free radio app, please share with the rest pf us if u know of something

"I am looking 4 a free radio app, please share with the rest pf us if u know of something" You want Kinoma FreePlay. Go to http://kinoma.com/get with your PC, or just go to http://kinoma.com with your mobile phone. (It's free.) Kinoma FreePlay lets you stream WAY more radio stations than SPB Radio, including tens of thousands of SHOUTcast (free) and Live365 (subscription) radio stations. -- Charles Wiltgen

I generally love SPB apps, but the lack of a display for the now-playing information is kind of a deal-breaker for me. The ID3 data is almost always in the stream -- why not display it? Are you listening, SPB? :) I do like Kinoma but often keep coming back to old standby Resco Radio. At least it shows me what's playing. :)

I am having a lil bit of a problem. I have a touch pro (sprint) I used to stream my radio through windows media player and I really stopped doing that for the simple reason that every time someone would txt me, my connection would drop from Evdo to 1X. I remember I used to do it in my mogul and never ran into this problem. Anyway, when the drop happens, the music always cuts off. So its impossible to txt and listen to the radio at the same time. Anybody else running into this problem? I tried SPB radio hoping that this problem wouldnt occur, but same result. Anybody has any tips? any help will be appreciated, thanks!

Actually I would assume this would happen on any Sprint phone -- even on your old Mogul (it happens on mine). Any "phone" functions (incoming/outgoing voice call or incoming/outgoing SMS) always cause the phone to drop to 1X mode. In the case of SMS, this drop lasts anywhere from one to three seconds on average before the phone returns to EVDO. If the stream you're listening to is fairly low bandwidth and the phone recovers quickly, then you might not notice any dropout. On the other hand if you're streaming a 192kbps station and the phone loses EVDO for three of four seconds, the buffer is probably going to underrun before the phone can return to EVDO mode. I am not aware of a simple way to force Windows Media Player to buffer longer, but you might try playing with the settings under Menu -> Options -> Network. If you uncheck connection speed and select a slower cellular connection speed manually (perhaps 256 or 128) then this might increase the buffer size. (Be warned it may also stop video streams from displaying if you set it too low.) To my previous post, this is another one of the reasons I prefer Resco Radio. You can set the buffer size in seconds and also fine-tune the amount of buffering both at the start as well as after a buffer underrun (as occurs when an SMS message causes the phone to switch to 1X). As for why you didn't notice it on your Mogul, possible that the Mogul was spending less time in 1X mode before recovering. Also, I've noticed sometimes any Sprint phone can get "stuck" in 1X mode for quite some time, particularly if the connection continues to pull data. (It doesn't seem to want to switch back to EVDO until there is a "pause" in the data stream.) Or it could just be that you had a pretty good 1X connection; I've often been able to stream 96kbps stations in 1X mode just fine, no EVDO required.

Thanks so much for the answer. Everything that you said its true. I wonder why sprint phones do that... Anyway I tried kinoma player yesterday and funny enough I was streaming a radio on it and received and sent tons of txts while listening to the radio on the background... This makes me wonder. If Kinoma can stream the radio with no interruption, why cant WMP or SBP do it? I wanted to try the feature where you add your own URL but I have to purchase the full version of Kinoma ($29.99) to try it out. Then again they offer that trialpay in exchange of a free copy of the full version. Anybody has tried this trialpay before? sounds interesting. I just dont wanna end up paying more that the 30 bucks that the player cost just to try to save some money. anybody? thanks for your reply John!

I have used SPB's internet radio for quite some time and have had no problems. I most recently used it on At&T's network on a Tilt (8925) It runs smoothly in the background while I surf the net and send and receive text messages and emails. I usually remove the sound alert from my incoming and outgoing texts and emails so that my music is not interrupted. mobipro

I've given it a good try out over the last few days, but although it works well and seems easy to use it isn't for me - there just aren't enough radio stations in the UK there to make it worthwile - there are web pages (that are free) that list far more stations that I can stream from, straight into Media Player, and there is where I will be sticking.

one day i went shopping outside ?and in an links of london store?I found some kinds of links of london i love most?they are: Links of london mens bracelets Links of london mens bracelets Links of london mens bracelets Links of london mens bracelets Links of london mens bracelets Links of london mens bracelets Links of london mens bracelets Links of london mens bracelets Links of london mens bracelets Links of london mens bracelets shopping Links of London Bracelets shopping Links of London Bracelets shopping Links of London Bracelets shopping Links of London Bracelets shopping Links of London Bracelets shopping Links of London Bracelets shopping Links of London Bracelets shopping Links of London Bracelets shopping Links of London Bracelets shopping Links of London Bracelets
Windows Central Newsletter
Thank you for signing up to Windows Central. You will receive a verification email shortly.
There was a problem. Please refresh the page and try again.