Review: SPE Protective Case for Tilt 2 / Touch Pro 2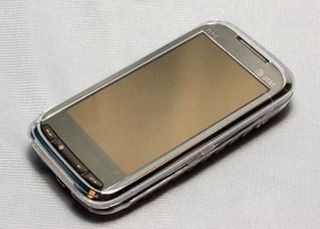 Hard shell cases have their advantages but when you carry a Windows Phone with a slide-out keyboard, such as the Touch Pro 2 or Tilt 2, the choices can be slim to none. Smartphone Experts offers their Protective Case that might just do the trick if you're a fan of hard shell cases.
The cases are offered in pink, smoke or clear. The sleek cases aren't for everyone and to see if the Protective Case is for you, follow the break.
First Impression
For this review, I took the clear version of the Protective Case out for a test drive with the AT&T Tilt 2. The case is made of durable plastic that has a little flexibility to it. The Protective Case is composed of two parts, both snap in place with tiny little tabs that wrap around the base (keyboard) and top (screen) of the Tilt2.
The case snaps in place securely but the tabs are so small you may miss putting one in place correctly. If you miss one of the snap tabs, the case will be a little loosey-goosey. I think if the snap tabs were a little larger, it would be easier to snap the case into place. As is, it just takes a little effort to insure proper fit.
Cut outs are in place to accommodate the power, volume and PTT keys. The back of the case has cut-out to accommodate the camera, speaker and mute buttons as well.
Performance
I was a little skeptical on how well the Protective Case would work out on a sliding keyboard phone. I was pleasantly surprised that the case didn't interfere with the sliding or screen tilt of the Tilt2.
The Protective Case does a good job of protecting the Tilt2 from scratches, dents and dings. The obvious weakness of the case is that the screen is fully exposed. Add a SPE Screen protector and you'll help compensate for the loss.
The Tilt 2 isn't exactly the most "pocketable" Windows Phone but I can see the Protective Case being useful if you carry the Touch Pro/Tilt2 in a backpack pouch, briefcase compartment or jacket pocket.
Overall Impression
The saying goes, "different strokes for different folks" and the Smartphone Experts Protective Case isn't for everyone. It's well made, designed to work well with the sliding keyboard design of the Touch Pro 2 or Tilt2 and comes in three trendy colors.
Personally, I need protection not only for the phone's casing but also for the phone's screen and prefer a side case such as the Ecolife Sidecase or the Body Glove Sidecase.
However, if hard shell cases are to your liking, the Smartphone Experts Protective Case ($12.95) would be a good choice.
Windows Central Newsletter
Get the best of Windows Central in your inbox, every day!
George is the Reviews Editor at Windows Central, concentrating on Windows 10 PC and Mobile apps. He's been a supporter of the platform since the days of Windows CE and uses his current Windows 10 Mobile phone daily to keep up with life and enjoy a game during down time.
Picked one up a month or so ago. I loved it at first because it was slim. Time went on, the front plate got dust under it and scratched my bezel. Two of the plastic tabs broke off the back plate even though I took it off/put it on very gingerly. I recommend not taking off the back part at all, but that's difficult if you do a lot of resetting/ROM flashing like I do.

Holy crap, the made in China crap threw off the entire cases value.

In general hard shell cases of this type all suffer from a common fatal flaw. With normal use, there will be relative movement wherever the case comes in contact with the phone. Over time dust and other contaminates will accumulate at these points and act like sandpaper on the phone's finish. There may be occasions and environments (and users) which make a hard shell a wise choice, but probably not for those that can afford the second or two to remove a phone from a quality soft case.

Wow this looks nice and impressive.I got the Black berry a week before and I was looking for such good case for it.I think this one is good.Where can I get this ?

if you want a case similar to this, but don't want all the drama re: sandpapering and tab-breaking, get something like this
http://cgi.ebay.com/ws/eBayISAPI.dll?ViewItem&item=110477211116&ssPageNa... I've been using it for a while, and this is as good a slim case will get imo

Clear cases are the worst, you can always see dirt and grit stuck under the casing. And most cases will scratch your phone, my Nexus One has a Seidio Surface Innocase and sometimes grains of various things will get caught under it and leave tiny scratch-specs in my phone.

Wow. this is pretty cool. The case is too nice as well as purpose of protection is solved. It looks smart. Colours available are also good. I wish i could have more option to choose colour!

I go a similar or maybe same case from boxwave via amazon for my tilt 2. The only thing I dont like about it is you have to take the bottom part off to do a reset using the reset button. I dont use the physical keyboard that much and would really just as soon get a one piece and forget about the physical keyboard.