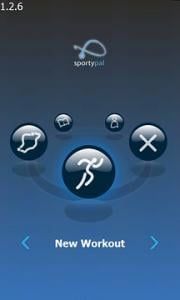 Sportypal is outdoor exercise tracking application for your Windows Phone. Sportypal tracks activities such as running, cycling, hiking, skiing, and horseback riding. It collects performance measures from each activity, logs them on your Windows Phone and gives you the ability to upload the sessions to an online component.
To see how well SportyPal stacks up, ease on past the break.
Key Features
When you first begin using Sportypal you establish a profile and have the option to register the profile (create a membership) with Sportypal's online component. If you prefer to use Sportypal as a stand alone application, you can decline to register the information online.
The handheld aspect of Sportypal is fairly straight forward. The application uses your Windows Phone's GPS to track a wide range of outdoor activities. During the activity Sportypal will display the time duration, distance traveled, current speed, average speed and calories burned.
Sportypal will also map your activity using Google Maps which can be viewed on your Windows Phone, through the online component or shared via Twitter or Facebook. This is a really nice feature to allow you to review your running routes, hiking paths and the sort.
You can pause the activity recording and add photos to better document your activities. I like the photo feature which will come in handy if you need to record a landmark along a hiking trail or if you need visual proof the mountain you climbed was really that high.
Once completed, each session can be uploaded to SportyPal's website. From there you can review previous sessions and track your progress.
Overall Impression
Navigating around Sportypal was easy and the application is very clean looking. I found it to be a stable application but the GPS was an issue. For starters, GPS acquisition took noticeably longer with Sportypal than with other GPS applications. Once a signal was acquired, it wasn't very accurate.
In taking Sportypal out for a short walk, the GPS mapped my route about three hundred yards from my actual location placing me in the middle of the woods. In another instance, I took Sportypal for a drive and the GPS mapped my route in a straight line.
At first, I considered this to be an issue with my Windows Phone GPS and not the application. However, I was able to place my location with other GPS apps within ten yards of my actual position.
The online component of Sportypal is a strong point with the application. You not only have the ability to upload outdoor activities but you also have the ability to add indoor activities (i.e. weights, aerobics, etc.). In allowing such entries, Sportypal gives you a more complete picture of your activities and exercises.
I wanted to like the Windows Phone component but the GPS performance was a major drawback. If the GPS performance was better, Sportypal would be a very good app for recording and monitoring your outdoor activities. The ability to upload sessions to Facebook and Twitter along with the ability to associate photos with your activity adds a nice twist to keeping tabs on your outdoor activities.
If you're curious and want to try Sportypal, it can be downloaded at Sportypal.com and the application and membership is free.
Windows Central Newsletter
Get the best of Windows Central in in your inbox, every day!
George is the Reviews Editor at Windows Central, concentrating on Windows 10 PC and Mobile apps. He's been a supporter of the platform since the days of Windows CE and uses his current Windows 10 Mobile phone daily to keep up with life and enjoy a game during down time.
"In taking Sportypal out for a short walk, the GPS mapped my route about three hundred yards from my actual location placing me in the middle of the woods" I'm using it for longer time now, and I really like the app.
what you described only once happend to me, and I thought it could be because phone used GPRS to locate the postion. And I generaly dont have problems with GPS acquisition, it take somtimes lonnger, I suggest using tools like QuickGPS, to download satellites from internet. Thats speed up the process.

I haven't run into the GPS problems yet with Sportypal. What I do like is that the program doesn't constantly crash like Smartrunner does.

I'm using Sportypal on my XperiaX1, almost a year. During this period there were good and not so good versions but the last one is almost perfect. I'm using QickGPS to speedup GPS lock. I can say that Sportypal is most accurate then any app of the kind, most of the time is less then 1%.

It's going to sound like I'm working for them, the amount that I've said this, but Run.GPS is a better product in many ways. 1) Full on-device reports as well as uploaded reports and exporting reports, KML, etc. 2) Route planning on website or based on previous exercise. 3) Many voice features (periodically reading out stats, route guidance, etc.) 4) Support for various brands of bluetooth heartrate monitor. Can also use the cadence monitor of the Zephyr HxM to keep tracking your distance when there is no GPS. 5) Offline map support for OpenStreetMap, OpenPisteMap, OpenCycleMap, and can be extended to support GoogleMaps. Good for those with no / bad data plans (that's me!). 6) Many configurable screens to show the widgets you're interested in. 7) Support for training plans, interval training, virtual races against other people who have run the same route, live tracking, local wikipedia articles, etc. Downsides: 1) Not free. 2) Interface on phone is not as modern as some of the others. Website interface also doesn't look as modern, but has many features (such as the route planning, setting up routes to sync with phone, etc).

I tried Sportypal for a month or so in April (maybe older version?). It's ok, but slow and bogs downs on my ATT Tilt2 (aka HTC Touch Pro2). Bottom line, I'm going to stick with "MySportTraining" from VidaOne.com. It's more comprensive and doesn't bog down or crash.

Your review is informative enough to give knowledge on sportypal. I got to know a lot on it. Thanks!!
Windows Central Newsletter
Thank you for signing up to Windows Central. You will receive a verification email shortly.
There was a problem. Please refresh the page and try again.