Review: Lenovo ThinkPad X1 Carbon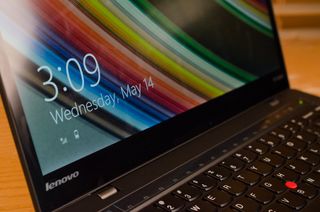 When Lenovo first introduced the ThinkPad X1 Carbon Ultrabook in 2012, we were faced with a machine that was close to perfection. Sure, the original iteration was not perfect in every sense but it came closer than any Ultrabook we had available.
Now that we have landed in 2014, the company has released its third iteration of the ThinkPad X1. We've spent a little time with the 2014 edition of the ThinkPad X1 and after the break, we see what has changed for the better and for the worse.
Swipe to scroll horizontally
Stunning design that continues to show business machines can turn heads, powerful internals to match the machine's beauty, light weight and super portable, gorgeous high-resolution multi-touch display, Lenovo's OneLink port feels like the future of docking, a super responsive and comfortable touchpad.
New ThinkPad keyboard is awkward to use and will take time to get used to, battery life is less than impressive, adaptive keyboard is more cumbersome then helpful, no SD card slot.
Lenovo's ThinkPad X1 Carbon 2014 is an excellent upgrade that takes what we loved about the previous versions and makes most of it even better. While almost every inch of the machine was impressive, the new and awkward keyboard design held things back considerably. In addition, we were hoping to see longer battery life for everyday usage scenarios. If you can get used to the new keyboard, the new ThinkPad X1 Carbon for 2014 might be the best Ultrabook around, but you are going to want to test out the keyboard before you make that decision.
Lenovo business machine packaging is not as elegant of an affair as un-boxing a consumer machine. The business machine line comes in recycled brown box packaging and plastic that any environmental lover would be proud to approve. Included in our review unit box was the X1 Carbon itself, along with a 65W power adapter and the usual paper manual/warranty information.
Exterior Design
The power charger hasn't changed much and still features Lenovo's new connector that can't help to remind us of a USB plug. While the switch might have been a bit irksome to long time ThinkPad fans, it was a necessity to redesigning a thin connector that could fit on the body of this super thin Ultrabook. Our only wish is that Lenovo would take a page out of Sony's book (and some other manufactures) by adding a USB charging port to the A/C brick itself.
The Overview
Speaking of how thin this unit is, the HD+ screen version is only .53 inches with the touch screen version measuring .55 inches. Combining the unit's super slim form and its jaw-dropping 2.8 lbs. We have a machine that is perfect for the business executive or student on the move. In comparison, my Microsoft Surface Pro 2 with Type Cover 2 is thicker and only about .3 lbs. less in weight.
The exterior design of the unit will be familiar to any ThinkPad user of the past. A simple, yet beautiful matte black coating makes the X1 Carbon easy to grip and eliminates the need to wipe down fingerprints every five minutes. The lid is stamped with the iconic silver Lenovo logo and partially glowing ThinkPad logo. An Energy Star sticker is affixed to the top of the lid, but can easily be removed if you do not want to flaunt saving the environment.
For those interested in checking out this Ultrabook's bottom, it is made-up of the same black matte material and has four large rubber feet that keep the unit steady. Lenovo has placed the FCC and other regulatory notices in a light silver print, which helps to hide something we otherwise do not care to see. There are two stickers on the bottom including your machine's serial number and a "Windows 8 Pro" label - both can be peeled off and removed (although we recommend keeping the serial number).
Port Selection
Ports on the unit are kept to the left and right hand edges of the notebook. Upon the left side, we are presented with six ports including Lenovo's power connector, Lenovo's OneLink dock port, a Mini DisplayPort connector, an HDMI out port, an always-on USB 3.0 port and a standard 3.5mm audio/mic port.
Lenovo's OneLink port (opens in new tab) is the company's solution for 21st century docking, as the thin profiles can no longer hold the clunky old underside connectors. The OneLink Pro Dock that Lenovo is currently selling comes in at $180 and includes a plethora of connections including four USB 3.0 ports, two USB 2.0 ports, a stereo/mic combo port, a DisplayPort that outputs up to 2560 x 1600, a DVI port that outputs up to 1920 x 1200, a gigabit Ethernet port and a cable lock slot.
The right hand side includes only two ports, a USB 3.0 port and a proprietary connector that will emulate a native R645 Ethernet with Lenovo's special Ethernet connector. An exhaust fan is also present on this site and helps keep the unit extremely quiet and cool. As a big fan of the original ThinkPad X1 Carbon, We am extremely disappointed to see no SD card slot on this unit; while it may not be presented as a huge issue to many, the X1 Carbon would otherwise make a perfect machine for the photographer out in the field.
Internal Design
We know that most of you know what makes this machine so special, the keyboard. That's why the first thing we are going to talk about when we open the lid of this machine is the wonderful display!
Lenovo offers two displays with this unit. The standard display is a 14 inch HD+ 1600 x 900 LCD with 260 nits of brightness. The second display, and the one we received, is a beautiful 14 inch WQHD 2560 x 1440 IPS display with 260nits of brightness.
The Display
The touch screen within this ThinkPad is a major step forward for the entire business line and shows that after being poked and prodded by demanding consumers, Lenovo will comply. The display itself has wonderful color reproduction and, unlike ThinkPad machines of the past, excellent contrast. Not to mention that it features a super responsive WQHD 10-point multi-touch display.
We were a bit confused with the screen as it seemed a mix between glossy and matte. Apparently the LCD is a glossy display, with a matte overlay. Searching the Lenovo forums, we found that some people opted to remove the covering, but we did not have much of an issue with it ourselves. However, at times we found there to be a "screen-door" effect, but nothing so major that it upset our experience with the unit.
The Keyboard
There is a good amount of conflict in using the X1 Carbon's keyboard and we aren't sure if the improvement are for the better or worse. Let's start by splitting up the keyboard into two categories, comfort and layout and the new Adaptive keyboard strip that replaces the function/media keys.
When it comes down to comfort, the keys on the unit feel like any other island style keyboard that Lenovo has produced. Pushing down the keys took a bit of force and they have an excellent return time. There are no mushy feeling key presses and the keys themselves definitely deliver the famous ThinkPad keyboard feel.
Unfortunately, there is one important component that stands in the way of this keyboard meeting its full potential and that is the keyboard layout itself. Based on other ThinkPad laptops we've used, the X1 Carbon's keyboard is possibly the worst laid out ThinkPad keyboard we have ever used.
Let's start with what Lenovo decided to remove/replace in terms of keys. There is no longer a Caps Lock button. To engage caps lock, you double tap the shift button and wait for the green light to tell you that you are go for typing. The Caps Lock key space is now home to a "Home" and "End" button that will quickly shoot you around your document or webpage when you are trying to capitalize something. Sure, many of us do not need the Caps Lock key as we are content with the shift button but the majority of "typists" who use one or two fingers to type do rely on the key.
Lenovo has also placed the Backspace button into the same row as the number keys. Yes, you heard correctly, the Backspace key now sits crammed into the upper right corner of the keyboard. In fact, you do not even get to use the entire Backspace key as a third of it has been chopped off and changed to a Delete key. Seriously Lenovo, who designed this keyboard?
The keyboard also features buttons of all shapes and sizes. In the top row of the keyboard, the ESC and number keys are one size, but the minus and plus keys are the size of my pinkie. Combine that with the tiny baby finger style arrow keys and you have a keyboard that is going to take some time to get used to (if you ever do).
Once you get used to the clown keyboard, you can start exploring the "Adaptive backlit" keys that Lenovo places above the number row. The idea was to introduce an adaptive row of keys that could change based on what you are doing, but we have a few issues. The main issue is that the Adaptive strip does not make our lives any more efficient, in fact, it makes us feel less efficient.
There are four various modes including "Home", "Web Browser", "Web Conference", and "Function". The first three modes all showcase volume change buttons, brightness adjustment buttons, and access to Lenovo's voice and gesture software. Home also features launch keys for quick switching apps, the system app menu, Snipping Tool and OneDrive. The Web Browser features special keys for refreshing a page, going back, bookmarking and Snipping Tool. The Web Conference features microphone adjustments, different audio recording modes, and camera mode. As you may guess, the Function mode shows all of the function keys along with a wireless control button, video control button, and option to adjust the keyboard's back lighting.
Here is the problem. Just because you are in one application does not mean you want to lose access to other commonly used functions For example, if you are working in Internet Explorer and Word at the same time, you won't want the keys locked to one specific function or changing under my fingers. It was more efficient to simply have a row of hardware function/media keys that can easily be accessed on the fly with use of the standard "Fn" key.
For a consumer sitting down to this new "adaptive" experience, it is the equivalent of needing to learn four new rows of key functions. Sure, one can disable some of the keyboard modes but it still does not guarantee the buttons you need will be there when you need them. We found ourselves spending more time digging through the menus trying to find the keys we needed, then doing work.
The ThinkPad X1 Carbon keyboard is a controversial change and while some may dislike it heavily (like myself), others may become accustomed to it. we see the design changes as an awkward sideways step that we hope Lenovo fixes in the next iteration.
The Trackpad
The Trackpad that sits under the keyboard is quite nice and a redeeming factor. It is extremely large and one of the most pleasant Trackpads we have used in a while. A new change that Lenovo has made is that when you click the Trackpad, the entire pad moves down. You are not clicking a corner, you are literally pressing the Trackpad as one giant button. It didn't take long to get used to the new design and believe Lenovo did a nice job in this department.
Of course, if you are a ThinkPad lover, then you want to know all about the precious red TrackPoint that sits between the G, H, and B keys. The TrackPoint itself feels unchanged and just as comfortable to use. As with previous units though, Lenovo has removed physical TrackPoint buttons to enable the Trackpad larger. We personally know this has caused a large amount of upset within the ThinkPad community but there was little issue adapting to the new style.
After finding out whether or not you are a fan of the ThinkPad X1 Carbon's new keyboard layout it is time to start testing out the internals of the machine. Lenovo gives you three options for their super light and powerful Ultrabook, an Intel Core i5 CPU at 2.6 GHz, an Intel Core i5 CPU at 2.9 GHz, or an Intel Core i7 at 3.3 GHz. All processors in the 2014 iteration of the X1 Carbon are 4th generation Haswell architecture chips, so we should see a nice improvement in the battery life of the unit.
Functionality
The CPU of your choice is accompanied by either 4 GB or 8 GB of onboard DDR3L SDRAM and a variety of storage options including a standard 128GB SSD, 256GB SSD, or 512GB SSD. You can also spend a bit more money to choose from Intel branded 180GB or 240GB drives.
The CPU and GPU
Like all Core i5 and Core i7 units we test the results are the same. The ThinkPad X1 Carbon performed extremely well doing everyday tasks and had no problem throwing Photoshop CC under its belt. As long as you are not looking to play Crysis on the Intel HD integrated graphics you will be good to go. Games such as World of Warcraft, Hearthstone, Counter Strike, Team Fortress, Call of Duty and more are more than playable on this unit.
The SSD
We have had reports that some felt the SSD included within the unit is on the cheaper end and that it bottlenecked performance. We did not experience any of those issues and drive intense applications from Adobe opened without a delay. We will recommend springing for the Intel drives if you can though. They will give you a bit higher of a write and read rate to work with.
The Battery
Lenovo claims that their X1 Carbon can reach up to 9 hours of battery life and while this may be true under extreme energy conservation we did not see it. While using Word and Chrome on the unit with the brightness at 100%, we were only able to achieve around four hours. When we turned the screen brightness down, we were able to achieve around six hours. The X1 Carbon still falls flat as many other laptops in this category can achieve at least seven hours of battery life including machines from Acer, Sony, Samsung and HP.
The positive side for the battery is that the unit does come equipped with Lenovo's RapidCharge technology. If you are ever running low on juice, then simply plug in your machine and it can charge itself from 0% to 80% in just under an hour. This is wonderful in comparison to many laptops that will take a few hours to fully charge themselves.
Lenovo is usually pretty good with keeping the preloaded bloat-wear to a minimum on their business machines and this ThinkPad is no exception. The company does throw on their SugarSync sponsored cloud storage and a few of their own ThinkPad tools but they never became a bother. In fact, the ThinkPad Vantage tools are rather appealing and help keep the system running smoothly.
Conclusion
Overall, our experience with Lenovo's ThinkPad X1 Carbon is extremely mixed. The design of the unit is one of the most strikingly beautiful and simple machines we have seen to date but feel that the keyboard truly cripples the experience.
If you can overcome the new keyboard (or adapt to it) then the X1 Carbon can be considered an excellent machine aside from its poor battery performance. We were extremely happy to see Lenovo finally offer a machine with a crisp and vivid display but what sits below that IPS display will be the deciding factor for many purchasers of this ThinkPad unit.
You can learn more about the Lenovo X1 Carbon by heading over to Lenovo's store (opens in new tab).
Windows Central Newsletter
Get the best of Windows Central in your inbox, every day!
Good one...but Lenovo just isn't there yet, quality wise.

Uhm my Thinkpad W520 and W530 are durable and reliable than any other machines I've used.

Might want to look again - if you find the need to look. We've been standardized on Lenovos since they were IBM branded. We've deployed thousands of them over the years (various models) and they have been solid overall. I don't have stats for failure rates but they are very low (lower than our desktops for sure). I'm not trying to sell you on Lenovo... if you're happy with your manufacturer of choice then great for you. To say that Lenovo quality is subpar, however, is something I definitely disagree with based on a lot of experience. On the topic of the X1 in particular... I have a gen 1 and while I'm envious of the battery life of the newer Haswell based units it looks like the new keyboard layout would drive me nuts for a while (not that I need a new laptop already). With the device being the same physical dimensions it looks like change just because change. Time will tell how functional it is in the real world...

The yoga that I have I'd pretty durable. It once fell from about 4 feet and didn't really get damaged.

Reads "battery life is less than impressive"...then I stop reading.

that battery life is a deal breaker. i really want to get a pc, but as long as these laptops have half (!) a macbook's battery life it's not even a realistic option

Your are comparing a work machine to a for-show machine. The reason being MacOS has way less services running under the hood, thus macbooks last longer than equivalent laptops.

Mac pro lasts about 9 hours... The new one I mean.. At least the one that my friend has lasts that long.. So this is definitely more than half of that..

I was saying, windows by default has way more services running, of course it consumes battery faster. If you know how to tune it using admin tools, your laptop would last as long.

I agree with you. I was commenting to manwe's post regarding the battery life.

The UNIXes in general have much better modularization of their components, and do genuinely achieve better battery life. Apple using a UNIX lets them take advantage of that. Check out Jeff's article: http://blog.codinghorror.com/why-does-windows-have-terrible-battery-life/ and he's a Windows guy as much as anything.

Thanks Mr. Grant. I'd surely check it out. :)

Weird keyboard? I think if I use this it will give me a lot of frustration.

Eh the keyboard looks good. I hate the caps lock key, and seriously complaining that backspace is on the same row as number keys??? That is the standard location. Sure the delete key being there is funky, but many laptops I use has the delete key in the upper right hand corner region too so not too tough to imagine why it is there.

We all hate capslock.. and why do we do that. because we might hit it by accident. now you hit it by accident and the cursor jumps around the page/document. even worse. On my docked USB Keyboard I simply removed that key. all problems solved

I believe he meant the DELETE key, since the dawn of times the backspace is in the same row of the number keys. This solution found on the new X1 is A LOT better than what's the default on current laptops:

Looks so much better than the boulder I call my T410, which was just upgraded to a slightly new Dell. But hey, IT is still running our machines on XP, so I can't expect much. Posted via the WPC App for Android! on BlackBerry Z30

Nothing comes to close to the quality, cleanness and the performance of the Lenovo Yoga 2 Pro. Hands down the best PC laptop in the market.

I have the LY2 Pro and yes it's great and clean, I would like more of an IBM keyboard on it though. If it had those keys it would be the perfect laptop.

What do you think about the ThinkPad yoga?

I meant to respond to this and it ended up as a comment below...

I briefly owned a yoga 2 pro and I don't remember everything but I ended up sending it back. A) touchpad kinda sucked. Proprietary OEM synaptics drivers severely limited functionality, regular synaptic drivers refused to install.
B) the resolution... I've come to the unfortunate realization that bigger is not always better. You couldn't use it as a touch screen without scaling, but scaling just does not work well under Windows. Literally every program except explorer had abnormally sized elements and it frequently interfered with using the program. I set the resolution to 1080p but it reset to 3200 every time it woke from sleep.
C) meh keyboard
D) screen flickered at low brightness which was mind numbingly infuriating

That wireless network card though..... Endless Lenovo support pages about that, and it doesn't even do 5GHz wifi.

Agreed - if you are going for the hybrid form factor, there is nothing better.

Agreed... Lenovo Yoga 2 Pro with 8GB RAM and 4th Gen i7 ROCKS!

I take it you've never had Thinkpad before

Is this now also a laptop news and reviews app?

Not an entirely odd question given the context. But it is kind of silly. Did your brain blow up when you read the article's title and force you to click it? I for one come to WPCentral to find out WP related news, yes (i.e. when the dang Noki 930 will be released for AT&T LOL), but I also appreciate news on the entire Windows ecosystem and its convergence.

I have used it for a few weeks now. The keyboard is OK. The touchpad, or clickpad as they call it, is a bigger concern imo. Cursor jumps when clicking resulting is loads of missed clicks. The precision is no way near s mac. Surface have better precision on the small touchpad on those keyboards. Tried numerous drivers. It just sucks. MS needs to get that precision certification obligatory on ultrabooks.

I bought a X1 Carbon a while back and had some quality issues and sent it back. I blamed the keyboard problem, but the truth was I found the matte overlay almost vomit inducing. Why ruin a good machine with that crap. At least put it in as an option. It's really really terrible.

Sadly I disagree with this for solely one reason. I went from a yoga 1 to the yoga 2 pro and can say that three things disappointed me greatly when switching from the first Gen to the second. 1) the choice to switch the power port from the right side to the left. A little annoying for me, but something I can live with. 2)the decision to make the windows key a touch based key instead of a hardware key. Also annoying but something I could overlook if it wasn't for 3) the decision to make it so that the SD card doesn't go all the way in. I used a 32gb to augment my 128gb on my original yoga and it went in and was hidden from site and worked as basically a second hard drive. On this one half of the SD card sticks out and now I'm afraid its going to break for some reason at any moment. I will say I am happy with the device although it doesn't feel like I made a real upgrade considering battery life isn't significantly better since I keep the display on 3200x1800.

Lenovo's laptops always have deal breaking crap which is really annoying because otherwise they would be unquestionably the best in laptops. This keyboard? Deal breaker. The article talks about Fn keys, but I want Fkeys. No F1, F2, etc? No buy. The touchpad? One of the only things Lenovo used to always do right was have physical left and right click buttons. They used to have 5 buttons in fact! Then they dropped to 2 for the mouse nub which I could have lived with, but now there are zero, giving me zero reasons to look at Lenovo over any other brand.

Yo Mick, heard you're leaving WP Central, good luck dude!

Yep, already gone. Thanks, Steve!

Four to six hours of real world battery life, for an ultra book? Deal. Breaker. At that point, why not just get a regular laptop?

Keyboard layout looks strange to me... no caps lock and right side of backspace not alligned with enter below it :/

I purchased this machine last month to upgrade from a 2011 T420s. As a "light" user of the F-n keys, I don't have any issue with the new keyboard. I actually like it a lot. The one thing I miss is the "back" and "forward" keys for web usage are now the Pg-Up and Pg-Dn keys. Battery life leaves something to be desired. I am getting 6+ hours of use on mine but would be 100% satisfied with 9 hrs. The screen could use a little more quality. It's slightly grainy and text is not as clear when used without excessive zoom. I have great eyes and still need to use 150% zoon in IE to be able to read the text clearly. With a better quality screen (retina display), I'd be fine with the 100% zoom in native resolution. I uninstalled most of the Lenovo. It had a "start menu" program that kept acting wierd, and a password manager that kept asking for my Windows password on every webpage. Ah, no thanks. I would recommend this machine but if I had to rebuy it, I'd look long and hard at a MBP 13 for the same price.

Actually I'm so proud to own a new X1 Carbon which is equipped with 3G and NFC module. :)

I have the t430u. Its a good ultrabook type laptop. Battery life is no where close to what the company claims but everything else is good. Using it on dual boot Win8 & Arch Linux.

I think the keyboard layout is fine.

I decided to hold on to my x61s till my last breath. Seriously after that series Lenovo hasn't made any attractive ThinkPads.

This review doesn't show the specs of the tested unit they had. Which Core i5 or i7 did they use? This would help determine which of the three processors has the battery life shown in this review.

Have not used one yet but glad to see the Ctrl key on the on the lower leftmost part of the keyboard again. The Current gen X1 has a Fn key to the left of the Ctrl key which is super confusing for those of us who Ctrl +C adn Ctrl+V all day long. Also glad to see that the Thinkpad logo on the lid is now "Right side up" when the lid is open. Current gen shows the logo upside down. I know... OCD stuff but it matters. Lastly glad to see that the moved away from the all Matte screen. It makes the screen blurry form certain angles. Will hold judgement on all other counts until I get my new X1 later this month.

Lenovo always comes so close on these things. I had a Gen 2 X1 for about a year and one of the reasons I went with it was dedicated function keys. You need dedicated function keys when writing software. The keyboard is the one thing I miss the most when I sold it for a Surface Pro 2. The second generation X1 touch screens were nice, but I didn't enjoy the matte finish as much. I felt it desaturated the colours too much and the resolution was so just so-so. The high resolution panel on this third generation one sounds amazing.

I find it really frustrating, because I've been wanting to upgrade my laptop for a few years. I was an avid thinkpad fanatic, but ever since lenovo got its hands on the reigns, the laptops have gradually dropped all the typical thinkpad brilliance. The sort of laptop I would happily pay for, no one makes. It's really annoying because, certain things like aspect ratio for the screen, only apple uses 16:10, every one else has descended to mediocrity with 16:9. For 'those who do', that extra vertical goes a long way, when typing, coding, using CAD, etc. It's a real pity that lenovo has gone to 16:9, and worst of all, still offers 1366x768 resolution panels. The change to the keyboard is an egregious decision. The single best feature of thinkpads, a layout which was the best compromise between portability and familiarity with a standard desktop keyboard. Reports suggest the key strokes still feel good, so I won't comment on the change to island style keys. Dumping the trackpoint buttons, is a nuisance. I also would prefer to still see latches on the lid. It looks like buying a 'premium' laptop is pointless now, you only get a basic one with a name that used to mean something. If that's the case, then I guess the only option is to succumb and just go for an entry level name. Thinkpad no more!

Give one a try. Unfortunately, you cannot just go to a store and do a hands-on. Not even at a Microsoft Store. I ordered the original X1, and sent it back with a wishlist after finding it too big and heavy. That wishlist was fulfilled with the 2014 edition. I have owned ThinkPads since the mid-90s, even started in the 80s; and currently have the X301 and X230T in addition to the new X1 Carbon. Try it, and if you do not like it send it back with suggestions. I find Lenovo to be more responsive, and more daringly innovative, than any other tech company (although Microsoft just took a leap with the Surface Pro 3). It should be noted that the people/division designing ThinkPads did not change with the acquisition from IBM.

I guess I could get used to the keyboard (though that's annoying), but it's a dealbreaker to not have an SD card slot. The battery life (for business) and no upgradeable GPU (for fun) don't help either for me.

A fair review. I acquired mine upon release in January, and love it. I compare the keyboard changes to those on the dashboard of a car year to year. Minor enhancements, to which you quickly become accustomed. The integrated TrackPoint buttons on the trackpad have been my steepest learning curve. Sometimes I find myself pressing in the wrong spot, and having to feel around for the right one. I thought I would miss the SD card slot, but have not. I have not used my Nikon camera since acquiring a Nokia Lumia 1020, with 41 megapixels, and simply connect the smartphone to the comupter USB slot to transfer files. I have always been a big fan of matte screens, especially with the old UXGA resolution; but the glossiness of the screen is not so offensive and the brightness makes for an overall improvement. Of course, the biggest improvement since the original X1 Carbon is the touchscreen; and the new 2560x1440 resolution is a big step up for the X1 Carbon Touch...

As a software developer I really rely on my Fn keys being there... I would really need to try this out before committing. I currently have the X1 Carbon Touch and would very much like the higher ppi resolution that this machine offers and the docking connector is also a big attractor.