Review: TYLT VU Qi Wireless Charging Pad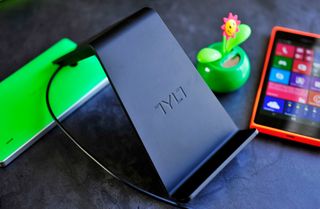 There isn't a lot that goes into a Qi charging pad, or at least you would think. After all, you plug it in, plop your phone on it and there you have it. Most charging pads are designed with this mindset, being nothing more than flat pad with a plug that your phone sits on.
The TYLT VU Qi wireless charging pad is an exception to that. It is thoughtfully designed to be a little bit more than just a place to lay your phone to power up.
The first thing you notice about the VU is that it is big. The reason is twofold. For one, it is meant to easily accommodate devices of various sizes. But more importantly, it is designed to hold those devices at a 45-degree angle, so you can comfortably view and use your device as it charges, This requires that the stand have a larger footprint than others of its ilk.
The surface that the phone sits on is soft and keeps a slight grip on the phone to prevent slippage during use. That is a very handy feature. I often find myself gliding through apps and menus with a single finger while my phone is perched on my VU. The grip is enough that the phone doesn't slide around when doing so.
I also love that there is no tradeoff between the convenience of Qi and the time it takes to charge on my TYLT. Unlike many other wireless chargers, the VU's 1 Amp output gets your battery charged about as fast as a standard USB charger would. And the green indicator light lets you know that it's happening.
At the end of the day, I am really happy with the TYLT VU. It is a little big, but I am willing to deal with that for the convenience it offers. I steered clear of the bright blue, red, and green color options, as I did not want my phone charger to be the centerpiece of the room. Instead, I opted for the more inconspicuous black.
Like many Qi chargers, the TYLT VU Qi wireless charging pad can be a little pricey when compared to a good old fashioned USB charger, but it comes in around the same price range of its competitors. It also offers a few more thoughtful details that they do not.
You can pick one up in the Windows Phone Central store in whichever color you choose. Just remember that your phone must be Qi-compatible in order to use it.
Get the Windows Central Newsletter
All the latest news, reviews, and guides for Windows and Xbox diehards.