Review – WaterField Designs Outback Sleeve for Surface Pro 3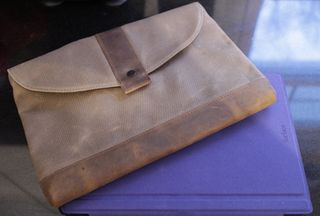 There are a lot of cases and sleeves out there for the Surface pro 3 of varying grades. Many times, I just need something simple that I can throw my Surface in, so it doesn't get hurt if I drop it on my way to a meeting or get beat up in my laptop bag. That means I generally opt for a cheap neoprene sleeve.
However, if you are in the market for a sleeve that is more rugged, makes a statement, or just plain looks great, then you need to check out WaterField Designs' Outback Sleeve for the Surface Pro 3.
WaterField Designs is a San Francisco-based company that makes a slew of different bags, sleeves, cases and kits for countless devices and purposes. Many of their products come with a la carte customization options, including flaps, straps, orientation, trim, and accessories.
The Outback sleeve is custom-fitted for the Surface Pro 3. The one I am reviewing, in particular, is the horizontal sleeve with Grizzly leather trim and a top flap.
Construction
The Outback is an envelope-shaped sleeve constructed of thick pieces of waxed canvas that have all been stitched together to give it a handmade look. Weathered leather trim runs along the bottom, and a matching leather strap keeps the flap clasped shut. The result is a bag that looks like it came out of World War II and was passed down through generations.
The inside of the Outback couldn't be more different. Instead of a rugged, vintage aesthetic, you will find the plush, modern padding of neoprene.
Together the two provide a tough outer shell that protects against the elements and a soft cushion to absorb the blow of taking a fall. There's no doubt that this sleeve is tough and will last a long time.
Using the Outback
Being that the Outback sleeve is custom-designed for the Surface Pro 3 it fits like a glove. And when the top flap is snapped shut, your tablet is locked in with no room to jostle around. However, despite the snug fit, the neoprene lining helps the Surface slide in and out effortlessly.
This is a sleeve in the strictest sense of the word and has no external pockets. But it does have an attached loop on the back, which makes the Outback a proper vessel for your tablet and Surface Pen on your way to a meeting or packing with you on the plane. It is also perfect for protecting your Surface Pro 3 in your backpack or briefcase.
The Outback does do one thing that so many other laptop bags and accessories cannot, it fits in just about anywhere. The waxed canvas and leather construction gives it the fortitude to weather a week camping in the wilderness and the panache to accompany you to the shareholder's meeting. And its vintage aesthetic is fashionable whether you are in high school or grad school.
WaterField has crafted the highest-quality laptop sleeve that I have seen, and yet, it is incredibly lightweight. The Outback sleeve is an equal mix of beauty and brawn, and it's the perfect pocket to cradle your Surface Pro 3. But if you are looking for something that can accommodate lugging a few more accessories, you should opt for the available Piggyback pouch or check out some of the other styles of bags.
WaterField Designs' Outback sleeve starts at $59.00 for the sleeve with leather strap clasp. The configuration reviewed here is $79.00. You can find both, or design your own at Waterfield Designs' website.
Get the Windows Central Newsletter
All the latest news, reviews, and guides for Windows and Xbox diehards.