Review – WaterField Designs Outback Sleeve for Surface Pro 3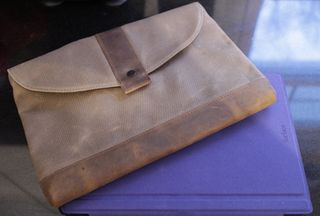 There are a lot of cases and sleeves out there for the Surface pro 3 of varying grades. Many times, I just need something simple that I can throw my Surface in, so it doesn't get hurt if I drop it on my way to a meeting or get beat up in my laptop bag. That means I generally opt for a cheap neoprene sleeve.
However, if you are in the market for a sleeve that is more rugged, makes a statement, or just plain looks great, then you need to check out WaterField Designs' Outback Sleeve for the Surface Pro 3.
WaterField Designs is a San Francisco-based company that makes a slew of different bags, sleeves, cases and kits for countless devices and purposes. Many of their products come with a la carte customization options, including flaps, straps, orientation, trim, and accessories.
The Outback sleeve is custom-fitted for the Surface Pro 3. The one I am reviewing, in particular, is the horizontal sleeve with Grizzly leather trim and a top flap.
Construction
The Outback is an envelope-shaped sleeve constructed of thick pieces of waxed canvas that have all been stitched together to give it a handmade look. Weathered leather trim runs along the bottom, and a matching leather strap keeps the flap clasped shut. The result is a bag that looks like it came out of World War II and was passed down through generations.
The inside of the Outback couldn't be more different. Instead of a rugged, vintage aesthetic, you will find the plush, modern padding of neoprene.
Together the two provide a tough outer shell that protects against the elements and a soft cushion to absorb the blow of taking a fall. There's no doubt that this sleeve is tough and will last a long time.
Using the Outback
Being that the Outback sleeve is custom-designed for the Surface Pro 3 it fits like a glove. And when the top flap is snapped shut, your tablet is locked in with no room to jostle around. However, despite the snug fit, the neoprene lining helps the Surface slide in and out effortlessly.
This is a sleeve in the strictest sense of the word and has no external pockets. But it does have an attached loop on the back, which makes the Outback a proper vessel for your tablet and Surface Pen on your way to a meeting or packing with you on the plane. It is also perfect for protecting your Surface Pro 3 in your backpack or briefcase.
The Outback does do one thing that so many other laptop bags and accessories cannot, it fits in just about anywhere. The waxed canvas and leather construction gives it the fortitude to weather a week camping in the wilderness and the panache to accompany you to the shareholder's meeting. And its vintage aesthetic is fashionable whether you are in high school or grad school.
WaterField has crafted the highest-quality laptop sleeve that I have seen, and yet, it is incredibly lightweight. The Outback sleeve is an equal mix of beauty and brawn, and it's the perfect pocket to cradle your Surface Pro 3. But if you are looking for something that can accommodate lugging a few more accessories, you should opt for the available Piggyback pouch or check out some of the other styles of bags.
WaterField Designs' Outback sleeve starts at $59.00 for the sleeve with leather strap clasp. The configuration reviewed here is $79.00. You can find both, or design your own at Waterfield Designs' website.
Windows Central Newsletter
Get the best of Windows Central in in your inbox, every day!
Nice and not too expensive

where can I find an overview of all the cases and bags for a surface pro 3. Ever since my surface pro one I am looking for a rugged case. I would also like to see more rugged cases for the the surface pro 3.

These are ones we have have covered. Otherwise, you need to shop around on different sites, etc.

Can you guys do a review of a messenger bag from this company? I have been seeing their stuff for sometime now and they look damn good. But to import them from the US to the UK makes the cost prohibitive.

I bought the Maroo folio case for mine, it's great. High quality, and the edging/corners are so tough, it feels like you could lob it across the room (not that I've tried). Looks luxurious, very solid and even keeps the stylus inside. http://www.maroo.com/store/Cases/Surface-Cases/Leather-Sleeve-for-Surface-Pro-3

These are ones we have have covered.

I was expecting the price to be over $100. Looks great.

I like seeing more accessories. This means that the device has been recognized finally. There were no accessories for the Surface Pro when I had it. Now I'm seeing more options for my Surface Pro 3. Makes me happy I have options.

Totally agree. I wanted a compact bag just to carry the sp3, charger and arc mouse. I could hardly find anything. Then I came across SFbags. Great products. Finally SP3 is starting to get the attention it deserves. Now that Surface line is a billion dollar business, more vendors may be willing to make bags and accessories.

I have several bags/cases from them. They are made in the USA ('Murica!!). They make bags for a tons of different products and sizes. I have the Tablet Travel Express for my Surface Pro 2. I like that it is compact and thin. You can just take that on the go if you just need to take your Surfafe with you, or pack in a larger backpack if you're traveling with other things.

I got the corkor case for my SP3 and it's really luxe http://www.corkor.com/collections/surface-pro-3/products/cork-case-for-m...

They have some great bags custom made for surface pro 3. You could hardly find bags made specifically for SP3. I own the outback solo for SP3. The quality and craftsmanship is superb. Customer Service is also very good. Check out their offerings. You wont be disappointed. http://www.sfbags.com/products/outback-solo-for-surface-pro-3

I found this case online a couple of weeks ago and was interested, great to see a review on it to finalize my decision.

I've got a blue case with pocket for my surface 3 but that thing is sexy as. Is there a version with a front pocket so that a charger can be put in there as well?

They have the Outback solo which is kind of a sleeve with front pockets. But it is made of waxed canvas. It will be really nice if they could bring ballistic nylon version of outback solo.

I bought the $125.00 bag when Surface Pro 3 came out thanks to this sites review. I'm very happy with it, the build quality is fantastic!

I bought one of these last summer (shortly after the SP3) and love it. What helped me decide on Waterfield is that I have a 10-year-old Waterfield briefcase that I have used almost continuously since 2005 that still looks new, and functions very well. I still get compliments on it -- especially for the airplane-seatbelt-buckle that holds the flap down. I used to work and travel quite a bit for a construction company, and that bag went everywhere with me -- you can't tell it's been to countless jobsites and through more airports than I care to remember -- and still looks great. Quality gear from a quality company. Highly recommended!

They also do custom orders - just give them the dimensions of your phone and some loot, they'll make a special order spin case for you.

Ok tomorrow I can see news like a fashions... Fragrance... Playboys etc.

I must be alone thinking this looks quite ugly. I'm not a fan of the scuffed / worn look. It would be nice in black or different colours.

That is a REALLY nice sleeve, but the one thing I don't like is the pen holder on the OUTSIDE of the sleeve. Seriously? I'll lose the pen in a day or two. That should really be on the inside.
Windows Central Newsletter
Thank you for signing up to Windows Central. You will receive a verification email shortly.
There was a problem. Please refresh the page and try again.