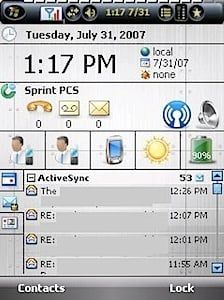 WisBar Advance 3 by Lakeridge Software
I have used Wisbar Advanced on and off for years now. It has been kind of a love / hate relationship at times as it has grown and progressed over the years. I love certain aspects of the program while finding others annoying. But I have not had a chance to try the self proclaimed new and improved version 3 out, yet, so I decided to give it try. If you are interested in giving your WM phone a unique and custom look, or think that having a cascading menu (like WinXP) might prove useful, or want to have complete customizing control of key features of the WM OS, then you might want to learn what I found out.
Overview
First of all it is important to understand what WisBar Advance 3 really is. It actually offers a wide range of benefits and depending on which one of those benefits appeals most to an individual, that is usually how they will describe it... giving you 5 different definitions if you asked 5 different people. So let me just list some of the main benefits:
Customizing The Appearance. WisBar Advance 3 lets you skin your WM taskbar, menubar, and today screen. You can download free themes or buy them. If you buy them, they usually also come with skins to match just about any other program that is commonly used in conjunction with WisBar Advance 3, i.e. PocketBreeze, ContactBreeze, PocketWeather, iLauncher, Resco Keyboard, and SBSH products.
Most of these also come with custom sounds for just about any event, especially navigating the menus. This can add a new dimension in customizing your phone to be unique and more enjoyable to use on a daily basis.
Here are some examples:
Cascading Menu. WisBar Advance 3 gives you the opportunity to make your WM menu cascade, like WinXP. I have always liked this feature, and besides, customizing my phone is one of the reasons I have always liked this program... especially if you have a job wheel on your phone. This makes it a lot easier to navigate through your menus. If you do not have a jog wheel, you may find it a more organized way to browse your menus, but it would be more stylus dependent. I will always organize my menus in their own folders, which only enhances the usefulness of the cascading menu. Here is an example of what I mean:
Advanced System Customizing. You can choose which items to include (and not include) on your menubar and taskbar, and in what order they will appear on each of them. You can even customize what happens when you tab or tap-and-hold on each of those items that you select to display along the top bar. You can add and remove functions to the taskbar.
System Tools. WisBar Advance 3 also gives several handy system tools, the most popular being an effective task manager by switching between running programs via a quick drop down menu. You can set the options for the close button on a per program basis as well as set the SIP and screen orientation individually per application.
Many More. Once you start diving deeper in the options of this program, you continually find little gems that you missed before. It certainly has plenty to offer making it well worth the $9.99 to purchase it.
Challenges
There are potentially several challenges though with WisBar Advance 3 as well. For some, they are very minor when compared to all the benefits it offers, while to others they are just annoying enough to outweigh the benefits. The difference between the two will range from personal perspective as well as from different models of phones.
Memory. WisBar Advance 3 does take a smaller memory footprint when compared to WisBar Advanced 2, but if you have critically low available RAM after a fresh reset to start with, you will find that you will run out of memory faster than usual. But with that said, as long as you have at least 64 MB of RAM or more to start with, you should be fine.
Once loaded, with the default settings, there really isn't any lag when using the menus, than when compared with not using WisBar Advance 3. The exception to this is the first time you load a menu, it will take an extra second to cache the menu item's icons. But after that, the icons are cached and you will not see any lag, and in fact may work a little faster than when not running WisBar Advance 3.
Reset. When you do a soft reset (reboot the phone), it is obvious that WisBar Advance 3 can add 30-45 seconds easily to the time to load everything. If you find that you do not reset your phone very often, then this is not an issue. But if you do, even though not a major issue, this should be taken into consideration.
Screen Size. I have seen several people on various forums who own a square screen WM device, i.e. WM based Treo, who say that it is more challenging to use effectively with the limited screen real estate. While at the same time others still recognize it as a value, in spite of using it on a square screen. I think this comes down to picking skins smartly with an eye for the size of the screen they are using.
Conclusion
This is a program that I would recommend for anyone to try out. It often times comes to personal preferences when weighing out the pros and cons. The bottom line is, if memory is not at a vital low point on your device and you do not mind an extra 30-45 seconds when you reset your phone, I believe you will find the freedom to customize your phone beyond anything you have probably experienced, and is well worth it.
Additional Resources
Once you have WisBar Advance 3 installed, you will want to see how cool you can make your phone look. I have done a little leg work to help you get started in finding some great new WA3 (WisBar Advance 3) themes. Please note that with very few exceptions, all WA2 (WisBar Advance 2) themes will also work:
Swipe to scroll horizontally
| | |
| --- | --- |
| Ratings (3.5 out of 5)Overall: 3.5 stars out of 5 | ProsHighly customizable appearance of WMUse 3rd party themesAdvanced system tools and customizationCascading MenuConsAdds additional time to loading after soft resetDoes take memory to run, which can be valuable with phones with 32 mb or underShould be selective when choosing themes with square screens |
Get the Windows Central Newsletter
All the latest news, reviews, and guides for Windows and Xbox diehards.
tiffany & co Cuff links tiffany & co Cuff links tiffany & co Cuff links tiffany & co key ring