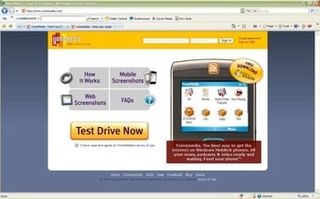 The folks over at YomoMedia have developed a (for the lack of a better term) RSS and Feed management package which allows you to manage your RSS feeds from your desktop and pair the managed feeds to your phone.
(Don't know from RSS? Read our How To Article on the RSS and a review of staff-fave NewsBreak.)
Short for "Your Mobile Media", YomoMedia is compatible with both Windows Mobile and iPhone devices. The application allows you to manage news, podcasts and videos. The best thing about YomoMedia's service is that it's FREE. You do have to establish a YomoMedia account and have a data connection to use the service but the membership and application are free.
Read on for more!
The desktop management is web based, allowing you to manage your RSS feeds from any internet connected computer. You can create bundled feeds by category or use the preset bundles (news, financial, sports, etc.) YomoMedia has created. Subscription updates can be scheduled daily, hourly or as often as every five minutes.
It takes a little time to get used to navigating and controlling the management application on both the desktop and Windows Mobile device. My knowledge of RSS is very limited and it took me about an hour to become comfortable navigating through YomoMedia. A help feature is available for those who are RSS challenged like myself but it's very basic and difficult to follow at times.
One thing I didn't particularly like was that the feeds/bundles you are subscribed to on your desktop isn't automatically reflected on your phone. You can set up bundles on your desktop but in order to see them on your phone, you have to go into a "subscriptions" menu on the phone and check which feeds you want to view. It would have been more efficient if what was subscribed to on your desktop application was automatically mirrored on your phone. If there's a way to do this, I couldn't find it.
I like the desktop application and think it would help those who use RSS feeds regularly in organizing and managing their feeds/subscriptions. Plus, it's pretty difficult to argue with free.
George,
As a co-founder of YomoMedia, I appreciate you reviewing the service and providing good feedback. I'd like to clarify one point...the feeds that you're subscribed to on the web application will be pushed to your phone if you have the phone icon next to the feed checked. You don't need to manage it from the phone (although you can). Check off the feeds on the web app and the next time your phone is set to perform an update, those feeds will appear on the phone in the appropriate bundles.
Thanks again,
Dana Kirk
Windows Central Newsletter
Get the best of Windows Central in in your inbox, every day!
Thank you for signing up to Windows Central. You will receive a verification email shortly.
There was a problem. Please refresh the page and try again.