Ring Video Doorbell app to stop working with Windows 10 Mobile in April
Ring is the latest company to officially drop support for its Windows 10 Mobile app.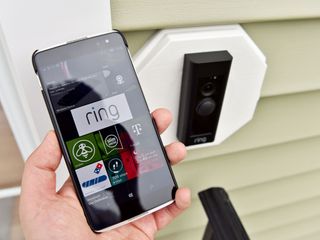 It's time to say bye to the Ring Video Doorbell app on Windows 10 Mobile. In an email being sent out to users, Ring says that its app will no longer work on Windows 10 Mobile devices after April 10.
Though the mobile app may be retiring, Ring says that it will continue to support its Windows 10 app for devices on the Fall Creators Update or newer. From Ring:
Going forward, if you want to set up or use a Ring device with a mobile phone, you'll have to do so on an Android or iOS phone.
It's no surprise that Ring would drop support for Windows 10 Mobile. While Microsoft may be cooking up new ideas for the mobile space, Windows 10 Mobile is effectively dead at this point. Ring is just the latest app to end its support for the platform. The good news, however, is that things should continue as normal for anyone using the app on PC.
See at Microsoft Store (opens in new tab)
Dan Thorp-Lancaster is the former Editor-in-Chief of Windows Central. He began working with Windows Central, Android Central, and iMore as a news writer in 2014 and is obsessed with tech of all sorts. You can follow Dan on Twitter @DthorpL and Instagram @heyitsdtl.
I believe that was sarcasm

I'm shocked it was there in the first place.

that "See at Microsoft Store" at the bottom has a strange ring (pun intended) to it now no? ;-)

Glad I never invested in one of their devices. 950XL

Vs. what for smart home/video doorbell? I use their app every day on PC, which is more than I would get if I bought Nest. At least they tried to support the platform to begin with.

Having said that, the Ring app is horrible compared to the iOS version.

Yeah, I bought it cause they supported win10m really. I was considering returning mine and they said I would be able to do that even though I bought it months ago, but my wife and I decided were just going to work around it, and keep using with a nuVision win10 tablet at home and an old android phone at her work and my Surface for me when i'm out, till something new comes out.

Really wish they would extend support to the Xbox One.

Oh man. That would be amazing!

Thanks, Satya! Your (total lack of) commitment to Windows mobile inspires others (to abandon ship)! Short sighted prick.

He is like Hitler. Does not care about others problems if it comes to doing right. (According to him.)

Really, busting out Hitler already over this? Loons.

The article says it on its own. Windows Phone is dead

People's lives are too easy having never suffered for anything so don't give that name the evil reverence it should carry.

Relax, they are only joking. jeez People get so offended now a days. God forbid I breathe the same air you are.

Offended is different than comparing a CEO they/you don't like to one of, if not the worst person we have ever had in our world. How many people died by this man's hands and we think it is funny to compare to that? I'm not offended by much, not really anything TBH, but comparing to Hitler is just wrong.

We live in a very strange world.

Daniel, Never underestimate the amount of fanboi in this place. Its very entertaining and pathetic at the same time.

Well that escalated quickly.

sad but not surprising. the app for windows 10 mobile didnt even work properly with my doorbell in january so i returned the doorbell. i was a little bit hopeful when daniel previewed the updated app (2.0) last year but when the pc app was updated and the mobile app wasnt, i lost hope.

It's funny because I just bought their HD camera for my backyard and will be reviewing it soon. I still use the app everyday for PC, but can't say I blame them on the phone part considering where things are at.

Hopefully, we'll all be using the "PC" app from our pockets, soon.

You are going to be able to no matter what. Look up Ockel Sirius A or GPD Win 2

I didn't know about the Ockel. Pretty nice. Of course I'd want it to run on ARM and have an eSIM. But still, it's great to see people come up with these new form factors. Windows 10 can handle them now, imagine when CoreOS is out.

Honestly, I'm actually surprised they are still supporting Windows PCs. Versus iOS and Android, the percentage that use Ring on a PC must be extremely small.

Don't have ring.... But having my security video and my home automation on PC is the best... If I need to record videos or program scenarios it's on PC I want to do them.. And I spend more time at work on my PC than my phone.. And it's way more comfortable...
They have to stop doing mobile only apps it's retarded... Practical for mobility but way less confortable to use than a PC app... It's like only selling pocket knives instead of chefs knives because they are more mobile and less people cook now a day.... Banking apps are the worst... And don't get me started about security...

Perhaps, but I'd wager there are a lot of people like me who view my notifications from Ring on my desktop PC or Surface Pro most of the time because those are the devices I work on during the day, not my phone. The Android app is on my phone for when I'm traveling only.

After so much praise and boosts from WC, Ring drops win10 mobile app!!! Outstanding!

Obviously didn't boost their bottom line, or they'd still be supporting it.

Seriously. The only shock is that they kept the Windows 10 app... for now.

This is really old news. The WM app stopped working and was withdrawn from the store some time in February. Killing the app for existing customers is a violation of the warranty of Merchantability. To Ring's credit, they refunded me my full purchase price for the device I had purchased at Best Buy. https://forums.windowscentral.com/general-phone-discussion/472796-ring-s...

Ours have not stopped, as my wife and I received notifications on our phones just this morning, and monitored the deer at our front door.

Enjoy the last two weeks. :(

From my response to their e-mail:
I require a refund for my purchase of 2 Ring Pro doorbells, as the only reason that I chose your products was due to the good reviews your Windows mobile app had received, since all of my family (and all of my employees) use Windows 10 mobile phones. With the loss of your support for our mobile phones, your products will no longer be usable to any of us. Do not try to convince us to downgrade our phones to some other platform, just to respond to your short-sighted decision to not support your customers!

How is it shortsighted on their part to drop support for a platform with almost no users? I love Windows Phone too, but not being able to see the situation from their side is pretty ridiculous. WP is dead, no matter how much I wish it were otherwise. It's not reasonable to expect app makers to support a dead system.

"I want the word 'dead' in every Windows 10 Mobile article!" I could tell the end was near when my floodlight displays as a doorbell. Oh well, just some more space added to my phone and a reminder to consumers that the key players seemed to be split on building web apps and store apps.

Now that Ring has been purchased by Amazon I'm guessing all of their present video doorbells will become obsolete by new models. Might buy one then if the video quality improves. For now after seeing my neighbors new Ring...forgetaboutit. There are other options right now that are better than Ring and more expensive.

I wish MS stop working for good!

And be left with the two worst evil of the market??? That's a strange wish you have....

"Will this work with Andromeda?""" 🙂

coming soon(TM) Rodney...just like most anything from MS these days. Was just on MSpoweruser and they had a video of the moonraker. ANOTHER great product that was never released that would have pushed MS and windows phone (at the time) WAY forward! but alas, the nimrod at the helm axed it.

Haha Windows mobile is defunct

Its time to move on. Windows Mobile is no more.

Hmm, is it definitely "won't work" or do they mean you won't be able to install it? Moved to an iPhone myself from my 950XL late last year (so I'm fine) but was hoping to see what the rumoured next SE would be like for my parents' phone replacements. If they literally stop it working that would be a bit crap, if it keeps going so long as installed would be fairer.

For whom the bell doesn't toll.

I do not understand why people are freaking out about this anymore. I *LOVED* all of my Windows phones and really do miss by Lumia 950, but Microsoft has declared that Windows 10 Mobile is essentially dead, so it really does not make sense for app developers to continue supporting it. I moved to a Samsung Galaxy S8 and, while I have to admit that I miss Windows 10 Mobile and its predecessors every single day, at least my apps are working, until, hopefully, one day, a new Windows device comes along that will have plenty of PWA apps available to use (including hopefully Ring eventually). I hate that Amazon has bought out Ring, but it really is a great service and I love my Video Doorbell 2 and my Spotlight cameras. I'm looking forward to the new Stick-Up cameras and the Security/home automation system to hopefully replace my old, and often unreliable, Insteon products. Stop freaking out about the lack of support for Win10 Mobile. Now, if they decide to eventually yank the Windows 10 PC app, then I will start freaking out...

I thought this was already done. It was the icing on the cake for me to switch to iOS in early February.

Bummer, I was about to buy a couple ring security cameras too. Not much use if they don't work on mobile, and I'm sure as heck not switching to Android or iPhone. And once Andromeda is available, nothing will separate Ring from the other devices, so I'll probably get something else.

Ben, an android phone with MS launcher on it is more MS than windows mobile was. Might as well join the future. Not stay stuck in the past. Daniels razer phone with a few tweaks and MS Launcher is AWESOME!~

Steve, there is no chance I will ever use an Android phone. I'd sooner go to an old feature/flip phone.

If you're still on Windows Mobile in 2018, a flip phone would be a lateral move for you.

Too bad, you are missing out on a lot of great features, phones because of fanboyism. such shame. Or move to iphone, MS apps on that work great. I have an MS'ed iphone and it's a great platform.

That's where Microsoft when wrong, they decimated their mobile play to bolster the mobile platform of their competitors.

Yes and no Techfreak, They decimated their mobile play as NO ONE WAS BUYING or using the platform. Yes, there were a few thousand of us who WERE fans...but they made the right move and now are making way more money doing what they are doing now.

That would be really nice

Why not just make a UWP app.... oh wait Microsoft haven't been focusing on UWP at all themselves... so not surprising.

I wouldn't be overjoyed to be "reached out to" - I haven't seen any arms extended towards me. Why can't people use simple direct language. Upcoming trouble with attendees at content free communication classes perhaps. I am a recent convert to Android, Windows mobile is a great OS but when my bank and my car wouldn't talk to it that ended the relationship.
Windows Central Newsletter
Thank you for signing up to Windows Central. You will receive a verification email shortly.
There was a problem. Please refresh the page and try again.