Rise of the Tomb Raider down to just ₹889 ($13) on the Indian Windows 10 Store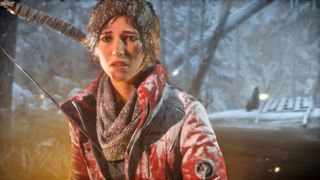 Rise of the Tomb Raider has made its way to the Windows Store, and if you're residing in India, the game is available for considerably lesser than what it costs in the U.S. or the U.K. The Indian Windows 10 Store has the game priced at ₹1,002 ($15), and is running a discount through which you can pick up the title for just ₹889 ($13). By comparison, the game costs $59.99 in the U.S., and is on sale for $53.99.
If you're one to purchase your games via Steam, the title is listed for ₹899 ($13), with a retail price of ₹999 ($15). The Deluxe Edition — which includes the season pass — can be bought for ₹1,555 ($23). As a refresher, these are the minimum system requirements for running the game:
OS: Windows 7 (64-bit)
Processor: Intel Core i3-2100 or AMD Phenom II X4 945
Graphics Card: NVIDIA GTX 650 2GB or AMD HD7770 2GB
RAM: 6 (Six) GB
Hard Disk Space: 35 GB (base game)
Requires DX11
Here are the recommended system requirements:
OS: Windows 10 (64-bit)
Processor: Intel Core i7-3770, 3.40GHz or AMD FX-8350, 4.0Ghz
Graphics Card: NVIDIA GeForce GTX 970 or AMD Radeon R9 290x
RAM: 8 (Eight) GB
Hard Disk Space: 35 GB (base game)
Requires DX11
The sale is valid until February 4 on Steam, and February 5 for the Windows Store. Interested? Be sure to check out our review before you buy the game:
Thanks iTaher!
How did I know that this would be the first comment.

Why the difference in price?
I know the limited exclusive tanked on xbox but why the insistence on keeping it as close to retail as possible?

It sold over a million copies on Xbox. I don't see how that's "tanking"

The last game sold 6 million copies, so yeah it can be called tanking. Not to mention the point of this article is to change your region on your windows OS and buy the game. It can be had as low as 9$ from the Ukraine right now on the MS store... With the Season pass for as little as $2.

The last game sold better, but it didn't sold 6 million copies in 3 months. It sold 3.4 million in the first month, but it was available everywhere and it launched with no competition in March 2013. The game end up selling 8.5 million copies, with the help of TR Definitive Edition, released on Xbox One and PS4. It's even available on Mac OS. ROTR launched in November, only on Xbox One and 360 (which many people don't even know), competing against Fallout and a bunch of other highly anticipated games. Selling more that 1 million copies only on Xbox in less that 2 months, it's pretty good to me. The game will sell much more in the long run, with critical acclaim, many awards, good word of mouth and the release on other systems, like PC last week.

The last game sold 6 mil across 6 Platforms silly. Posted via the Windows Central App for Android

It actually sold well over 1Million on Xbox One so your wrong there.
I believe it's just an attract tactic to the gaming aspect of Win10 what better way than lowering the price of a seller AAA exclusive Posted via the Windows Central App for Android

In Ukrainian store it's 9$

Just got it for less then 9 euros, thanks. However, the Win10 store client is just really, really bad. I thought it wasn't downloading but then I found this: -----"Don't worry if the progress bar doesn't seem to progress as it should, as it's among the known issues listed on the store: Windows 10 download progress bar does not actually display progress. Due to a UI issue download progress may not be accurately displayed (despite downloading without issue). When pausing and resuming the download, it may appear that the download has reset (appears to start from 0). However, actual download progress has not been affected."----- I can't believe that such a basic function isn't working. No wonder people are not using it.

I guess people ARE using it but for smaller apps. This is first and by far the biggest application on the store.

~ $9 in Ukrainian Windows Store which you can use by changing region....

Could you please tell me how to change my region on the PC?

Setttings->Time and Language -> Country or Region ->Ukraine (I translated from German so it might be named slightly different)

Just bought it for 13 bucks (Canadian) on the Ukrainian store, that's quite incredible. Interestingly though, Slovakia has the game for 44 euro. (I checked since I am Slovak and would be lying less by using Slovakia as a region)

Damn... Too bad the Xbox One version isn't similarly discounted.

Curious, did this work for you? Also in Canada and wondering if this trick works...

Yup, it worked. Set your region to be Ukraine (Settings -> Time & Language -> Region & Language; select Ukraine under "Country or region"), buy Rise of the Tomb Raider for 234 Ukrainian Hryvnia (which is about 13 bucks) in the Windows Store. It will ask you for new Credit Card - just add your Canadian one, and make up any Ukrainian address. I used my real Canadian street and number, even put Vancouver as city, but made up Ukrainian postal code (I used 91035) and it worked.

Incredible bug of the Store, still there after 5 years...
That s why developers continue to run away from a quite dead OS :(..
Microsoft.... What a pity... ;(

Wow, surprising comment from Venetasoft. Doesn't seem to be a bug though, I think its a genuine price slash. I hope you don't intend to abandon the platform. You are one of our finest developers.

I think he referring to how one can get apps for a lower price by just changing the region.

One of the DLC is also free (the $2.99 one).

Once you purchase the game and it's downloaded, can you revert back to US region and play as normal?

Put me off getting it at all. Uk gets shafted yet again

Can anyone use another controller such as wireless xbox 360 controller with this game when bought through the MS Store? I am having no luck and don't want to purchase xbox one controller and dongle for my PC.

I have the Windows store version and I use a wireless 360 controller with no problem.

Strange, I cannot get it to work...maybe worth uninstalling and trying again...argh 24gb is not nice to download again

While you're in game try to Alt+Tab out of the game and back a few times and see if the game manages to recognize the controller. Also, youve probably already tried this but a restart might fix it.

Then don't redownload the game! This is hardly ever the answer to a hardware problem - start with reinstalling the hardware's driver.

No problem with the hardware as it works perfectly fine on every other game I own installed on the same machine inc Windows store games. Have tried the old turn off and on trick. Haven't tried alt tabbing multiple times but have tried alt tabbing once.

All sorted windows 10 had 2009 drivers installed for my receiver, updated them to those released a couple of months ago and is now working. Thanks for making me double check hardware though

I will try to change my region and geting it cheap from windows store

Wow thats great we should go to India buy the game in just 13$ and return back home

Why not change your device's region instead of travelling physically?

Lol doesn't work that way

It is also cheaper in South Africa - R 446,50 ($ 28)

What?! That's insane! Payed top Euro's for this game! But to be honest, the game deserves to be top Euro's :)

With prices like this the console is dead.

₹899 ($13) is a pretty big amount in india. Thats a full meal for 10 people. 20 if you go veg.

But you have 10 installs with windows 10 store apps.. so those 10 people could play for hours instead of having a quick full meal

yeah thats true. but my point - the value of currency varies. the value of $10 differs from place to place. You cant just do a INR to USD conversion and go all "oh-my-god-thats-so-cheap".

Full meals are over rated. Ten full meals are over rated tenfold.

Where'd you get food THAT cheap in India? From what I know, (and I live in NCR) food for 10 would cost at least around Rs. 3000... Posted via the Windows Central App

Does it work? Changing region and getting it for cheap? Can't be that easy right???

No it doesn't, unless you have a credit card with billing address in that region so you can add it as a payment method. Paypal could aslo work, but for Ukraine and India regions you can only add a credit card, paypal is not an option, so you won't be able to add a payment method. Give us a region which has paypal as accepted payment method and the price is as low, else this is another click-bait article title.

It does work, I bought from India and I live in UK. I added my normal visa debit. For the address I put my own Road, and city but chose a random state and typed 000000 as the Indian postcode. Went through and started downloading. Only problem is I can't use an xbox 360 wireless controller. Think it will only allow Xbox one controller this isn't the case with the steam version

:( Weird, not working for me... Tried again with Ukraine region, it worked now, did nothing different from before. So ignore my original comment, it seems to work but probably after some tries?

How is this click bait? It's not a sensationalist headline; it's stating facts! The price of the game and at what region. It also doesn't mention switching regions and buying games. Just because this article wasn't meant for you (you're not from India, just a bum looking to cheat the system), doesn't mean it's clickbait.

Lol & all depends on how strong your currency is against that countrys else you'll end up paying more

meanwhile in Brazil it's the equivalent of 25 us dollars, but still expensive since the dollar doubled in the last months. it's a little cheaper than the download console version, but you can find the disc one cheaper in stores.

Is it possible to somehow change region and buy it from elsewhere?

Settings -> Time & Language -> Region and Language, choose desired region and restart the Windows Store :)

Changed to Ukraine and downloading already ! Only for 8 euro thanks. PS: Wonder why it is so cheap in those countries, here it costs like 50 euro and nope we do not have high standards or high salaries.

Ukraine avr salary about 100$. In the capital and major cities around 130-150$. ​Official exchange rate about 24uah for 1$. Real 27 for 1$. Do you think a lot of people can not afford to play 53$ for 1 game? ​

I am going to start buying everything from Ukraine store lol.

i dont have enough bandwidth to download this game. Would really like to buy dvd

"considerably lesser" ???? Methinks a proof-reader is needed!

I just downloaded from the Ukraine store for 9$ 1 . Change the pc region to Ukraine
2 . Buy the game and use your proper billing details EXCEPT the region which will default to Ukraine , don't worry that's OK 3 . Change your regoin back to where you need it to be . Posted via the Windows Central App for Android

Is it safe to use or would Microsoft block my account, like what Steam did.

I think so. They even taught me how to do it. http://windows.microsoft.com/en-us/windows-8/use-windows-store-country-r...

Just bought it with your directions. Thanks for the tip! Posted via the Windows Central App for Android

I suggest you buy it now even if your hardware can't run it. I doubt it'll ever be this cheap again. Anyway it'll be tied to your MS account and once hardware catches up, you can play this on low end PCs 10 years from now.

IT'S CHEAPER CUZ NO ONE WILL USE WINDOWS 10 STORE to buy it.. Rather get a physical disk.. A lot more future proof. And you know what kind of Internet Speeds India has..

Good price but my pc isn't powerful that much for gaming. I would love to buy on my Xbox one for that price. I would constantly see frame rate drop coz coz of my low configuration of my laptop.

Lol this has been the price for a few days now

$9 ? Really ? I have it for the Xbox one but, for $9, might just grab it. Grabbed it, could not do it with a Debit card, Only with a credit card, oh, well. I hope I dont get changed a fee for cash conversion. Just checked my credit card, $9.14....Dam, that's cheap

This is against net neutrality.

why the double standard? why cant all countries get it on a same base price? i dont want to change regions just to have this cheap. its RM171.00 here in malaysia which is equivalent to 41 USD. microsoft is sending a very negative message here.

In Argentina is 33 dollars in the Windows Store vs 93 dollars in the Xbox Store. Thankfully, I bought a retail version in the US for 20. It was at Best Buy. Unluckily, it was scratched and I was not able to return it from here. Luckily again, I could get it to work by downloading the demo even if I could not install. This game is bringing me nothing but a headache.

Games like The Division Deluxe Edition (worth 100 dollars) are 50 dollars in the Argentine Xbox Store. Nothing makes sense there.

Is it going to run decently in a Surface Pro 3 of 8Gb or RAM? Or the lack of video card is going to disable the whole game of running?

it's $9 in the ukranian windows 10 store​

it won't run very well. the video card is what drives games more than any other component. you might be able to get away with a low resolution and lower all the graphic details down, but what kind of life is that?

Seems legit. Grandpappy emigrated from Ukraine.

got this via ukraine for $9, great deal, but best to have a gaming laptop or PC. the sp4 crashes constantly and on another i5 device with integrated graphics card, have to lower settings to low or very low. for $9, work it to crush through this game though.

Does the windows store version allow installing on other drives?

you can choose your drive, yes ​but just not a special folder

Grabbed it for less than 7 quid in the Ukraine Microsoft store

Buy this Game Now! Posted via the Windows Central App for Android

Only $9.14 in Ukraine... Posted via the Windows Central App for Android
Windows Central Newsletter
Get the best of Windows Central in in your inbox, every day!
Thank you for signing up to Windows Central. You will receive a verification email shortly.
There was a problem. Please refresh the page and try again.