Rise of the Tomb Raider on PC adds DirectX 12 support via Steam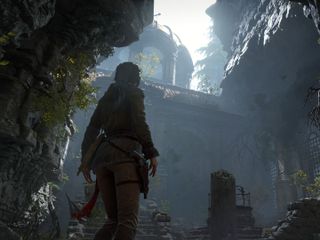 Windows 10 gamers can now download a new update for the PC version of Rise of the Tomb Raider on Steam. It adds support for the DirectX 12 graphics API that's exclusive for Windows 10.
Jurjen Katsman, Studio Head at Nixxes Software, explains why the addition of DirectX 12 support will give Windows 10 gamers a big performance boost versus the older version with DirectX 11:
You can download the new update via Steam now, and it will be available from the Windows Store version of Rise of the Tomb Raider in the near future.
I can't help but wonder if Steam greased the wheels a bit, to ensure this landed on Steam before the Windows Store. It would be the smart thing to do, given the (albeit minor) issues the store has had with recent AAA game launches. Long-term, the Windows Store is a serious threat to Steam.

neh..it is because most pc gamer is on Steam.. Posted via the Windows Central App for Android

All of the updates for Tomb Raider landed on steam before Windows Store since it was released. Posted via the Windows Central App for Android

I thought the windows store one was already dx12?

The Windows Store version appears to be seriously lacking updates compared to the Steam version. Its like Windows Phone vs Android/iOS all over again x.x

Look at what the actual updates are, most are related to graphics, which might or might not even affect the store version. Also, remember, that for Steam version they can push updates any time whereas store version they need to submit the changes for approval first, so you typically have a larger "update".

Yeah, can the store even handle partial updates? I've never seen the store only download what needs to be updated, and instead I thought it redownload the updated app or game. Mind you, I've never used the store for anything but small stuff.

Yes, the store can do partial updates. That is exactly how previous updates have been applied. How updates are applied is up to the developer and yes for smaller items it makes sense to just do a full install.

Thanks, good to know it can do update only.

Judging by the amount of ****** spam and scam apps, the validation is automated and doesn't take more than a few hours.

Lol, sure. It is quite common that devs losee interest in keeping the Windows Store version up to date once they are available on Steam. While this update may still find its way to the WinStore eventually, I'm curious how the versions will differ in a few months. Look at Skull of the Shogun, Game Dev Tycoon, Reaper or the Halo twinstick Shooters. The Steam version are miles ahead of their Windows Store versions. And those are mobile games that should make more sense on the Windows Store than Steam in the first place...

Right when I finished the game :/

Well, atleast now I have the motivation to finish it on 100%, I am curerntly on 83%.

You can now compare the performance differences when playing again with new dx12 Posted via the Windows Central App for Android

Unforunately dont have so much time to replay it.

Steam before the Windows Store?
Is this like Microsoft's software being available on Android first, then maybe in Windows "in the near future"?

Steam is more important than the Windows store for developers. Makes sense that these features would come to Steam users first.

It is because most gamer is on Steam Posted via the Windows Central App for Android

99% of sales for this game came from Steam users, so you tell me where the focus will be.

are you really going to try and argue against that

Microsoft has nothing to do with the PC version of the game.

Does it automatically support DirectX12 on the windows store version? +640/Win10

If you have supported card I suppose so.

Wen in India
Heh heh...
Actually I'm glad for the progress Microsoft brings to gaming.

I am not getting Xbox achievements no more and a glitch caused me to lose my stats for Syria and only recourse for that is to start a new game, but without Xbox achievements pointless. Game is so full of bugs and support is non-existent.

are you playing ON an xbox though, or via steam or the winstore?

Playing games only for the achievements is stupid.

I don't play on for achievements, but when I do play I expect things to work.

Who died and made you the king of reasons why people play video games?

me ​and then the lord said "playing video games for achievements is stupid"

Can't wait to pick this game up on the store.

Played it on Xbox; fantastic game and deserves a lot more recognition. I am somewhat surprised to see it getting a DirectX 12 update at all, but no doubt Microsoft is motivated to show how gaming on Windows 10 is improved... This is great news for Windows 10 gamers.

When did directx12 get released?

Been in W10 since beginning. However, most games were already in production with DX11, and of course they needed the engines to be updated.

So then , Steam version of Rise of the Tomb Raider adds DirectX12 support.

The Graphics now looks amazing after enabling DX12

Damn I need to jump on windows 10 still using windows 7 because of outdated hardware using Intel sandy bridge processors.

What outdated hardware? Sandy Bridge processors are fine. Worse case, you can upgrade and if really broken you can roll back with a click of a button.

I'm on a core 2 duo... Posted from Windows Central for XL

Unfortunately, they nixed DirectX 12 SLI support in this latest patch.

Here's hoping for Vulkan support too, for those who are still on older Windows versions. Should be easy enough now that D3D12 is supported.

If he is talking about async compute then he should have lead with AMD cards as an example as that feature is much better on AMD cards. Posted from Windows Central for Windows 10
Windows Central Newsletter
Get the best of Windows Central in in your inbox, every day!
Thank you for signing up to Windows Central. You will receive a verification email shortly.
There was a problem. Please refresh the page and try again.