RM-892 shows up on FCC; could this be T-Mobile's Nokia Lumia 925?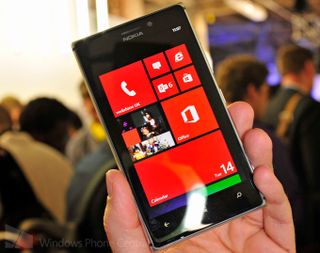 The Lumia 925, or rather its model number (RM-892), has been spotted on the FCC website. The device has been tested with GSM 850 / 1990 frequencies and the image supplied in the filing can't be mistaken for Nokia's latest flagship Windows Phone. This would also fit in nicely with recent news of the handset making its way to T-Mobile next month.
For now there's not much else to go on, but check out the FCC image for a quick tease:
If the listing is indeed the Lumia 925 and recent news holds true, T-Mobile subscribers don't have to wait much longer until the newest Nokia flagship is available for purchase.
Source: FCC; thanks, jmajid, for the tip!
Rich Edmonds is Senior Editor of PC hardware at Windows Central, covering everything related to PC components and NAS. He's been involved in technology for more than a decade and knows a thing or two about the magic inside a PC chassis. You can follow him over on Twitter at @RichEdmonds.
How in the......is tmo getting a 925 and not AT&T?

because ATT gets the EOS.

T-Mobile is getting the 925, AT&T is getting the EOS/Elvis/1020/whatever-Lumia-with-the-41mp-camera.

Oh, I must have missed an article.

Because At&t gets enough of the good phones and T-mobile customers deserve SOMETHING.

I never said that they shouldn't chill dude, it was an observation.

So... If AT&T gets the 41 mp Nokia and Tmobile gets the 925... I wonder if Verizon will get anything special, or at least a version of one of these phones.

Where have you been? Verizon got the 928.

They already got their NL928

Why would ATT need another 920??

I like this phone. I would jump on it in a minute. I only wish it had 32GB variant (US). I hope is sells very well. I may change my mind and end up getting it, but for now I'll just wait.

I've only heard of Vodafone getting the 32GB version. It really should be an option in more places. I've seen lot of reviews that don't even acknowledge the existence of the 32GB model.

Interesting how this is just now passing the FCC...

FCC filings have been held back before. Several iPhone filings haven't been released until the day they go on sale.
And in fact, this passed the two tests at the beginning of May.

I did not know this.... It was kind of funny that I tried to see if there was a pattern between FCC filings and release date of the phones. From what I noticed, usually after a FCC approval, phones would take a month to three months before they hit the shelves. But I guess with this informaition...all of this is irrelevant.

If it's not about elephants it's irrelephant.

before everyone whines about the lack of 32gb option or sd expansion port, I'm super excited!!

Ha ha me too I want this phone badly.

Nokias website lists the us variant as rm-893. I was under the impression that rm-892 was international unlocked. Rm-892 does not support LTE band 4 (T-Mobile) says Nokia developer page.

Yeah, it's a bit unnerving that an RM-893 hasn't passed through the FCC yet (that we know of).

Can't wait!!! My HTC Radar is on it's last legs!

Does anyone know the price of the 925?

US? Rumored price in store is $99 down and $20/mo for 24 months, or $579. Possibly cheaper outside of the T-mobile store (like the 521 and 810).

Nokia Lumia 925, your goodness will soon be mine!

Yesssss and mines too!!!!!!!!

I work for T-Mobile and I should be receiving mine within the next week! I am super excited, but slightly bitter at the lack of the 32GB version.

And the price but i guess you would get it cheaper since you work for T-M.

Normally, no. We actually don't get discounts on the phones themselves anymore as of February. However, I'm the "champion" for the phone, so I actually get it from Nokia fo' free.

Lemme know whenyou receive it :)

Screw it bro I'd get this phone at 1gb. Starting to take donations btw im in dire need of a better windows phone cough cough. Come on Rich I know you've got one of these things laying around that I could use. Hmmmm? Did I hear you say yes? I think so

T-Mobile leak hints Lumia 925 may launch on July 17th

damn! just bought 928 on verizon cause i cant wait for 925... plz tell me tmo doesnt sell black 925, that will makes me feel better.
Windows Central Newsletter
Get the best of Windows Central in in your inbox, every day!
Thank you for signing up to Windows Central. You will receive a verification email shortly.
There was a problem. Please refresh the page and try again.