Rocket League update adds new Rumble mode and its goofy power-ups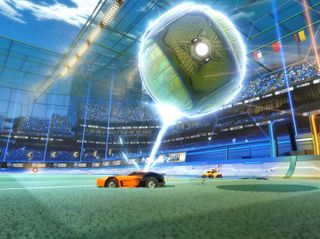 Developer Psyonix is rolling out a major update for its popular eSport vehicle game Rocket League for the PC, Xbox One and PS4. The update includes the previously announced Rumble mode that throws in lots of wild and crazy power-ups for the game's cars.
Here's a quick reminder of what power-ups will be available in the new Rumble mode.
The Boot (Kick's an opponent's car)
Disruptor (Forces the opponent to drive uncontrollably)
Freezer (Freezes the ball in-place)
Grappling Hook (Pulls you towards the ball)
Haymaker (Punches the ball)
Magnetizer (Attracts the ball to your car)
Plunger (Grabs the ball via plunger and cord)
Power Hitter (Hit everything harder)
Spike (Attach the ball to your car when you bump into it)
Swapper (Change positions on the field with your opponent)
Tornado (Sweep up the ball and cars into a giant funnel cloud)
The new Rocket League update also has a bunch of new features, including the ability to save your favorite car settings:
The update also supports custom team names and colors for private matches, along with the ablity to trade non-premium items with other players on the same platform. Party chat has also been added, along with a new "Crates and Keys" system:
The keys are purchased with real money, and cost $1.49 individually, or in bundles of 5 for $5, 10 for $10, or 20 for $20. Part of the revenues from these keys will go towards funding future Rocket League tournament events and prize pools. Finally, PC owners on Steam will be able to download the Rocket League beta for SteamOS and Linux with this Rumble update.
Windows Central Newsletter
Get the best of Windows Central in your inbox, every day!
When is this update available? I might have skipped that part while reading Posted via the Windows Central App for Android

It should be today per Psyonix site!

Thanks, man. Posted via the Windows Central App for Android

Sure! Per their Twitter, starts rolling out around 4pm PDT.

It's available, and it's AWESOME