Rogers and Vodafone strike up 4G roaming agreement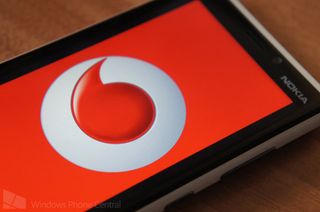 Canadian service provider Rogers has struck up an exclusive agreement with multinational giant Vodafone for 4G roaming. Whether or not that means LTE or HSPA+ is anybody's guess. The deal will also connect Rogers to equipment providers that regularly work with Vodafone to help build out the Canadian network.
Vodafone regularly makes these kinds of arrangements through their Partner Market program. Hopefully this agreement means that in due course, Rogers handsets shouldn't have any trouble getting on LTE in the UK and other international markets serviced by Vodafone. Similarly, anybody visiting Canada should be able get access to Rogers' high speed network. Though that might not always be technically possible, Rogers sure could stand to lower their roaming rates. Currently you pay $10/day for 20 MB in the UK, or $60 for the month with 40 minutes of talk, 150 outgoing texts, and 40 MB of data. With any luck, this Vodafone agreement could lower those prices, but I won't hold my breath.
Canadians, how often do you visit Europe? Do you get a roaming package from home, or grab a local SIM? Europeans, do you come to Canada often?
Source: Rogers
I took my Rogers phone to France once and had a $650 bill when I came back. Needless to say, I just don't bring it anymore, anywhere. It is offensively easy to go over their puny limits on already expensive plans. Rogers sucks.

Leave the phone at home. I agree.

Grabbing a local SIM is ALWAYS the best idea. Which is also why I always buy unlocked phones. Regular mobile rates in Canada are obscene to start with. Their roaming fees are ludicrous. A few years ago, I went to the UK, and my friend living there hooked me up with a local SIM, and with an add-on for like $15 to let me roam care free around europe for the rest of my trip (France, Switzerland, Italy). All of that was cheaper than one month of regular service in Canada. WTF.

Yeah we have high rates but @ least we cant complain about the signal strength

Agree completely! I got a UK SIM when I went there and except for the first day before I got it, my rates were fantastic! Canadian rates are obscene! I paid $65/month for 2 GB data on Rogers. In the UK on GiffGaff, you can pay about $18-20/month for unlimited data on 3G! Rogers, get a grip!!

Never been back to Europe in the age of the smartphone, but encourage friends and family who go to unlock and go prepaid in europe.

Even going down to USA its cheaper to go prepaid or else use Roam mobility.....i think they piggy back on T-Mobile

I always pick up a local SIM in Europe. I do just use Rogers new US roaming default in the US now though.

I used knowroaming for US. Theirs a similar company to them called roamly but so far only knowroaming is making an effort for wp support

Rogers still sucks. All carriers in Canada suck. They suck donkey balls.

Is there any other kind of balls?

Wind Mobile sucks less balls of them all. Their only downfall is their coverage.

Wind Mobile is great. Even roaming with Wind can be cheaper than the per minute call rates or per text rates Rogers has.

WIND has the best US roaming add-on out of all Canadian carriers.

So is it only Vodafone UK or also other Vodafone like Vodafone Portugal? Posted via Windows Phone Central App

So now you can blow through ridiculously over priced roaming data faster than ever.

I'm hoping we will be going back to Europe this fall. I am on Telus using an unlocked Rogers 920 and will, definitely, be going local SIM, unless things change, dramatically.

A local SIM is the way to go. You can unlock almost any handset for about $20 online (or $50 through your carrier), and then get a local pay-as-you-go SIM. I have no idea why anyone wouldn't do this when it is soooo much cheaper than roaming rates. As for the option of leaving it at home: Even if you don't plan on using your cell phone, it's good for calling a cab, finding places, reserving hotels and restaurants, or emergencies.

I got on average 0.8 a year. I always buy a sim. In fact I buy a sim also when I travel to the USfor more than a few days.
Windows Central Newsletter
Thank you for signing up to Windows Central. You will receive a verification email shortly.
There was a problem. Please refresh the page and try again.