Rogers gets its Blackjack a 6.1 upgrade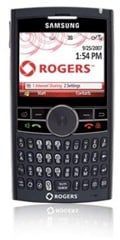 It's good to see some forward movement this week on the Windows Mobile 6.l front, first with the Touch Cruise getting its long-awaited update, and now Canadian carrier Rogers rolling it out for the Samsung Jack — that's Blackjack for the rest of us. [via]
That's the good news.
The bad news is that this is still a Black-, er, Jack we're talking about, so the upgrade process isn't anywhere near as smooth as it should be, with the usual USB drivers wonkiness. Be sure to read all of in instructions first, and for the love of all that is holy, back up your information first.
Then head on over to the download site (opens in new tab) and get your well-deserved upgrade.
Windows Central Newsletter
Thank you for signing up to Windows Central. You will receive a verification email shortly.
There was a problem. Please refresh the page and try again.