Roku App Review - Turning your Windows Phone into convenient remote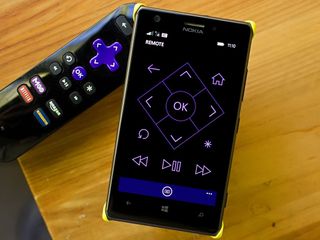 Over the summer, Roku (opens in new tab) officially released a Windows Phone 8.1 and Windows 8.1 version of their Roku app, which turns your device into a handy remote control for your Roku device.
The Roku app has a simple interface and will automatically detect your Roku devices. We've been using it for about a month and find it to be a nice app to have handy for situations such as when you've lost your Roku remote, too lazy to get up and get your Roku remote or are in the mood to battle your better half with dueling remotes.
Roku
For those not familiar, a Roku device is a streaming device that connects to television set that in turn connects you to popular services such as Netflix, Pandora, Hulu, http://Amazon.com?tag=hawk-future-20&ascsubtag=UUwpUdUnU26001 and more. While you can hardwire the Roku device to your home network, its wireless capabilities makes the devices great for portability and use in areas that hardwiring isn't possible.
Roku relies on Wi-Fi to connect to their remotes, which makes our Windows Phones a perfect remote control alternative.
Roku devices range in size from a Streaming Stick (fantastic device) that is about the size of a thumb drive to small countertop models that measure 3.7 x 3.7 x 1.2 inches. Pricing starts at $49.99 and you can pick up the devices directly through Roku or through third party retailers such as http://Amazon.com?tag=hawk-future-20&ascsubtag=UUwpUdUnU26001
The Roku app
The app is about as simple as it can get. When you launch the Roku app it automatically searches for any Roku device within range of your Windows Phone.
Quick footnote on detecting your Roku device is that if for whatever reason you cannot automatically detect your Roku device, you can enter the devices IP address manually.
Once you choose which device to control, the app will send you to the remote keypad that has options to:
Go to the Roku Home screen on your TV
A directional pad with OK button to navigate around the Roku Menus
Playback buttons (rewind, play/pause, fast forward)
A refresh button
A back button
A * button for menu operations
A keyboard button is available at the bottom of the screen to enter keyword searches and from the three-dot menu on the keypad screen you will find options to view your Roku channels, switch devices and view the About screen.
Your Roku channels are a listing of the services that you've chosen to feed your Roku device. The channel listing is more or less a shortcut to go directly to that service on your television, bypassing the need to go to Roku's home screen.
The Roku app's performance was nice with very little to complain about. I would like to see the ability to change the color theme of the keypad and giving your devices custom names. I also wouldn't mind seeing a "Now Watching" display that will show you what is currently streaming to a particular device.
Overall Impression
If you own a Roku device, you need to have the Roku app installed on your Windows Phone or Windows 8 device. It adds a level of convenience to your television viewing and gives you the opportunity to be a little lazy at the end of a long day.
While there is room for improvement, I cannot think of anything detrimental to the app. It ran smoothly with no crashes or bugs experienced.
The Roku app nails down a 4.5 Star rating in the Windows Phone Store and if the app would ever add customizations, it may reach 5 Stars.
Windows Central Newsletter
Get the best of Windows Central in your inbox, every day!
George is the Reviews Editor at Windows Central, concentrating on Windows 10 PC and Mobile apps. He's been a supporter of the platform since the days of Windows CE and uses his current Windows 10 Mobile phone daily to keep up with life and enjoy a game during down time.
To think I only just heard of roku last night O.e

George, You skipped over perhaps the best and biggest feature Roku added to Roku3 and Roku HDMI sticks using a new software update (version 5.6) that they call screen mirroring but is actually capability to become a great Miracast reciever. Basically it adds perfect screen mirroring ability for all Windows 8.1 tablet and WP 8.1 devices that have the latest Cyan firmware. Love Roku and with the latest update, my Windows 8.1 tablet has become the permanent entertainment control device in living room and it is great being able to enjoy family pictures and videos on the living room TV using WP screen mirroring option anytime. Screen mirroring is also a great way to show Windows 8.1 tablet capabilities to friends and family who are still married to iOS/Android world although screen mirroring also works with latest Android phones in addition to all Windows 8.1 and WP 8.1 devices.

So you can stream a movie. I have trouble with a so called LG smart tv (no, I didn't buy it)

Unless I read the article about this feature wrong, your post is incorrect. It does not give all Windows 8.1 tablets and Windows 8.1 phones with Cyan this ability. There are current only two Windows phones this works with. It works with more Android devices. That might be why it was not in this review. Bottom line, the current app is only a fraction of what it should be. It's too bad too. I love my Roku's and I have been waiting for over two years for this app to arrive.
***If this does work with all WP 8.1 Cyan Devices, then this is amazing, and exactly what I have been waiting for.

So it doesn't work without the flash??

No flash needed. It is regular modern app for both Windows and WP. The app itself is just a control mechanism that actually plays all the content on your TV using any Roku device or the Roku HDMI stick.

I have used a roku player for years and I use this remote often. It works great

I like my Roku (uk) but often have issues with the speed of audio (too fast or too slow) and the need to add amazon instant. Will defo try the remote app.

In the UK Las time I checked it didn't and it has been suggested that BSkyB have blocked it.

This is one if the better reviews. Well done, and take note.

My Windows Phone already is a convenient remote. Smartglass works perfectly with our Xbox One and controls all our equipment attached to it. The only thing missing is expanded voice commands.

Can you use headphones plugged into the phone with the app like you can with the actual Roku 2 and 3 remote?

I know a lot of people were thrilled when this was released and I'm glad they got what they wanted. But, I have to say, I still don't understand why someone would use this over a hardware remote. For me, phones simply don't make good remotes and are actually less convenient. Anyway, glad it's around for those who want it. :)

For me its convenient when my daughter gets a hold of the remote and I find it 3 days later buried in her toy box. I also use it to annoy my wife when she is using the remote and change channels

Yeah, we have 1 and 4 year old boys. Roku app on my 520, 928, 929, Kindle Fire, Dell laptop...

Exact same scenario with my kids. The ability to have a second remote on any WP phone or Win 8.1 tablet is priceless!

My Roku remote crapped out on me after a month so this app is the only option I have to control my Roku stick. My only complaint is that it sometimes takes a few tries to connect to my Roku.

The use of the keyboard on the phone is great. You can type instead of scrolling through letters and pecking one at a time with the dirrectional pad on the Roku Remote. It boils down to options and I enjoy having them. IF the suggested adds were put into the next update, that would be awesome. To see what programs my kid's were watching on their Roku devices from my phone would be EPIC!

The main reason to use this is it gives you a keyboard (for things like searches). EDIT: Yikes! I didn't realize there was another post below that said this.

I wonder if you will ever be able to send audio to the phone, like the remote, for headphone use.

Best part of app vs. Roku remote? The Roku remote doesn't have backlit keys. Can't see in the dark. App to the rescue!!!

Integrate with Project on Screen. Make compatible with Lumia 1020

Added to both Roku3 and Roku HDMI stick in latest software version 5.6. Screen mirroring works like a charm (pardon the pun) from Windows 8.1 and WP 8.1 phones (with Cyan firmware).

I wish it could beam pictures like the ios and Android versions have been able to do for a while now. Major difference. Hopefully an update will follow soon.

But it seems to slow down the zippyness that us wp users have

If so, it is minor and in no way outweighs the loss of the missing major feature.

I like your name, squatting hen

With miracast screen mirroring, I can beam pictures, videos, games, websites, anything from Windows 8.1 and WP to Roku devices. Even better than iOS capability of being able to beam pictures and videos only.

True, but its not the same whatsoever. Only a select few windows devices can do that...maybe two phones at the moment??? With the ios and Android roku app, all devices with the app can do it. My 5 year old iPod touch that doesn't even have a camera can do it. The Roku app for windows phone is lacking compared to the other os versions. There is no wiggling around it or excuses to create. It needs the same features.
***If this does work with all WP 8.1 Cyan Devices, then this is amazing and exactly what I have wanted.

My roku is old as hell but this still works... Technology is neat.

I've been using Roku Motu. It was the only app that was recommended by the devices hub on WP8.1. Weird that the official Roku app wasn't even promoted by the app store in the devices hub.

I tried it on release, but it tended to crash the Roku 1 (makes it drop WiFi & forces you to powercycle the box). The free app 'Remote For Roku' is far better as it doesn't crash the Roku 1 and it has a touch pad style option. That is important, because otherwise you have to keep looking at the phone when using as you can't feel the buttons. A real prob when you're browsing through lists on the TV screen. Get Remote For Roku until the Roku people have given this one a bit of thought.

I agree with Squatting Hen, there are missing features! The missing features are really the only reason to use an app as a remote instead of the hardware remote.

The official Roku app for WP is great. I use it all the time. The best thing is that it has a built in key board which makes searching for the TV or movie you want to watch much easier.

But does it allow you to hear the audio from the Roku device through the app and into the headphones like the physical remote does?

Samsung ATIV has this built in.

Had this app for some time and the newest update is fantastic, I can view all my pictures, play music to the tv threw roku. This is great now if they could only get it to mirror our devices i.e. office doc, suffering the internet and so on.. Using Lumia 822 on DP