Waiting for the Surface to come to India? Check out these alternative Windows 8.1 tablets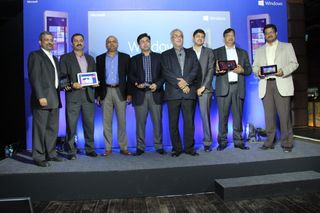 I often hear a lot of complaints from people I meet here in India about the Surface tablets and the Nokia Lumia 2520 not hitting our shores. We could either believe or argue the reasons offered by Microsoft and Nokia about the same, or look at all other options available in the market right now and make an informed purchase decision.
In a Microsoft event last week, I learned about twenty Windows 8.1 tablets from seven original equipment manufacturers (OEMs) that are on the shelves at the moment or coming in a couple of weeks or so. In this post, let's take a look at few of them.
Acer Iconia W4
The Acer Iconia W4 is a good successor to the Iconia W3, the dubious tablet that was the first 8-inch one in the market but disappointed with the lackluster display.
Powered by an Intel Atom Z3740 1.33 GHz processor, the 8-inch tablet features a 1280 x 800 display. The tablet comes bundled with the complete Office 2013 Home and Student Edition, and is available in two variants – 32 GB and 64 GB. The W4 sports 8-hours of battery life and is available in the stores and online for ₹26,499.
Asus Transformer Book T100TA
The Transformer Book T100 is a compact ultraportable that combines the productivity features of a laptop with the easy portability of a tablet — and you can switch between the two in an instant. At just 1.07kg, T100 is one of the lightest laptops around, but detach the 10.1-inch display from the keyboard and it becomes an equally lightweight tablet.
This Asus tablet features the Intel Atom TZ3740 processor with 2GB RAM and includes 32 GB on board storage. At ₹34,099, it's actually a great buy compared to several low cost laptops in the market.
Dell Venue 8 Pro
The Dell Venue 8 Pro is another 8-inch Windows tablet to rival the Acer Iconia W4. Powered by the Intel Atom Z3740D processor and including 32 GB Storage, the Dell 8-incher is available for ₹26,499. This one also features the Office 2013 Home and Student Edition.
Lava XOLO Win
The XOLO Win is the maiden Windows tablet from any Indian OEM, and is coming soon to the market for about ₹21,999.
Powered by the AMD A4 - 1200 dual-core 1.0 GHz 'Temash' processor with AMD Radeon HD 8180G graphics, the XOLO tablet is the only AMD tablet in the stable. The 10.1-inch display features a modest resolution of 1280 x 800.
Lenovo Thinkpad 8
Lenovo Thinkpad 8 is actually an 8.3-inch multimode tablet that features three modes - Tablet, Desktop, and Tent.
Featuring the latest Intel Bay trail - Z3770 Processor and a lavish 128 GB storage, it's a solid device. It's not yet available in stores, and there's no indication of price, but it's coming soon as we are told.
HP Omni 10
HP has a had a series of convertibles since Windows 8 arrived, but the Omni 10 powered by the Intel Atom Z3000 processor is a great 10.1-inch tablet. Again, it's not yet available in stores.
Panasonic Toughpad FZ-M1
The Panasonic's are a different league altogether. The Toughpad FZ-M1 is world's thinnest and lightest rugged 7-inch tablet. It does not compromise on specifications as well and is powered by the Intel Core i5 vPro processor with 4GB RAM. The Toughpad comes in two storage variants – 128 GB and 256 GB.
At ₹1,25,000, it is expensive, but the ruggedized tablets serve a specific purpose obviously. There's also the Panasonic Toughpad FZ-G1 at ₹175,000 which is a 10-inch variant.
Which one of these do you think is a great buy as a personal, consumption device or a secondary device for business productivity? Which one would you like to buy for yourself or a family member? Tell us in the comments!
Windows Central Newsletter
Get the best of Windows Central in in your inbox, every day!
Honestly, the prices in India are more than prices in USA. Even after import duty and taxes, the price shouldn't be this high. It's almost not worth the money. I'll probably buy a tablet when I travel to the US.
The dv8p, 64gb is now some 320$ which is 19500 INR, but in India, prices start at 26500 INR.

But why do we settle with alternatives always? In USA these windows 8 tablets like surface n nokia 2520 are not selling tht well compared to ipad..here people wana buy them but they r not releasing...and even if they release it will b priced at higher end making difficult to buy wen android tablets wid more specs sell at lesser price..

The sms lingo is annoying. Please write in English. Thanks.
Yes there's no reason for it to be priced 30-40% higher. Import duty is ~5%. What these tablets have over android is security and full windows 8, so that desktop programs can be used. And of course, Office Home and Student is included, which is a great bonus. Except for the price, they're great options.

I am so glad I bought DVP8 for $200. Prices in India are always ludicrous when it comes to US electronics. I wish prices were sub Rs 20000 to capture better market share.

You could probably count the number of people willing to buy surface or Nokia 2520. Not worth effort in launch and marketing. I'm an Indian and a huge win/win8 promoter and I know that very very few own a powerful tab even fewer who know/like win8.. It cost twice an android tablet and while win tabs can do more all Indians really want is free games and social apps. For anything more people prefer a laptop that has i3. For India win tab is in no mans land

I think surface would see good adoption rate in India. There are plenty of students in the fields of design, engineering, architecture etc. who need a light weight tablet/laptop hybrid like the Surface Pro(2) which has significant batterylife and computing power. I agree that the common Indian does not care about the devices or operating systems much, he just relies on the good faith of the store owner or a relative advising him on the device to choose, but though less in percentage of total population, the total number of Indians looking out for such devices is still quite significant.

I know how you fell, its the same here in brazil

US prices appear cheaper because they are listed without the sales tax.

Even after taxes, its much cheaper than India.

I love windows 8/8.1 but its nice to see windows on laptops or pc's.There's no great thing about windows on tablets such as operating skin changes.Best example Apple has their different os for their laptops aka Macs & iOS os on tabs.Mac os on iPads will look crappy.

Do any of these have NFC?

I don't need a laptop now, but if i had to choose, it would probably be the asus transformer, perfect size for a laptop/tablet, sweet pricing too.

Many tablets
So companies
Much pricey
WOW

Many tablets
So companies
Much pricey
EEW
...... You could deduct the patent fees, couldn't you?

Hey fuck face Fake a/c get a life Bro

Well that escalated quickly.

Oh god, Panasonic I thought we passed the "Intel Inside" shitty stickers, why do you have to put it on a TABLET as well ?

I don't know why, but I like these stickers. Maybe, I love the logos, that's why.

Yea, people got different tastes :)
I don't know why, but the first I do when I get a Laptop is remove them .... I can't stand them lol

It's a demo unit at a trade fair so that might be the reason ( see hw it's locked down) ... but I agree with you tickers should die with fire.

The shitty Intel inside is a reason why windows became popular. Its a good move. People will associate intels brand with power

I'll pass, no reason to settle for these options. It's almost funny how excited I was for Surface both times thinking that Microsoft would soon bring it to India. Looks like Microsoft has a habit of letting down its fans over and over again. It's not like there's phenomenol sales of these tablets in the US and they think sending some of them to India would do them any loss. Looking at this over and over again and still there's not even one lame excuse Microsoft can come with which justifies this move of theirs. Apple once said India's not an important market for them yet the latest updates to any of their products is available within four months of US release. Microsoft claims otherwise and Xbox One is coming soon for over two months now. I wonder how much the'll delay the Lumia launches in India once they get hold of Nokia's deviced division. Very dissapointed in you Microsoft. You have almost lost a loyal fan.

yeah thats why i am also worried with lumias coming under MS.....they wont give india that much attention like nokia did

Not necessarily true. Nokia has a supply chain, marketing, distributors in India. Microsoft is acquiring that, so there won't be supply issues or delayed releases of Lumia phones compared to the current situation where Nokia is an independent company. The Surface is Microsoft hardware, and they don't have dedicated hardware partners etc. Additionally, the surface is expensive compared to other tablets that the article talks about, so there isn't as much if a market for the surface line. Once the acquisition of Nokia is complete, it *may* be easier for them to introduce surface products in india

It would be wise of Microsoft to cater to an emerging market of the size of India. And you are probably right that the existing Nokia supply change might make things easier for Microsoft. About Surface as compared to other tablets in the article- though it is expensive but it provides more computing power with an Intel i5 processor (Surface-Pro). I think people going for an ultrabook might be more interested in Surface Pro.

Well India is a sh*thole full of cheap fu*ks. 90% copies of Windows are pirated and poor people have no clue or need to know what gaming is. so they don't care for indians. The educated good ones who make it somehow end up setteling in US working for them anyway.

Suggesting alternatives when people lust for a specific product doesn't help in any way..specially when most of them offer basic specs at a higher price than their US counterparts..i would rather pay an extra premium and get myself an iPad rather than most of these tablets..the reason is no matter how much ever we thrash apple on lack of innovation recently they still have a product lineup that does an amazing job and like someone else mentioned, they release their products in most other countries on time. This is coming from a diehard fan of windows 8 and windows phone. Microsoft will never lose me as a customer but I think they've underestimated most customers to be the same..just my two cents..

At least you have alternatives. We on Indonesia still stuck on the old non-baytrail, Windows 8 (not 8.1) except the Iconia W4. Now think how desperate we are here.

We do have Asus T100, it is on Bhinneka frontpage. Though at about $450+, i do not think it will be popular.

Yeah. I've tried ASUS T100 at 2014 Mega Bazaar Consumer Show. Windows 8.1 is amazing. But i prefer Lenovo Miix 2 to Asus T100. At Rp 5 jt (maap ga pake million, malu pakenya disini XD) we get something better than iPad or Android tablets.

I keep jumping on seeing 8.1 and then I realize there is nothing in between windows and 8.1

Hahaha same here! 3 more weeks.........

So surface it wont be coming this year???

i wouldn't bother with Lenovo ThinkPad 8. It should have been in January and been delaying ever since, now they saying that maybe will start selling it in April, which I don't believe, and US only anyway !!!

Microsoft Surface should be coming to India by end of this year. Nokia has a good presence in the hardware segment in India and any right-minded executive at Microsoft should start the sales of Surfaces by sending them to India along with Lumias.

Really in year end???? R u sure. I wanna buy one surface 2 for myself.

I am not a Microsoft/Nokia employee, this is a very REASONABLE speculation. I wrote "should" for a reason.

I'm pretty sure there are tons of third party stores offering Surface tablet; just like there are in Pakistan.

I don't think many. Because even Amazon India and FlipKart don't have it.

Plenty of suppliers on Ebay india are providing the Surface Pro and Surface Pro 2. But these are imported ones and warranty might be an issue.

Any of you guys have any idea about when the Dell Venue 11 Pro will hit Indian shores? especially the 3G version. They announced it along with dell venue 8 Pro.. There was a rumor ( just bing "Dell Re-Aligns Tablet Strategy With Venue" it will be first result ) of a 3G Venue 11 pro being announced by end feb now its mid march. I dont know whats with the delay fuss. PS4 is here and no signs of XBOX.... Is MS working for its competetion.... An MS fan till the end... dont drive us away with this tardyness.

Xbox in November its hitting the stores wait brother

Dell venue 8 pro is available for preorder on the dell website starting today. They are offering some accessories for free today. I think the dell venue 11 pro may also be available for pre order. Shipping within this month, I think.

Even if i buy the nokia 2520 i will not be able to get it repaired here in India.. Nokia care people cant repair ordinary phones let alone a tablet they have never seen.
there was a report that Indians pay the most to own an apple product. I can get a surface pro 2 from outside but i n worried about repairs.

U May taking guidance from Microsoft India. If you live in Mumbai there's a head office in kemps corner u may search and call them. Even i wanna buy surface 2 for myself. IPhone has just created status here to ppl. When it comes to repairing apple products u spend about 5000 just replacing the glass of screen.

17000 to replace the broken screen of the 5c. The broken lumia 820 screen cost 5300.

Ohhh fuck i can buy another 720 or with that money

For most of the tech companies, world is limited to U.S. and Europe only.

We need good ceo for ms India who cares for India

Lol what? Ever heard of Japan and South Korea? Japan is even ahead of US in implimentation of technology for public use.

That Lenovo ThinkPad 8 look neat !

What about the Acer Aspire P3? Pretty nice, compared to it's low price :D

That's not the T100, it's the T300!

Just thinking whether to buy asus or acer what are the pros and cons???

Microsoft is new to the consumer game, at least compared to Apple and Sony. It's going to be a while before they understand the need to push their products in the markets where people are actually seeking them out, e.g. India.

REAL STEEL WRB available in store but cant download why ??? Link http://m.facebook.com/l.php?u=http2F2Fen-us%...

Downloading failed in India too but the publishers name is not mentioned. Might be a fake one or just has been submitted to the store

MS need to get their shit together in India.The Nexus 7 is selling for 20000 here and it has one of the best displays on any tablet with a powerful snapdragon 600 processor.Being a Nexus it also gets the very latest Android version.MS needs to make a Surface mini and price it alongside the Nexus if they want to gain a foothold in the Indian market
These tablets apart from Panasonic are just average.We need a tablet which is mind blowing like the iPad air or nexus Posted via the WPC App for Android!

Nexsus is a good device.
problem 1, cam is not great, 2 its android.

Dude Microsoft works for enterprises. I know we all want surfaces in india but Microsoft will not take risks of doing such thing as tablets are bought just for entertainment and fart android apps. Microsoft surface is a pc tablet and ppl will obviously not purchase it as they definitely operate windows on pc. Hence marketing and sales of surface in India wont be great though its a great device.

The Omni is surprisingly good considering it's made by HP.

I think and its true Windows8/8.1 on tablets is Nah.The main cause is Specs.Nokia's Lumia 2520 is the perfect tab i'd recommend anybody but but because of MICROSOFT'S stupid move of killing windows rt it wouldn't appealed to be a great purchase.As of now Ipads are best for Tablet spaces its expensive.Android laggs like hell I've a Nexus 7 running latest V of android then too lags 2013 version.Android is like shit man Laggs & freaking lags damn tired of it.I'm proud be a Lumia user Lumia920 never hanged or lagged.

After the Nokia's-Microsoft's acquisition is completed Lumia's should also release in India.Confused rit now on "Should i hate Stephan Elop or not Pros:- Because of his decision Nokia made a comeback i.e it became more famous by Stephen's Decision of making wp & took risks of it so today officialy Wp8 overtook Blackberry & is the 3rd platform without Nokia today there would be no wp8 it would be stopped(would be a failure). Cons:-He killed symbian os Brah Why it was cooler it had the potential to overtake Android if Nokia had concentrated on it

Dude they are bloody expensive!

Honestly people in India love Windows 8 OS but because of the huge price difference between android n Windows tablets people are compeled to buy android tabs..Thats where Windows is losing its market share..

I don't care what the price is, but it seems as if the PC manufacturers are not interested in pushing Windows 8 tablets in India, they are barely launching anything, and Microsoft is doing nothing to help. I am using a Lenovo touch based laptop, and its amazing, I just want a powerful configuration in tablet form. But I have no option. It is like I am shouting "shut up and take my money" but there is no one to take it.

Patience... by 2014 end the game will change. Lower min specs for Windows 8.1 and lisence fee waiver for cheaper devices. Sure will see INR 15k to 20K 8" to 10" devices for all the consumption needs(web, photo, video, music, gaming) + productivity (From office to photoshop) , in addition to full desktop experience by pluggin in a big monitor + Blue tooth Keyboard mouse running all the legacy windows apps... only windows 8 can deliver that all... When substance gets deliverd then 'time killer toys' will loose market share....


I don't get it. Why didn't you just call the title, "Can't buy a Surface? Here's a selection of other tablets that aren't available".

I usually love the tablets made by Dell and hence I would go for the Venue 8 Pro. By the way, I do not remember when but I saw the Suface 1 listed online for retail in India for 40K+ and so I lost faith in it immediately. MS knows that the Surface won't sell in India and hence they are not releasing it. Even the 2520 costs 32K in India in online stores.

Hp and Lenovo make some great tablets too.

will consider getting a dell venue 8 pro this summer , specs. are decent for basic task , I am not a power user as I am still using an iPad :-p

Honestly when it comes to tablets for me, there is no way to think about anything other than iPad which I bought a lot of apps to for playing electric guitar, record singing and making books for my kids. Now all these win tablets are attractive specially the amd but they should make win8 for tablet. I don't need an OS similar to my desktop. Also, the prices are too high.

nexus any day, nexus 7c 8gb wifi + 3g cost me 15K, nexus7 2012 wifi version was abt 9k, who wud care abt windows tablet then, its a losing game for windows tabs but then MS hardly cares.

The problem with India is its rapidly growing reputation for being a place NOT to do business. The government's position with Nokia is a case in point. Announce a tax rate, let companies do business and then retrospectively change the tax rate. No wonder companies are pulling out of the place. In my own experience Chennai is by far the most corrupt place I've ever done business - and I live in Beijing. As they say in Singapore - why do so many Indians work here? Answer: they make the Chinese look good. Fix your corrup government and corrupt businesses and just maybe Western companies will want to do business there. Otherwise, I'm rooting for the Cowboys.

Hi, same here in Montreal, can`t get Nokia 2520 and the surface was not really popular, but I do love my Surface 2.

If you are saying "Alternaives", then there is more that what you listed. And incase of Surface (not even Lumia tabs) we don't want second option, either we (i) have it or not. What we want is a smart tablet not featured tablet. All in one not one in one. Hope Microsoft will find us and deliver it.

Waiting for launch of Dell venue 8 pro in India for apst feww months. No signs of launching. Feels like time has come to look for something else.

The wait is over in recent day surface tablet launch in India. Full story http://wp.me/p46rsf-W
Windows Central Newsletter
Thank you for signing up to Windows Central. You will receive a verification email shortly.
There was a problem. Please refresh the page and try again.