Rumor: Remastered Gears of War reportedly heading to Xbox One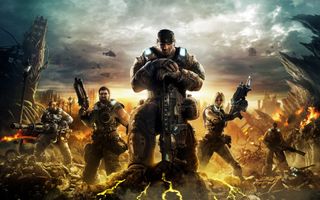 Polygon has reported that third parties are hard at work with Black Tusk Studios to bring a Gears of War re-master to Xbox One.
Gears of War was one of the relatively few blockbuster exclusives enjoyed by the Xbox 360, originally owned and developed by Epic Games. Microsoft purchased the property last year to ensure it remains part of the Xbox line-up.
Gears head Rod Fergusson tweeted last year to debunk rumours of a Marcus Fenix Collection - essentially a Gears of War version of the Master Chief Collection, stating that Black Tusk are indeed working on "other Gears of War projects". It seems one of those projects could be a port of the original Gears of War to Xbox One.
The Polygon report implicates both Plastic Wax and Splash Damage (Brink, Batman: Arkham Origins) in the game's development, the latter of which has been advertising job listings to work on a "very well known and highly popular AAA title". Polygon also stated that they'd been shown stills of improved visuals and cinematics from the re-master, but haven't shown them off as of yet.
In addition to Polygon, XboxMAD and Kotaku began issuing their own reports that a beta build went live briefly in the Xbox store, and provided the below screenshots. A source familiar to XboxMAD claims to have confirmed the existence of the build, which apparently read "bla bla bla bla" in the main menu description until it was updated.
Some will find it odd that Microsoft may only be revamping Gears of War, comparing it to Halo: Master Chief Collection's 4-game box-set, but one could argue that hitting 4 re-developed Xbox and Xbox 360 games simultaneously was perhaps over-ambitious. Halo: MCC was marred by launch issues, primarily surrounding its multiplayer components. Re-mastering one game at a time may prove to be a smarter development decision in the long run.
Standard fare with rumours is to take them with a pinch of salt until officially confirmed, but the coalescence of all these reports makes it seem hard to refute. Keep your eyes (and lancers) trained firmly towards E3.
Jez Corden is the Managing Editor for Windows Central, focusing primarily on all things Xbox and gaming. Jez is known for breaking exclusive news and analysis as relates to the Microsoft ecosystem while being powered by caffeine. Follow on Twitter @JezCorden and listen to his Xbox Two podcast, all about, you guessed it, Xbox!
Gears of War collection and Halo Masterchief Collection... Would be sweet, either you are new in the xbox family or a nostalgic dude like me

I would rather have one game at a time instead of the collection. Three games at once is too much to handle.

I would be ok with this if the price was right. But it's hard to imagine it costing 15 dollars each which is basically what the MCC collection was. My guess is each game costing 40 bucks a pop.

I would double dip for this game.

Word. this game turned me out! Raven down 19, 19 Had me losing full nights of sleep. I hope they bring back that ORIGINAL shotgun. Not that SHIT from part 2 and 3. That legit may be the best weapon ever in a game. Raven down 19, 19 with a clip thats active loaded shredding people to mince meat. #LocustForever

I say the sawed off is better than the original Gnasher. Posted via Windows Phone Central App

Couldn't believe you said that. The sawed off is for noobs who can't aim.

Really, 13 years old much? I'm sure every good sniper says any weapon other than sniper rifle is for noobs who can't aim, get over yourself. Enjoy every weapon in your aresenal, that's the great thing about the variety of weapons in GOW. And for the record, I can't use the sawed-off for the life of me and avoided it.

Is Gears of War owned by Microsoft?

Looks like someone didn't read the article.

Halo anniversary remasters happen at the ten year mark. Gears of war came out in 2006...

And guess what year it will be when this game releases...

I believe they have already aid they are trying to do a be branch of the game not a revamped old game because gears has been gone for so long.

Jez, put the pressure on em! Make them make it a collection....the value is there, launch issues and all. I can't give them $180 for GOW 1-3 but I'll gladly give em $60.

Why don't they just make it $20-$30 then lol

Cause they publishers and that's too rational of a decision. They will normally choose to give the consumer the L.

Haha, I doubt they'd listen to me!

Double dip indeed!!!!!!
I need my Gears fix!

I hope it come's with 3d!

I hate to be that guy but why dont developers concentrate on new games instead recycling and remaking stuff we already beat

My answer to that is that potentially re-releasing older games, using the same assets etc. represents lucrative high-margin funding runs for those new games we all want. As the rumor states, there are two third parties working on it, rather than just Black Tusk themselves, who are hard at work on Gears 4.

Fair enough I just cant see anyone buying this game for $60. When you look at 343 releasing 4 older games in one for $60. Borderlands: 2 games for $60.

Well sure, it'd be low priced I reckon.

There are now kids (and adults) that never played the originals. I never had a 360, but I've now got a One and can afford them. That's 2 new audiences for these remasters.

Honestly, I welcome this for other than a couple strong titles such as Shadow of Mordor and Dragon Age, XboxOne has been disappointing to me for games so far. Bring on the Gears.

Even if it is the first Gears of War, I will be very excited!!!

This is dumb. This is the installment I spent the most time on in the past, so it's the one I have the least amount of playing again. I'd rather get Judgment, which I never got to play. Either give me the whole story or don't bother.

They probably didn't realise you felt that way. I'm sure if you contact them they'll cancel development immediately, if indeed they've actually started.

You don't want Judgment...

Isn't Judgment being given away for free on games with gold this month ?

IDK, but I asked my dad to go still l sell 360

Judgment is the worst release of all gears. I mean changing the control scheme is stupid.

The controls drove me nuts, but the short missions were kinda fun, felt like that game could have been DLC instead of a standalone release.

I believe the judgment is in on "Judgment"...and it wasn't pretty.

(•_•) ( •_•)>⌐■-■ (⌐■_■) YYEEAAHH

a remastered gears of war 3, would be awesome. I still play that game on my 360, its the only reason why I keep my 360 around. When you log in there are over 2000 players online , still playing gears of war 3. Its only fitting to remaster it, with maybe unreal 4 engine.

Gears 1 and 3 were the best in my opinion. Posted via the Windows Central App for Android

Already done on 360 = i would pay $20 - $30 each with all add on's but not more

I'd pay $30 if it was the exact same game with just upgraded super awesome graphics and sound. Another $20 for Horde mode with a bunch of maps. Another $10 for Kinect voice integration like Mass Effect had.

Dayumm nostalgia why you cost me more money

Hey WC guys here a new leak about windows phone start screen http://www.windowsmania.pl/dyskusja-ogolna-497/5D-n...

I played GoW and it was enough to never want to play any of the sequels, it bored the Hell out of me.

I wouldn't mind a remastered collection :P.

Run out of creative ideas? "Remaster" games you've already made.

Hardly. They have third parties working on this reportedly, Black Tusk are focused on Gears 4.

It has been requested like a mother fucker, it would be stupid not to.

I would rather them do the halo MCC thing with gears then then just release one gears game at a time.

I'm wondering if they are using a bleeding edge version of Unreal 3 or just Unreal 4.

Nice! I never got around to playing the original GW. This is a must have for me.

marcus phoenix collection? man, microsoft needs its own hero's smash brothers. i wanna see MC vs Phoenix.

There's a small movement trying to push that idea forward through Killer Instinct, I think it'd be a pretty good fit.

That could actually work. Introducing one character at a time -- master chief first.. and throughout the season, characters like Dom, Joanna Dark, Your XBOX avatar, and then go wild and crazy with Conker, Banjoe Kazoui and so on. It could actually turn out betterthan Smash Bros. It could turn into MVC style. marvels vs capcom.

There isn't really a large selection of characters to choose from.

http://www.ign.com/blogs/mrjjcims/2012/10/02/microsoft-mascot-fighter-who-would-the-fighters-be-and-could-it-be-successfu 27 first party, 9 third party published by microsoft.

I don't know if that would work. I pay smash all the time. I also played the Sony version. They had some fresh ideas buy it still didn't do well. I'd wager the only way to make it work would be a blatant copy and paste of the game.

NEED MORE GEARS..... NOW!!!!

I loved all 4 GOW. Solid series. RIP DS.
Windows Central Newsletter
Thank you for signing up to Windows Central. You will receive a verification email shortly.
There was a problem. Please refresh the page and try again.