Rumor: New Apple app 'coming soon' to the Microsoft Store
Let's hope iTunes is finally on the way out.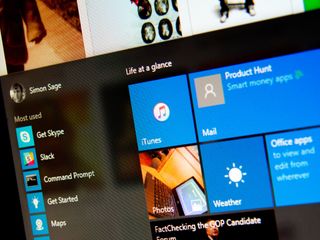 (Image credit: Windows Central)
What you need to know
There are rumors of a new Apple app that might be coming to Windows.
Aggiornamenti Lumia suggests the new app is "coming soon."
There's no indication as to what app it might be, but Apple Music seems like a safe bet.
A new rumor from Aggiornamenti Lumia suggests a new Apple app is "coming soon" to the Microsoft Store.
According to the outlet:
Obviously, this isn't a lot to go on, but we can certainly speculate. Last year, job listings at Apple sought software engineers to help build "the next generation of media apps for Windows", from that report:
Apple currently only offers two apps on the Microsoft Store, iCloud and iTunes. Over on macOS, Apple has of course retired iTunes in favor of Apple Music, Apple TV, and Podcasts apps. It seems likely that if Apple were to replace iTunes for Windows, it would keep its branding in-line with macOS and adopt a similar trio of apps. The previous listing also sought engineers with UWP (Universal Windows Platform) experience, which means Apple is at least exploring apps that would work not only on Windows 10 but also Xbox One and Xbox Series X. Streaming competitor Spotify already offers a handy Xbox One app to let gamers stream whilst they play, could Apple be looking to do the same?
Beyond an iTunes replacement, Apple could of course think about bringing Messages to Windows, or heaven forbid, Apple Maps.
Apple Music is the obvious guess but I'm still holding out hope for something that would allow for similar function to Your Phone. I've been real tempted to switch to Android but that's the one thing that would keep me from doing so.

I agree, that would be a big feature to keep me with iPhone. Music would be not very interesting for me anyways.

Your phone is not a Google app. So if it supported iPhone it wouldn't be a apple app would it?

There is the Dell Mobile Connect app that is for iPhone

I'd love to see garage band. Man that program is incredible.

It's most likely replacing iTunes with Music, TV & Podcasts like the article mentions but I'd love if Apple Messages comes over to Windows. Now that they're updating the awfully boring iOS home screen with basically live tiles, and allowing different default browser & mail apps, being able to iMessage from my Windows 10 PC would be all I need to go back to iPhone from my Android.

iMessage is the only Apple app I wouldn't mind having. Right now I have it turned off on my phone in favor of Verizon Messenger since I need to be able to access my sms/mms on my PC. If they released a PC app I'd switch.

My guess would be Apple TV+ and Apple Music so it can compete with the likes of Netflix, Amazon, Spotify, HBOMax to name a few. Those 2 apps are their biggest attention getters.

"[...]or heaven forbid, Apple Maps." Why not? It's most definitely Music, Podcasts, TV+, and another one to recover iPhone and iPads, though. I don't think they could do that in Files Explorer without some sort of help from Microsoft. It's going to be interesting if they all end up being UWPs. If you need to recover your device, you'll need Windows 10.

I will just keep using iTunes. It works, its simple and I don't need 3 separate apps to do what 1 app does just fine. BTW, what is the point of a "podcast" app? Podcasts are just MP3 files, and I have always treated them as such. What's next, separate music apps for Country, Pop, Classical and Jazz music?
Windows Central Newsletter
Get the best of Windows Central in in your inbox, every day!
Thank you for signing up to Windows Central. You will receive a verification email shortly.
There was a problem. Please refresh the page and try again.