Rumor: Nokia to reveal "Catwalk" in London on May 14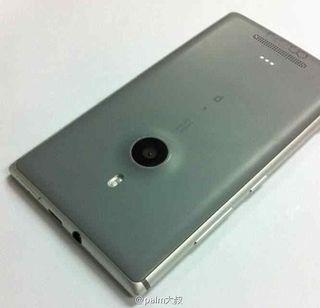 Nokia's new product announcement in London is less than a week away, and as usual, the product to be revealed just got leaked in advance. Citing unnamed insider source, Chinese tech site WPDang claims that Nokia's London event is about just one device: the previously leaked "Catwalk" aka Lumia 925 930.
Catwalk reportedly sports a shell design with a mix of polycarbonate and aluminum, as depicted in the leaked picture up above.
In terms of specs sheet, it's mostly identical to Lumia 920, with the following differences:
Lighter and thinner body.
No built-in Qi wireless charging module. But could work with wireless charging add-on like Lumia 720 does.
Even more advanced camera. Nightshot capability on par with Lumia 920, but with improved imaging quality under daylight.
Pre-loaded with WP8 GDR2.
Along with Catwalk, Nokia is also said to be releasing several new imaging apps in London. That's supposed to wrap the event up. No Nokia tablet like some might have expected, just Catwalk. The phone is believed to be "competitively priced", cheaper than Lumia 920 used to be when it first came around.
Also, WPDang noted that Catwalk is not Nokia's next flagship, but more like a slight bump up from Lumia 920 to spearhead the company's whole wave of new products for 2013. The real 2013 flagship is yet to come.
Souce: WPDang (1), (2)
Windows Central Newsletter
Get the best of Windows Central in in your inbox, every day!
I hope the phone is not the same as that picture.

Its the prototype. End product will vary in design.

I hope along with u, m8 (:

definitely, the one in the picture looks really ugly..

I second that notion im sure it wont look like that Nokia phones look cool that doesn't

yea. Im so not buying this fone. Its ugly as hell.

And I know better than all of you that when it will become official, they will show more colour options and suddenly you all gonna be like " OMG it looks so sexy...,I want it...bla bla bla.

Does this mean it's well understood now that the EOS is pushed back to a fall reveal? A bit disappointing if true...

Some rumors put an EOS reveal in July.

Yeah, I saw Dan was saying fall more recently though. Hopefully something surprising gets revealed next week!

Any company can announce anything they like anytime, it is not worth trying to peddle an Autumn rumour.

Fall sounds about right. Why would they release this and expect sales if it's not the flagship with better specs.

So is catwalk the high end decide or 720 like device?

high-end. Its like an improved Lumia 920. "WPDang noted that Catwalk is not Nokia's next flagship..." just means that its not going to be their "flagship", top of the line, #1 device.

Oh thanks. So its not the Lumia 1k?

No wireless charging no buy for me which is a shame

Wireless charging is really a gimmick. It's super slow at charging.

It really isn't a gimmick, its genuinely useful for a lot of people

Actually my 920 charges on the plate rather quickly. Not as fast as AC of course, but I'd say 75% of the speed though. Works great for most cases.

nothing is faster than a deticated AC input. Ah miss my symbian days.

Can you charge on both wired and wireless at the same time? That would be super quick but the life of your battery won't be long.

and yet i have to charging pads around that cost money - so why should I buy a replacement for my 920 with less capablilties?

You wont. You wait for next flagship. But there are plenty of potential buyers out there.

Yes - but given Wireless charging as alternative will not push forward for that technology. and there is a competitor for Qi on the market already

People who charge their phones while they go to sleep don't care about the speed of the charge. Using wireless charging also saves wear and tear on the port and plug.

And that's what wireless charging is all about: One next to your bed, one on your desk, and possibly one next to the sofa in the living room as well. Keep conveniently feeding it juice throughout the day, and never worry about running low.
Here's my million-dollar idea (well, maybe just $100k): A Qi-based car charger that slots into your cup holder and lets you slip the phone into a vertical slot to charge. Totally secures the phone, and easy-in-easy out.

Wouldn't it be better to have a real charger? Them on the go charges (desk, couch etc.) would get more juice and charge twice as fast with a cord. Plus you could talk or surf the web while you charge. If you only had wireless chargers and your phone was about dead you couldn't use it unless you had a wired connection too. So basically you have to have a wired charger by every wireless pad.

Yeah, the "being able to do stuff while you phone charges" is a good counterpoint to the value proposition of wireless charging. However, I'd argue that you wouldn't have to multi-task like that if your phone was constantly in a state of charge due to conveniently charging it intermittently throughout the day.

I get what you're saing, but I simply feel that the simplicity and convenience of just putting the phone down on a charger and having it charge without having to fuble around for the cord means the frequency of charge will outweigh the speed factor.

The better argument against the wireless charging, IMO, is that at $50/pop we're talking about a very hefty up front investment that may not be feasible for many people.

40k idea actually. I believe the new Toyota Avalon features a Qi charger.

It kind of really is a gimmick, as long as you have to lay the phone on the charging mat/pillow. At that point you may as well extend the effort and plug in the microUSB charger.

Do you have one? Do you use it? I felt the same way until I bought a 920. I don't ever want to go back to being forced to plug in the USB charging. Mine sits on the plate while working and sleeping. You just pick it up, no plug\unplug.

It may seem so intiially... but it is really nice to just plop it down and not worry about fiddling with cables. When my alarm goes off in the morning, I can semi-concsiously unplop it without fiddling with cables as well.


You must be an iPhone user because you're clueless about how convenient wireless charging is.

No I'm a Nokia 920 user. Obviously you're not. If so you'd know how fast the battery dies. With only 50% capacity compared to a wired connection just want work for me. Well maybe by the bed when I'm sleeping and get to leave the phone alone for a long period of time.

Have you ever been clubbing all night, come home stinkin' drunk and with a hot girl who is also wasted and ready. Trust me, its not easy and you wouldn't want to waste your time fumbling with cords.

My vintage Samsung FOCUS has a sliding door over the usb port ... so I REALLY have to WORK to charge my device.

This has the wireless charging dots on the back just like the 720. Charging shells sold separately of course. My guess is when you snap on the shell that camera bump disappears as well. I would not buy a phone without wireless charging, it is a huge convenience. I dock my phone a million times a day.

I wouldn't buy either... Bought two Nokia wireless charger, me and my wife found then so practical, that I wouldn't consider a replacement that don't have that.... I'm spoiled with wireless charge.....

I was thinking the same thing. Wireless charging is better built in. The tech won't push forward if it isn't built in. I wouldn't have two charging pads today if it wasn't built in. It's not as fast as the cable but the convenience is just something to be praised. I have one at home and work. I can't tell you how many times my phone died by the evening after work because I forgot to charge my phone because I got busy at work and forgot. Now I come in place it on the pad and go about my day. Wireless charging is the best.

Wireless charging rocks. It's plenty fast for me, and I love my upright stand at work. Sure, plugging in a cable is no big deal, but its like when WiFi sync became available on platforms, it's just easier. It isn't a feature I must have, but it is a clear tie breaker in any phone with wireless charging.

I want wireless charging too built in

No Qi, I have those beasts all over my home with two other 920s around the house. Is Nokia getting nervous because of the 'other' format? Because it's my turn to upgrade and I want Qi!

It's going to have one of those snap-on shell like the 720.

The problem is when? The 720 is already out, but the snap-on charging cases still aren't available...
Plus, if I want a thinner 920 *with* Qi, having to add a case that increases the thickness kinda defeats the purpose, doesn't it?

You at least have an option to take it off to reduce the extra weight and thickness.

If you're on T-Mobile, this may be the only flagship.

The connector dots are there for a wireless charging shell just like Lumia 720.

I'm sure they've just removed the built in wireless to make the phone thinner to make it more competitive.

People complain about weight so we have to suffer with the changes. Nokia took out wireless charging since it added alot weight.

I have never seen a case or shell that makes a phone look better. I've never been bothered by the weight, neither has my gf. Is the average American getting smaller?

No, we're getting bigger because of the 920...

I'm hoping the next flagship device will be revealed too. I'll have an upgrade this fall, and I want the next flagship device, not this device.

I doubt they reveal a device coming out in Oct/Nov with the next gen WP OS version this early, but who knows...

Too early for that. That will come when Microsoft announce 8.1. I guess at the Nokia dev conference the same time the 920 was announced.

If this Catwalk is indeed geared for T-Mobile you can forget about another Nokia flagship for at least another 8 months to a year. That is unless you're with AT&T.

When does that GDR2 come to 920? I don't often take photos and Lumia 920 is more than enough for me, so the only thing I care is the OS itself.

Rumors say June, we shall see.

Hmm. If no Qi wireless charging capabilities are imbedded in the device, one would assume accessories to do so would be made available. Which would then lead one to assume that it has a removable back cover. But, one would have to assume that the "leaked" information is correct in the first place.

Way to much assumptions going on lol i just hope its as tough as nails like the 920

I'll wait for the real flagship device to come out. My 920 will suffice till then. Really would like to see a Nokia tablet though.

I just hope something hit's T-MO US because currently T-MO does not have any WP8 devices listed. being stuck on T-MO my options are none at the moment for anything high end.

Thats why you take the cheaper contracts on a carrier of your choice and buy the smartphones sim free

The Lumia 521 is currently available at some WalMart locations and HSN.com for under $150. It will also be available in-stores and online at T-Mobile.com in the next two weeks.
The 521 is the direct replacement to the costly 810 that didn't move well. The only 'losses' on the 521 vs. 810 are a bit of screen real estate (4.0 vs 4.3), the 5MP camera vs the 8MP camera, no front camera and the loss of the HSPA+42 radio (dropping to the HSPA+21 instead).
Overall, the average user will experience little loss in the $150 vs $450 phone race - except for the ability to take selfies with the front facing camera. The bonuses however, include the fact that the 521 is running a newer version of WP8, will include Wi-Fi calling (even those on preorder will be updated as soon as the release happens) and the Storage Options App is preloaded as well. This actually makes the 521 a better device short-term as any 810 owner will tell you.


This should be the holidays release. If Nokia releases it now, they're asking for the Lumia 900 all over again.

Nah, all devices with WP8 will get the next major revision that comes out this fall, there is little doubt of that this time around. That is when the true next gen hardware bump will happen, this is a mid-year refresh for other carriers that didn't get a Nokia flagship last Nov.

This is a big shift for Lumia and it should be reserved for GDR3 / Blue when Nokia will be able to boast major new software features and the hardware chassis will be bumped for modern processors and such. Mid year refresh does not work for a flagship, period. The Lumia 900 was a disaster. The two dominant smartphone companies don't do it for a reason.

Apple doesn't. But I've seen Samsung do it - S2 Plus .. S3 Plus.

Apple does, they are just sh*t slow and do it annually. 3 - 3G. 4 - 4S.

Nokia should be applauded for being so fast to market with updates. Sure it's frustrating when you've bought something and are tied into a contract, but on the other hand it keeps them competitive.

It does not keep them competitive. It floods the market with a tonne of compromised products, and consumers will be confused if not repelled.

Catwalk: bad internals compared to Android flagships
920: big, thick
820: WVGA, thick
720: 512MB of RAM

Specs are all relative. Android devices need overpowered internal hardware so that the OS is usable. I'm tired of hearing people complain about the 512 Windows Phones. Those phones, especially the 720 are no less capable than the higher end phones. Also, if you're that into graphically intensive mobile gaming, chances are you won't opt for the 720, but the 920 instead.
One phone cannot be everything to everyone. Its what I dislike about Apple's model. While the iPhone is generally a well rounded device, there is nothing that stands out. I think Nokia's diversified approach is a great way to engage every aspect of the market by giving different people different things to be excited about. Colors, differing form factors, top notch cameras, wireless charging, NFC, supersensitive displays.

Really I thought we were over this Spec War. Lumia 920 runs just as fast and smooth as a Quad Core Android. Me and my friend did a side by side test on my 8X vs GS4 and I thought I noticed a slight difference but he said it was to close to tell. There's phones for different budgets, both in Android AND Windows Phone.

The Lumia 920 stutters on AAA titles. Don't compare lock screens, compare actual strenuous activity. The Snapdragon S4 is far from perfect and it's now aging.

The S3 Plus does not exist and the S2 Plus was announced two years after the original S2.

Ah I did not know that.
Anyways I think Nokia have no other choice right now. Apple can do the one product a year thing cause the phone and OS is all theirs and they have a major marketshare. Nokia doesn't. The only way to get into a better position marketshare wise right now is to put out more products in the market.

Technically, when att released the galaxy s2 in 2011....they released two variants...the captivate glide and skyrocket shortly after receiving the gs2. So this is not the first time a company has done this.

Not if their offering this on a US carrier that doesn't have a high end Nokia device.

The next leap in Asha's journey, Nokia Asha 501: Elop
https://twitter.com/IndianExpress

Yes, I watched this morning. That is one formidable package for $99. Now Nokia have both the Lumia 520 and Asha 501 to eat up the budget Android market.
These are both great first time smartphones. And check out the standby time on the Asha 501, more than a month!

Yeah Nokia are making big claims about battery life 48 days standby, 17 hours talk time and Asha OS supports operator billing. Would love to test the device

I wonder about this "improved imaging quality under daylight.". Is it a new sensor or just better s/w optimizations that could be carried over to the 920 eventually?

Better software which should trickle down to the 920 a bit later. Its because there is simply nothing wrong with the sensor as such, just that the jpeg algo is a bit messed up and possibly the logic containg the OIS controls during good-light shots.

I'm really worried that they'll drop nativ wireless charging support on all their new devices...

If they go unibody aluminum, I think it will be engineering challenging to get wireless charging

I'm excited! I hope the device will look good as the 920

I wonder what the aluminum will do to its durability... Better or worst.

I love my 920 but looking forward to a high end Windows replacement. That bump around the camera if ugly so this will not be my next phone.

The bump around the camera disappears when you add the colorful wireless charging shell.

Judging from the size of the camera sensor and flash relative to the size of the handset, this looks to me like a 5" phone... Or at the very least bigger than the 920.

Isn't the catwalk or lumia 925 for t-mobile and 928 Verizon.

I expect: Lumia 925 (catwalk) - May 14 - Tmobile and other GSM networks
Lumia 928 (laser) - May 22 - June Verizon flagship
Lumia 930 (EOS) - September - October AT&T flagship and other GSM That's my predictions.

God I hate aluminium phones. And the leaked specs don't make want one either.
That said, the good news is that if GDR2 will come pre-loaded, it means the release isn't too far. And that's nice.

What does"isn't too far"?? I have been waiting for a lighter phone (920 is really heavy coming from a focus) since November and am really needing to update.

I mean the release of GDR2. As I said, I don't like this phone and I don't want it ( and I have no problem with the weight of the L920 :P)

Been waiting for firmware 1314 for 2 months in Australia. GDR2 will be 6 months..

Still? I'm sorry to hear that. You have your phone locked to a carrier I presume?

Now that 928 is official, this doesn't make sense. I highly doubt that 928 will be a V exclusive. Seems like 925 and 928 are same devices.

My contract is up for renewal 14th want a 2yr phone that's brand new really want an 928

Camra bump = ugly, I'd like to see the front. I think everyone will still prefer the polycarbonate and the colors. Aluminum is just dull looking.

The eos might not be a true flagship, but a niche product for camera enthusiasts

Mine too! What's your Xbox gamertag?

This would be a good choice for anyone who didn't pull the trigger on a 920 last fall. For those of us that already got one, however, we'll just wait for the fall; this one's not meant for us.

Or for those of us who are smart enough to NOT be at&t customers...

Give 920 to my dad and get this, or wait another 5 months for the EOS? Decisions decisions.

If this is going to be announced on the 14th in London, then when is the 928 going to be announced?

I'm looking forward to the new imaging apps Nokia will release.

That's an ugly phone! I like the unibody design of the NL920 or the HTC One better.

Very few of you really read do you? It's been stated over and over since this picture has been released that this is a prototype... not the actual thing. Say it with me, PROTOTYPE.

Instagram announcement as well????,lumia exclusive? ....Wishful thinking?

I find it a bit strange for an event just for a refreshed phone. I believe there must some high profile apps or new services.

Agree, it just doesn't make sense to spend thousands of dollars on an event dedicated to just a refresh.

Instagram is already being tested for some time so I wouldn't be surprised if they announced it too. Let's wait and see.

Instragam lumia exclusive would be a gigantic F-you to MS's other partners. If they do that, HTC, Huawei and Samsung might as well just drop the platform and devote themselves exclusively to Android and its derivations.

Instead of continously pushing lumias with similar specs with a slightly bumped feature set, Nokia should get all these features ( aluminium body, wireless charging , EOS Pureview 41 mp camera etc) into one killer flagship

What you're missing is that they are (finally) offering the "920" to other carriers. I mean assuming the talk of this "catwalk" going to TMo.
Who knows, maybe if they see real success (whatever that means to them) with this phone and the 928 on Verizon, they might make the device you;r talking about and release it to all carriers at the same time like other OEM's do.

This phone should go to T-Mobile and Sprint. That would really push up market share.

If it has a combination of aluminum and polycarbonate as noted in the article, I don't think I'm interested. And the wireless charging needs to be included, or that additional piece needs to look seamless when you put it on.
I was really excited about catwalk, but not so much anymore if all these rumors are true.
I would like to have an AMOLED screen again though, so depending on the above issues, I may still be interested. I really hate that the 920 doesn't have true black like my 800. It makes such a huge difference with Windows Phone.

So you enjoy screen burn in? All my AMOLED on Windows phones have had this problem. If you are a heavy text user, you will see the text bubbles burn into the screen and it is annoying as hell. I saw signs of this less than 6 months of owning the phone. Until they fix the problems with degradation in AMOLED screens, this tech is dead to me.

AMOLED just means bad battery. Nothing is optimized for dark themes. So your battery just goes. Can live without that.

These exclusive derivations are confusing and terrible and are way out of date by the time they come to non-ATT carriers. Make one flagship, release to all carriers.

Nokia may not be in the position to release one phone to all carriers at the moment, that is why they do exclusives.. They are big in the states again but still have to bow to carrier demands right now. That being said, this phone is only for Tmobile in the states at least because we didn't have a flagship to compete with the 920, maybe their next flagship will be on all carriers, but I doubt that... The same strategy will apply...att will get it first,followed closely by Verizon..with a variant...then tmo and sprint with their variants..this is the way it will be until windows phone captures more market share

I would like to see HSBC and Santander Bank apps. Also SIP apps like sipgate etc.

I really hope this is not the replacement for the 920. No wireless charging unless you buy the backplate? Seriously? As my argument with a case, why bother with an aluminum skin if you are going to have to cover it up? And yes for those of you who call wireless charging a gimmick, use it and you will see how nice it is to just lay the phone down at work or your nightstand and the thing is always topped off. And that camera bulging out the back that will not only become a target for dings and wear (even this prototype is scuffed), it becomes a rocking horse of impossible when trying to use it while it sits flat on a desk or table. I love my 920 and if this is the replacement for it, looks like I will be waiting a year for upgrade. Plus an OLED screen instead of the LCD they have now which will experience burn in as all my other OLED screens have. Looks like Nokia, instead of driving forward with their winning design, decided to listen to the critics who bitched about weight and decided to sacrifice features and durability to be a toylike lightness and fragility of an iPhone. Please don't let this be the next flagship Lumia.

Hope its priced cheap enough to make sense on T-Mob. and its new uncarrier plans

I hope the aluminum phone has more color. I also hope this is a prototype. But since its thinner than the s3 (8.4 mm) and its for T-Mobile then its an early Christmas for me.

Wow, is that thing ugly as hell! I hope the final look is changed.
By the way, you spelled aluminium wrong, it's "aluminium" not "aluminum" :P
Windows Central Newsletter
Thank you for signing up to Windows Central. You will receive a verification email shortly.
There was a problem. Please refresh the page and try again.