Run! Gravity Guy 2 is now exclusively available for Windows Phone 8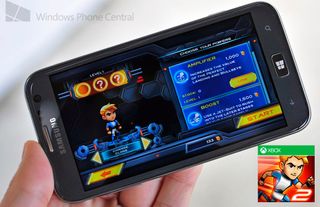 Gravity Guy came out just over a year ago to Windows Phone and has become one of the more popular "runner" games around. It's done by Miniclip, who ranks up there with Chillingo in terms of quality of their games.
Gravity Guy 2 is now ready for your trial and goes for $2.99 (Windows Phone 8 only). We've been playing with it for a little while, and one thing we already like: it's not more of the same. In GG2, things like double jumps, platform raising, new tighter graphics and a new coin-collection strategy have been added. Indeed it feels like similar game play to Jetpack Joyride (also due soon on Windows Phone 8).
The music is good, the high resolution graphics look great on our high-end hardware and like the previous game, there's an addictive challenging aspect that we love. Whether or not the re-playability and difficulty will be hindrances remains to be seen and we'll save that for our review.
Of course another reason to get excited is the exclusivity part. As we informed you yesterday, this game is a "first" on Windows Phone 8 with the iPhone and Android versions due at a later date. For that, we think Miniclip and GG2 deserve at least a trial, no?
Pick up Gravity Guy 2 for Windows Phone 8 here in the Store for $2.99 (free trial). Shout out in comments on your thoughts of the game.
Windows Central Newsletter
Get the best of Windows Central in in your inbox, every day!
Daniel Rubino is the Editor-in-chief of Windows Central, head reviewer, podcast co-host, and analyst. He has been covering Microsoft since 2007 when this site was called WMExperts (and later Windows Phone Central). His interests include Windows, laptops, next-gen computing, and for some reason, watches. Before all this tech stuff, he worked on a Ph.D. in linguistics, watched people sleep (for medical purposes!), and ran the projectors at movie theaters because it was fun.
Bought it. It is a hell of a lot of fun.

Got the trial and getting use to the controls but enjoying it.

Will wait for Jet Pack Joyride myself

Bought it without even testing. Those developers who see the potencial of our platform get my money without hesitating.

So many games ... productivity levels are going down! :)

Lol still on puzzle craft myself, sneaking out at lunch to play some. :)

Same here. That dam games got me hooked.

Same here. Puzzle craft isnt letting me study for my exams. -.-

Lol Im addicted too xD my grades are dropping!

Bought it, good game. Got to say , WP users are cheap. If u want free, make it urself

Actually, WP owners are *more* likely to spend money..

Agreed, I'm actually more likely to buy apps just to keep the dev happy and developing for WP.

Indeed. It's mostly the Android users across Asia that seems to be complaining.

Ironically , here in India I have seen more WP users who pay while Android users just pirate the game

This ones not for me but so happy our ecosystem is growing.

This might be the first game I've ever purchased. Cannot wait to get my CREDIT CARD. Here I come Shark Dash <3

Okay this game is mad fun. Not at ALL like Gravity Guy 1, it's like a whole new game. I don't even know why they are calling it Gravity Guy if you can't change gravity anymore. But hey, much more forgiving play experience and basically a sister to Jetpack Joyride. :)

I love exclusive games, what a week, will download when I get home.

Only Windows Phone 8 .. :(
Time to get a WinPho 8 but my 1 and half year old Lumia 710 works so flawless that I don't feel like buying a new phone .. :P

Seems inspired from the Gravity Suit of Jetpack Joyride (from the screenshot only, haven't tried this game). I want Jetpack Joyride for WP8!!!

I know its senseless, but ive been bugging joe belfiore for jatpack joyride nowadays. *trolling*

The gravity suit in jetpack joyride is from gravity guy 1 :) it's the same developer

Oh well, that explains.. :D Though the Gravity Suit is the worst 'power-up' for me in Jetpack Joyride. :D I like Mr. Cuddles :P

Very interesting game play. Certainly not like the original.
"Achievement Unlocked: Converted Trial to Full Purchased Game."

Is that an actual achievement? They aren't supposed to do that. A freemuim game tried to put an achievement for buying something but then was pulled until they replaced it.

Of course not. I was being funny by saying I supported the dev buy purchasing the game. Not just because it's an exclusive to WP, but because I enjoyed the Trial.

This is the best game announced today, but I'm guessing it still may not be what Joe was tweeting about or he would have tweeted again?

Joe specifically tweeted about an app not a game

Some refer to mobile games as apps.

Does this support 512mb phones?

i want to know does this game support lumia 620 and others wp with 512mb.

Just bought Gravity Guy and Gravity Guy 2. Dev should be supported for the exclusive release on WP, even if it's only temporary.

The title picture almost reminds me of old Mega Man.

I already bought it to support the developers. :D

Dang, this game is super fun! Way better than the first one. The exclusivity is sweet.

Awesome game. Bought without trialing first. Loyal WP8 devs should be rewarded.

Should've know better not to get the Lumia 900 last year, I'm so pissed off every time I see these w8 games. I know, fork over the dough for a new phone, but by then they will announce games are only for wp9. Yes you can hear the bitterness in my voice.

" I know, fork over the dough for a new phone, but by then they will announce games are only for wp9"

Don't confuse switching from the CE to NT Kernel aka "reboot" of the platform with a simple OS upgrade e.g. Windows Phone 9. Sure, "WP9" or most likely Windows Phone Blue may add things like higher resolution support, but there's a very good reason why WP8 games can't run on WP7 hardware--it's the native gaming engines, that's it. There won't be another reboot of the OS for years as the NT kernel is very flexible and can scale appropriately. Now, there is always the issue of chasing the latest and greatest hardware, for which there is no solution except to have some money on the side and to not complain about the rapid pace of mobile development ;)

Much better than the first. I am loving this game!

Game is fun so far, much like jet pack joyride with minigoals to get each run while picking up coins along the way. Being able to jump/double jump and move platforms allows for a lot more room for surviving longer than in JPJ.

Temple Run: http://www.windowsphone.com/s?appid=1a7cb5f8-792a-4992-b07a-83874c0795ae...

Yeaaaaah!!! :D.. That totally made my day!

What are the restrictions with trial version? Didn't see any yet. Somewhere far a line where it says you can't go further with trial?

No achievements, powerups, or extra clones.

Love the Key Features from the description:
*Amazing Retina Graphics

$3.49 in Australia, and our dollar is worth slightly more than the US dollar, nothing like global price parity! ...not that I care about 50c, just sayin.

Australian price includes GST.

Bought it without a trial. It's exclusive, so why not support developers. But after playing 4 levels, it's worth every penny

Looking at the comment section, many of us are doing it. purchasing without trail. Seems wp8 users are damn hungry regarding exclusive apps and games

Buying just to support the developer for bringing it to wp8

I have also purchased mirror's edge, that too is a wonderful game. Now downloading 6th planet

And just had a quick play. It's a beautiful and fun game.

Awesome! I haven't been this excited since Gravity Guy 1 came out!!!

I liked the first on better. Oh well.

How can you not buy?!?! $3 is a small price to pay to make sure more apps like this get out the door and la d on my Lumia 920.

Well...I used the same theory when I had my HP Touchpad...didn't work.

I don't get the hype for Temple Run at all. This one's much much better.

agreed, can't understand what so special in temple run. I played it , ok game, but GG2 is impressive and lot more addictive

Bought it! Way to go windows phone!

i hope wp 7.8 also gets this game as soon as possible!

Is there a way to reset the clones ?:)

A WP exclusive game that in the description (in WP store) when you go to buy it,it's written "★ Amazing retina graphics".
Miniclip can't wait to release that on iphone.And Microsoft doesn't even check what developers are writting on the description.The condition is simply PATHETIC! P.S And it's exclusive only for the next month!!!

Broken achievement also! Nobody really tests any of the xbox live games on the phone! I'm sick of being there guinea pigs, when we are paying the money to be there pigs!
Windows Central Newsletter
Thank you for signing up to Windows Central. You will receive a verification email shortly.
There was a problem. Please refresh the page and try again.