Chaos Rings from Square Enix and Gravity Guy 2 gracing Xbox Windows Phone this week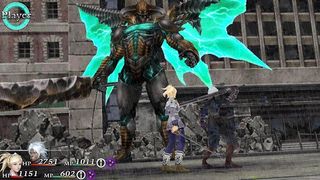 This is GDC week, so you can count on some cool developer interviews and hands-on stories as the conference progresses. But it's also just an exciting week for Windows Phone releases. First we had the release of Sims Medieval for Nokia devices, and now general users can look forward to two regular Xbox releases on Wednesday. We're looking at one Windows Phone 7 game and one for Windows Phone 8. The former will also be the most expensive mobile Xbox game to date, but at least it's a good one: Chaos Rings from Square-Enix!
Chaos on hand
Given the conservative nature of Square Enix's previous Windows Phone releases (the original Final Fantasy and KooZac), we fully expected the Japanese publisher's next release to be the slightly yawn-inducing Final Fantasy II. In a recent editorial, I opined that it would be much cooler for them to skip ahead a bit to porting their newer iOS releases. They may not have skipped as far ahead as I'd liked, but Chaos Rings is both a newer release (dating from the end of 2010) and way more interesting than the second Final Fantasy. It's also the first game from our 2011 reader's choice contest to actually get released on Windows Phone!
The story of Chaos Rings revolves around eight people who must participate in a mysterious tournament against their wills. The winners receive eternal life while the losers unfortunately stop living. Each of the four pairs has their own short playthrough (around six hours), and finishing everyone's story opens up a conclusion to the entire tale. Plus some equipment earned from enemies carries over between those stories. On the whole it's a clever way to make the game digestible for mobile audiences.
iOS version screens and trailer
Graphically, Chaos Rings works much like Final Fantasy VII. In the overworld, backgrounds are pre-rendered and characters are 3D. During battles and cinemas, everything uses 3D graphics. The original game dates back a couple of years, but the character designs still impress. Chaos Rings also has a fantastic soundtrack and Japanese voice acting (with English text, of course).
I'm super excited for this release. But the price will certainly cause some debate. The Windows Phone version of Final Fantasy clocked in at $6.99, a couple of dollars cheaper than the iOS game. Chao Rings (which was developed exclusively for mobile devices and is not a console port) will cost $9.99 – more than any previous Xbox Windows Phone game. Considering the iOS version launched at $12.99, it could have been worse. We are talking about a big budget RPG that offers more than 30 hours of gameplay and could easily sell for $30 on DS or Vita here. If this one sells well enough, maybe we'll get the prequel Chaos Rings Omega and Chaos Rings II as well.
Chaos Rings will run on Windows Phone 7 or 8. The file size will be somewhere between 700MB-1GB. Given our platform's need for up to four times a game's size in order to actually install it, RPG fans might want to start clearing room now.
Gravity Guy 2
If ten bucks is too rich for your blood, perhaps you'll find this three-dollar game more appealing. Gravity Guy 2 is launching exclusively on Windows Phone 8 prior to its eventual iOS and Android release. Miniclip has been a fairly active supporter of Microsoft's mobile OS, so it's cool to see them give us a game before everyone else gets it.
As for the game itself, I have a tough time getting stoked for it. I liked the first game quite a lot when I first played it, giving it a positive review. Miniclip then added a huge second chapter to the game, which should have been cause to celebrate. But the second chapter was so frustratingly difficult that it actually turned me off from the game entirely. A couple of the Achievements were stupidly hard as well. Maybe Gravity Guy 2 will have a more reasonable difficulty, but I'm not holding my breath.
Gravity Guy 2 is a 2D endless runner in which players can jump back and forth between the ceiling and the ground. It features:
Jump from one platform to another, while avoiding many hazards placed across the path
Just tap the button on the right side of the screen to raise the lifts and on the right to perform a jump
Seven different clones each with its own special abilities
Collect coins and earn points in order to unlock new power slots and level up to get bonuses
Gravity Guy 2 will cost $2.99. We're told it will release in all territories except for Russia, Taiwan, Brazil and Korea… But Microsoft often gets the release territories wrong in these advance notices, so we'll see.
Both games come out on Wednesday, March 27.
Get the Windows Central Newsletter
All the latest news, reviews, and guides for Windows and Xbox diehards.
Paul Acevedo is the Games Editor at Windows Central. A lifelong gamer, he has written about videogames for over 15 years and reviewed over 350 games for our site. Follow him on Twitter @PaulRAcevedo. Don't hate. Appreciate!