Contest Results - What mobile games would our readers like to see ported to Windows Phone?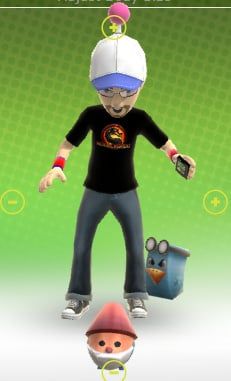 Last weekend, we asked our readers what mobile games they would like to see ported to Windows Phone as Xbox Live titles. To make things exciting, we promised to award Beards & Beaks avatar prop codes to the nine most convincing and/or interesting entries. After pouring over the overwhelming number of entries in the contest forum thread, we have chosen nine winners.
Head past the jump for the full contest results!
Here are the winning entries with my commentary. Click on the winners' usernames to view their original forum posts. Our thanks go out to everyone who participated and especially Microsoft for providing the avatar prop codes.
Winner #1: UVSoaked
Game: Audiosurf: Tilt by AudioSurf, LLC
AudioSurf is a racing game that uses players' music tracks to create unique levels. It's a simple and fun way to enjoy your music. The Zune HD version is the only portable version so far, but it should be easy to bring to Windows Phone as well.
Winner #2: Fierywater
Game: Peggle by PopCap Games
Peggle is a huge hit on multiple platforms. PopCap has graced us with Bejeweled LIVE and Plants vs. Zombies already, so let's hope Peggle isn't far behind.
Winner#3: IamVortigaunt
Game: Words with Friends by Zynga
Sure, WP7 already has several fully-featured multiplayer crossword games. But Words with Friends is far and away the most popular game of its type on iPhone, Android, and Facebook. One key reason is that all three versions support cross-platform multiplayer. That feature would be unprecedented in an Xbox Live title, but even an indie version would suffice. More Zynga games like Farmville and Hanging with Friends would be great too!
Winner #4: jdelroyc
Game: Grand Theft Auto: Chinatown Wars by Rockstar Games
Not every mobile game needs to be a casual title. Chinatown Wars was originally a retail DS and PSP game before arriving on iPhone, so it packs a lot of content. It's a gritty, mature experience that no serious Windows Phone gamer could resist.
Winner #5: !JClean
Game: Tiny Wings by Andreas Illiger
A beautiful and unique game about a bird that needs hills to get up into the air. The levels are procedurally generated, so they look different every time you play – but always lovely.
Winner #6: Se1fcr3ation
Let's face it; Windows Phone needs RPGs in the worst way. The Zenonia series consists of three action-RPGs (similar to Zelda). They're incredibly long, fun, and easy on the eyes. Gamevil could test the WP7 waters with the first game and bring over the sequels when it does well.
Winner #7: Whitneyjj
Game: Chaos Rings by Square Enix
We've covered action-RPGs; now let's move on to traditional Japanese RPGs. Chaos Rings originated as an iPhone exclusive, but it would handsomely fill a niche on Windows Phone. Square Enix is the Japanese publisher that Microsoft most needs to get onboard for WP7 development. Chaos Rings is just the tip of the iceberg in Squeenix's impressive mobile library.
Winner #8: Freedmania
Game: Resident Evil 4 by Capcom
Capcom apparently has a few simpler Xbox Live titles in the works (Where's Waldo, Who Wants to be a Millionaire), but WP7 gamers are hungry for their real games. The mobile version of Resident Evil 4 received several votes, but Street Fighter IV wasn't far behind.
Winner #9: Litepink
Game: The Texting of the Bread by ScrewAttack
If you can get past its utterly atrocious looks, Texting of the Bread is a clever game in which gamers use the phone's touchscreen keyboard to type words and defeat enemies. Anybody who likes texting (i.e. practically everybody) can have a blast with it. If Microsoft picks this up, maybe they could put someone who knows how to draw in charge of the art.
Runner-up: Gerrymad
Game: Cut the Rope by Chillingo
Cut the Rope is being touted by folks in the know as the successor to Angry Birds. It's got simple, appealing gameplay and looks as well as a huge variety of levels.
How many nominations did each game get?
Most of the winners received multiple nominations or recommendations, though we chose Texting of the Bread because it was so unique and Chaos Rings for its high production values.
Now that we've revealed the winning games, let's get statistical and see how many times each game was suggested. Besides the more popular titles, readers nominated numerous RPGs and Gameloft games. These are two holes in the Xbox Live lineup that need to be filled. Gameloft has actually dipped into the Windows Phone waters a bit already, but they haven't ported any of their big hits like Nova or Order & Chaos Online yet. We also saw a few EA game nominations. As a reader pointed out, EA sadly seems to have abandoned WP7 since releasing a few glitchy titles at launch.
Peggle: 7
Words with Friends: 6
Grand Theft Auto: Chinatown Wars: 5
Audiosurf: Tilt: 4
Cut the Rope: 4
Tiny Wings: 3
Infinity Blade: 3
Resident Evil 4: 3
Superbrothers: Sword & Sorcery EP: 2
Order & Chaos Online: 2
Zenonia 3: 2
Nova 2: 2
Street Fighter IV: 2
Worms 2: Armageddon: 2
Final Fantasy I/II/III: 2
Hanging with Friends: 2
Chaos Rings: 1
Madden NFL: 1
Doctor Who: The Mazes of Time: 1
Dungeon Hunter 2: 1
Battleheart: 1
Rage: 1
Risk: 1
AirAttack: 1
NBA Jam: 1
Panzer General: 1
Dead Space: 1
Silent Hill: 1
Modern Combat 2: Black Pegasus: 1
Paper Toss: 1
Metal Gear Solid Touch: 1
Phantasy Star II: 1
Expedition: Amazon: 1
Blokus: 1
Scrabble: 1
NinJump: 1
Real Racing GTI: 1
Angry Birds Rio/Seasons: 1
Super Stickman Golf: 1
Sid Meier's Civilization Revolution: 1
World of Goo: 1
Orions: Legend of Wizards: 1
Army of Darkness Defense: 1
The Lord of the Rings: Middle Earth Defense: 1
Bejeweled Blitz: 1
Texting of the Bread: 1
Crystal Defenders: 1
Ascension: Chronicle of the Godslayer: 1
Adrenaline Pool: 1
Aqua Pets: 1
Bebbled: 1
DJ Hero: 1
Ragdoll Blaster: 1
Syberia 1 & 2 (Windows Mobile): 1
Live Hold'em Poker Pro (Android): 1
Zuma Mobile (Mobile): 1
Get the Windows Central Newsletter
All the latest news, reviews, and guides for Windows and Xbox diehards.
Paul Acevedo is the Games Editor at Windows Central. A lifelong gamer, he has written about videogames for over 15 years and reviewed over 350 games for our site. Follow him on Twitter @PaulRAcevedo. Don't hate. Appreciate!