WPCentral Contest: What mobile game would you like ported to Windows Phone?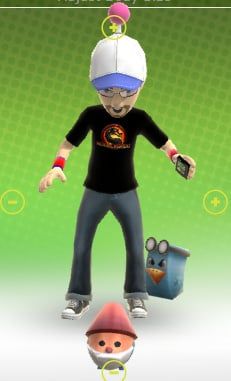 We want to know what games you'd like to see ported from another mobile OS to Windows Phone, and we're giving away Xbox Live Avatar props for your trouble. To enter, visit this forum thread and tell us the following:
What one game would you most like to see ported from another mobile OS to Windows Phone as an Xbox Live title, and why? Remember, we're only asking about games that are already available on other cell phones – not console games. Try to name the developer as well. You only get one entry, so make it count.
We will choose the nine most interesting and/or convincing responses and give their writers a redeemable code for a Beards and Beaks Avatar prop that can't be purchased on the Marketplace. This contest is open to readers from any nation, but we can't guarantee the codes will work outside of the US. It's the journey that matters, not the destination! Entries must be received by 10 AM PST on Tuesday, July 26.
Head past the break for additional contest details and free cookies!
Here's an example entry from yours truly:
See how easy that was?
Allow me to explain the occasion for this particular challenge. We've seen some high-quality Windows Phone-exclusive games come to Xbox Live recently with Beards and Beaks from Microsoft Game Studios and Tentaclesfrom Press Play. As Microsoft's mobile platform gains market share, more and more such exclusives will follow. But those aren't the only measure of the platform's popularity. There's also the matter of games that are available on other mobile platforms but haven't made their way to Windows Phone yet. After all, it's a lot harder to give up an iPhone and make the switch to Windows Phone if your favorite games don't exist on the latter.
The 6 Weeks of Must Have Games Promotion loosened the pressure on that valve about a month ago, bringing Doodle Jump, Angry Birds, and my favorite –Plants vs. Zombies to Xbox Live. But many established games yet remain to be ported, not to mention the new games that come to iOS and uh… Android every day. Will those games ever cross the bridge to Metro Town? That burning question fuels this weekend's contest.
*Sorry, we ran out of free cookies.
Paul Acevedo is the Games Editor at Windows Central. A lifelong gamer, he has written about videogames for over 15 years and reviewed over 350 games for our site. Follow him on Twitter @PaulRAcevedo. Don't hate. Appreciate!
I'd like to see NinJump from Backflip Studios ported to Windows Phone. I don't see much of what comes out on iOS, but I have seen this game a couple times running on iPads displayed at a chain electronics store. The graphical style is appealing and the fast pace and simple game mechanics would fit in great on the superior hardware on Windows Phone devices. I'd buy it the day it was made available.

I'd like to see Cut the Rope. It's a great simple game that I can play when I have a few minutes to kill. My 7 year old son can play it as well. It is a simple concept,but it also requires thinking ahead to figure out what steps will be needed to attain the desired result. These types of games are great for kids and adults.

I would love to see "Touch Grind BMX" from iOS on the WP7.I was playing this the other day of my friends iPhone 4 and it was really good!

Apart from all the Mario games, i want Civilization 4 ported.RTS games are obviously not possible on small screens (hence my dreams of Dawn of War on a phone are just dreams), but turn-by-turn strategy games, that give you enough time to execute your napoleonic strategies, should be achievable. Even if only in a limited fashion.And Civilization, up until number 5, is the best tbt strategy series.

For those casual gamers, I'd like to see the Zynga games ported to WP7 as well as tiny Tower. For me personally, I'd like to see Limbo and some more XBox live titles ported over with the ability to resume playing on either the phone, computer, or XBox. It would be a distinct advantage over the other platforms. On another note, I'd like to see a chassis 3 design with standard controls that would mimic the XBox controller ala the Xperia play, but any manufacturer could make it. I'd make a standard for controls so third parties could make or license an accessory of a snap on controller that could either plig into the micro USB port or connect to the phone with Bluetooth and give physical XBox controls to any of the phones. It could then connect to any XBox system and function as a controller and give the user a HUD like experience. From here there are a thousand different uses for that kind of Kinnectivity.

I would love to see some Zynga games on WP7! Especially Words with Friends! I practically go on their Facebook page everyday and ask if we are getting it! I had it on my Evo and after the switch everyone was asking what happened to me! The game is very addicting and everyone is on it! I would mean a great deal to us WP7 users because it would mark the comparison between Android and iOS (because they can already play each other). Hopefully this becomes reality!!

well we all got words by post now

Id like to see a tower defense game from iOS called Tower Madness. Out of all the tower defense games I've played it was the best, and is currently the only reason I miss my old iPhone after the transition to windows phone.

I would like to see a Halo Wars conversion for Windows Phone. With the right interface it could be very user friendly and a blast to play.

Halo Wars converted into a turn-based strategy game would be perfect.

I would like to see my three favourite games. 1- GTI Racing ( would be perfect for xbox live online multiplayer for mango.( maybe race up to 6 people online on xox live. 2- Adrenaline Pool ( play online with people when am bored- great for xbox live game) 3- Eliminate Pro- Great first person shooter game ( great for xbox live online for mango)

This is not a mobile OS game....but would LOVE to see this get ported as an exclusive Live game !!!http://neverball.org/screenshots.phpAmazing fun gameplay.....and the graphics are fantastic!!(free for the PC/Mac/Linux by the way).Even their NeverPutt would be cool !!

I would like to see Peggle ported to Windows Phone 7, although I wonder if it would be a good idea. After all, once Peggle came out for Windows Phone 7, there would be no need for any other games. Or apps, for that matter. All we would need is Peggle.Our days would consist of nothing but destroying blue and orange pegs until we came to model our civilization after Peggle, determining our leaders not by a vote but by the points they could achieve in one shot.Gigantic golden idols of the Peggle monsters would be built in every major city, with each city choosing one as a patron saint, until their differences led to a great war, ending humanity once and for all.That said, I still want Peggle on Windows Phone 7.

I often steal my GFs iPhone so I can play Tiny Wings.

Battle Heart- http://www.youtube.com/watch?v=yoY9H1jafqwWe need RPGS and this one has unique game play, looks awesome and really fun. If this can run on android it should fly on wp.

Wow, so many games I'd like to see on windows phnoe market!!1. Limbo from XBL2. The Dishwasher from XBL3. Cut The Rope from iOS4. 9 innings from iOS5. Assansins Creed II from iOS6. Dead Rising from iOS7. Driver from iOS8. Flick Kick Field Goal from iOS8. Paper toss from iOS "windows version sucks"9. Geared 1 & 2 from iOS10. Implode! from iOS11. Lets Golf from iOS12. N.O.V.A 1 & 2 from iOS "port it over as HALO"13. Street Fighter IV from iOS14. Spyder: The Secret of Bryce Manor from iOSTheres a lot more, I just wrote down the ones I'd but buy instantly without downloading the trial version first :D

Oh, one more game that cant be forgotten... TINY WINGS!!!!!!

Any Tiger Woods game would do.

In the meantime, check out Tiger's Wood, a movie.

I'd like to see the first three final fantasy's that were ported to iOS!!!

Well this is not a port... but this is a multiplayer game that I would like to see made into a game, it was an old board game called Twixt. The object is to build an unbroken barrier from one side to the other, while your opponent is trying to do the same going cross ways to you. Here is a much better discription if any dev would like to take a shot at it. http://en.wikipedia.org/wiki/TwixT

I can't believe it hasn't been mentioned yet, but I want to see Splosion Man (and eventually the new Ms. Splosion Man) brought over from XBLA. I think the simplistic control scheme could translate very well to WP7

I would love to see any of the lego games ported to WP&. In particular, the Lego Star wars and Lego Indiana Jones would be great games because they are not super intense meaning you can play for minutes or hours, they have a lot of detail, and a lot or replay value. I would also LOVE to see the Lego Racing games ported for similar reasons.Also I would love to see the Myst games ported. They already ported one to iOS, but I feel WP7 would be perfect for a point and click throwback

Ready for this?Bubble Breaker.Why MS didn't include it (or even solitaire) with WP7 is beyond me.Bubble Breaker is so simple and yet MS completely neglected it. It was one of those defining features of MS's mobile OS's and they ignore it, like just about every other defining feature that made WinMo WinMo.So yes, I want to see both Bubble Breaker and Solitaire available for free from MS, or even better, included with Mango. Bubble Breaker can be kept the same, but Solitaire just needs the addition of high scores.

Another vote for Zynga games, you have to target a mainstream audience!

Phantasy Star Online. The original Dreamcast title, with absolutely not a single thing added. Plain old lobby, four levels and a boss.

I haven't got a WP7 phone, so I'll drop my wish here rather than the contest thread.I'd love to see Fantastic Contraption and Fantastic Contraption 2 come to WP7. The games are super addictive with simple controls that would easily port over to a touch screen.

I bought an Ipod touch just to play this two games that I love. Words with friends and NinJump... NinJump so cool... I'm tired of the same games based on angry birds. Plus I find angry birds boring already.

Awe, i wanted the cookies

Scott Pilgrim - The Game, Bastion and Excitebike (from nintendo)..:-P

audiosurf tilt and forza from the ZUne and the zynga games would be nice too

Chrono Trigger! Definitely...

I would like to see Trials HD ported, i think the physics in the game combined with the phones accelerometer could be really good and good way to kill time.

I would love to see Superbrothers Sword & Sworcery for iOS ported to Windows Phone 7. I have played most of the game on my old iPhone, but would jump on the chance to play it again. S:S&S is a very unique adventure game in almost every aspect.Visually the game has a beautiful 8-bit styling and amazing lighting and particle effects. The gameplay interweaves several genres from exploration, puzzle solving, and combat. The music is my personal favorite aspects of the game and often plays a major role in the puzzle solving aspects.I do not see Superbrothers leaving Apples side anytime soon, but this game in perticular needs to be played, and experienced, by everyone.

I would love to see Fable 3 and Dragon Age 2 available to WP7. I think it's time to think outside the box and create an excellent RPG for WP7 that simply works. I'm imagining a Dragon Age for WP7 where I can tap the screen menu to use my skills. Tap to change player control. Tap to upgrade my weaponry and armor.OMG Im about to pass out I'm so excited.

Am I the only sports lover? Can we get some type of Madden? NBA 2k? I had Tiger Woods golf on my Windows Mobile 6.0 Touch Pro way back when! Is soccer, air hockey and tossing paper in a basket all we're gonna get? Come on EA! Come on Microsoft! Enough with all the nerdy games!

+1 for NBA and also wordfeud!

I would love to get Cat Physics on Windows Phone 7. Its currently on IOS but it is a great time waster game IMO.

I don't just want, i need Bezombied by Luna games. I spent countless hours playing it on my android (it's the only thing I miss about my droid)phone. It's basically a new spin on bejeweled where you have to make zombie bodies to clear the stage...I don't do it justice in words. Even having bejeweled on my phone isn't enough...I prefer the game mechanics of Bezombied. I even went as far a messaging the developer-to no response.

I can't believe all Luma has released on WP7 is a stupid toilet paper simulator. Then again, the quality (or lack thereof) of their website is also hard to believe.

Wp7 is really lacking on rpg games so I think bringing in something like mapletheif(maple story app) from iOS would be a really good addition. Also words with friend would be a sweet addition as well. although wp7 already has games similar to this, this one is well known, works very well, and is very popular. plus it has great replay-ablility so even if someone has already payed and played the app on there current phone theyll still be willing to pay for it again when the switch over to a wp7.a couple of other good games to bring over would be:-farm frenzy-ninja jump-we doodle-pictureka

BackStab iOS from Gameloft. Why ?? Play this movie http://www.youtube.com/watch?v=tLSNuU1Im_g&feature=player_embedded

ANY RPG games.. wp7 has Zero real rpg ,, all dumb puzzel RPG.Port over : Zenomiaas logn as its not an other puzzel game .. ...

I'd like to see MS stop being a follower and start producing games that make other platforms less desirable and WP7 the go-to platform for games. Do people really want to replay old games they've completed on other platforms? MS has a whole games studio that has published games like Gears of War, Halo, Crackdown, Too Human, Forza, Project Gotham Racing, and all people want is ports of iphone games? Might as well have bought an iphone then.

I'd enjoy some military games, in particular, Panzer General. I think it would be easy (it's an old game) and I think it would translate well to the platform.Something else I think would be great would be a "mobilized" version of Civilization V. If the maps were shrunk in size a bit, I think it would work and be fun.

I would like to see Tank Hero on Android ported to Windows Phone. It's such a fun and addictive game and would play and look great on the WP7 powerful phones.

I would absolutely love to see battlehearts from iOS. That game is just amazing! As well as cut the rope :D

I would love to see hanging with friends or any of the zynga games ported over to the windows phone.

Oh god, Temple Run.
Period.

The EPIC game of Disney.
Where's My Water!

Windows Central Newsletter
Thank you for signing up to Windows Central. You will receive a verification email shortly.
There was a problem. Please refresh the page and try again.