Hydro Thunder Go coming on May 25. Full 6 Weeks of Must-Have Games schedule revealed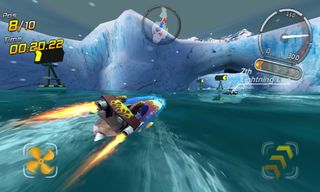 Windows Phone gamers have been anxiously awaiting the start of the 6 Weeks of Must Have Games promotion. It was initially thought to begin in April, but then we learned it had been pushed back to an unspecified date. Shortly thereafter at MIX 2011, Joe Belfiore announced that Angry Birds would come out on May 25, so everyone assumed that the Must-haves would roll out then.
As it turns out, May 25 does indeed mark the start of the 6 Weeks of Must Have Games. But Angry Birds won't be next week's Xbox Live release after all. Instead, that honor goes to Hydro Thunder Go, the only Windows Phone-exclusive title in the Must-Have lineup. Leading with the strongest title is a smart idea, as Hydro Thunder Go has some great buzz surrounding it. Hydro Thunder Go will launch on May 25 at the very fair price of $4.99.
But that's not all! We've got the full Xbox Live release schedule for the next 6 weeks, including prices and screenshots. Head past the jump for the exciting details.
Hydro Thunder Go – May 25, $4.99
Doodle Jump – June 1, $2.99
geoDefense – June 8, $2.99
Sonic the Hedgehog 4: Episode I – June 15, $6.99
Plants vs Zombies – June 22, $4.99
Angry Birds – June 29, $2.99
The prices are pretty much as expected on these games. Sonic 4 is the most expensive of the bunch, but previous high-profile console ports have been $6.99 too (see I Love Katamari and Pac-Man Championship Edition DX). At any rate, Xbox Live fans have plenty to look forward to in the month of June.
Windows Central Newsletter
Get the best of Windows Central in in your inbox, every day!
Paul Acevedo is the Games Editor at Windows Central. A lifelong gamer, he has written about videogames for over 15 years and reviewed over 350 games for our site. Follow him on Twitter @PaulRAcevedo. Don't hate. Appreciate!
Where is majesty? All of these old rehashed ports are very disappointing. I expected something new and original with this promotion and the only port i want is absent...

What port is that? If your like me, then it's Cut the Rope. I freaking love that game.

The port i wanted is majesty. Easily one of the best mobile games out there.

Is Majesty actually coming to WP7 or are you just wishing for it?

When first announced they said it was coming to iOS, Android and WP7.Then they just got silent. Besides this quote from feb."Already available for Android (including high-resolution screens), coming soon to Java, Blackberry (yes, there will be keyboard ports also). And later this year we expect to finish it for a bunch of native platforms."

Thanks for mentioning it. I tried to email them but it keeps bouncing back... Silly developers with their crummy email server.

I'm actually looking forward to a couple of these games so I wouldn't consider the lineup disappointing. As far as "old rehashed ports", you gotta admit this is better the classic arcade games that came out for the past couple of weeks (lunar lander, pitfall, etc).

It is better but its just like i said, old rehashed ports. WP7 is new how many WP7 users just came from a platform with all these games already hoping for something new and unique.We got the harvest, katamari and some great games unique to WP7 early on then NOTHING. 1200 angry bird clones later the big may promotion turns out to be nothing special. With the exception of hydro thunder/sonic these are all games i was sick last year...

in order to crush the competition we have to get the competitors games and more.

You dont crush the competition by getting what they have had for years now you crush them by getting better things unique to your platform.

I am glad all of you are so content with these ancient ports being the long talked about may promotional games.

And people will start whining about "high" prices in 3... 2... 1... go!

Why the heck is Angry Birds $2.99? It's only $0.99 on iOS.

Because Rovio knows that despite being $2 more, everyone who wants it will gladly pay for it.

Just to clarify, prices are set by Microsoft, not the developer. For better or worse, $2.99 is the cheapest price point for Xbox Live games unless they are Deals of the Week.

It'd be cool if i could play this on a Verizon HTC Trophy...

You read my mind good sir! haha

So what's going to make it to Windows Phone first, Verizon or Angry Birds?

Hoping for more original and ambitious games to be announced at the MS E3 presser on 6/6. Not expecting, but hoping ...

"And will Hydro Thunder have any multiplayer?" he asked, already dreading the answer.

We should have a more concrete answer to that later today.

Interesting set of games, just wish they were not so expensive

Wasn't Angry Birds supposed to be launched on May 25th?

That is addressed in the article. :)

Ah, that's what I get for taking a quick peak at the article at work lol.

I will not fork over $3 to play Angry Birds! Only game I will get is Sonic and Plants vs. Zombies and of course Hydro Thunder! I hate sounding like a negative Ned but I can't justify the price of these apps! It is just ridiculous! Like someone said Rovio will get away with it because of its popularity! I reserved the Evo 3D today and will be putting my Arrive on the shelf until mango. =[ Sorry WP7 community! Go ahead mark me down and bash me!

I won't mark you down or bash you. I am sorry you feel that your WP7 device is not worth the money you've spent, but Mango won't change the price of these games. If the prices are too high, I would recommend you do what I do: Wait for a Deal of the Week sale.

I agree! While mango will not change the price it will change everything else!! Thanks for not bashing, but I am tired of everything saying "until mango". I will be switching between both phones and love my WP7 and will keep on paying for Zune. It has a lot of potential, the potential just isn't here yet! I will always stay updated and keep up with news! I am part of this growing community and this OS will go far!!EDIT: Yes, mark me down for praising Windows Phone 7! lol

Manga will improved so many things that is almost become mythical. so we treat it like it will solve all our problems.

geoDefense and Angry Birds for sure

Why don't Microsoft allow gamers to use Microsoft points to buy these games? I don't see why they wont offer discounts too if you own the game on your xbox account.

Totally agree we should be able to use MSP to purchase these games. Maybe one day eh? OT: Shame the 3 I'm most looking forward too are the last 3 in the list, but at least we have confirmation! Definitely will be Day 1 purchases for all of these games for me. :)

Achievements on the go, if I can save some pennies up I will be there too!

Will this game be coming out on a different date for the UK? it's been the 25th for 10 hours now, and I still don't see the game. Oregon Trail was supposed to come out 5 months ago or something, and was infact announced on the Live Spotlight, but never showed up. could this happen with Hydro Thunder Go as well?

never play angry bird.......once. Want to play lolzzzzzzzzzzzzzzzzz
Windows Central Newsletter
Thank you for signing up to Windows Central. You will receive a verification email shortly.
There was a problem. Please refresh the page and try again.