Runtastic Pro is currently free on the Windows Store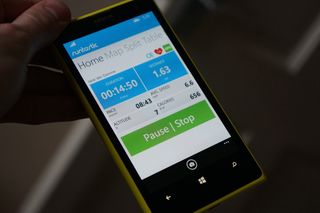 If you're looking for a great way to hold yourself to that new running goal you just set, you'll want to check out Runtastic Pro in the Windows Store, as it is currently free. The app, which is normally $5, offers a number of features to help make it easier to track how far and how fast you went. Some of the features of Runtastic Pro include:
Track activities & view your routes utilizing GPS: Records duration, distance, calories burned, speed, elevation change and more stats
Manual entry of workouts: Add treadmill, strength training & other indoor workouts
Runtastic Routes: Flag one of thousands of routes on Runtastic.com and sync it automatically with your smartphone
Share routes via NFC from phone to phone
LIVE Tracking: Show family & friends your position in real time when out for a run or ride
LIVE Cheering: Get cheered on by friends for additional motivation during your LIVE activities & up the fun factor
If you are looking for something to track your progress, and help you in keeping your new goals, be sure to grab Runtastic Pro while it's free.
Download Runtastic Pro from the Windows Store
Thanks for the tip, Ravikiran!
Windows Central Newsletter
Get the best of Windows Central in your inbox, every day!
Jared started off writing about mobile phones back when BlackBerry ruled the market, and Windows Mobile was kinda cool. Now, with a family, mortgage and other responsibilities he has no choice but to look for the best deals, and he's here to share them with you.
What a deal! Thanks for the heads up, Jared!

Yes, thanks. Anyone that doesn't have this app, get it now. They need to know we exist. I'm grateful for it as Nike ignored us for so long I had something to switch to.

I used this app religiously, but sadly have stopped because there's no MS Band integration. Pity. It's a great app.

I'm facing this dilemma now that I have a Band.

I also have this issue. I love to use Runtastic so I currently use both (I deactivate Bluetooth, and activate the gps on the band and have both log my run.

What's the dilemma. If you have band then use Microsoft Health.

I've got three years of data in Runtastic. I'll be using the band in future though, it's just frustrating as MS Health isn't as good at displaying data as Runtastic.

Can I suggest Strava? Syncs with the band and you can also export your run data from Runtastic and import it into the Strava database. There is no official windows phone app yet, but there is an unofficial one that works well ☺

Can you please provide the link for the strava app? I use cyclers...

Try using striver, it syncs with strava.

Thanks for the suggestion!
I just submitted a request within the Runtastic app to work with MS on this, but I will look up this app and consider it amongst others for my new running companion. Edit: Runtastic replied with an email saying that the response is taking longer than usual. They would like me to download the Runtastic Results app in the meantime. Though my email mentioned the Microsoft Band and Windows 10 mobile, this suggested app is only available for iOS and android.

Thanks a lot for the tip!

A good way to start the new year on the right foot..

Of course ... I won it last week at MS' Upgrade for Friends so it had to become free

Um...What's MS upgrade for friends...?

You upgrade a Desktop PC, Tablet or Notebook to Windows 10 and register the device with your account via the Upgrade Windows App. The more devices you register, the more chances you have for winning things from Pro App, App Store Gift Cards up to Surface Devices and Lumias. I do not know if it is available everywhere in the world or just in Europe, I received an invitation from Gabriel Aul that encouraged insiders to participate.

Already own this. My go to running app. 5 stars for me!

My GPS has been so bad on 950xL with this app

nice deal, never use it, probably never will but I will still download it just in case.

At last...link provided. Pfft. Keep up the good job guys!

I downloaded immediately when I saw free LOL

Lol. Me too. I don't own a wearable. But plan to own a fitness tracker in the future.

You really don't need to have a wearable to utilize the app. If you have a Windows Phone, or any smart phone for that matter, the app will utilize the GPS capability, and other sensors, to track running, jogging, walking, cycling, etc stats and display those stats.

Thanks dude. But I'd rather not carry a phone while running. The wearable can sync that to the phone after I have completed my exercise.

Can runtastic tell the mean times (for each kilometer) and total time via speech while running?

For me, each time I start an activity, it'll prompt if I want to enable Live (track?). If I accept, it'll voice announce the number of miles covered and total duration time at every mile. I haven't found a way to get it to announce the average, but I can easily calculate it in my head anyway. The voice announcement works even if you're playing music.

To clarify, average pace is one of the many stats the app collects and display during an activity, I just haven't seen a way to get it to voice announce Averages during the activity, just total distance/time as I explained in my earlier reply.

Did you check settings-voice settings parameters in the app. There were options for pace, calories, speed as well

I've used this app for three years. It's a very good deal for free.

Runtastic updated their Six Pack app to UWA status recently. When will this and their others apps be updated? Yay free for those who haven't bought it but, lets get a real update happening. Fitbit is making every other fitness app maker look pitiful. It's infuriating that Sit Ups Pro worked flawlessly (sans occasional miscount) but, won't even install on my 950 XL. Thank you Fitbit for caring about your customers.

Quick, a wild "Download app" link appeared! Throw your Pokéball to catch it.

Ha-ha Posted via the Windows Central App for Nexus 5x

Exciting times for Windows10 Mobile eh ?.
Frustrating times waiting waiting and,well,waiting for it though !
It's the Big Tease. Its surely going to be worth it . Get the rabbit out of the bag ready for Easter.

Perfect timing, going to need it especially after the large roast turkey - new years dinner I just had lol!

Thanks Jared for publishing my tip ☺

I thought this app has integration with MS Health app. i guess i will move to RunKeeper.

Awesome app today I just installed it on my phone and loving it

Probably loaded with IAP.


Try this Steps Pedometer & Steps Counter Track Walk! https://www.microsoft.com/en-us/store/apps/steps-pedometer-steps-counter...

will it work with inbuilt motion sensor or band is required??? in windows 10 preview 10586, Lumia 638.