Samsung ATIV S available for pre-order at Clove UK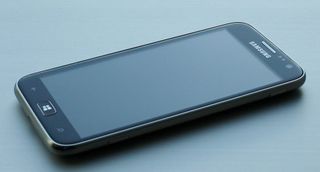 UK retailer Clove has announced on its official blog the listing of the upcoming Samsung ATIV S. The Windows Phone is now ready to pre-order for £442.80, including VAT. Samsung unveiled the Apollo smartphone at the company's presentation at IFA 2012 in Berlin. Featuring a metallic hairline finish, as well as a minimal deisgn, the ATIV S is a unique device being only 8.7mm thick.
The beast of a handset sports a 4.8" S-AMOLED display (720x1280), dual-core 1.5 CPU, 16GB (plus expandable SD support up to 32GB), 1GB RAM, 8MP camera (1.9MP FFC), 2300mAh battery and comes with NFC and DLNA support.
An interesting point is presented in the description:
We're closely approaching the launch of Windows Phone 8, with events in San Francisco and London that are set to unveil the magic.
Source: Clove UK (opens in new tab)
Windows Central Newsletter
Get the best of Windows Central in in your inbox, every day!
Rich Edmonds was formerly a Senior Editor of PC hardware at Windows Central, covering everything related to PC components and NAS. He's been involved in technology for more than a decade and knows a thing or two about the magic inside a PC chassis. You can follow him on Twitter at @RichEdmonds.
Why is everyone so down on the Ativ S? It has more storage, battery capacity and screen real-estate than our beloved 920...

battery capacity should not be seen out-of-context. the ativ's screen is a power hog. the super amoled technlogy consumes 3 times as much energy as an lcd on bright colors. Since most websites have white backgrounds it is the most unsuitable screen for web surfing. my omnia 7 had the same screen technology. i don't mind about the pentile arrangement but try doing some web surfing and the battery runs low very fast. So 2300 mAh sounds impressive but trust me it is NOT enough. The ONLY thing i like about this phone is the size of the screen (4.8 versus 4.5 of the lumia 920). PLEASE PLEASE Nokia build a Lumia phablet! please :)

Actually, a Nokia would be a runaway choice for me if they'd just increase the screen size. I'm used to the screen real estate that a Titan offers and will have a hard time with downsizing :(

Techiedude

I agree. Love my Titan. I'm hoping 4.7 to 4.5 won't be too bad, because I'm liking the 920.

And it's much thinner and lighter. I suspect bad blood between Samsung and WPCentral staff. :)

I currently have a Focus S and have tried out a friend's Galaxy S III briefly. It's a nice form factor. I need to hold a 920 in my hand and compare before making a decision. That is, if I even upgrade to one of these first-gen WP8 devices at all...

People just love to take sides and throw rocks. So far I'm torn between the Ativ and the 920. My last three phones have been Samsungs and I have loved each of them (well, maybe the android one a little less hehe). However, I'm finding it hard to look past the support provided by Nokia. But I have to admit, so many good choices is nice for WP.

I think its due to Samsungs lack of actually promoting their phone or WP8 in anyway shape or form where as Nokia and HTC have both actually given their phones more then 30 seconds of face time. If they start to build up some awareness for it other then what it gets on tech websites that don't reach 95 percent of the target audience I think feelings will change, also if they start developing some exclusive apps of their own much like Nokia did I think that perception will change.

Why people still love iPhone 5 despite so?

More storage?!
It says "16GB up to 32GB"
The Lumia 920 has 32GB of internal storage, so how would the Ativ have more storage than the 920?

This model sports 16GB internal storage, with the optional SD support for a boost up to 32GB. So, 50GB maximum according to Samsung. I've updated the article to clearly reflect this.

it support 64GB micro sd. not 32gb

This phone should do well just like the HTCs.... Their advantage is more than one carrier..

"While there are not necessarily hardware features included with the Ativ S that will make it stand out from its Android competitors, its compatibility with the desktop version of Windows 8 gives it a different kind of sparkle to the range of smartphones that are already out there."

I have to agree that the above is very interesting, indeed. I don't think I've seen such an honest description of a product like Clove UK just published for the ATIV S. They're pretty much saying "Yeah, it's more of the same, but it has a different OS in case you're tired of Android!"


That 32 gb of sd card doesn't sound right I check the web http://www.samsung.com/global/ativ/ativ_s.html and it said in print that support Micro SDXC that will support 32 and 64 sd card

The upper version of ATIV-S sport an internal 32Go memory space and accept a 64 Go SD card. This is not the case for the lower version proposed by clove, this one have 16Go internal storage and accept a 32Go SD card.
Windows Central Newsletter
Thank you for signing up to Windows Central. You will receive a verification email shortly.
There was a problem. Please refresh the page and try again.