Samsung ATIV S gets priced for Russian market, available this coming February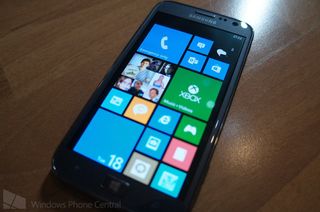 The Samsung ATIV S, the company's flagship Windows Phone has been priced for Russia. According to Mail.ru, the Windows Phone will be available in the first week of February for 24.990 rubles (approximately $830). It's an aggressive price to battle against the Lumia 920, but offers an SD slot and a slimmer design / build, which many consumers may prefer.
As a small reminder on what the ATIVS sports, we're looking at a dual-core Snapdragon 1.5GHz chip, 1GB RAM, 16 / 32GB storage (with SD support, 8MP rear shooter (with FFC), and a 2300mAh battery. It's a well-built device and runs Windows Phone without any issues. We've previously taken the ATIV S for a spin, be sure to check out our coverage.
As well as the Lumia 920 and ATIV S, Russia will also be experiencing Huawei hardware with the Ascend W1 launching soon. With a planned release of February, the Ascend W1 is the cheapest option of the trio with a price tag of just 11.990 rubles ($400). Huawei matches Samsung and Nokia in the 4-inch display region, with a 2000mAh battery and dual-core CPU.
Source: Mail.ru, via: WP7forum.ru; thanks, Denis and Freddie, for the heads up!
Rich Edmonds is Senior Editor of PC hardware at Windows Central, covering everything related to PC components and NAS. He's been involved in technology for more than a decade and knows a thing or two about the magic inside a PC chassis. You can follow him over on Twitter at @RichEdmonds.
Any news on when/if this comes to US?

Dear WPCentral, when can we see the review for the Ativ S?

There's a link right to it in the "View Links" area if you're using the WpCentral app. Don't know about the website.

I would love to see this in the states preferably on atnt or big red

Idk lol I'm only speaking for myself. People seem to be brand fanatics lately and while I am a Nokia fan it seems people think I can't like different flavors. So that's my response to that

Really... stop with the s3 looks.. I've got a s3 and don't find it the most attractive phone T_T

$830 is not a great price for an outright mobile...

It's already more expensive than a brand-new, unlocked, iPhone 5... I went to Russia last year and the Lumia 800's & 900's were around $600-700 which was the same as most other markets. $830 seems around $100-200 too much

For Russian market, it is. IPhone is usually priced in lower $1000s in Russia.

The 16GB Galaxy SIII is selling for $US660 on megafon... So $830 is way too high

$830? Good luck with that when you can get the Lumia 920 for $450 from AT&T and even cheaper off eBay.

Things tend to cost a bit more in other countries outside the U.S.

$830 is relatively cheap for a smartphone overseas.

The 920 is around $700-750 in most places. You're forgetting that you guys get pounded on contract rates, whereas most other countries have competitive pre-paid / pay-as-you-go so they expect more for the hardware. I currently pay $20/month and it's usually more than I need (including data)

I heard from recent news, Samsung ATIV S will be officially available in Taiwan on February 1st. I've been waiting long enough for that, it'd better be real!!

When I boycotted any Windows phone after my bad experience with WinMobile 6.1, I gave WP another chance after reading up on WP8. If I was to go back, I wanted a power house. Once I got my hands on the ATIV S, I was/am not disappointed!

Ordered mine off eBay unlocked....what a great phone.
Can't wait for us carrier to pick it up in 2015!!!

I couldn't wait any longer, got myself an HTC 8X! Love it!

Knowing Russian market, Samsung doesn't stand a chance against Nokia. Nokia has been dominant in Russian for a very long time.

Is there an unlocked LTE version that will work on ATT spectrum? The Rogers phone, from what I read was only 3g. If so, where can we find it for US?

the phone is LTE, no matter which carrier has it. it just matters if the frequencies are compatible.

Everything I'm seeing is HSPA which is not LTE. Am I missing something here?

EBay, look for a company out of Houston, he has them. 670.00 unlocked brand new. Here is the
seller: never-msrp
Windows Central Newsletter
Thank you for signing up to Windows Central. You will receive a verification email shortly.
There was a problem. Please refresh the page and try again.