Samsung ATIV S product page live on TELUS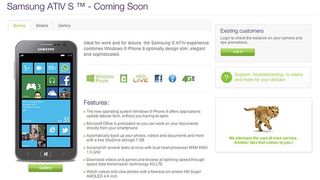 The Samsung ATIV S is on its way to Canadian carrier TELUS, according to the carrier's website. The Windows Phone 8 handset from Samsung has got its own product page, which officially confirms the network stocking said device in the coming weeks once it's available for consumers.
Samsung recently showed off the ATIV S, along with the rest of the family of products, in a marketing video. The Windows Phone 8 sports a sizeable 4.8" display, dual-core CPU, 16GB (with MicroSD slot), 2300mAh battery, NFC, 8MP rear shooter (with FFC), and runs the latest version of Windows Phone.
Rogers, another Canadian carrier, is also looking to stock the Samsung ATIV S which opens up choice for consumers with both major carriers in the country sporting Samsung's flagship Windows Phone.
Source: TELUS (opens in new tab); thanks, Shane, for the tip!
Rich Edmonds is Senior Editor of PC hardware at Windows Central, covering everything related to PC components and NAS. He's been involved in technology for more than a decade and knows a thing or two about the magic inside a PC chassis. You can follow him over on Twitter at @RichEdmonds.
Congrats Canadiens. What's up with the lack of US carrier love on this phone? This thing would sell like hot cakes on TMobile.

+1
I specifically want one to use with my current TMobile plan. Hoping I'll be able to get hold of an unlocked one without too much fuss.

This should be the Verizon phone that comes out during christmas.

I really hope this lands on T-Mo, I keep hoping for the announcement....

I also want this on Tmo. Not really interested in the 8x and guessing the 920 will be an at&t only like last time (hooray!, not). Looking like I will have to settle for the 8x at this point. Ugh. Not a big fan of HTC devices (hd7 owner).

HD7 owner here too and really not wanting any of the new HTC's either. If the Ativ S doesn't drop on T-Mo, probably gonna save my upgrade to see what the future holds.

After reading about the 8x, it seems like it will be a nice device. Need to see it in person though. Still not sure if I like the idea of a raised screen. Otterbox?

The ATIV S is like your buddy's hot slutty sister who keeps throwing glances at you but never puts out. She only bangs foreigners and Canadians. Lol.

This comment was too hard not to LOL at!

Seriously, that was funny stuff

Damn if I didn't LOLZ at that!

Holy ish! Best analysis ever.

The Nokia920 and HTC 8x are sure stealing all the thunder from this Samsung ATIV.
Wonder how it will do in reviews.

Review at GSM Arena is very positive- actually of the the reviews I've read have been positive. I'm actually considering it now.
One thing that confuses me is that Telus doesn't list 2100 band HSPA. That's the 3/3.5G standard for most of the world and all of Europe- can this be a typo?

This is partly because Samsung management hasn't interviewed, highlighted features/design, or hyped up the device since introducing it. On the other hand, HTC & Nokia has done their due diligence

Sure would've like to see more then one Samsung windows 8 phone

I wonder what the odyssey will look like. The picture on the presentation made it look more metro

That is not the device I was wanting on TELUS, I was hoping for the 920 but will just have to wait it out for something Nokia. But I am sure this device will sell well on the network

I hope because I see alot of my friends buying the GS3 and Iphone 4 at 0$ on contract with some carriers in my province

well at least this may make my choice an easy one, unless they come out with some others. Probably not going to upgrade till early next year.

The GS3 is a great device to hold. Sadly Android is so different from device to device and I got soooooo frustrated using it. I was attempting to share a folder from Skydrive on it using the official Android version of the app. The shared folder won't save and the eBooks won't download or open properly. My Acer tablet doesn't have this issue and neither does my wife's crappy LG Android phone. I seriously would love the Ativ. Great hardware with superior software. Also, the Note II with Windows Phone 8 would be delicious. My wife agrees. Bring it on Samsung!

Kind of sucks its the 16gb model and not the 32gb version (at this point i think any phone i get would have at least 32gb on board storage on it)

You kind of don't need it. The SD card slot can provide you with an additional 64GB if you need it. And I highly doubt you can install 16GB worth of apps.
Good to see Telus getting on board with Windows Phone 8. They have given it reasonable support so not really a big surprise and now I have a great phone on Telus to recommend!
Hope Rogers puts their pages up soon too (being told it will be by the 12th).

I find it surprising that they are touting this as 4G LTE when Samsung does not even list that as a product spec. Disappointed that this is only a dual-core processor too. I am having a difficult time deciding to make the switch to Windows 8 when the Galaxy Note 2 is such a superior device.

WP doesn't need a quad core processor- it will SCREAM on the dual core.
Samsung's listed spec are probably for euro version. NA will get LTE.

Who buys a Samsung shit phone when you can get the HTC or Nokia? Seriously, all Samsung mobile phones I had in my hand felt like plastic gimmics, or toys. Not the best quality...

Because not every carrier offers all three lines. Also, it's impossible to judge the quality of the device when you've never seen one in person.

It's great to see that WP8 devices are finally making it to canadian carriers. Unfortunately I would of loved to see telus have the Nokia Lumia 920 in the lineup. I just can't see Rogers being able to draw in customers towards a new platforcm especially with their ridiculous contracts and fees.
Windows Central Newsletter
Thank you for signing up to Windows Central. You will receive a verification email shortly.
There was a problem. Please refresh the page and try again.