Samsung gives Windows 11 the One UI 4 treatment
Samsung's Galaxy Books are going to make Windows 11 feel like home.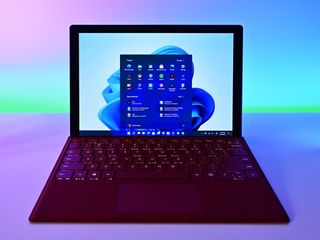 (Image credit: Daniel Rubino / Windows Central)
What you need to know
Samsung is refreshing its core Galaxy apps for its Galaxy laptops.
Samsung's Galaxy Book line will see Windows 11 get a One UI 4 refresh so that your Samsung mobile device and laptop feel more interconnected.
The Galaxy Book maker posted a video showcasing what interested users can expect from the modified Windows 11 Samsung app experience.
Update October 27, 2021 at 4:20 pm ET: This article has been updated to clarify the limited scope of One UI 4 on Windows 11.
Galaxy Book owners, get ready for a fresh spin on Windows 11. While it's not a drastic redesign that'll shake the Windows 11 experience's very foundations, Samsung is injecting a little One UI 4 flavor into the apps of its laptops operating on the latest OS from Microsoft. The company posted a video showcasing what you can expect from the tweaks:
The goal is to bridge the gap between mobile and dedicated PC experiences so the overall vibe is more cohesive. This news comes at a time when Samsung's been busy announcing the latest iterations of its Galaxy Books, in the event you're keen on doing some Galaxy-themed holiday shopping.
For those of you who see the One UI 4 app tweaks as a means of inching toward a Windows 11 that suits your preferences, don't think you need to rush out and buy a Galaxy Book to make Microsoft's latest OS and associated apps look a little different. There are plenty of products out there that'll let you polish up W11 until you're satisfied with its appearance. Take, for example, Start11, which will let you adjust the Windows 11 Start menu until you no longer hate it.
If you like mobile aesthetics and wish Windows 11 was a little closer to that, enjoy the One UI 4 modifications. So long as you're rocking a Samsung Galaxy laptop.
Get the Windows Central Newsletter
All the latest news, reviews, and guides for Windows and Xbox diehards.
Robert Carnevale is the News Editor for Windows Central. He's a big fan of Kinect (it lives on in his heart), Sonic the Hedgehog, and the legendary intersection of those two titans, Sonic Free Riders. He is the author of Cold War 2395. Have a useful tip? Send it to robert.carnevale@futurenet.com.
Unfortunately, because Microsoft limits it, this will only affect Samsung programs on their laptops.
Which means we won't actually be able to fix the GARBAGE UI of Windows 11 with its horrible colour palettes, non-existent Dark Theme, useless Star Menu or dumb rounded corners.
Shame.

That's why I mentioned Start11 in the article; you don't have to be limited by One UI 4's edits. You can tweak Windows 11 a lot further. And it's not like that's the only program that'll let you adjust W11 either (though, I understand why people are disgruntled with the OS itself for not being the hyper-adaptable dreamboat it could be).

I don't think you actually understand that this is just a set of apps with added functions and not an actual UI skin for PCs. The apps' design matches One UI, but if you have read our Samsung laptop reviews you'd know Samsung ships around 28 apps with its PCs that mimic those on its phones. It has literally nothing to do with the Start menu, nor does it modify the Windows 11 UI. I suggest watching the video to actually understand what is happening before commenting. However, I do hope you feel better about venting about Windows 11, even if this has nothing to do with the article.

28 apps? One more reason to avoid Samsung PCs then.

Well, they are all uninstallable, so the point is moot. But as I point out in the review, they're actually very good apps, especially if you have a Galaxy phone.

I don't think Samsung really intents to skin Windows 11 anyways. Sure Windows 11 still have alot of inconsistencies, but it is also good that the OS maker have far more control to its UI than leaving it to OEMs that will just cause inconsistencies between PC's. Microsoft for sure don't want more support calls because somebody bought and HP and switched from Samsung and the UI is different. We already have enough problems with changes with UI between Windows versions or feature updates. Not sure how relevant this with Windows 11 UI anyways, since this is only meant for Samsung apps.

What's this got to do with Microsoft? They're Samsung services for Samsung services. This is a Samsung business decision. Back in your box cheif.

Guess being a FREE upgrade and being FREE to go back to Windows 10 still gives you the FREE right to vent but I wish you a nice day anyway.

I don't see a problem with the UI. I don't think start is that big of a deal. I search to launch apps, anyways. I've set up my taskbar similar to how the dock was set up on macOS, so most used apps are pinned. The only things that irk me are: 1. No date/time on the taskbar on second display. Literally reaching for my phone to check the time even when sitting in front of my desktop, because I'm watching a video in full screen is [dumb]. 2. Lack of Jump Lists on many (most) apps. 3. For some reason, new windows I open often appear behind pre existing windows, instead of in front of them. 4. Non-removable ms-resource:DisplayName entry in the Start Menu that I cannot remove, short of resetting my laptop, which I refuse to do as that would trigger an hours long re-setup process (drivers, apps, etc.). 5. MSN News bloat in the Widgets panel. Tons of stuff that I actively avoid in my daily life (Politics, Tabloids and Negative News) and the only way to avoid it is to completely hide the button and never open it with the keyboard shortcut, then remove any Microsoft Account on the machine. I actually purchased WordPerfect Office H&S just to be able to remove Office 365 from my laptop so that I can stop using a Microsoft account on it - because I don't even want to accidentally expose myself to that trash. There are practically no useful widgets. 6. The new design of the context menus is terrible. 7. The calendar below Notification Center is worthless, now. 8. There is a Focus Mode notification that is always at the top of Notification Center, with no way to toggle it off. Notifications are still stacked in an odd, inefficient way. 9. You can't use a Windows app to edit from Photos. Only Store apps work. If you have Affinity Photo, you have to REBUY IT ON THE WINDOWS STORE to use it with the Photos app. Affinity raised the price of the software right as Windows 1a was releasing, and are not offering to move those licenses over. ————— Rounded corners are ignorable. Dark Theme stuff will come as Microsoft updates apps, but third party app developers are a far bigger issue. I still find most UWP apps to be too mobile for the desktop. Most Apps I use are Win32/64, so this is not a big issue. ————— As for this, it will be hilarious getting a Samsung PC for your mom, and the UI doesn't even match the pictures in "Windows 11 for Dummies." This is always a bad idea. This was a major issue in Linux being impenetrable for the masses. Even after GNOME and KDE went big, people couldn't reliably use resources because every district had wildly contrasting themes and sets of default apps. This issue is what allowed Ubuntu to take off and supplant most other distorts de facto.

Confusing having a Windows 11 Settings app and a Samsung OneUI Settings app with it looks like duplicate settings in the OneUI Settings. Samsung does this all over the phones. Duplicate Apps and Services left, right and centre :/

It's not unusual, actually. Lenovo has Vantage, Dell as Dell System Settings, HP has Support Assistant. These are all the same things: custom/meta controls for laptops enabled by the OEM e.g. Dell's presence detection, or Lenovo's battery bar. They can also fetch driver and BIOS updates, or enable "smart" charging features, let you turn off USB ports for power, etc. Samsung has had its Settings app for years on PC. On one laptop they had "outdoor mode" that pushed the display past 600 nits. They also had a neat security feature that would take a picture of you if you failed a PW attempt and it'd email you the pic. Stuff like that, it's actually quite cool.

Wow! Those last two Samsung-specific features are really something: forcing higher display brightness and the password-fail emailed picture. Smart.

I have to hand it to Samsung though, the Galaxy experience on Android is actually very polished. Using the S21 and S21 Ultra has been an extremely pleasant experience. They are welcome to bring any of their goodies to Windows :-)

My wife has a Samsung laptop and the apps are really good and work well with Samsung phones... She has a Flip 3 and is delighted with the whole experience...

I have a Samsung phone but i don't have their laptop, is there any way to install the laptop version of Windows 11 on my PC or not?