Stardock's Start11 program will help you fix the Windows 11 Start menu
There's a fix for the Windows 11 Start menu. It's called Start11.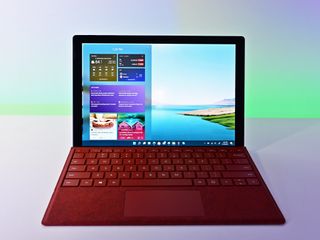 (Image credit: Daniel Rubino / Windows Central)
What you need to know
Windows 11's Start menu has been a point of contention for many users.
Stardock's Start11 program is designed to fix the issues.
Start11 is currently in beta and costs $4.99 to grab.
There are many things that have irked PC users about Windows 11 since Microsoft revealed the new operating system, but perhaps none have received quite the amount of vitriol as the Start menu. To put it simply: There are people who hate the new Start menu.
What do people dislike about it? Here are some common complaints: It wastes space, removes customization and user control options, and lacks features.
However, there's an easy solution if you can't stand Windows 11's Start menu. Well, two. First, just go back to Windows 10; it'll be supported for a long time. And as for the second solution: Stardock's Start11. It's a program that'll let you customize Windows 11's Start menu and taskbar to your heart's content.
Here's a snippet of the copy Stardock uses to advertise Start11: "For users who want to personalize their Start menu, Start11 offers robust customization options ranging from aesthetic to functional. The software enables enhanced Windows 10 and Windows 11 style Start menus, a compact Windows 7 design, optional Windows 11 style for classic menus, and many additional settings that let you configure your personalized Start menu."
You can find out more about Start11 on Stardock's site (opens in new tab), but here's the skinny: It's a program that's actively receiving updates (next one lands October 7) and costs $4.99 to acquire in its current beta form.
Windows Central Newsletter
Get the best of Windows Central in in your inbox, every day!
Robert Carnevale is the News Editor for Windows Central. He's a big fan of Kinect (it lives on in his heart), Sonic the Hedgehog, and the legendary intersection of those two titans, Sonic Free Riders. He is the author of Cold War 2395. Have a useful tip? Send it to robert.carnevale@futurenet.com.
Well this is something I wanted Microsoft to address but I'll take it. For me it's about productivity and mine suffers with the new Windows 11 setup, so this is great news.

That's the age-old beauty of Windows; if MS screws something up, someone else can step in and clean the mess. Glad to hear the tool in the post will benefit you. Also curious about what inspired the Cap America/Clone trooper crossover pic, but I can save that question for another time.

It's one of artists Jon Bolerjack's clone trooper mashups he does. He has 20 or so among other great art he puts out. Ran into him at a comic con and talked for awhile about his work. Captain America/Clone Trooper was one of his first that he did.

Thanks for this. Windows 11 is pretty great so far, but the start menu really does need some work. I'm not even talking Live Tiles, since I think Widgets may at some point replace and improve upon that. It's just without start menu folders and resizing (can see max of 3 rows at a time) it's just too hard to organize it productively. I'll see if Stardock can help for now.

No prob re: the article. I hope Start11 fits the bill for your needs.

I've got eight rows showing on mine. The organisation of the settings is probably not the best thing about the app. But there is an option in there to get what you want. I just can't tell you where it is right now because although I've paid for three licences the beta has apparently "expired" and the link to update it on the Stardock website isn't working right now, so I can't change my settings.
I've kept an eye on Start10 over the years but could never really see the point. I had no desire to go back to Win7 and the Win10 menu did most things better than the Stardock "Modern" option. But that's no longer the case with Win11, which is why I've paid to install it on all three of my usual machines. I've always used the taskbar for the programs I use every day, and the Start menu icons for those I use quite a lot, but less often. In Win11 the Recent Files listing is no substitute for the app by app listing you had with Win10, and which Start11 offers via the little arrow to the right of each icon. Also with Start11 you can customise the shortcuts on the right side of the menu to include alternative folders (eg I don't keep my photos in OneDrive, so have a link to a different folder on the start menu. In reality most of what Stardock has done is simply move the old Start10 menu to the middle of the screen (you can set it to the left, but the middle is better for me), but it says something about the Win11 UI that for the first time it's now inferior to the Stardock offering.

Been a long time fan of Stardock, haven't used anything from them in a while, but many fond memories of when I did. Was thrilled to see that Brad went over there and I trust that he will continue to do great things with the tools available to him. I look forward to seeing what he and the team can do with 11 and beyond.

I am so confused as to the start menu hate for Win 11. It works exactly the same for me as 10. Anything I use frequently goes on the taskbar as always. Anything else I hit the start button and start typing. That hasn't changed. The start menu shouldn't be a hub for everything. It is just a menu. Hence the name Start MENU

Listen, today's our designated "hate on Start menu" day. We'll shake it up tomorrow.

I didn't use the W10 start menu for everything, but I did use it for a thematic grouping of apps: messaging apps, entertainment apps, productivity apps, etc. Muscle memory would then help navigate to the areas I needed quickly (the productivity that MS keeps talking about). It's way too much to pin to a taskbar - way too cluttered.

Like any good menu and at fine restaurant you can look at the seafood section and they are grouped together and the pasta section is all grouped together and the drinks... Windows 10 allows me to pull up the menu and see my software (I use over 40 different software programs for my job and some I only use once a month if that and don't always remember the name to start typing) and easily click open the one I need at that time. In Windows 10 it is a menu and acts just like a menu, nice and organized grouped together and productive. Plus I also have the Scroll All Programs in the same pane without having to make extra clicks. Windows 11 has made my clicks go way up in a 8 hour day jumping from tab to tab and windows to window compared to Win10. Kind of backwards to say the least. Just my thoughts.

Exactly how I feel about it!

Same, weird that people cannot understand this

Exactly, start menu works exactly as it did before... Just click start then click all apps, nice list of apps appears just like the start menu in Windows 10...

True. Like most users, I pin what I want to use daily to the Task Bar or drop a shortcut on the desktop.
I rarely use the Start Menu for anything (except for the Right-Click to get quick access to those menu items like "Device Manager", "System", "Apps and Features", etc.)
You can do all those from the "All Settings" on the task bar too, but it's a lot quicker to use the Right-Click. Like most of the users complaining about the W11 Start Menu, it's just not customizable enough.
Note to Microsoft: After literally DECADES of being able to modify the Start Button functions, you take it away for W11 why?

Do what you want with your money and your PC, go nuts. But not liking or agreeing to design choices is not "an issue". So this doesn't "fix issues". Just offers alternatives.

It's an issue for me when Microsoft says use our OS because you'll be more productive and then they take away what makes it more productive. I use WinPC and Mac all day and there are several things on Mac that take extra clicks to do the same thing in Windows. Now WinPC is moving in the direction of Mac with more clicks and less productive. So something Microsoft broke, someone else is fixing or restoring may be a better word.

Couldn't agree more, I have no issues with the new start menu...

This is only for hardcore people who really customize their OS. This is good for them but most people won't bother. I do like the new look of the Start Menu. However, I do wish for the Start Menu to be more useful and productive. Such as, grouping applications like you can in Windows 10. Putting applications together and labelling them under a heading. Also, putting applications under a "folder"-like group with a title.

As of now, the beta version only has Windows XP and Windows 7 style start menu. They had mentioned in the next upgrade 4 different styles will be available. From the image it looks like one of them will be Windows 10. Has anyone used Start 8 or 10 and have any idea about the other one?

No problem with the start menu... Works well...

Except that you can't resize it, and you can't configure anything. You can only show 3 rows of apps and you don't have much control over it.

Anything is better than the horrid Start menu we've got with Win 11 right now.

Is there anything out there which will move taskbar to the side of the screen?

I love Stardock's products but Start 11 doesn't solve my problem. I am one of the few who actually use Windows as a tablet, and with Windows 10 I could have full screen start and show every app I use, in the arrangement I want them in. I am extremely disappointed in the 11 Start menu, and I don't need a $5 product to take me back to the way things were in 2009.

Reinstating groups and folders is a solution. Something like Microsoft Launcher for Android witb start pages.
As Windows has Virtual Desktops, we can think beyond this. Use Virtual Desktops as Start/Launcher pages. Make a Virtual Desktop current and it automatically restores all apps linked to it to their last state. Virtual Desktops in the background can have background active apps. Apps can be linked to more Virtual Desktops and have their specific state for each.
Start button becomes button for virtual desktop overview pane and includes Power and user options as we have today. Button in middle of Taskbar always. Left of it the icons of Virtual Desktops. To the right the app icons on the current desktop.

Okay...I paid my $6.99 CDN and did not like what I got. I hate to say it but the menu system is just a jumble with no better way to organize than the default windows 11 start menu. For me Windows 10 menu system was great. Maybe the next iteration will be better. Otherwise I'll just go back to the default Windows 11 menu.

Well, after installing PC health check, Except device manager, none of any software is showing processor name, RAM, HDD space. I'm using Windows 10 Pro public release and haven't installed w11 insiders yet!

Having just spent my evening helping my mother reorganize her start menu on a new computer, I see why Microsoft has done this.
I've showed my mother repeatedly over the years how to pin apps to the task bar and start menu but just tonight she said, "oh I didn't know you could pin any app to that...flag button...thingy." It's the start menu mom. "Oh right....I thought that was the bottom bar thingy?" That's the task bar. "Oh and how do you change the emojis on the task bar again?" Those are icons. Start menu? Taskbar? And now they add a Widget bar? Oh heaven help me.

Sorry but sadly Start11 doesn't include the possibility to fix the main problem. At worst, Start11 will only make it look your home screen look more like the Windows 7 or XP Start menu. There are no LIVE TILE option on start11 to make it look like Windows 10, The well loved Windows Version share by more than 1 billion users.

Live Tiles are dead my dude. Gotta move on. If an App doesn't support them you're only going to get really big icons anyway.

And those big icons sure are nice. Especially for games or apps like Spotify that fully support the bigger sizes. That together with groups made the win10 start great. The win11 start that looks like some old Android start page but lacking most features is just plain awful.

what about the taskbar setting?

Windows 11 has many issues related to the start menu not showing, but based on this article and the fact that I use another Stardock product, I tried Start11. I did not really care for it so I chose to uninstall it. After rebooting as required after the uninstall, I lost my Start menu which is a pain. I tried about 10 recommended actions to get the start menu back with no success. I chose to uninstall Windows 11, Windows 10 still did not have the start menu. I had to reinstall Windows 11 again to finally get it back. The issue could have been just another Windows 11 issue, but I will not be trying Start11 again.
Windows Central Newsletter
Thank you for signing up to Windows Central. You will receive a verification email shortly.
There was a problem. Please refresh the page and try again.