Samsung Omnia 7 having problems with the Zune update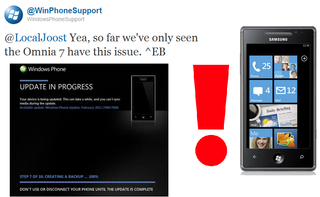 Looks like all is not going well with that Windows Phone update that are rolling out today as reports are coming in that the Samsung Omnia 7 is having some stability issues when updating.
Specifically, we're told that the "backup gets stuck at 100% (Step 7 of 10) and the update doesn't carry on". So while the phone is still usable (luckily), users can't proceed with the update which also means the 'NoDo' update will be out of reach as well. This isn't just one or two people either as @winhonesupport is dealing with quite a number of user-generated problems with the same description.
Windows Phone Support is already on the case, looking into what is happening exactly. So far though, this seems to be Samsung/Omnia 7 specific, so for now we'll have to advise those to wait a bit before updating.
Thanks, Steve F, for letting us know!
Daniel Rubino is the Executive Editor of Windows Central, head reviewer, podcast co-host, and analyst. He has been covering Microsoft here since 2007, back when this site was called WMExperts (and later Windows Phone Central). His interests include Windows, Microsoft Surface, laptops, next-gen computing, and arguing with people on the internet.
Very much confirmed, and trying a second time doesn't work either. Luckily not bricked but my advice to Omnia 7 users is to hold it out for now

That's bad news JTB.(Glad you don't have a brick) My Omnia 7 updated fine although at 100% completion of the back up, it sat there for around 5 mins, but did go on to install the update successfully.

Yeah mine sat for over an hour, not just the 5 minutes, so far you're the only Omnia 7 user I know of to not have an issue (all hail the chosen one!), Twitter is ablaze at the moment with users.Long as my phone doesn't brick, need it to continue with testing of v1.1 of my app...

Actually, Bear is your PC/Zune software 32 or 64 bit? Wondering if the version of Zune may have anything to do with this?

Just common old 32 bit JTB.

Bingo, everyone on twitter seems to have 64 bit, this may be the cause, thanks

Nope, well the one person who's fixed the issue did a factory reset, I'm gonna wait on that one though...

Well that's good if it's as clear cut as that to identify what the problem is JTB, here's hoping. (Glad I chose to be common with my Windows 7 lol)

I think the problem is that these people bought a samsung instead of htc phone!!! JK!

Did anyone try this?http://support.microsoft.com/kb/2498092

Yep doesn't seem to do any good, already have Zune 4.7 on the computer

You have to check the version of the dll listed in that article. It should be 4.7.1407.0. The Zune application version will be 4.7.1404.0. Also, there have been report on this comment tread that users of the Omnia 7 and Focus have had success. Some reported having to wait for a while even when it was at 100% complete on the backup. Also, the times may very depending on ho much data your phone has to backup.http://wmpoweruser.com/first-windows-phone-update-roll-out-today-and-its...

Do all Samsung phones have the microSD slots (I know the Focus does)?Could this perhaps be a problem experienced by those users who are using expansion cards?Just a guess. :)

I've read that people with Windows Vista and 7, 32-bit and 64-bit encountered the issue, as well as people who have and have not installed microSD cards. Moreover, as mentioned here, the Omnia 7 has no microSD card slot and the problem sounds like (at least by informal observation on the Internet) it is more common on the Omnia 7 than on the Focus. The only consistent criteria I've seen thus far is that it appears to be confined to Samsung phones.

i updated a couple of hours ago. went without ne problems. i use windows 7 32 bit. it took about 10 mins from the moment i pushed the start update button.

Samsung Focus, too. At least on my end....(Windows 7 64 bit.)

Did the update work for your phone?(I also have a Focus and Win7 x64 and I'm nervous that when I receive the update that it could also brick my phone.)

It didn't work for me. It got stuck at 100% on step 7 (creating a backup).

Tried to update my Focus -- it failed. Unplugged and restarted my phone, and it's working fine, but I can't update. :( What to do...?

The same here with my Omnia 7, the proccess gets frezze at step 7 100%. Windows 32 bits and Zune updated. I have tried twice and it's the same.

I have updated my Omnia 7 without any problems. It took about 10 - 15 minutes. I did not notice anything odd. I updated my Zune software when that update came out.Windows 7 Professional x64.

Seems to me that Microsoft should have run this first with the vast numbers of Microsoft employees with WP7 phones. That would have given them sufficient insight to tell if there was a problem or not, without having to work a fix real-time and in view of the public. Then again, it might be too difficult to roll out test updates to specific individuals...

Well, as you can see from other posts in here that people HAVE been able to upgrade their Omnia7s fine, while others can't. MS does to internal testing but you can't know for sure till you roll it out to the millions of WP7 users in the world. MS will test, like what? A few thousand? There's just no way to account for everyone.

Upgrade worked fine for me, no problems, took approx 15 minutes in totalSamsung Omnia 7 (bought in Norway january 2011)Windows 7, 64 bitI had upgraded Zune on PC some weeks ago

My omnia 7 updated successfully. It was fast ( less than 10 minutes in total )

Update was successful , no problems !!!Samsung Omnia 7 (bought in Bulgaria November 2010)Windows 7, 32 bitZune 4.7.1404.0

Mine to ... without problems thank god :DSamsung Omnia 7 (bought in Bulgaria December 2010) :)Windows 7, 64 bitZune 4.7.1404.0

I have an Omnia 7 but the update is not available for me.Did Microsoft delay the update seeing the problems ?

No. I made the update 30 min ago...

For the record, I thank you for quoting my tweet, but I was only trying to help establishing a pattern here, helping out friends with an Omnia 7. My HTC7 Pro updated flawlessly in 12 minutes.

no problems on my Omnia 7. Running the update from the latest zune on windows xp.Samsung omnia 7 bought in France.

The update worked fine on my Omnia 7, but for a collegue of mine, it did not work.We both have 64-bit Windows 7, we have same firmware revision(2424.10.11.1), hardware revision(3.15.0.4) and so forth on our Samsungs.Both have upgraded Zune client on PC (but I believe I actually downloaded an installation file for this directly from Microsoft, since I saw this before the update was available).We have not tried against the same PC though, since I upgraded against my home PC.

That's really weird then, maybe it's something he installed? Maybe it's some problem with the rom chip itself on Samsungs side? It really doesn't seem like an all out OS/software problem alone.

My college tried the upgrade one more time here (3. trial)...and now it worked for him too! And it went really fast, only took 5 minutes. We waited 20+ minutes each time he tried it earlier todayDo suspect that he had a different issue than everyone is talking about here, since he seemed to never get to the "backup-step" when it failed.His phone rebooted and PC installed new drivers successfully...but then it "hung"...no progress (Zune never got past step 6). When he re-tried the 3. time, it went past all this really quickly.A 3. college of me tried the update on his phone, and it worked on first trial for him, just as it did for me. For him it took about 25 minutes, for me it took 15. So the time the update takes, seem to wary quite a bit.

Has anybody tried it with the Windows Phone Connector on the Mac?

Having the same problem:Omnia 7Win7 x64Updated Zune client, inc the correct DLLUpdate proces hangs at 100% backup. I kept it on for 1h25m, and was still at that point, so aborted

Does the Samsung Focus have the update ready? I want to go to the No-Do update already.

Samsung Focus (JJ2) bought in Canada (ergo, using Rogers)Windows 7 x64Update stalled at 100% on step 7 (phone back-up) after 2 hours.Disconnected and restarted phone and find it still works fine.

+0 times four!I have updated me and my GFs Omnia 7s on W7 x64 with no problems whatsoever. I also have two friends with the same setup and they did not have any problems either...

Score +0Samsung Omnia bought in US Feb. 15 minutes. No problem.

I was able to update my Omnia 7 using Windows 7 x64 but the phone is now horribly unstable and resets a couple of times a day. I'm surprised by that as the previous update was very solid.
Windows Central Newsletter
Get the best of Windows Central in in your inbox, every day!
Thank you for signing up to Windows Central. You will receive a verification email shortly.
There was a problem. Please refresh the page and try again.