Samsung pushes out system updates for ATIV S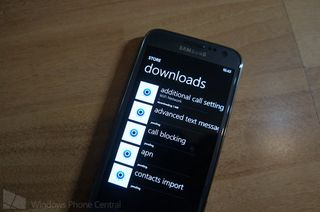 Samsung has pushed out a number of system updates for the ATIV S Windows Phone. The device has only just started hitting supported markets and we're already seeing improvements being applied by the manufacturer, which could be viewed as a strong sign of support. So what has been updated?
Unfortunately a changelog isn't available for each app that has been bumped to a new version, but these are the system apps that are affected:
Additional call settings
Advanced text messaging
Call blocking
APN
Contacts import
We haven't yet received the update notification on our own ATIV S just yet, so we could be seeing a delayed propagation. Should you already own the Samsung Windows Phone, be sure to stay alert and look for any sign of the updates rolling out.
Thanks, Andy, for the tip!
Rich Edmonds is Senior Editor of PC hardware at Windows Central, covering everything related to PC components and NAS. He's been involved in technology for more than a decade and knows a thing or two about the magic inside a PC chassis. You can follow him over on Twitter at @RichEdmonds.
Well, the Samsung ATIV S already shipped with Portico pre-loaded.

This update includes miscellaneous fixes.

Ohhhh Samsung..... Sleeping in the same bed as Google. Just stop making Windows Phones, we don't want your recycled designs.

Speak for yourself, troll! This is one Nokia fanboy that's loving his Ativ.

I don't have neither, just a little frustrated owning 3 Samsung piles of garbage and not getting ANY support. Wow haha, How am I trolling?

I wouldn't particularly call this trolling. The phone is obviously a Windows Phone version of the S3. Some small changes but still the basics. Nothing really wrong with that. But it would be nice to see a fresh desing. Similar to what HTC has done. They have completely different designs for their Windows Phones than they do with their Androids.

There really wasn't any need for that. Samsung is starting to push its hardware out and has even bothered to roll out some updates. That's not a sign of support? We'll of course have to see what happens in 2013, but for now I'd like to throw Samsung a bone.

The display and touch settings were updated with this, and you can now view the audio settings without having headphones plugged in, although they are still not adjustable.

Actually I do until someone else makes a phone with a 4.7 or 4.8 screen.

Recycled designs? Not so bad if you're fond of the design, and the amazing screen+expandable storage makes it an even sweeter deal. Troll.

Recycled designs? Does the Lumia 920's similarity to the 900 not mean anything. The theme here is to use the good designs you've got!

Not only do I find that a funny comment on a thread about Samsung pushing out an update, my experience with the Focus S has been fine. Got the Tango update before even the 900 got it, I got an update which fixed an audio and keyboard response as well. All of their Galaxy S series has been upgraded, my daughters Captivate Glide has been upgraded, and Samsung has ascended to the top of the mobile heap. I am excited for the ATIV S and Samsungs efforts.

Lets see if Samsung starts support Windows Phone as much as Nokia! Is there any special App that comes with the phone?

Of course they won't. Nokia's main OS is Windows Phone and Samsung is Android. Until that changes, Samsung is doing the right thing for their business and concentrating on what they know and succeed with.

let's. see its support for omnia W !!

Non update(or support) for omnia w :P

Edmonds, there will be a hardware update for all Samsung devices or only Ativ ?

It makes sense that their WP8 device would receive special attention.

An update for a phone which is still not available :)

Uh you been under a rock like the guy in that TV commercial. This phone is out now in mutable locations.

Call Blocking its a great feature compared with the IDIOTS FINLAND PEOPLE WORKING IN NOKIA

NEVER, PHONES FROM NOKIA, HAVE A CALL BLOCKING, SINCE AGE "VOLVO CARS OS" AND STUPID NAMES FOR S40 AND S60.
FINLAND PEOPLE WORK IN NOKIA ARE BASTARDS AND DONT HAVE A CREDIT CARD´S CALLING EX GIRFRIENDS CALLING TO YOU.

EXECUTIVES PEOPLE FROM NOKIA, IDEAS TEAM FROM NOKIA, NEVER PUT THIS FEATURE.
NOKIA DRIVE DONT HAVE A SYNC, CONTACT IN PHONE LIST WHY ????
NEW FEATURE FROM NOKIA IS A NOKIA GUETHO VIEW - BASTARD FINLAND PEOPLE WORK IN NOKIA.
NOKIA DEVELOPR A "TIRE" AND THELEPHONE PUBLIC.
NOKIA STUPID CO

What about Nokia maps,drive, city lens and music ?

Nokia is from Finland.....Volvo is a Swedish made car.

But the names you models are same Volvo Cars
Volvo Car Model S60
Symbain Spider Man - S60 (C6-00, N89 etc...)
S40, S60, S30 etc...

I think I just lost a few brain cells trying to read this.

I got lost after this line "Call Blocking its a great feature compared with the".

Dude, were you shouting as you typed?

You forgot to take your schizophrenia medication, bro.

Ha ha ha I was going to say Prozac. :-P

Hmm .. judging from your post. Type of person you are, you definitely need call blocking.. feel sorry for you

enjoy your SAMSUNG "THELEPHONE!"

Awesome news for the.. five people who has one.

LOL...guys it's a good thing Samsung is making windows phones whether you like Samsung or not. It will only drive the market and other manufactures to improve their devices with Windows platform to compete.

What!! Why can't I have call blocking on my Nokia!!!?? Makes me just want to get the Ativ S just for that reason this is vital for me at the moment.

I think you should weigh the pros and cons first... lol ijs

No, dont get me wrong I love my 920 but I just don't understand how Samsung can offer this feature and not Nokia. That's what I want to know. The heck with SMS reject give me this.

Samsung is using some features from Android that why they included a call blocking feature.

It's because AT&P wants to charge you for that feature. It's in their brochure.

I really wanted the Ativ S but they still haven't released it in Hong Kong. Guess I'll have to settle for the Lumia 920

Sorry for being a bit off topic. have the Lumia 920 but I am pretty disappointed with nokia's international updates. No offense to everyone in the west but Nokia has a further reach in Europe and Asia/Australia than they do in America. And yet they are prioritizing their smallest market for the portico update first. As much as I love this phone, I went with Nokia because with them being "all in" with windows phone, I expected updates inline or before HTC or Samsung. If I am not able to get the update from navifirm within a week I'll be getting the ativ s. This is what I love about my galaxy nexus and nexus 7. Updates are timely.

Any word yet on when this phone will arrive in the states ?

if you are complaining for a couple of days delay, dont even dare to try HTC or Samsung... in the UK, Samsung or HTC own apps are non existent and updates (if any) can take months. That's why I ditched my HTC Radar in favor of the Lumia line up.

Ok thets ok. From littlr to big support wp8

So Samsung in concentrating on the OS that made them number 1 in the smartphone marketplace. Why blame them? So Samsung is using a similar design to their hugely successful, award winning Galaxy S3 for their new Windows Phone.
Why blame them? Have you guys not heard the saying: "If it ain't broke, don't fix it" Samsung will bring out WP handsets and will cautiously watch the market, if WP OS picks up more market share, then don't be at all surprised if Samsung increase efforts in the OS.

I don't think the S3 received any awards for its hideous design.
And anyone who claims that the Ativ S looks like the S3 must be blind. They don't look alike at all.
Ativ S is actually pretty similar to the S2, but looks more decent and mature (and defnitely not like a kitch shiny plastic toy as seen in the S3).