Samsung release Omnia 7 patch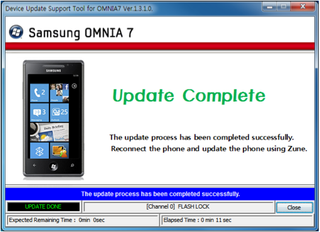 Samsung has just come out with a new patch for their Omnia 7 product to make updating to 7392 (or NoDo) a reality (opens in new tab) without fail - or so it seems. We're (as of now) unsure whether the Focus will receive a similar patch from the manufacturer, but at least this is a sign of progress behind the closed doors. Also, Microsoft has not yet given word on when Samsung devices will begin to receive the May update.
Since this patch is for devices that have failed to update to the May security build, we would recommend that everyone who hasn't actually attempted to update in the first place not to use this patch unless the update to build 7392 failed with the error: 801812C1.
Source: Samsung (opens in new tab),via: WMPU (opens in new tab), Monsmartphone (opens in new tab)
Windows Central Newsletter
Get the best of Windows Central in in your inbox, every day!
Rich Edmonds was formerly a Senior Editor of PC hardware at Windows Central, covering everything related to PC components and NAS. He's been involved in technology for more than a decade and knows a thing or two about the magic inside a PC chassis. You can follow him on Twitter at @RichEdmonds.
Any word when the May Security Updates will begin again for the Omnia 7 ?

Since they probably stopped rolling it out till this tool from Samsung was done it could start up again after this.

I wonder what is different between Samsung phones and the rest that means poor updates? I love my Omnia but its odd only Samsung phones have all these problems. Maybe they didn't implement WP7 in the standard way?......

Who knows, but this has become silly now. Samsung needs to get it's head in the game from now on.

Samsung have a big history of ignoring standards with their devices. I'm fairly sure they had to pull Android updates for some of their Galaxy series due to using non-compliant components, so I'm hardly surprised they didn't stick to MS' guidelines

Ohh my god! I so hope this means us samsung focus rev 1.4 owners are soon! Ohh god please!!

So this is just for people who have updated their Omnia and had problems?What about guys like me who, due to T-Mobile UK's sheer incompetence didn't even get any updates what so ever pushed to us before MS pulled the updates for Samsung devices?It's getting on towards four months now and I'm still stuck on 7004, so I'm getting quite impatient over the whole situation. One reason I was excited about WP7 was because I'd been buggered about so bloody much with the updates (or lack there of) for T-Mobile G1.

So help me understand this.. I'm on version 7008, because my carrier hasn't released my no-do update yet. Does this allow me to get no-do, or is it only for phones on no-do trying to get the POST no-do update?Because I really just want no-do, and I don't care about the security update until I get no-do..

No it won't help. It the NoDo update is not scheduled for you, this patch won't do anything to accelerate the update delivery.

It unfortunately doesn't work with bootloader 4.10.1.9 which prevents entering in download mode... Shame on Samsung again!

I have a Samsung OMNIA 7 and have this bug:- During phone calls it suddenly becomes silent and I cannot hear anymore the recipient.Is it a typical Omnia 7 bug due to the update?Thanks

This is not a typical bug - most likely you have defective phone. I'd rather exchange it!

But I would try a hard reset before returning it.

Not typical at all.I'm on my second Omnia 7 and are soon to be exchanging it for my third!!Dropped calls... Suddenly silent... Robotic voice...Love my phone, now if it could only make calls...If Nokia makes a Amoled screen phone - I am so going to forget Samsung ever exists.

I just used the patch on my Omnia 7, and right after I applied the patch Zune offered me 7392 update :-)Considering that my Omnia was never offered 7392 before, I think the advice at the end of the article is completely wrong.

I just recieved the 7392 update, all went well.

HELP! I cannot enter download mode. I press the two buttons and it shows a "connect usb" image. No yellow triangle.I read somewhere that some Omnia7s have locked download mode? Is that true? What should i do?! PLEASE! Thanks

THIS JUST IN:"If you don't see [the update] today, look again next Tuesday when we plan to deliver updates to additional Omnia 7 customers. Operators being targeted in later phases include Deutsche Telekom, Orange, and SFR. "http://windowsteamblog.com/windows_phone/b/windowsphone/

I've had NoDo on my Omnia 7 since April 1st. No problems what so ever.

I had received no notification for the security update but I had a walshed Omnia 7 so ran the walsh fix, then then this patch and I instantly received the update notification and updated with no problems!

IN UK nodo update STILL not here on t mobile in UK. This is getting annoying. I bet i dont get it until mango comes out
Windows Central Newsletter
Thank you for signing up to Windows Central. You will receive a verification email shortly.
There was a problem. Please refresh the page and try again.