Samsung releases updates for Mini Diary and Photo Editor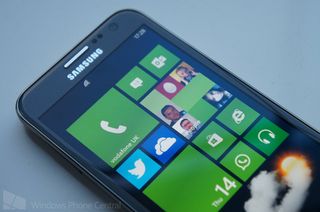 Samsung has released two updates for its apps located in the Samsung Zone section of the Windows Phone store. Mini Diary and Photo Editor have both been bumped to new versions, though we're not entirely sure what's new. It's good to see the OEM continuing to support its Windows Phone customers with further updates, even with the Microsoft and Nokia deal in the air.
Mini Diary and Photo Editor are both useful apps for those who wish to take and edit notes or manipulate shots captured on their Samsung Windows Phones. Here are the new version numbers for both apps, as well as the store links:
You can check for both Photo Editor and Mini Diary updates on the Windows Phone store by using the links above or the QR codes below.
Rich Edmonds is a word conjurer at Windows Central, covering everything related to Windows, gaming, and hardware. He's been involved in technology for more than a decade and knows a thing or two about the magic inside a device chassis. You can follow him over on Twitter at @RichEdmonds.
I Love see Samsung update this app, but I want new app and special updates like amber for nokias :(

MangaCamera was also updated, I literally JUST did the update on my ATIV S Neo.

New version number - 1.0.0.9
Last updated - 9/10/2013

LINK: http://www.windowsphone.com/en-us/store/app/mangacamera/a1634bc6-6be9-4f44-9299-5d7ef96a919e

I still haven't got GDR2 for my Ativ S which is much more newsworthy than these minor Mini Diary and Photo Editor updates.

LOL
You're right, I was just sitting her thinking... "I wonder if ruddevil has GDR2 yet?"... now I know.

The problem is that Microsoft has strange update policy. Updates should be available for all users at the same time.

Me too bro.. We're on the same boat :(

Mine received update two weeks ago.

When I ran "SysApp Pusher" a few days ago, it looked like nearly all of Samsung's apps had been updated in the last couple of weeks... but not "App Folders", which is of course the only one I use.

I hope they update that app soon too so I can update it on my Lumia 920. Right now it takes forever to launch apps within the folder

I got an update for app folder 3-4 weeks ago. The folder app and the apps within the folder launch without any kind if delay. Maybe just lucky.

Could all these activities be connected with the rumor that Samsung has scuttled Tizen? If it's true that Tizen has been quietly laid to rest, then Samsung needs something else as leverage against Google, which Tizen is/was for Samsung. Perhaps WP is now the new leverage against Google - could all these flurries of activities be a signal sent by Samsung to Google?

Great imagination. Time to wake up though. Google isn't scared of Samsungs diary app update

You're obviously asleep yet though. Google may not be afraid of the diary app but they certainly are afraid of Samsung forking Android. Any signal or slight movement from Samsung away from Android will certainly be closely felt and analyzed at Google's headquarters, of which this update could be.

Get your facts straight. Don't talk about things you have no clue about. Tizen 3.0 is shortly being released. 2.2 is already done.
BTW, where's Ativ S 2? Ativ S was launched in IFA 2012? I am sure IFA 2013 is already over with Samsung's Note/gear announcement. If Samsung is ditching anything, it's WP.



And you know this how? You are a Samsung employee so you know the actual status of Tizen? Before YOU start telling other people to get their facts straight, get yours straight first. Your supposed knowledge about whats happening inside Samsung with regards to Tizen is no greater than mine or the rumors floating around.

I hope Samsung and HTC start to look at WP alot more as having more phones on the market and pushed right (Like Nokia) will only help WP and also Samsung and HTC in gaing more market share in WP. That said im happy with the devices Nokia are givinh us at the moment and for me there is nothing better looking or that fits me better than the Lumia 925 at the moment.

I'm actually wondering if Samsung will release a Galaxy Note 3 Variant. Would be interesting to see a battle between Nokia 1520 Phablet and the ATIV Note.

Waste of resources for Samsung. I am sure the won't sell 38million Ativ product.

ATIV Beam stopped working three versions ago, and we still don't have the much needed "all share" for WP.... Step up, Samsung...
Windows Central Newsletter
Get the best of Windows Central in in your inbox, every day!
Thank you for signing up to Windows Central. You will receive a verification email shortly.
There was a problem. Please refresh the page and try again.