Samsung's Awesome Smartphone Homescreen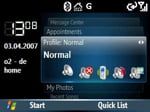 Carousel, Samsung's custom home screen they developed for the non-US SGH-i600 (that's a Blackjack with WiFi, basically) has made the rounds before. Now that people are actually getting their hands on the little wonder, screen shots of the great interface are coming around again. Me Likee. I like it enough that I spent more time than I care to admit yesterday hunting around the web looking for somebody who has provided a ROM dump of the i600 so I could install this on my own Blackjack. No joy yet, but if you find something please let me know.
Read: the::unwired - REVIEW: Samsung SGH-i600 Home Screen Carousel/Card Wheel Plug-In
Yes, by ALL means let us know if you find this screen for use in other smartphones, specifically those of us with Sprint Q's who likely won't see the beautiful updates others will.http://www.maximunk.com

I'd love to run this on my Dash.
Windows Central Newsletter
Get the best of Windows Central in in your inbox, every day!
Thank you for signing up to Windows Central. You will receive a verification email shortly.
There was a problem. Please refresh the page and try again.