Satya Nadella visits China to reportedly discuss anti-trust probe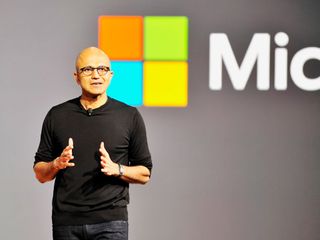 Microsoft CEO Satya Nadella is making a visit to China today, reportedly to discuss the country's long-running anti-trust probe against the company with government officials.
China's State Administration for Industry and Commerce raided Microsoft's offices in four cities in mid-2014 as part of its anti-trust investigation. The agency claimed at the time that Microsoft's products may be in violation of the country's anti-monopoly law due to issues with "compatibility, bundling and document authentication" but it never discussed the specific charges.
Reuters reports, via unnamed sources, that Nadella is in China to discuss the ongoing probe with officials. However, a Microsoft spokesperson would not confirm those reports:
Nadella is making a tour of several countries in Asia, including his home country of India, which he visited on Monday.
Windows Central Newsletter
Get the best of Windows Central in in your inbox, every day!
It just can't escape me, the irony of the Chinese Government crying foul for unfairness. (of any kind) We live in amazing times. :)

Their country their rules, single party system works for China just like the rigged two party system works for the USA. Microsoft can exit the market/country if they don't like it.

Not that you don't have a point but it's a bit bizarre to complain to MS about anti-trust when the overwhelming majority of Windows copies in China are pirated. It's not even a true case of MS flooding the market with their products and then switching things up. I guess this is the cost of doing business.

They might well, China isn't profitable for then with the billions of pirated software the Chinese government supports being stolen. They should leave Microsoft alone just for not suing then like they probly could.

A quick visit to clear the issues for the benefits of the future. They don't want to lose the second largest market of the world population.

They've already lost it to Sony, Android, and iOS, so what exactly do you mean.

Except they haven't. Lol they sell more than xbox ones and windows phones...

The anti-trust probe will be dropped as soon as Microsoft gives the Chinese government access to all documents stored by its citizens, lets them read any emails sent to or from China on Outlook.com, and allows Chinese censors to filter any Bing results.

swing and a miss! try again.

Apparently, his shareholders are happy with him because he is making money for them. We are not happy with him because he stored the making of multiple phones for us.

Tell them to keep him while he is there.

"यही है windows phone को बरबाद करने वाला शख्स....."
Windows Central Newsletter
Thank you for signing up to Windows Central. You will receive a verification email shortly.
There was a problem. Please refresh the page and try again.