Satya Nadella wants Microsoft to be a platform for innovation in India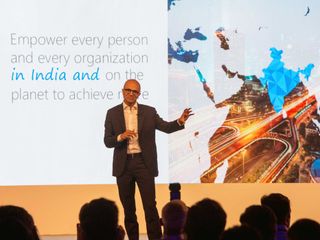 Microsoft's CEO Satya Nadella paid a visit to Delhi to meet with students, developers, and entrepreneurs in the country in an event titled "Tech for Good, Ideas for India." Jayant Sinha, Minister of State for Finance, was present at the event, and Nadella also met with Ravi Shankar Prasad, Minister of Communications and Information Technology, to discuss how Microsoft can play an increasing role in the government's Digital India initiative.
Although brief, this is Nadella's fourth visit to India since he became the CEO of Microsoft two years ago. Apart from a brief showcase of Microsoft products and services at the Future Unleashed event in Mumbai last year, Nadella has focused his attention on innovation and the digital transformation occurring in India.
In one of his earlier visits, he announced local data centers in Pune, Chennai, and Mumbai for Microsoft Azure, becoming one of the first global public cloud providers to offer services in India from local data centers.
Now, Nadella is excited about bots and conversations-as-a-platform to get things done. The executive also shared how intelligent devices that understand human speech along with augmented reality are changing the technology landscape.
He talked about building solutions to "change the world we see to see a change in the world," with Microsoft being the platform that fosters the ingenuity. The keynote was aimed to inspire a generation of young achievers and entrepreneurs in the audience to innovate for the country.
Windows Central Newsletter
Get the best of Windows Central in in your inbox, every day!
By non-prioritizing its mobile hardware there?

Exactly what I was thinking.

+2 Posted via the Windows Central App for Android

He's asking us to switch to android right?

Ideally Android phones from the bigger manufacturers so that they pay MS for licensing their patents. That way the customer gets a stable, solid platform with great quality MS services and MS makes money (!) from 'mobile' too.

And they say that the fact he is from india has nothing to do....

Yup, that fact resulted in Satya Nadella shutting down Windows 10 mobile in India. And quit your India hate, your comment history is filled with only India and Satya related content.

Exactly. He's too obsessed with Nadella and MS's exposure towards India.

Small correction there...They are pulling back on Lumia hardware...but not software...but yeah, pulling back on hardware is nearly the same as pulling the plug on the software given the marketshare...

India being the 2nd largest country in the world probably has nothing to do with it, nor that India is a growth market where MS can have a major impact worldwide if they succeed selling their ecosystem there. Nah, you're probably right, dealing with the heritage of a CEO is more important than making money for a business.

Ms isn't focussing their mobile hardware at India. Likely the result of a deal with a south east Asia mfr.

It`s all about business. He is there to make money. That`s all :)

Would not trust anything he says ever.

And yet India isn't part of the chosen 18, http://www.neowin.net/news/windows-phones-microsoft-to-aim-its-devices-a.... So innovation, just not with mobile? Or maybe mobile isn't innovation?

Yes, with no Windows Phones :D

Nadella killed windows mobile in India. I'll never trust this guy.

Nadella killed Windows Mobile. Period.

It was never alive to begin with, he just put it out of its pathetic misery.

Empower every iOS and every Android user on the planet to achieve more.

I want you to go to work for Microsoft and in return we do nothing for you. How does that sound .....

When in India? Oooh, wait....

This is so funny, abandonning windows phone in India and speaking of empowering everybody, LMAO. How sick and stupid isnt that.

By exiting Indian mobile market, how funny Satya?

All these guys whining about Windows phones. Windows phones are a failure, have always been a failure, and will always be a failure. No one cares about them anymore, not even Microsoft.

I am seeing this from 2005. From Windows Mobile 5 to Windows Mobile 10. Hahaha...numerous beta apps, great looking devices...what not! I remember once Microsoft used to have the biggest app store for phones. Most probably in 2005-2007. Windows Mobile was in TOP then. Then slowly Windows Phone 7/7.1 came! Whoever loved Windows CE would've definitely felt like they were locked in a cave. No .exe,no file manager, no registry editor... But then Windows Phone 8.1 gradually overcame few mistakes. And with windows 10..they introduced Metro 2. This silently everything failed again. With Windows Mobile 5-6.5 they had great opportunities for apps,capabilities. With windows phone 7-8 they had a Beautiful interface but no capabilities or apps at all. With Windows 10 they are overcoming the app gap, but alas...interface is a mess. Can you say that Windows 10's interface is aesthetically pleasing? I'm not saying it's bad. You just need to get used to it. But hey...The world doesn't really love WP's anymore. Windows....the platform I still love. But don't know what it's future is. (sorry, my English is so bad. Compromise pls!)

Once again, why doesn't he just move Microsoft to India? This is getting tiresome.

And we wnat Satya to go the he'll away already.

What phone does Nutella use on a daily basis?

Don't tell anybody, he uses "an I Phone" with windows logo.... Let it be a secret ;)

Ohhh... And I thought Panos was the only guy doing that!

Hahahaha... Posted via the Windows Central App for Android

And he calls it iPhone Pro. Lol.

That makes apple sound like an escort service

Their is a big reason he is coming to India. Many people in India do not use laptops or computer. Though now a days many people start using smart phone. Microsoft know digital India will need software. If Microsoft donot do Google will do or apple will do etc. Or if they not do.. India will make their own OS with the help of some other company. Consumption ratio of Indian whether laptops or desktops or mobiles or softwares will definitely increase in India,due to digital India. Every person needs digital equipments to work in future. Which is not available in present. I think they just stop WINDOWS PHONE due to Nokia phones. They will bring their phones in future.. I think Indian peoples has least number of share when it comes to business phones. So they just pack their bag from Indian phone market. Posted via the Windows Central App for Android

Big corporate companies like Microsoft make more money when they work for/with governments. If MS won't do it, Google or Apple will do. Satya is using his Indian connections to impress govt so that he/MS get the projects and huge amount of money and DATA (That's more important because of our huge population). He don't have any special love towards India. It's pure business and greed.
Windows Central Newsletter
Thank you for signing up to Windows Central. You will receive a verification email shortly.
There was a problem. Please refresh the page and try again.