Send and receive funds easily with Swish for Windows Phone 8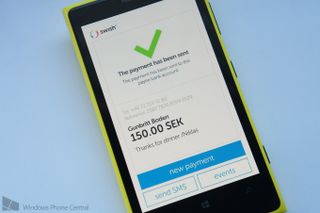 Swish (www.getswish.se) is a popular Swedish payment system that allows the transfer of money via mobile numbers. Funds are automatically withdrawn and deposited into respective accounts, regardless of the connected bank (as long as they're participating). The service has now launched an official app for Windows Phone, enabling those enrolled with Swish to get cracking on Microsoft's mobile platform.
Fear not if you're not actively using the service already as it's super easy to get started. Simply download the Swish app on your Windows Phone, enroll with Swish on your online banking service (see below for supporting establishments) and download the necessary information to authenticate.
That's all good and dandy, but when should you use Swish? The service is perfect for when you're splitting the bill, purchasing a product from someone or event collecting money for a gift. The banks behind Swish include Danske Bank, Handelsbanken, Länsförsäkringar, Nordea, SEB, Swedbank and Sparbankerna.
The idea is to make sending (or receiving) money as painless as possible with convenient access when not at a PC. Using mobile numbers, you're able to wire funds to a recipient account within a matter of seconds. As an added precaution (just in case), the recipient's name and Mobile BankID will be displayed before the transaction goes ahead.
The app itself is rather simple with an intuitive layout and features you'd expect to see. There's the option to configure exactly how much you'd like to send to someone, as well as a message to boot. The history of payments (both sent and received) are also displayed within the events area of the app. There's also support for toast notifications and more - it's a great initial release.
You can download Swish from the Windows Phone Store (Windows Phone 8 only). We strongly urge you to check the official website and / or your bank for more details on the service and how you can enroll.
Rich Edmonds is Senior Editor of PC hardware at Windows Central, covering everything related to PC components and NAS. He's been involved in technology for more than a decade and knows a thing or two about the magic inside a PC chassis. You can follow him over on Twitter at @RichEdmonds.
Gooo sweden!
Got the app allready:D

Härligt att se plattform suppoting svenska användare... Windows phone har nästan varje app genomsnittskonsumenten behöver... vad andra apps är saknas som du vill?

Jag uppskattar att han i alla fall försöker!

Windows Phone är bara en plattform som folk älskar att hata, verkligen.

Tienen mucha razón, es una locura! Hahahahaha

Tioznen sucka eächj pöchse poseruï

I love the Bing Translator app.

We do dude! We do! En estos dias nadie se queda sin entender!

Sounds a lot like mobilepay (and swipp) which was launched in Denmark several months ago :)

I live in Sweden! This app will come in very handy!

Wael Hasno❔... LMFAO❕❕;-);-)

Go Sweden! :-)
Greetings from Norway :-)

Hey neighbor! I flew here with Norwegian Air!

Since last two days, not much updates on wpcentral ..

perhaps not much is happening with this platform!

If you mean app updates, I know the next version is coming real soon.

Yaah i agree too may be abhi, Daniel and Sam gone for holidays

I've noticed the same, kind of boring, especially for a platform that's all about being constantly in motion (Live tiles).

The WPCentral-crew are human... Humans appreciate freetime (weekends).

i live in america so this app is useless. none of my friends or roommates has a wp device. Instagram is coming eventhough it is a stupid useless app. so why did the Nokia & Microsoft team not spend time and effort getting Venmo to develop an app for wp? Venmo is more usefull than instagram and swish. i love how wp keeps getting obscure esoteric apps that no one cares about yet continues to miss important apps that real people rely on, on a daily basis like Venmo. seriously, MS and Nokia have until september 2014 to get their act and apps together, because once apple comes up with a large screen iphone, forget about it: everybody is going to get the large iphone. neither live tiles nor gimmicky low light nokia photography crap will keep people away from a large screen iphone, once they realize that apps like venmo are never coming.

Yasan, that's very America centric of you. Makes you look stupid. Venmo can only be used in the US. So it versus the Swedish app Swish is a pointless argument. You had me there thinking you were implying it was a global app for a second, but no it was an idiot stuck in their own American world with the attitude "the US is the world". Go back under your rock, thank you very much.

Haha i agree with that app has to cme in every country, those peoples think that they can only save the world from allens

+1 we don't need any more US-only apps. There's too many as it is. We need more worldwide apps, to appeal to everyone...

What is Venmo? Can't be too popular, never heard of it.

Why don't you just buy yourself a "crap-phone" instead of complaining about what you cannot have with a Windows Phone ;-)

You mean, GayDroid. Lol. Haters gona hate! :) Or if your implying iPhone than I agree there over rated. At least now a days.

the way you use "gay" clearly shows that you grew up either in a ghetto or with a low class family. only geeks and morons use the word gay the way you do.

Why thank you :) I buy my sports cars with cash. Lets leave it at that. But in the great USA speech is a part of freedom!

indeed, this is a free country, in which you are free to be a stinkin' homophobe who enjoys denigrating the last remaining word that has a positive connotation that homosexual people can use to describe themselves. so what if you buy your sports car with cash? so does every gangsta rapper or drug dealer. money in this country is no longer a sign of class. you are still low class! chances are you are lying and you dont have a sports car; but if you actually do, then now you have revealed that you're not only a stinkin' homophobe, but you're also a major douche bag.

I'm going to leave this off at... My "name calling" of an inanimate object, is simply out of fun. Nothing against any ones sexual preference, which I don't really care about... As for your assumptions about me... No comment. No more over dramatic comments. This is so off-topic e.e sorry WPC.

I live in America and never heard of Venmo. So I say instagram more popular there even though I think is pointless app too:)

1. Never heard of venmo, and I live in the US. 2. What does Microsoft and Nokia have to do with venmos decision not to support Windows Phone? Talk about misguided anger. 3. Be happy that Swish (which seems far superior to venmo in that it actually instantly transfers money between accounts and there is no third party involved) comes to the areas where it can be used. How is this is ANY way a negative for you? If US banks were not in the stone age when it comes to inter-bank transfers (WE STILL USE CHECKS IN THIS COUNTRY!!!) we could have something like Swish too.

Still using checks... You're joking, right?

Sadly, no. People use checks all the time. Also, I just signed up on the web with venmo. You can use it in your browser. I'll repeat: YOU CAN USE IT IN YOUR BROWSER. There's no real need for a special WP app for it. Which probably is why there isn't one yet.

NO you cannot!! 1-phone and tablet browser won't allow you to charge money. only pc browser does. 2-even if it did, it requires login everytime you charge money.

I find it odd that you wouldn't be able to use the browser on your phone, since it's the full site, not a mobile site. But I'll take your word for it (logging in and creating an account worked just fine). I tried to set up a transfer, but it will take 2 days to verify my bank account (for some reason it couldn't verify instantly, and will have to use the micro transfer method). Plus, I don't know any person that uses venmo anyway. :)

yes i find it odd too. i know that you can set up the account and sign up on the phone browser without any problems. you can also accept payments from people. but you cannot charge people, even if you successfully log in. it is very strange. venmo is extremely usefull. i pay my share of rent through it. my roommates pay me for internet through it as well. it uses your mobile number and is free when you use a debit card or checking account.

I have an iPhone 4s you can have for free if you promise to get the f out now and never return. I mean and never say another word on wpcentral.

hey man, if this is the smartest thing you can say, then i truly feel sorry for you. don't lose hope though, no matter how bad your condition is, someone out there will like u, just be patient and most importantly, keep trying..

Lol I think some people here still pay bills with cheques... Mostly older people, who also still send letters. But if you whipped out your chequebook in a supermarket they'd look at you as if you're trying to pay with bags of aluminium cans :P

I agree with you...in India we have similar service but it is tied with the bank and because not all the banks are not having windows app I missing the service. Every country should come up with user friendly services to their people.

WTF is Venmo?
I think you need an Android, no seriously you do. Think they have Venmo international version too.

Here in America people use PayPal. No idea what the hell Venmo is. Plus you might want to consider trying not to come across like such a jerk.

This is hardly an esoteric app for Swedish users, and btw, you do realize that most of you local apps in America are useless in Europe? As English is the de facto lingua franca of the internet, obviously a lot us from countries without the customer base to support our own websites read news in English.
Also, local apps like this is a problem everywhere, and the phone market is very similar to the US with 40% iPhones and a few percent of WP. If we can get some apps, it is obviously a positive sign if developer interest.

Are you actually, seriously, foolishly saying that nobody cares about instagram❔... I guess 6tag isn't doing to well,, according to MR. American, over here...

Or you could just use PayPal =)

paypal is not free for debit cards and venmo is easier to use

Also, Swish transfers money instantly, PayPal takes days to get from bank account to bank account.

No it doesn't!!! I get funds in PayPal all the time being an ebay seller and from withdrawing the money on PayPal it is in my bank within minutes now. When was the last time you used it??

2 minutes ago... I guess we'll see when the money turns up.

OK, now it's been 40 minutes and no money. Maybe something special with your bank?

My bank does it in 45 seconds dude!

You guys must have banks that have some deal with PayPal maybe. My money are still not in my bank account, and it usually takes 2-3 days.

Nice idea. Is this only for Swedes?

Where is Instagrammmmm ?!! 6tag is better . But , since I was a Instagram lover , I would like to see what Official Instagram app brings :)

Yaah i agree too may be abhi, Daniel and Sam gone for holidays

New to WPCentral! But this field payments is my field, Venmo, square payments, stripe mobile, intuit mobile, paymill mobile, pin payments mobile, simple.com mobile! These are the resounding names in ecommerce and NONE of em are on WP8!!! Fck instagram, WP8 promises a lot for professionals but e payments just DISMAL! P.S Great stuff wpcentral guys! Really loving dis site

They are several alternatives such as Cube.

i agree, iphone and android users have so many to choose from, and yet all Nokia and Ms can do is beg Instagram to bring their stupid useless app to wp. it is so pathetic. i wish Nokia would beg venmo and google for their apps instead.

This is one of the biggest complaints from swedish Android/Iphone-users today. Together with Instagram.

Nice to see these types of apps on the platform. Too bad we won't see something similar in the US soon. Despite what one person here in this comments section thinks the demand in the US for this type of service isn't there. People here prefer social, photo and entertainment apps. NFC payments, money transfers not so much.

Depends on the demographics. Those type of apps appeal to younger markets (say 15-35) while other groups want to handle financial matters more and often see their phone as more than a tool than an entertainment device. Not that the other groups don't use the social & entertainment stuff, it's just less important. It's almost like saying "everyone wants instagram and nothing else" when it really just appeals to a sub-section of the younger crowd.

we have the same thing in Danmark http://www.windowsphone.com/da-dk/store/app/mobilepay/4944f143-d866-4640-bed1-c9ea1d7b3d9b and in Danmark we will hav NFC payment this year in half the shops

You guys need to report on the TD Bank App considering this is the first bank app for Canada

Have been able to send money to family and friends for a long time without an app :)
Sending an SMS with: pay, name and amount. Done
Instantly available on receivers account

I like sweden blonde woman

So when are we getting Pop Money for the U.S.?
Windows Central Newsletter
Thank you for signing up to Windows Central. You will receive a verification email shortly.
There was a problem. Please refresh the page and try again.